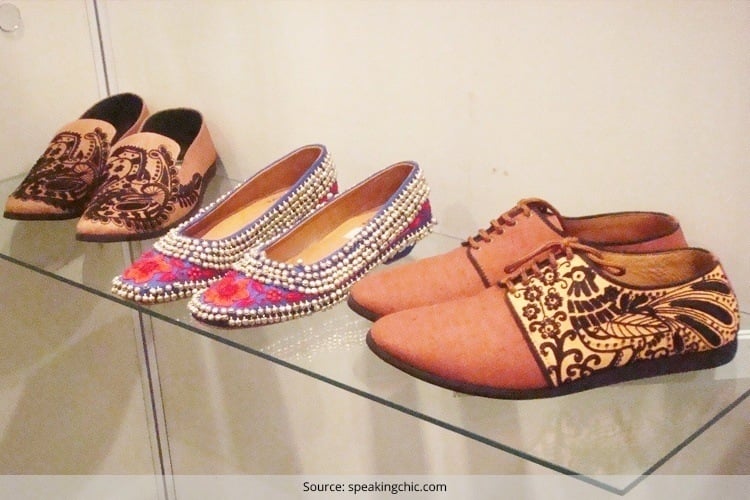 The label Rohan Arora was launched in 2008 by the 25 year old footwear designer, Rohan Arora with an ultimate aim of creating high-end fashion footwear for Indian women. In the age of parched modernization, this label aims at revamping the real art of shoe which is made possible only by the human hand.
The label takes its inspiration from everyday Indian life as well as hugely from Bollywood. As the element of Bollywood is witnessed in every Indian's life, so Rohan's idea of giving a tint of Bollywood to his shoes was risk-taking but surprisingly gave him an over-whelming response when he debuted his solo show at Lakme Fashion Week in 2010.
As per Rohan Arora, he always wants to create a longer lasting impression on fashionista and therefore most of his designer showcased on the runway were heavily based on Bollywood item songs and boasted scenes from iconic Bollywood movies.
[Also Read: From Heart to Sole with Rohan Arora – Indian Ace Footwear Designer]
Last year in LFW, Arora exhibited his show, which he had named as Item boasted a range of colorful footwear for both men and women including heavily embroidered loafers and sequenced wedges. His creations were inspired by vibrant and colorful look of Bollywood item numbers.
Rohan had this to say  
"The collection is inspired from the item boys and girls of Bollywood. An item song is always remembered even if the film flops, in the same way my shoes will be remembered even if the outfit doesn't work for you."
When he was asked what defines a perfect footwear?
His reaction was this –
"It should be fun to wear, comfortable and super-stylish. Fashion is about looking good and not looking crazy, so wearability scores high in my designs."
Soon after completing his graduation, he was struck with the idea of designing shoes. He then began working at a small shoe factory near Moulali in Calcutta where he learnt the ropes of shoe-making.
In 2008, when he launched his label, he started designing shoes for small retailers and a few fashion designers,at his workshop in Picnic Garden with just one karigar. His turning point came when he met designer Sabyasachi Mukherjee in 2009, who commissioned him to design shoes for his couture line.
[sc:mediad]
Today, Arora has got 35 karigars working for him, who help him come up with a new line every three months. Besides designing shoes for Sabyasachi, Arora is currently retailing from fashion addresses like Zoya, Kimaya and Creo in Mumbai, Ogaan in Delhi, Nautanki in Ahmedabad, Rudraksh in Pune, Mogra in Bangalore and his workshop in Calcutta.
These stores offer at least 20 styles at all times. On the cards is footwear made from hand-woven ikkat as well as a wedding collection. He's also looking to expand his workshop and open a signature store.
Rohan's Tips on Wearing Right Pair of Shoes
Shoes are the one make-or-break accessory for people and even the poshest of designer clothes can be made to look shabby if paired with the wrong footwear
Ankle length boots are in trend these days, so women should learn to downplay them rather than opting for a flamboyant, over-the-top look
Girls should always go for closed toe shoes during winters
Furry boots can land you in fashion disaster in India, as we simply don't have the weather for it
If you're looking at colorful, fun footwear then make sure these kinds of designs aptly suit your wardrobe
Pick a dull shade of eye-popping colors like orange, yellow, purple and green to make bright colors work for your personality
Try going for printed uppers, as these make for a great style statement
Just do not run after international footwear brands blindly only to flaunt them in your wardrobe. Instead, go for Indian local brands which have a lot of interesting designs. And moreover, you can always go back to them if something goes wrong with your pair of shoes, plus these are always cheaper and affordable than labels like Jimmy Choo and Prada
Just as with clothes, it is important that you have the right fit when it comes to shoes. Always sit and try them on. And no matter how great they look, don't pick up an ill-fitting pair which you can't wear
Last but not the least – Respect your footwear and they will surely enhance your personality by strengthening your fashion quotient