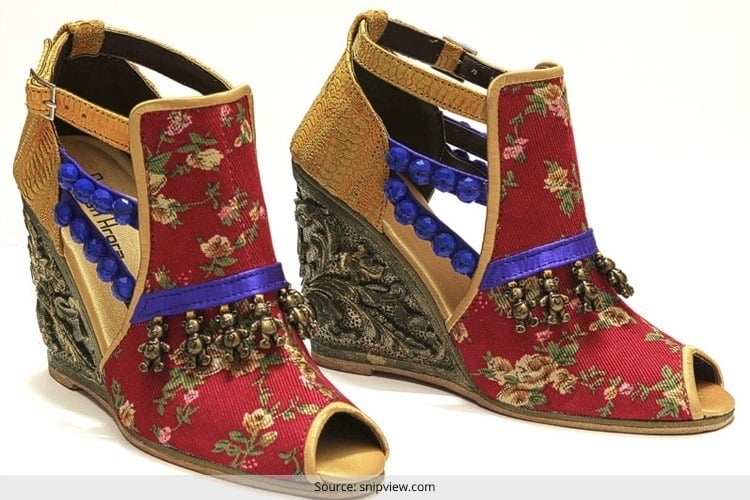 Have you ever heard of shoes made up of chicken-leg leather?
Yes, this kind of couture leather made from chicken's legs which is supple soft and sturdy is brainchild of Rohan Arora – the newest kid on the fashion block who has dared enough to create a bizarre yet most sought-after collections of footwear.
It's always highly suggested to play it safe while accessorizing your outfits, especially footwear. Always be choosy when you you go on a shopping spree for shoes.
Considering the importance of footwear, many designers in India have come up with the best of their creations to save girls from fashion faux pass. Fashionlady offers you an exclusive post on the ace footwear designer, Rohan Arrora. Have a read!
Shoes can really create or spoil your image, no matter how expensive and stylish your outfit is. For instance, imagine if you combine your evening gown with a pair of loafers.
When fashion industry was in full boom in India, an array of fashion designers emerged to soar this industry high enough in global market. In a bid to create the best ensemble, designers somewhere in the pipeline ignored on giving the additional touch to their costumes, which is a must-have for every fashionista – the right pair of shoes.
However, today the fashion scenario has completely changed and people have become more conscious in whatever they wear. Foot wears have become a serious accessory apart from bags for fashion-oriented ladies and girls.
Rohan Arrora, who is a self-reliant high fashion footwear designer, says that the overall look can completely become a disaster if shoes paired are not matched correctly.
A 'Crazy Glorified Cobbler' is how this ace footwear designer describes himself, confesses of mastering the tricks of the footwear trend in a tiny 6X4 shoe shop in Calcutta.
He started with his label 'Rohan Arora' in 2008 and started creating fashionable shoes for a few established designers in his initial days until he got a big break at the Lakme Fashion Week in 2010. Ever since that fateful day he was chosen to present solo on the runway with high fashion footwear, there has been no looking back for him.
[sc:mediad]
Rohan's multifarious Bollywood'esque designs verge on bizarre, yet are always desired by the elite class. Be his 'Nakkashi' heels or the unique mix of fabrics, Bollywood-inspired paintings as well as embroidered creations are exquisitely handcrafted and are indeed head turners.
Rohan Arrora label is now a larger than life label, full of fun, passion and of course fashion. He connects with the younger India through his creations. Fashionlady reckons on his inquisitive nature that fuels wild imagination and oozes right down to his designs.
Rohan's fashion house offers a wide range of designs suiting every individual taste and requirement. While is chicken-leather shoes can impress a many, his radium-painted steel studded shoes can even convince the most rigid and then his pair of sandals which can be converted into flats because of the detachable heels are indeed a one stop solution for girls looking or both flats and shoes with high heels.
His debut show at Lakmé Fashion Week undoubtedly opened doors of success for him. His collections showcased at LFW included  ankle-length and calf-length boots and flats, all made from chicken-leg leather and hand-woven khadi. Rohan had got film poster artists to paint scenes from iconic films like Sree 420, Mother India, Hare Rama Hare Krishna and Devdas on his shoes.
His collections were heavily embroidered with hand-painted heels, while the finishes included chicken-leg leather, screen-printed fabrics and kalamkari prints. The show stoppers of his collections were the flats-cum-heels in which the heels could be separated from the flats.
Stay tuned for part 2