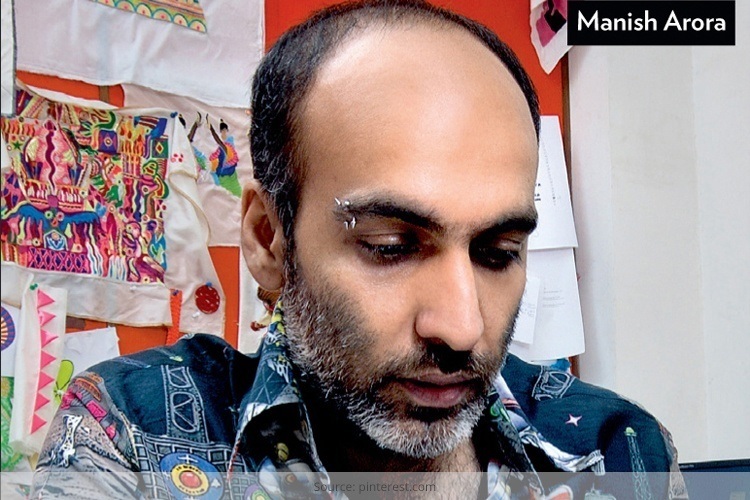 The fashion designer of small labyrinth intensified manifold times, someone whose pièce de résistance is a larger than life portrayal is where the saga – Manish Arora begins.
The ace designer is arguably the only designer to migrate Indian fashion overseas like never before and he is the only designer to showcase India's richness in fabric and designs and its rising prominence in the world of fashion.
Although purely international, Manish has his roots in India; this is the reason his creations boast Indianness no matter if they are showcased in Milan fashion runway or Paris fashion week.
Fashion world got familiar with India's craftsmanship through his exhibitions and could feel a heavy competition coming in. Born and brought up in Mumbai, he was in his graduation, when he gave a sudden twist to his career path and got enrolled into NIFT. He got his degree in 1994 along-with the Best Student Award.
If you carefully assay Manish's designs, you can find a gush of remarkable energy and élan which nurtures an all-embracing juxtaposition of shades, motifs, wildlife elements, idols of Hindu gods and goddesses and fonts in his garments, which is of course a creative calling for the bold having whimsical essentials.
Manish Arora has always been known for his rich palette of flashy and freaky colors and kitsch motifs in his designs, blending Indian traditional crafts with Western silhouettes.
Manish Arora's remarkable journey
By 1995, he had started gaining worldwide recognition. His psychedelic aesthetic and recent awards dragged the attention of French Vogue fashion magazine, who offered him a job.
In an era where alumni were craving to get a golden chance like this, to everyone's dismay Arora turned down this offer, wishing to remain in his country to contribute to the then nascent Indian fashion industry.
Manish's collections are often published in Vogue
In 1997, Manish launched his label and then there was never looking back for him. In 2000, Manish debuted at the first ever India Fashion Week in New Delhi, exhibiting his read-to-wear collections.
In 2001, he came up with Fish Fry, a diffusion label which became an instant hit. The following year he opened his first flagship store in New Delhi – Manish Arora Fish Fry.
Although he had decided never to leave his mother land, he was however making frequent foreign trips so as to showcase his segregated line of chic and faddish collections before the world.
Every year Manish used to create history by either showcasing his works in international fashion runways or collaborating with reputed brands thereby giving in a revolution as he did in 2004 by partnering with Reebok to launch a line of contemporary sportswear under the name Fish Fry for Reebok.
In 2005 Arora debuted at London Fashion Week. His unique mix of rampant fashion and cultural elements came out as a huge success, which further led him to showcase his exhibits in an exhibition at the Victoria and Albert Museum called 'Global Local'. In this exhibition, he had christened his collections as 'Glocal' – clothes flaunting mixture of cultural roots, without ignoring globalization.
Manish by now had become a popular name in the international market. Around 75  stores worldwide were stocked up with his collections in 2006.
[sc:mediad]
His greatest achievement was yet to come, when he debuted in Paris Fashion Week in 2007, which made him a household name in the world.
The fashion world was so much impressed that MAC collaborated with him in 2008 to launch a limited edition of Manish Arora cosmetics globally. The same year, super model Kate Moss was seen donning a Manish Arora dress for the cover page of Interview Magazine for September edition.
It's indeed a dream-come true story, when we look at the career journey of Manish Arora. Every year he was making some 100 folds. In 2009 Arora teamed up with SWATCH to launch a limited edition of watches. The same year he was seen collaborating with Good Earth, 3 Suisses, Absolut Vodka, Nivea, Mercedes Benz and Swarovski Elements.
Manish Arora has become a brand now in international level. Countless celebs and elite personalities are now in his list of clientele. In 2011, Manish was made the Creative Director of Paco Rabanne. The house which was going under complete loss, could see overnight success when the fashion house debuted for the first time in a long time after 5 years under his supervision.
Gaga wearing Manish-designed Paco Rabanne dresses –
 Kate Perry wearing Manish creations –
Manish always admires the idea of fashion that is in. Know for elaborate and trendy creations, He had this to say on this:
"It has a lot more strength to stand out and fashion grows bolder as would be more about individuality. And soon product will take over name"