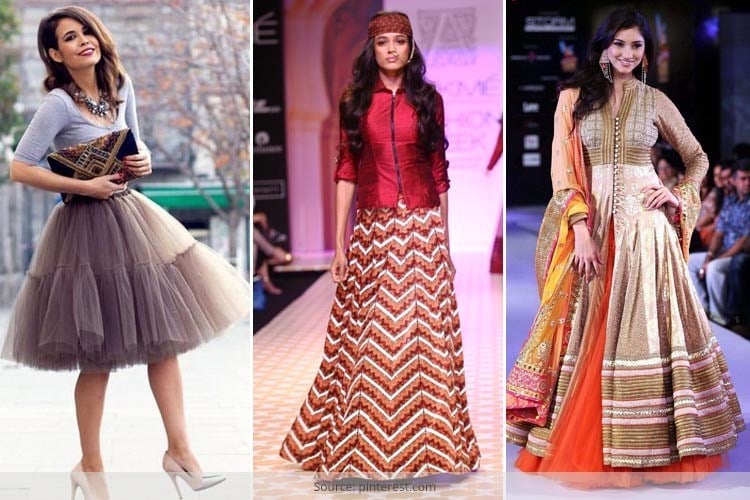 While mini skirts were only invented in 1966 by Mary Quant, long skirts date back to time immemorial. Like Marilyn Monroe had once said, "I don't know who invented high heels but women owe him a lot", same way it won't be wrong to state, "Whoever invented skirts, women owe a lot to that designer."
This piece of feminine apparel has always been in fashion. And with just a few modifications in  its styling and pairing it with some right kind of accessories, you can create your high end fashion statement with simple skirts.
I offer you 5 hot ways to sport to boast off your sensuality in a modest way by styling this flirty and twirly piece of fabric. Do have a read!
1. Casual Chic
There is a little trick involved in this, which I like to use and I prefer calling it as casual chic. The purpose of this style is to offer the wearer optimum comfort, so much that she could practically sleep in it, whilst looking ultra fashionable and chic!
[Also Read: How To Wear Skater Skirts]
However, this look defines desi and edgy elements at the same time. If you look at this Payal Khadnwala's skirt, the bold purple punch painted against a luminous raw silk fabric effortlessly balances the simplicity of the white jersey tank top. And let us not forget the broad leather belt, which adds a rustic definition to the ensemble.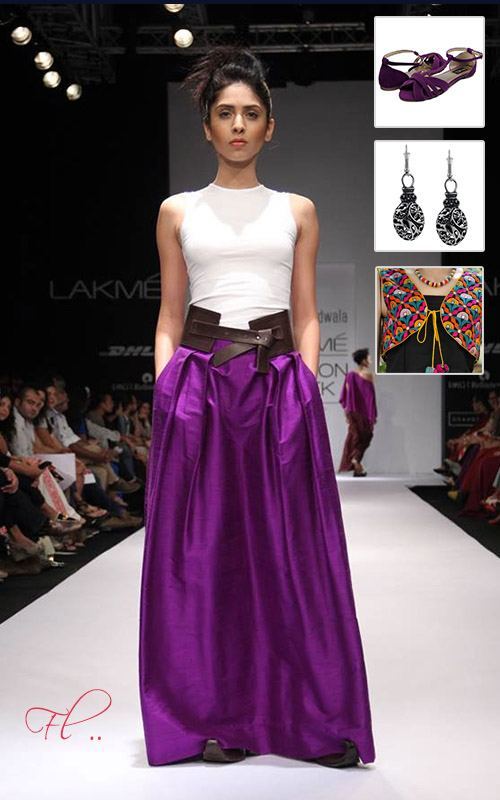 How To style this pleated pocket skirt?
This pleated pocket skirt is undoubtedly a showstopper and should always be highlighted no matter whatever you're pairing it with. So, unlike the above image, you can pair this piece with a boyfriend shirt – extra large, crisp and formal and do not forget to tuck in.
Now add on some heirloom jewelries in oxidized silver to your look and let them clinging to your neck. And if you want to do some extreme fashion then you can also flaunt a classic silver haathphool to wrap up your look with a dramatic fashion quotient, in the same way as I had asked you to pair your Diwali outfit with a maangtikka.
If you're picking this bold style then let your hands free and ditch the purse for a sleek men's leather wallet instead.
[Also Read: Festival Salwar Suits]
Why is this Payal Khanadwala skirt a hit?
This stellar skirt is extremely versatile and can be ceaselessly paired with a zardozi gilet or a crop top. Even you can team up a classic chikan kurta with a phulkari dupatta with this skirt if you want a pure desi look!
2. Ethno Glam
Now what is that? Well, it's nothing but to go for an ethnic glamorous look. For this, you'll require a full-flared skirt. Look for a crushed quintessential skirt, which is commonplace in almost all Indian wardrobes. The volume element of this type of skirt is the essential DNA of this look and be warned it can also boomerang, provided you do not have appropriate body type and confidence to carry off this style.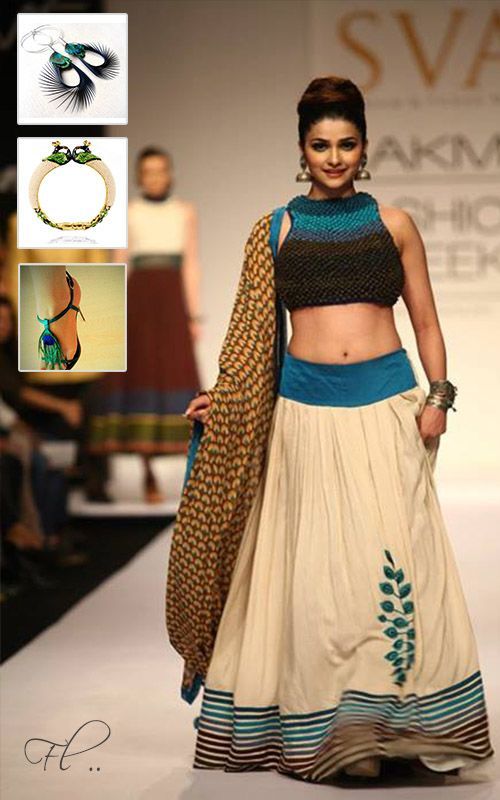 How to style this full-flared skirt?
The flared skirt, SVA by Sonam and Paras Modi highlights huge peacock motifs on the bodice. To complement this beautiful skirt, you can accessorize it with peacock colored embellishments. The flared element of this skirt with the Indian national bird design allows to convert this simple skirt into a gorgeous lehenga as shown in the image. The plain textured bodice of this designer skirt enabled you to adorn your look with layered necklaces in antique gold.
Why is this SVA skirt a hit?
The versatility of this skirt allows you to experiment it with fusion styles. It is a perfecta addition to your festive wardrobe, as it can dramatically enhance the grandeur of your celebration.
3. Neo-Indian Silhouette
The Anita Dongre skirt is a classic example of our traditional bandhani design. This bold bandhani drape skirt in fuchsia pink is paired with a sleek, silk blouse flaunting an open Chinese collar (bandi style). This modern bandi style top can also be worn like a sports jacket. While this style gives you fresh and young look, the vintage gulabi that enhances the scintillating energies of the festive season.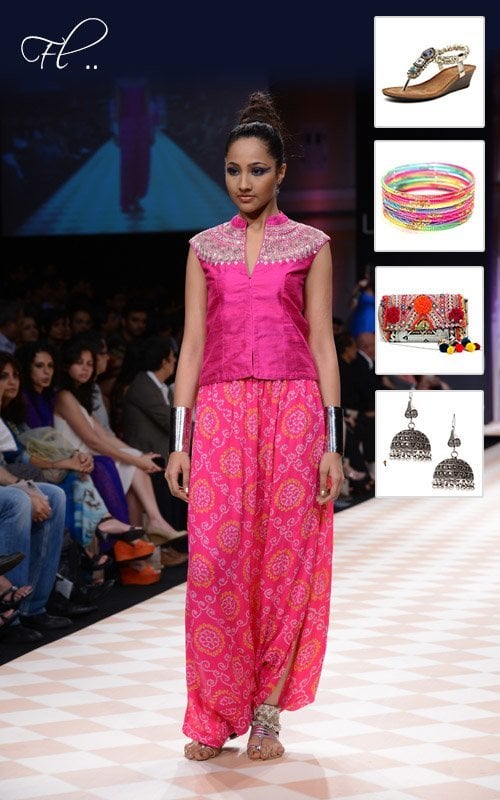 How to style this Anita Dongre bandhani skirt?
You do not have to strictly follow the runway style, instead you can give some space for air by loosing your hair styling it with distinct micro perms. You can also replace the lassi glass cuffs with a delicate, multi-colored bangles in glass. You can also add some more colors by flaunting an over-sized clutch in typical Kutch woolen work.
Since this blouse is heavily adorned with golden embellishment on the neck, so avoid a neck-piece, instead go for statement-making jhumkas to keep up the Desi flavor.
Why is this Anita Dongre bandhani skirt a hit?
The neo-Indian skirt is sleek, perfectly blending into the Navratri and Diwali mood. You can wear this ensemble for a semi-formal brunch or even an evening bash.
4. Mundane Bohemian
Nothing defines "spring" more than the earth-toned bohemian fashion.The boho skirt by Priyadarshini Rao enables you to have a naturalistic attitude, hen paired with this 'free-spirited' style. You can pair this block-printed gathered skirt with a loose-fit tank top to reflect a carefree bohemian vibe in the air which is already filled-up with festive elements.
You can just steal the show with this nostalgic rural styling. It is certainly a great investment item, as it fluctuates from donning a gypsy look (by pairing it with a khadi kurta) to a demure pooja ensemble (by pairing it with a plain katori choli and bandhej dupatta).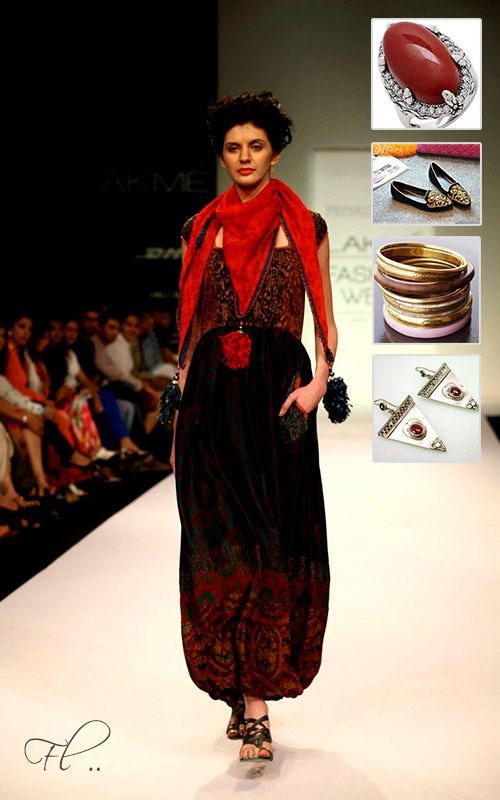 How to style this earthy boho skirt?
You can layer the look by opting for two different dupattas for maximum impact. Keep the look classic by pairing it with a pair of Kolhapuri chappals/mojris with some great wooden bangles. You can also punctuate this style with a small black bindi.
Why is this bohemian skirt a hit?
While boho fashion is always on and off in fashion domain, you can remind your friends by donning this trend, whilst making your wardrobe more meaningful.
5. Ajrakh fusion
Well, this is one of the most ethnic fusion you can opt for. The length and rustiness of this silhouette will crown you 'womaniya' tag. This look makes the wearer look taller and slimmer. The straight-wrap lungi skirt on Ajrakh print can rock among textile lovers.
How to style this lungi skirt?
Since the skirt is flanked with gathered prints, you can opt for a plain torso and can layer this skirt with an ethnic blazer in contrasting prints like Maheswhari, Ikat etc. The 80's chain purse with geek glasses will keep up the vintage element.
Why is this lungi skirt a hit?
It is extremely comfortable and versatile enough to pair with kurti or Punjabi to get the androgynous look! However, be warned with the occasion, as it goes limited with events and occasions, so chose it carefully.
Hope you found this post useful!