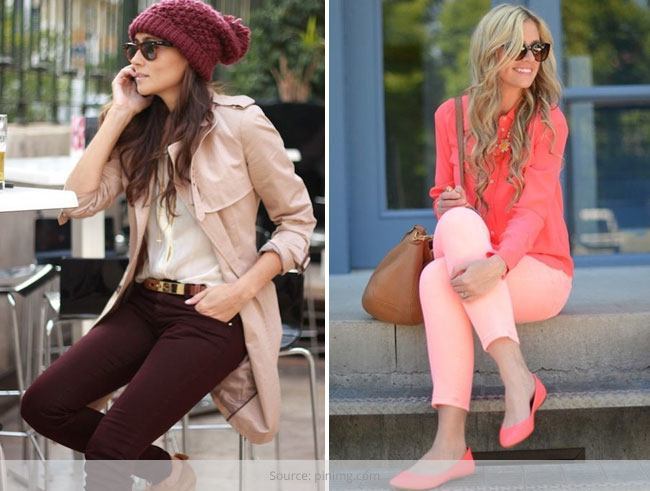 Colour combinations can be quite tricky, especially if you're not very tuned into which colour goes with what. But you can still manage to get it right every single time just by following these failsafe colour combinations listed below.
Combine Pastels
Pastel shades go so well together. You can't go wrong with this colour combination. Just combine to different pastel shades to create a look that is so very soft and feminine.
Combine Same Colour in Varying Shades
This is another easy colour combination. Simply combine a darker shade with a lighter shade of the same colour. For instance, pair bright coral with pale coral or deep blue with pale blue. This works every time in creating a look that is colour coded and stylish.
When in Doubt, Combine Neutrals
If you're really not sure about colour combinations, you can still make it work by combining the neutrals – black, white and grey. They go so well with each other and you can create so many looks by playing with these neutrals.
[sc:mediad]
Trust the Colour Wheel
The colour wheel is your ultimate guide when it comes to deciding on colour combinations. But it can be a little intimidating for beginners to get the hang of it. One simple rule to remember is this – combining colours that are next to each other on the colour wheel, such as blue and violet, and orange and yellow can create complementary looks that is sure to work. Another rule of thumb is to combine colours that are on opposite sides of the spectrum. For instance, combining blue with orange will create an interesting colour block look.
Use Black and White to Offset Bright Colours
Black and white are your trusty friends when it comes to offsetting bright neon colours. They help balance the colour and you won't have to worry about it being too much. Here's an example of how to make white work with neons.
Combine Primary Colours with Brown
Primary colours (Red, Blue, and Yellow) look great with brown. This can be your standard go-to colour combination when you're in a hurry and can't spend any time deciding on which colour goes with what.
The Classic Combinations
There are some colour combinations that are eternally classy and have stood the test of time. These include black and red, black and white, pink and white, and navy blue with white. Notice how black and white are predominately one of the colours in the classic combinations? This is because they lend themselves beautifully to pretty much any colour and are so forgiving that you can make it work no matter what colour or shade you pick to go with them. While these are the safe combinations, we've now stepped into a new era in fashion where colours that were previously labelled as clashing and not complementary to each other are now being put together, thanks to the trend of colour blocking. So while classics are all well and good, you should also wade into the world of complex colour combinations, where pinks are combined with reds and where purple with yellow is considered a perfectly good colour combination.
Colours are brighter and louder than never before. So don't let yourself be sidelined in subdued hues alone. Experiment with bold shades and bright colours with the help of neutrals till you get bold enough to enter mainstream colour blocking. Half the fun of dressing up is in mixing and matching colours to create fun looks. The next time you reach for your usual colour combination, take a second to see if you can swap it for something more interesting.