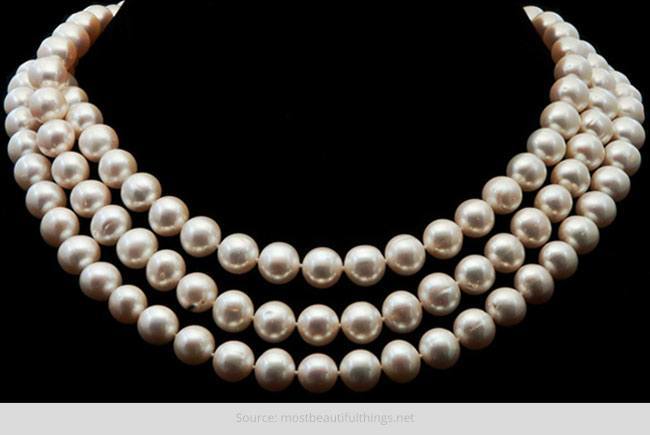 Pearls, also known as 'Queen of the jewels', embrace sophistication and elegance. In Hyderabad pearl market you will get mammoth designs in an array of shades, texture and shapes. And with such a wide variety, it's obvious to get confused and end up with a lousy deal. Go through this comprehensive guide to buying Hyderabad pearls jewellery online, which can help you fetch reasonably priced pearls in Hyderabad.
Not only is the City of Nizams loaded with pearl shops, but you'll also find some of the best possible pearl jewelries online. There are distinct differences between the types of pearls available in the market such as how naturally occurring pearls are different from cultured pearls and how freshwater pearls are different from saltwater ones.
[Also Read: Body Chain Jewellery]
It's difficult for Jane Doe to distinguish the types of pearls at the store unless it's Tahitian pearls which can easily be identified because of their black shade. Hence, comprehending the types and grades will help you land on a smart deal while shopping for reasonably priced pearls in Hyderabad.
The 400-year old Hyderabad is one of the wealthiest former princely states in Indian history. The City of Nizams has also earned the sobriquet 'City of Pearls', as it has undoubtedly built its fortune by trading diamonds, gold, precious stones, fabric and not to mention pearls, whose foundation was laid right at the Golconda Fort.
So coming out of the history of Hyderabad pearls, let's now focus on the tips to buying them online. Whenever you visit Hyderabad pearl jewellery online, you'll come across a variety of designs. And some of these are as follows –
[Also Read: pearl powder benefits]
Bib – A bib pearl necklace comprises of pearls in different lengths and several strands. These days, bib necklace is very much in fashion. You can pick this statement-making-jewelry to be in the spotlight.
Collar – Just as bib, the collar pearl necklace is also much in trend these days, mostly suggested for office holiday parties and since professional events demand sophistication, nothing can be a better choice than pearls. Started in Victorian era, the collar necklace is now back in the fashion book and is ruling the modern jewelry.
Choker – This is one of India's most ancient of all designs and timeless too because of the opulence it perks up. A pearl choker necklace is normally 14-16 inches long and is worn with off-shouldered gowns and also with sarees with boat neck blouse designs.
[sc:mediad]
Princess – Now this is something imperial you'll find of all the available designs. Mostly preferred by the royal ladies, this classic long necklace thus got its name. This versatile neckpiece can go with any type of style. However, it is mostly preferred with ethnic wears.
Matinee – The image below clearly classifies the different lengths with their monikers. The matinee is usually 20-24 inches long that drops on the décolletage and is usually preferred by the middle aged women as it looks both traditional and graceful.
So those were some of the most popular types of pearl necklaces that will help you in buying Hyderabad pearls online. Hope this helps!