Before we show you more about the Ankara print fashion our Hollywood bevy of beauties flaunt, let's get well-versed with the fashion statement. We shall also show you how Hollywood celebrities in Ankara prints have been rocking the scene as well. But first, for your knowhow, here's a dose on the Ankara fashion!
[Also Read: Animal Fantasy Comes Alive With Zebra Print Nail Art]
Creative And Chic
Top fashion designers and brands are now rooting for the Ankara print, which is probably why most of them have Hollywood celebrities in Ankara print, endorsing them. There are no limits as such when it comes to styling the Ankara print and fashion, you just have to use your imagination. This is exactly why, stylists find it trendy and very easy to have the Hollywood celebrities in Ankara print dolled up for many important events.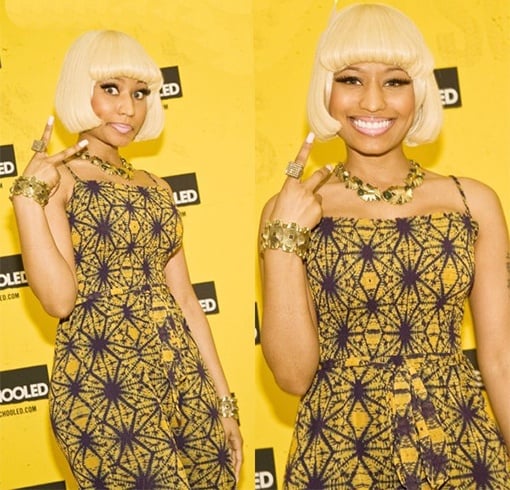 The Holy Grail Of African Fashion
When it comes to African print fashion, red carpet events have seen Hollywood biggies rock in them. And all thanks to the many young aspiring designers in Africa and of African origin, Ankara or celebrities in Ankara print, seem to be the headlines being made. From international fashion magazine covers to famous fashion weeks and more, we have a list of female models and celebs that have upped the ante fashionably with Ankara prints.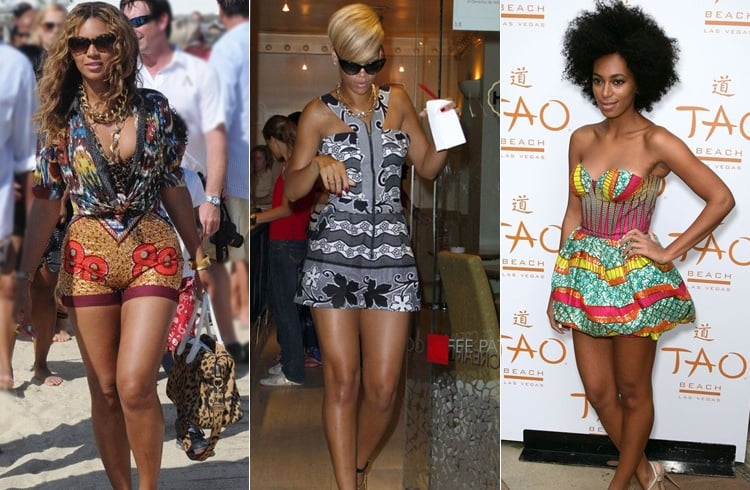 Chic Ankara Prints For The New-Age Diva
Check around and you would find images of Rihanna in African print, Beyonce in African print, Chris Brown in African wear, Beyonce in African attire and even Gwen Stefani in Ankara fashion too. However, the same cannot be said with the Indian Bollywood girls since Ankara has not yet made an entrée into the Indian Bollywood domain that big.
[sc:mediad]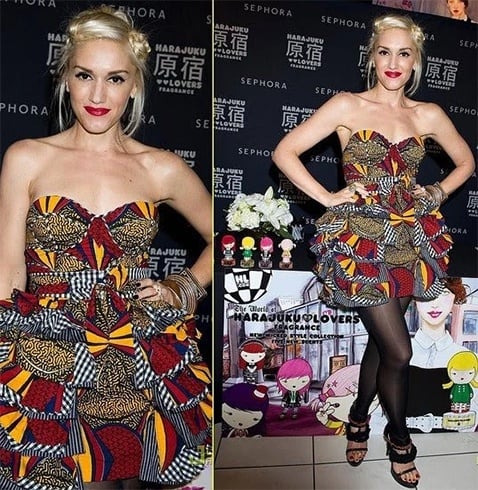 Kim Kardashian Too Wears Ankara
If you have been following Kim Kardashian on Instagram, you would have noticed how she has sported the pant suit Ankara fashion and prints. With blended fabrics and contemporary designs, the Ankara prints are stylishly worn by our celebs and they bomb the scene wearing them wherever they go. You can wear them at weddings or at work too, and not an eyebrow would be raised.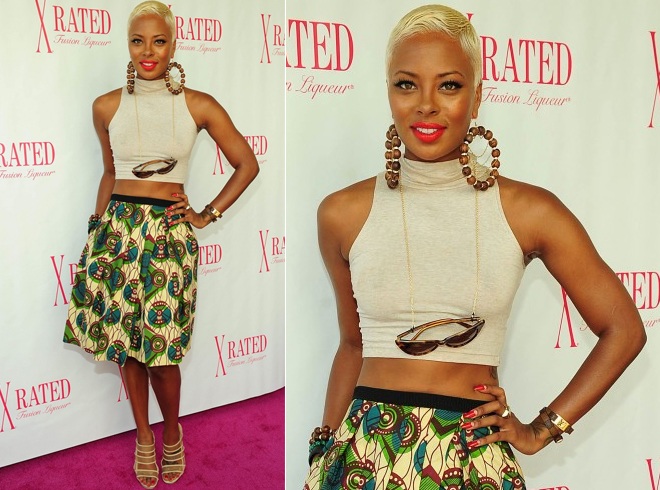 Trending Now Are Jackets And Maxis
The African print dress styles and jackets, now are trendsetters. They both bring about a vintage feel and a very classy look, but with a touch of all things modern on them as well. Boyfriend jackets and maxi skirts are being worn by many celebs across Hollywood, and the fashion statement is creating waves.
[Also Read: How To Nail The Print On Print Look With Élan!]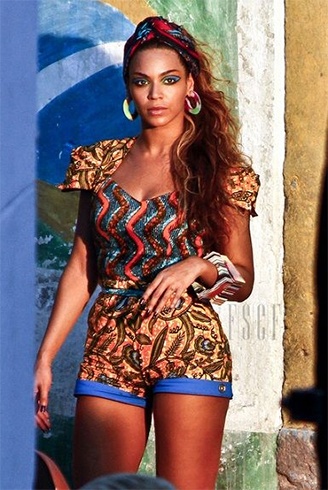 Grab Those Prints
African print dress styles are trendy, but what is trendier now are the maxi skirts that are apt for Indian climes and they are very laid back too. plenty of comfort to wear them for the weather we live in, and can be teamed with a summer coat or a cropped jacket too. for leisure parties and moments ahead, you can wear African print dress styles and maxis in warm and cool tones combined.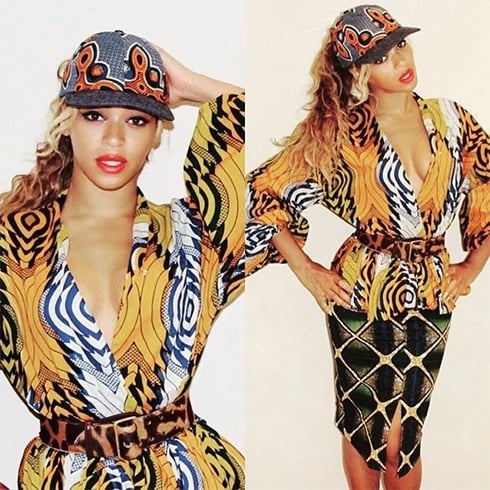 Check Out Our Celebs In African Print Dress Styles
Now that you have understood somewhat enough about Ankara fashion and prints, here are a couple of Hollywood celebs sizzling in the fashion statement. Take a look!
Here's Hollywood singer and actor, Fergie in an one piece chic Ankara print, styling up with shades and a duffle bag in leather.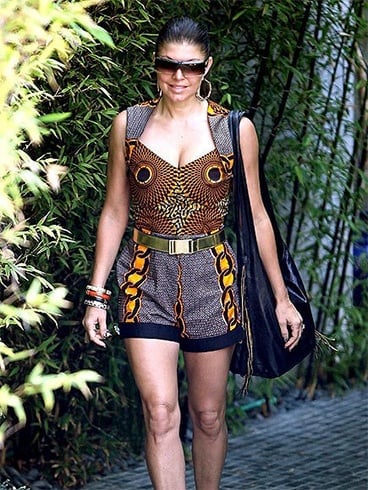 Beyonce doesn't fail to disappoint us with her sense of fashion, and her African print dress styles are haute as ever. We love you Queen Bey!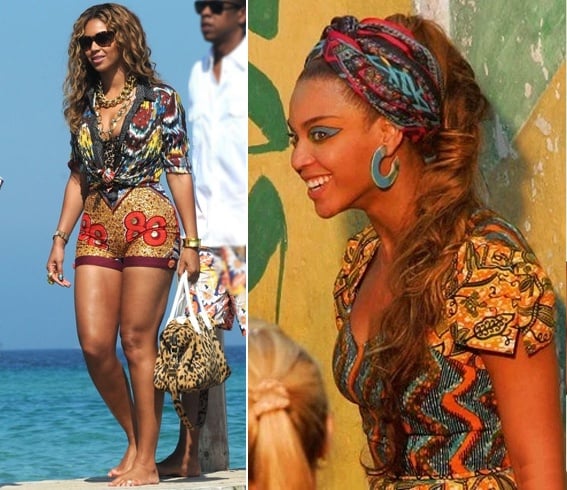 Rihanna in a super cute long Ankara dress, with a topknot for company and a leather bag too, perfect for office wear isn't it?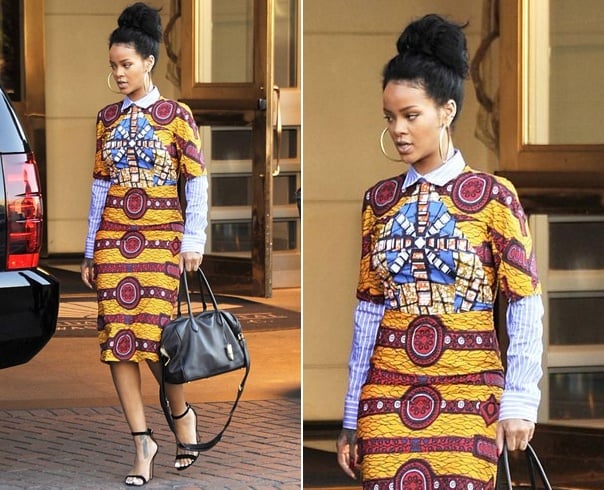 Gwen Stefani in an Ankara pant suit gracing the ramps at a famous fashion week held recently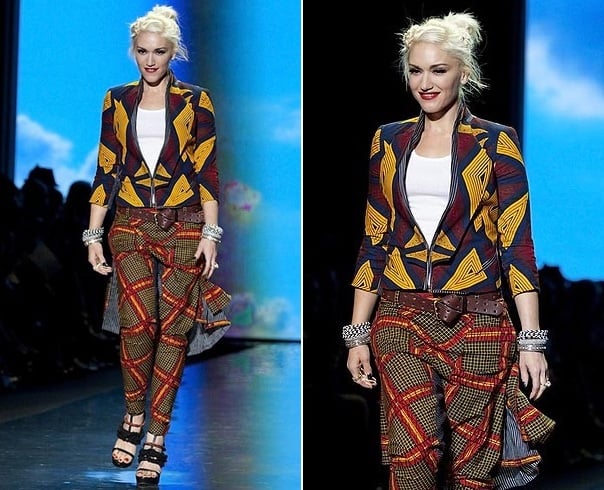 Low V neck to square neck Ankara printed dresses for plus sized beauties. Hollywood diva Amber Ross shows us how to sizzle in them!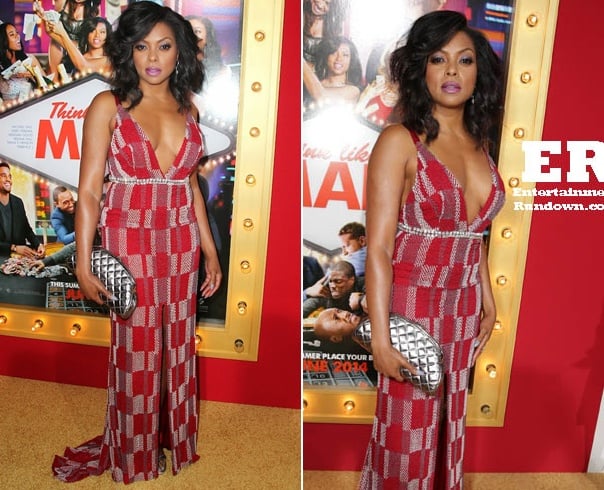 Do write in and let us know your thoughts on Ankara print fashion!