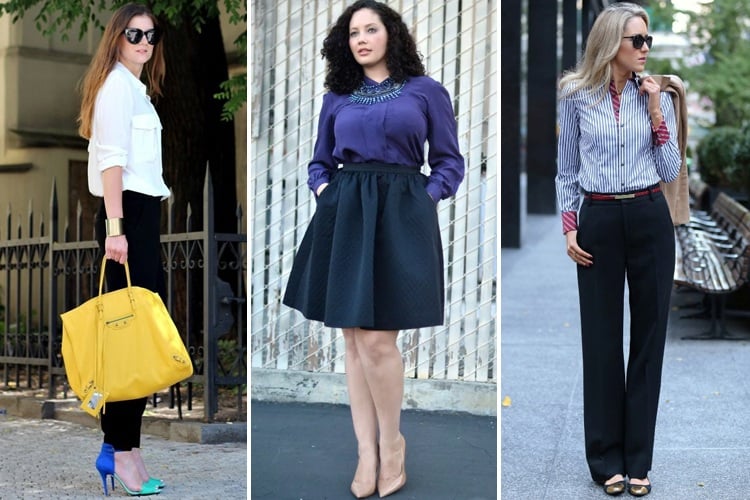 The most common spoiler is your dress shirt or shorts riding up the belly, and become a cause of embarrassment to you. If you're wondering how to keep dress shirt from riding up or how to keep shorts from riding up, then this post is for you. The concept of untucked shirts and shirt riding up belly may not be liked by many.
Do you have to tuck your shirt every time?
Nope, not always.
These options won't make you complain of shirt sliding or billowing.
Let's go one by one.
1. Tailor Your Skirts And Pants
The problem with skirts is that they are likely to get untucked because of the waistband on your skirt or pants which is too loose. This makes a shirt look untucked because a/ either the gap is large or b/ because the skirt waistband is sliding up and down. In both the cases, you need to rush to a tailor. Can you believe that Jennifer Aniston tailors her T-shirts? Learn from this example. Your skirts will stop troubling you when you tailor them at your natural waist and graduate out towards your hips. Trousers and jeans tailored at the natural waist (if they are of high-waist) or your hips (if they are mid or low) and a belt on top will make it comfortable.
2. Seek Elastic Waists
Another trick on how to keep dress shirt from riding up is by adding elastic waists to it (the same can be done to the pants as well). Talk to your tailor to put an elastic band in the back of the garment – it will help keep your shirt in place.
You can also add "gripper patches". These are nice modern-day substitutes for womens' garter belts and could also work double duty to prevent shifting of skirts.
3. Tuck Your Shirt Into Your Underwear, Tights Or Shapewear
Just in case the waistband isn't working out, don't lose hope. Get it layered underneath so that it can hold the ends of your shirt in place. Tights and shapewear work out well as an option. In almost a fraction of a second, you can tuck your shirt or skirt into the edges of your underwear, or alternatively pin it with a safety pin.
In case your dress shirt is not long but long enough, then smoothen out your shirt over the front of your underwear, and tuck it in at the legs (instead of tucking it in the waistband). It will lay out more smoothly now.
4. Tape Your Shirt To Your Skirts And Pants
Double-sided clothing tape. Heard of it? Take two small pieces of it (the tape, that is), fix them to the front of your skirt, and attach your shirt. This will make the shirt stay in place all day and get rid of the problem of untucked shirts.
Remember one thing – the double-sided clothing tape will work only with smooth fabrics (for instance, cotton, silk and wool); knits won't stick together. Not to worry. You can use safety pins then.
By the way, wearing untucked shirts is not barred. A button-down untucked can look as chic as a button-down tuck. It depends on how you like to take things – neutral and safe or spicy and chilly.
5. Slip Into Bodysuit
Hey, did you know Donna Karan had designed bodysuits – one of the major roles of it was to keep shirts in place. Victoria's Secret also has brought about good and affordable options in bodysuits which combat the shirt riding up belly thing.
6. Good "Tuck" Helps
This always serves as a bonus tip to keep shirt in place (prevention is better than cure, remember). Which means no tape or pins are required. The tucking technique by itself gives a neater look. All you have to do is allow your dress shirt to hang flat in front of your trousers. Fold the lower part of your shirt underneath and tuck it into your waistband. By doubling the shirt fabric at the bottom will make the front of your shirt lay more flat.
7. How To Keep Shorts From Riding Up
Shorts are cool, comfy, sexy, and the go-to outfit in summers. But what can become a cause for trouble is how to keep shorts from riding up. Don't worry. Girls in shorts will love this technique that I am going to share. Apply some deodorant to your thighs in that area where they ride up in the front. This will help preventing your shorts from riding up! You can also use baby powder instead of deodorant in this area. Either way, these two methods should work for you and let you wear your summer favourites without walking like an adult baby or a penguin! Game? Try it out.
8. Wear Shirt Stays
Well, the shirt stays for women are meant for extreme tucking situations. However, if you want that shirt to stay tucked, then clip your shirt to your socks using a small elastic garter.
Ladies, what are your tricks and tips on how to keep dress shirt from riding up and neatly tucked? Any "rules" you have when a shirt needs to be tucked? Write in your replies and don't forget to like the post. See ya!