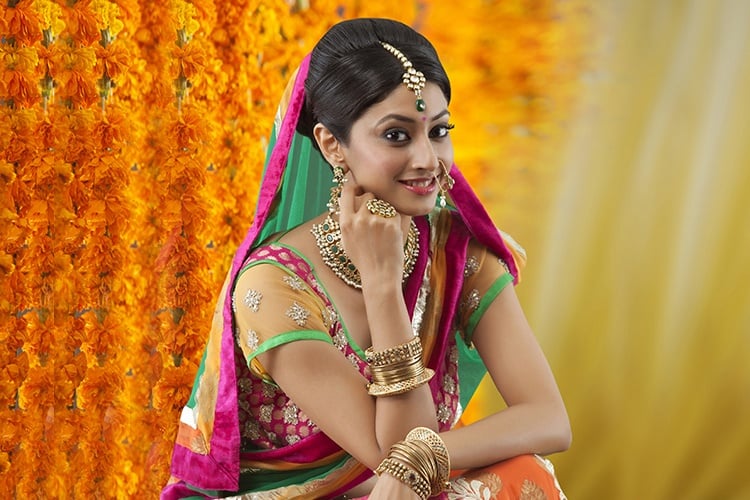 Every woman dreams to be a beautiful bride on her wedding day, but to look beautiful every bride-to-be needs to make endless preparations. Here are some tips to make sure you have everything ready to look perfect.
Outfit
Weddings are a very personal event and every bride should remember that she sets the tone of the wedding. Nowadays Indian weddings have slowly drifted from traditional to contemporary themes. These five simple rules will help ensure you select the right outfit, one that will continue to look as great on you at the end of the day as it did at the beginning.
Rule #1 -Every woman has a few favorite colours that she knows would suit her best and she is confident to carry off in style. Select what will look best on you and don't be influenced by what your close relatives are wearing or their opinions on what you should be wearing.
Rule#2 -Not many young Indian women these days are used to wearing sarees regularly, so choose something that you are comfortable wearing such as a lehenga saree or a dhoti saree. Designers these days are making saree that is pre-stitched with pleats to make sure everything stays in place.
Rule#3 -Prefer fabrics that you are comfortable in, but put your dreams first. If you dreamed of a romantic wedding, go for flowing materials such as chiffon or satin. If you always wanted to wear a lehenga or saree with elaborate embroidery, then go for it.Try the outfit before your wedding day so that you know how it will feel on your skin.
Rule#4 -Indian wedding ceremonies go on for hours and be mindful that you may have to stand or dance for a lot of time during these ceremonies. So always buy your footwear first. Try your footwear with your outfit to know how well it suits, the length of the heels and how comfortable it is.
Rule #5 -Wedding outfits are very expensive these days. So always choose pieces of your outfit that you could reuse in future, like going for a simple blouse for your lehnga that you can team later with other lehnga or a jacket as a part of your western fusion outfit.
Makeup
Makeup trends keep changing every year and it is important to check out the trends of the season. Colours are a big part of the Indian festivities and it is important to extend the colours of your outfit onto your makeup. If you need inspiration, check out these great bridal makeup ideas.
[sc:mediad]
Accessories
Accessories are the final straw in completing your wedding day look. It is important to select your accessories to match your outfit and wedding theme. Add chunky bangles to your set of bangles to make the arms look fuller. Choose a bindi that suits your complexion. Something as simple as a red or maroon bindi would suit most Indian skin tones. If wearing another nose ring is customary to your family or sect, you can go simple and contemporary or something completely traditional and elaborate. The nose ring sits in the middle area of the face and will highlight your facial features.
Maang tikka or the headpiece is another accessory which forms a part of most Indian ceremonies. It is the ultimate accessory to make a bold statement while paying homage to tradition.
These are some of the tips to plan your look for your wedding. After you have decided what outfit and accessories you are going to wear, make sure you try everything together to check it fits and request your makeup and hairstylist for a trial so that you know what to expect on your wedding day.