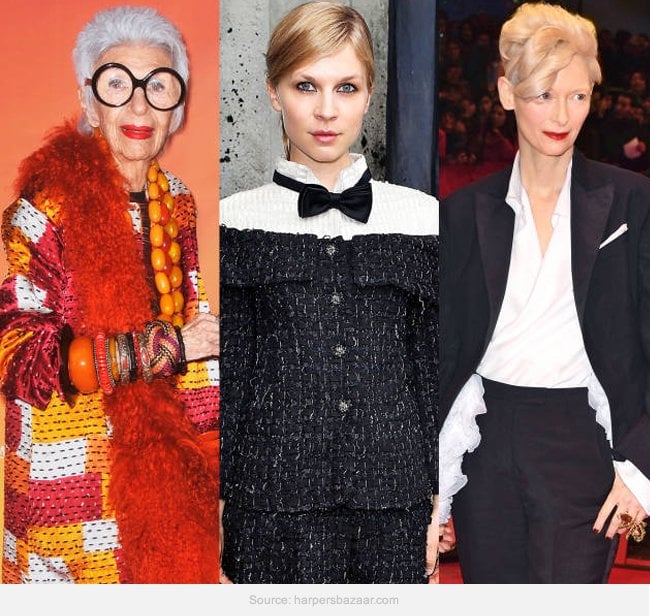 Break away all fashion dictums on how to stylize yourself. Flutter away all those vague thoughts and just focus on comfort styling.  Sticking to what suits you, is the whole idea here. A lot of women are caught unaware that age brings in more style and classiness. You may be in your 20s or 50s or whatever be that number, fashion is a wonderful celebration for every age.
The thumb rule is that you should not imply to wear something that looks good on a cover photo of a beautiful model in a magazine. If it works for you, it will be wonderful but if the look misfits, then you need to do some downright checks on your picks. Finding silhouettes that are befitting and also those that add a fresh twist to them will do you good for more reasons than one.
Fashion has always been timeless and it involves more or less some inspiration from the past. But the essential focus here is to keep the comfort element present and also make one experimental and look suave the next. If you abide by these simple rules, you will definitely have an edge over the others. And no, this is not a promise to make you the next prom queen or a beauty pageant winner, but I am here only to guide you and share some real insights.
What is comfort styling?
Now let me quickly give you a tour on what comfort styling is. I have kept it really basic here, keeping in mind that not everybody gets to walk and talk the red carpet life.
The Teen Look
Starting with the teenyboppers, you should remember that it is your age to do some wild eccentric experiments but not be frowned upon. So this is good news for you. You can keep your look fun and whacky. Also, keep it light and dramatic at the same time.
Exciting look for Women in their early 20s
At  this age you are more confident about your body and can carry off the most stylish outfits with ease. Sexy skirts, tops, heels and the most trendy bags can be used and flaunted by you. Make use to this super awesome age by looking the most trendiest and sexy.
Basic or Casual Looks
This is another look that can be experimented by women no matter what age. This minimal and basic look can consist a pair of comfortable pants or denims with a casual top and ballerina flats. You can slip into this look easily and look your best. The look is extremely stylish and hot!
The classic Look for Women in their mid and late 20's
Fashion keeps evolving with times so you must also keep a tab of it no matter which age group you are in. The zest level drops down by your mid 20s and most of you throw up your hands 'already'? Well who said fashion is dead after a certain age. Here are some looks which are attainable and can glam up your style quotient.
This season is all out floral prints and colours. Grab a pair of floral denims in pastel shades or a floral top paired with denims and make the most of it. Look simple yet glamorous by staying in trend. Do not hesitate to try new styles.
The Soft and Mellow look for Women in their 30s
This age is all about class and how you carry yourself with the best attitude. The simplest tip is to lay low and play with as less colours as possible. It's a little tricky to experiment and play with bold and loud prints and designs.
While most of you cut off yourself from the race it is very important to know that dressing right comes with maturity. Here is why you need to start thinking about revamping your wardrobe.
Agreed these pictures look like a safe bet but it is only keeping in mind that most women at this age are not very brazen with their outlook. But that does not mean that you will just be another face in the crowd with this look. This whole appearance is very classy and loaded with sophistication. It is understated but quick to catch attention. It represents the woman of today.
How to Style your pearls
When I think of women in their middle age, all I think of is pearls! Pearls give the complete classic look. A lot of women tend to wear off their strings of pearls with a certain look. Here's how you can experiment with your favorite set of pearls.
I love how Chanel Iman is toning the whole look here. It may be too much for some eyes but sometimes the 'more' gives the class.
To Conclude
What I want to emphasize here is that if you dress right and smart no matter what your age is, you are sure to get appreciative glances wherever you go. At the end of the day, your keenness to dress the right matters the most. You can take cue from all of your favorite celebs. All these years, they simply have been more and more experimental with age and most importantly they still celebrate the person they are.
Tell us what you like to wear for your age in comments.