The very thought of tomato ketchup, mustard paste or red wine sounds like the best treat for our taste buds.
But what if they spill over our clothes?
God save us from the stains!
One major thing every lady hates is stains on clothes. And one thing she dislikes most is how to remove colour from clothes. Colour stains can come in all forms – ink stains, Holi colour stains, tea/coffee/cola stains, turmeric (haldi stains), roadside stains, puddle stains due to monsoon rain (which spoil our clothes particularly on the ankles part) etc.
With such a long list of stains, what we need is a cloth stain remover.
But is that all?
NO, we need the best stain remover for clothes. Not to forget stain remover for white clothes.
Here are some stain removal tips and remedies for your whites and colored garments:
1. Oxygen Bleach
We need oxygen to survive. And our color-stained clothes need Oxygen Bleach in the form of a stain remover for clothes. What's the good thing about Oxygen Bleach? When it meets water, a reaction happens, leading to oxygen bubble creation which removes the stains efficiently.
2. White Vinegar
In 2-3 litres of cold water, add half a cup of white vinegar and 1 tsp of Ariel laundry detergent. The acid in the vinegar proves its mettle and pulls the color from your color-stained clothes.
Application Areas of White Vinegar –
If a leaky pen has done its job of staining your shirt, no point losing your temper. Here is a best stain remover for clothes – white vinegar again! Just wet the stain with some White Vinegar (WV), then apply a paste in the ratio of 2 parts vinegar and 3 parts cornstarch. Allow the paste to completely dry and then wash the shirt.
Bloodstains are easy to remove before they set, but impossible to wash out after 24 hours. Don't panic. Before the blood stain sets for good, pour full-strength White Vinegar on the stained spot. Allow it to soak for a brief period, say 5 to 10 minutes, and then blot it well with a cloth or towel. Then wash it immediately. Never ever use hot water to remove a blood stain. It will cook the proteins within the blood, making the stain firm.
3. Good Liquid Detergent
It is always the best stain remover for clothes in terms of remedy. To do it right, lay the stained garment flat on a towel. Apply the liquid detergent directly on the stains. Allow it to soak for 20 minutes. Then rinse it with cool water.
4. Toothbrush
Kids are kids – in their habits and moves. Expect things like crayons to leave behind color stains on their school dress. You aren't a child. So all you have to do is rub off those stains with a recycled toothbrush that has been soaked in undiluted vinegar before washing the dress.
Talking of how to remove colour from clothes, any clue how you are going to make your lipstick stain from your handkerchief disappear? Treat it with the following options – either fabric stain remover or rubbing alcohol or hair spray or ammonia. And then wash it normally.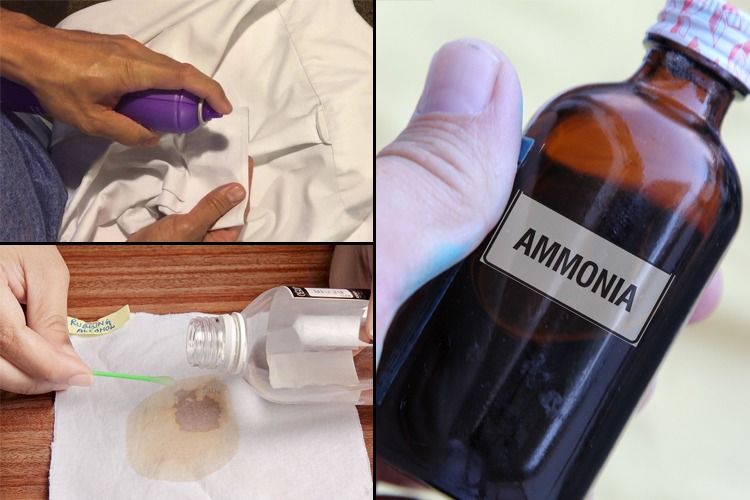 [sc:mediad]
Tips To Get Color Out From Clothes
These Do's and Dont's will be of good use to you:
Follow this principle – Wash color stained clothes as early as possible. If the colored stains stay longer on the garment, then you are inviting trouble, as it will be tough to remove them. If need be, take the non-washable fabric stains to the drycleaner ASAP.
Never use Chlorine bleach on colored garments. It will fade away the fabric and discolour it.
Wash the color-stained garment thoroughly. Or else how will the color stains go away?
Do not wash stained and clean clothes together. Also never mix two stain remover for clothes together.
Some color stains are stubborn. So if you feel the need, go ahead and wash them the second time.
One of the sensible stain removal tips is to use a spray bottle containing the cloth stain remover.
The possibility of any kind of color run can be removed by following the directions on the label and testing out the solution on a small area first.
Before using any cleaning product, check the advice mentioned on the label. Some of them will suggest leaving the garment-soak for a set period of time, and only then rinse it thoroughly with cool water and wash as normal.
Even commercial stain-removing products can be used as cloth stain remover. But do read the directions given on the label and test it out on a small area first. You wouldn't want your stained garment to be thrown out, would you?
When you feel all traces of the stains have vanished for good from your coloured garment, then dry the garment in the dryer.
It is best to wash white and colored garments separately. This way, you will not run the risk of colored stains on your whites.
Where to buy stain remover for clothes? There are a variety of outlets – hardware stores, grocery stores, drug stores, mass retailers, and even online. The purchase venues are many.
So how did you find these methods of how to remove colour from clothes which aren't back-breaking to use? Tell us and leave behind your comments.