Needless to say jeans are undoubtedly the backbone of our wardrobe. Each season, they're probably the only piece of clothing we cannot let go of. Over the past few years, we've observed varying jeans trend. But skinny jeans, for instance, return each season and are much loved. After scarping through several fashion images from recent shows, we predict the best version of skinny pants for the year ahead. Here's everything you need to know about this all-time-favorite denim trend and how to pair it with this seasons' hot favorites.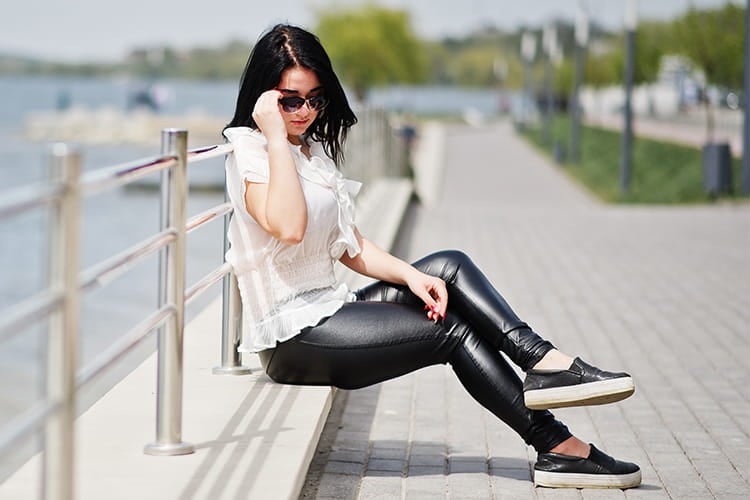 2021 Trends That You Can Wear With Your Skinny Pants:
Other than skinny pants, the season's biggest trends include the fuzzy coats and combat boots. The combination of all these styles plays extremely well. Keep reading ahead to find out which looks are perfect to blend with skinny pants.
1. Longline Fuzzy Coats:
The coziest option for 2021 is longline teddy coats. They play beautifully with skinny pants without a doubt. No wonder all fashion retailers and social media feeds are floated with the pairing of the two. You are sure to fall in love with the trend of the outerwear. The extra volume that the coat offers merges well with streamlined skinny pants to bring about symmetry.
2. Combat Boots:
Combat boots are a wonderful option to wear with skinny pants. While wearing the trend with other boot styles, you are likely to experience uncomfortable bunching around the ankles. But the case is different while wearing with combat boots as it offers a slightly high-rise making it ideally easier to tuck in jeans. And need we say? They are a favorite amongst the fashion bloggers at the moment. What's not to like about the style?
3. Cardigans:
Most of us were confused as to whether cardigans were out of the fashion radar. But thankfully, they are cool again. The classic sweater is still in trend and is actually one of the hot favorites of the season. They are great to wear with high-waist skinny pants. Or, you may also wear it with buttoned skinny pants leaving few buttons undone. This will make for a fresh sweater idea.
4. Ballet Flats:
Ballet flats and skinny pants are an unusual combo but trust us, the pairing is a match made in heaven. The ballet style pumps that are reinvented in 2021 are highly recommendable with all your skinny jeans galore.
5. Quarter Zip:
The athleisure style of the quarter zip is trending at the moment. Quarter zip jackets and tops are hitting the fashion stores and blend well with your skinny pants, as well. The merit of wearing this high school look gives you a preppy finish.
5. Matching Suits:
This season is also about matching patterns or designs. You may opt for light blue skinny pants or dark indigo skinny pants to pair with matching tops. To add a shimmery look, wear metallic shoes to complete.
6. Loafers:
Loafers are good to with skinny pants. Some of the popular loafers trending at the moment are backless, others comes with fluff, while some have platforms to give your height. Almost all of them look great with tight pants. Most loafers are borderline business, and if you'd prefer to take it to the next level, then you can look for metallic ones. Pair them with patterned skinny pants and you are good to go.
7. Grey Something:
When everyone else is experimenting with colors, we suggest going for grey hued tops to pair with your skinny bottoms. For summer, wear one-piece grey crop top. For fall, wear a knitted grey sweater. This is a classic pairing to own season after season.
8. Plaid Blazer:
Switch up your dark blazer for a plaid piece. The plaid blazer looks smart, but not boring especially when paired with a cool version of skinnies. Look for blazers featuring ruched sleeves and contrasting buttons. For the workplace, wear blazers with skinny black pants, and then swap for skinny jeans during weekend.
[sc:mediad]
9. Floral Top:
There's many factors about admiring the floral printed top especially one with a built-in-tie features. This is the kind of tops you can pair with your skinny pants seamlessly and then go on an evening dinner or even work without worrying about changing.
10. Capes:
One of fall's most interesting trends is the swopping cape. You may consider the pros of layering capes with billowy tops and skinny pants. This is a solid winning combination.
These are some of our favorite pairings with skinny pants. We hope you found the ideas resourceful. Leave us a feedback in the comment section below.