Booked your tickets to Japan? You must be waiting to shop for fancy electronic items. By the way, ever thought of Japanese clothing brands? Yeah, these are equally a rage among the fashion freaks. Start browsing through the list below and you will be glad you did.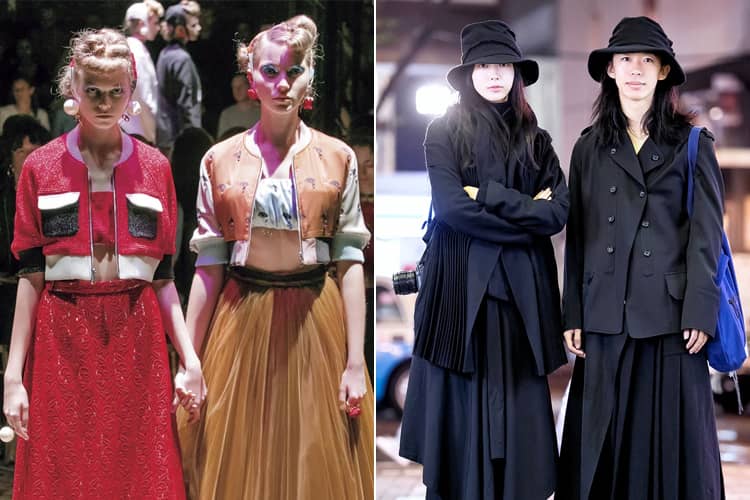 Japanese Clothing Brands:
1. Undercover:
This brand in Japanese apparel is the epitome of Japanese streetwear. The brainchild of Jun Takahashi set up in 1990, Undercover has been around for over thirty years in contemporary fashion. In fact, brand Undercover is a lovely blend of pop culture and punk so that you get a quintessential streetwear brand with loads of punk. The company's motto is "We make noise, not clothes". That is why, they remain the most-sought after pieces for collectors and fashion lovers.
2. A Bathing Ape:
This is one brand in japanese fashion that needs no introduction. It was founded in 1993 NIGO®, A Bathing Ape — or BAPE with graphic T-shirts and sweatshirts. Over a period, it rapidly grew into a lifestyle brand with new product additions such as jeans, jackets, toys, even toilet paper.
What is the source of the brand name? A Japanese saying 'A bathing ape in lukewarm water.' Now this is a phrase which describes an overindulgent person. Go back to the early '00s when rappers including Soulja Boy, Pharrell Williams acquainted BAPE to the Western audience. That's when the brand's iconic shark hoodies, cloud camo outerwear, and Bapesta sneakers became a rage in wardrobe essentials.
Several years ago, NIGO® sold the brand to Hong Kong-based distributor IT. But that did not stop the popularity of the brand. BAPE still remains as the original, high-priced, statement-loving Japanese brand today attracting trend-loving teenagers to fashion authorities.
3. Uniqlo:
It is one of the biggest Japanese clothing brands which has opened stores worldwide. Their Haute Couture comprises of high-quality fashion merchandise. Popular across generations, the clothing is constantly innovating in designs, comfort and lightness. One gets a variety of selections and functional materials for daily wear, traveling and emergency which makes the Uniqlo collection versatile. The brand philosophy is "Simple made better." Registered as Uniqlo, the brand was established in the 1980s under the name Unique Clothing Warehouse.
You know what??
Japanese apparels retailer brand Uniqlo might enter the Indian market next year with the first store in the national capital Delhi. Kudos to seeing japanese clothing brands in india.
4. COMME des GARÇONS:
Founded by Japanese fashion stylist Rei Kawakubo in 1969, this Japanese Apparel brand has stores around the world and in the fashion capitals such as New York, London, Paris, Beijing, Tokyo, Hong Kong and Seoul. Some of the best sellers of this Japanese brand include trench coats and skinny jeans. The catch – their clothes may not be of everyone's taste. However, the brand's collections are spotted at Paris Fashion Week and Paris Men's Fashion Week.
5. Soph.Net:
Meet the first known and best japanese fashion brand Soph.Net which offers streetwear, high-fashion brands and functional every day design. Founded by Hirofumi Kiyonaga, Soph.Net collection is straight forward, clean, stylish, accessible and with a unique touch. While star patterns and camouflage are the insignia of this brand, the embroidered Scorpion logo on shirts, polos and trousers symbolises high-end casual clothing.
6. Yohji Yamamoto:
The most famous fashion designer of the 20th century, Yohji Yamamoto's designs give you traditional Japanese design with contemporary perspectives. A 35-year old brand, Yohji has produced stunning fashion non-stop. Extended silhouettes, asymmetric design, drop-crotch to layered and draped style are some of the brand's features. By the way, 'black' is the main and the only colour in Yamamoto's work. Decades of craft and timeless appeal depict this Japanese clothing brand.
7. Kenzo:
Bright colours, vivid graphics and the brand's recent collab with H&M (high-street retailer) is just one of the brilliant ways of Kenzo making a statement in the fashion corridor. It was in 1970 that the brand Kenzo was founded in Paris by Kenzo Takada. From the very start, the brand has stood out for its bright, and bold collections, always blending Japanese style with European fashion tradition.
8. Issey Miyake:
He is a Japanese fashion designer who is known for his technology-driven clothing designs, exhibitions and fragrances. He is a true revolutionary for having brought the power of technology and technicality to the world of fashion. Pleated garments remember their pleats after the washes might seem like a piece of adventure to you but that is the sum and substance of Miyake. He creates fashion that improves the quality of the life of the wearer. And that is a big challenge, made easy by Issey Miyake. It is this thought-n-philosophy that made Miyake the go-to brand for Steve Jobs, which made the fashion designer Miyake make dozens of black turtleneck sweaters for Apple's CEO. An example of how legends are made from Steve Jobs to Issey Miyake.
[sc:mediad]
9. KIKS TYO:
This is Tokyo-based brand making noise in casual streetwear and accessories. Founded in 2006, this japanese fashion label not only makes tees and sweatshirts, it also makes accessories like hats, wallets, sunglasses, bags and phone cases.
10. NEIGHBORHOOD:
Founded in 1994 by the brand founder Shinsuke Takizawa, NEIGHBORHOOD continues to reflect and get across a wide range of street styles – from punk, biker to military street.
These are just 10 of the japanese brands that have achieved popularity status. The list is much more than you thought.
It goes without saying that japanese fashion is not just reserved for Japan, it is also making its foray in the Indian market. Do you use Japanese clothing brands? Tell us your favorite Japanese brands in the comments below. Also, share this article in your network of family and friends.