If you're on the petite side, you know selecting the perfect pair of jeans isn't quite easy out there. This means you are left with little choice, as the standard jeans come with 32-inch inseam, while you are a little closer to 28 inches. So five feet petite girls are mostly forced to roll up their pants or rush to the local tailor to cut the inches down.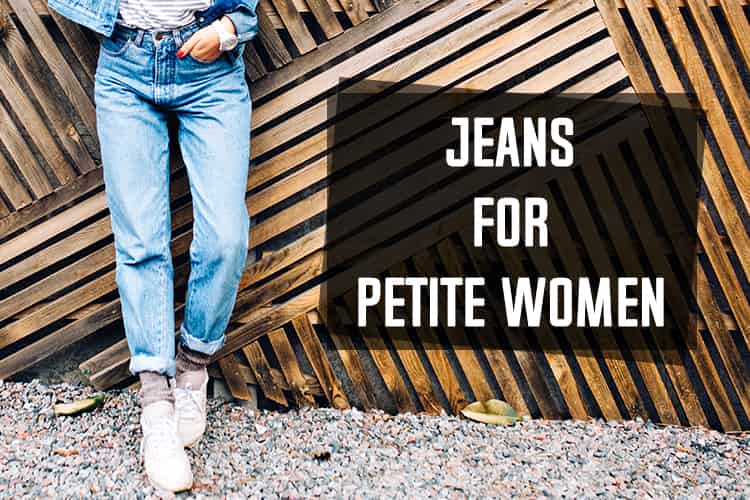 And the struggle does not end there- some petite women also struggle with waist sizing. This is common especially with brands that do not specialize in petite sizing.
It is exhausting to hem every single pair of jeans you own to get a proper length.
To make your life simpler, we rounded up several brands that offer the best petite skinny jeans, including other jean suggestions. Check out these amazing options because you deserve a go-to-pair of hassle free jeans, any day!
Best Petite Clothing Brands:
No matter what your body type is, finding the right pair of jeans that fit straight off the rack can be pretty hard. But, those women under 5'3 have their work cut out for them. And there are a few brands that have done it right, and to ease your confusion, we're sharing these secret destinations right here.
1. GAP Petite:
GAP Petite jean section has the 28-inch inseam, which is perfect for you. The brand also offers a wide variety of cuts including skinny, boot-cut, boyfriend, and flare. You can try out the GAP Super High Rise Skinny Jeans, which end right below the ankle, making them the perfect choice for styling with heels, flats, and tucked in with boots.
Pros:
The jeans are designed based on height and not weight, which means the hem and knee placements should be proportionate to your body. To accentuate your curvy side, the brand has launched a 360 stretch, which lends a curvy side through the hip and contoured towards the waist.
Cons:
The GAP Petite Collection is only available online.
The Collection:
The jean collection comes in flare, skinny, girlfriend, and bootleg styles in various colors and washes. They are also available in all rises, including super high rise.
2. ASOS:
The brand has their own petite line specifically for women standing at 5'3 and under.
Pros:
The ASOS Petite collection has the perfect length cut and is stretchable too. They can also hug your curves well, too.
Cons:
The ASOS Petite size range is not as comprehensive as other brands and only has sizes 00-12. They have a curvy and plus-size line with sizes ranging from 12-26.
The Collection:
ASOS Petite range comes in a number of standard styles including straight, boyfriend, skinny, jeggings, and mom, including high-waist jeans in a number of different washes.
[Also Read: Ways To Wear Jeans In Summer]
3. Topshop:
The brand has a petite section collection for women standing at 5'3 and under.
Pros:
Topshop is one of the top brands and there is a jean for every size including the zip front Joni Jeans.
Cons:
The size range is not as comprehensive compared with other brands and only comes from size 24-30.
The Collection:
Topshop has a huge selection of cropped, straight, skinny, and ripped jeans in petite sizes. The jeans come in all rises and several colors.
4. Loft:
Loft offers petite, curvy jeans suitable for petite women and their bottoms.
Pros:
Their line of curvy jeans has a streamlined fit from hip to hem and is contoured to flatter thighs and hips. The jeans are made from soft, stretchy material.
Cons:
The brand does not offer extended sizes, so their jeans only fit women of sizes 0-16.
[sc:mediad]
The Collection:
Loft petite collection comes in several styles, included skinny, crop, boot cut, straight, and boyfriend. But their petite curvy jeans come only in skinny, straight, and crop.
5. Paige:
Paige has an amazing collection, which offers customers with the perfect fits. The Paige Denim also designs a line of petite denim in a 28 inseam.
Pros:
One of the best features of this brand is the comfort and it does not stretch out.
Cons:
They do not offer many jeans in colors outside the norm.
The Collection:
You can try Paige Hoxton Ankle Petite Jeans, which features a cute detailed hem.
Best Jeans For Petite Women Fashion Suggestions:
If you're a petite woman, you're probably on the hunt for the perfect jeans to lengthen your legs, streamline your figure, and one that makes you look well-proportioned. So for all that, you need to know which denim styles will flatter your body shape the most. Whether you're a petite person who is short or curvy or small, we've got fashion suggestions for what jeans should petite women wear that will do the most for your small frame.
1. Bootcut Jeans:
All tall curvy women can look best in bootcut jeans as it balances out rounded hips. One of the best jeans for short stout woman is a slim-fitting bootcut jean. For this reason, you may avoid using wide or flared styles, which can diminish the lean effect you're trying to create. You may also want to select slimming dark wash jeans in terms of fabric washes. Jeans that stretches can benefit your midsection.
2. Straight Leg Jeans:
Jeans that feature a straight leg silhouette that falls evenly from hips to hems can look flattering on short and curvy frames. These types of jeans can accentuate your figure and make you look taller. To get the maximum benefit out of this style, select darker wash denim jeans in varying length. If you do not like flats, then pair the jeans with high heels or boots with extra height.
3. Skinny Jeans:
Skinny jeans for short stocky woman are the best bet because they give the illusion of longer legs. The popular style offers petite women great height, especially in a leg-lengthening dark denim wash. You can select a pair of jeans in a clean finish for work or sophisticated evening out. You may select a sexy pair of distressed denim. Or if you are both slim and petite who wants a curvier bottom, then look for jeans with flap pockets or embellishments.
Save yourself from all the stress of tailoring by trying all of the options listed above. And if there's a pair we're missing out on, definitely spread the word in the comments box below. Because finding jeans that actually fit can be a life-changer for many.