There are many-many red carpet looks, every weekend, but none made us swoon as much as Kriti Kharbanda fashion profile looks. Her fashion-forward style is a fine balance of refinement. And she mesmerizes us from every angle.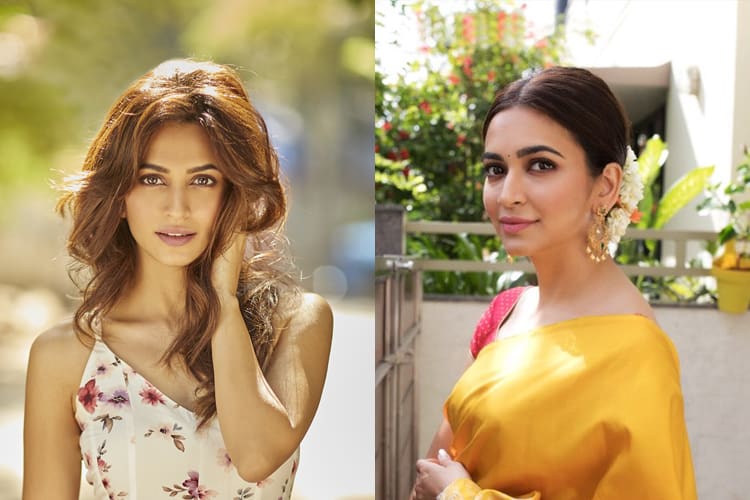 So much has been said, now you can go ahead and check out her looks.
About Kriti Kharbanda:
Kriti Kharbanda was born to parents Ashwani Kharbanda and Rajni Kharbanda in Delhi, India. Her parents are originally Punjabi. Her younger brother, Jaiwardhan Kharbanda is the co-owner of Paper Plane Productions.
The actress was known to be quite active in extra activities at both college and school. During her high school days, she did several advertisements and slowly ventured into modeling. Some of her known ads included Fair and Lovely, Bhima Jewellers, and Spar. Interestingly, it was the billboard photo of Spar that caught the attention of Director, Raj Pippala. Though Kriti had no inclination towards acting initially, she started enjoyed doing it as work came along.
Today, she is an established actress with many hit films under her belt.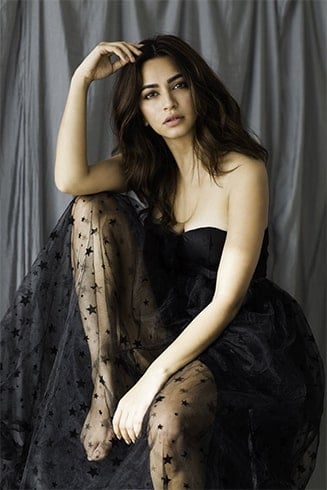 Personal Life:
Now let's take a look into Kriti Kharbanda's personal details, and know more about her passion, weight, age, in detail. Scroll down and enjoy!
Kriti Kharbanda Biography:
Kriti Kharbanda Age And Date Of Birth
[celebrity_age_calc data="1988-10-29″] 29th October, 1988
Place Of Birth
New Delhi, India
Zodiac Sign
Scorpio
Nationality
Indian
Religion
Hinduism
Occupation
Actress and Model
Kriti Kharbanda Height
5 ft 0 in (1.52 m)
Kriti Kharbanda Weight
52.16 kg
Shoe Size
8 (US)
Dress Size
4 (US)
Eye Color
Brown
Hair Color
Brownish Black
Family Status:
Father
Ashwani Kharbanda
Mother
Rajni Kharbanda
Siblings
Ishita Kharbanda (Younger sister), Jaiwardhan Kharbanda (Younger brother)
Favorite Things and Hobbies
Hobbies
Shopping And Photography
Food
Matar Paneer and Chilly Chicken
Musician
A.R. Rahman
Actor
Saif Ali Khan and Farhan Akhtar
Actress
Dia Mirza, Ramya, and Aindrita Ray
Directors
S.S Rajamouli, Soorjit Sircar
Professional Career:
Debut: Boni, Telugu (2009), Chiru, Kannada (2010), Raaz: Reboot, Bollywood (2016), and Bruce Lee, Tamil (2017)
Net worth: NA
Remuneration: 60-70 lakhs per film (INR)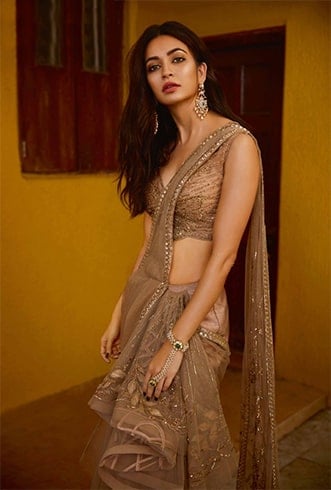 Education:
Kriti completed her school from Baldwin Girls High School and later joined Bishop Cotton Girl's College, ISC. After that, she joined and graduated from Sri Bhagawan Mahaveer Jain College.
The Raaz actress also holds a degree in Jewellery Designing.
Here is a breakdown of her education details:
School- Baldwin Girls High School, Bengaluru
College- Bishop Cotton Women's Christian Law College, Bengaluru, Sri Bhagawan Mahaveer Jain College, Bengaluru.
[sc:mediad]
Occupation:
Kriti Kharbanda is an Indian actress and model. She has done some amazing work in Telugu, Kannada, and Bollywood film industry. This won her several awards and recognitions like the prestigious SIIMA Award and two Filmfare Award, South.
As mentioned above, Kriti started off as a model and ventured into acting. Her film debut was Boni, Telugu movie, in 2009 followed by other movies like Raaz: Reboot, and Shaadi Mein Zaroor Aana.
Titles:
Here are the titles and recognitions that Kriti has won so far: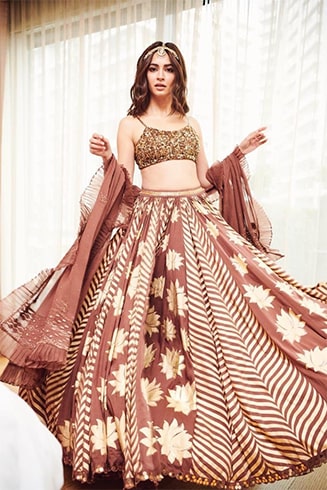 Awards
Film – Year
Language
Role
Nominated- SIIMA Awards for Best Actress- Kannada
Googly – 2013
Kannada
Swati
SIIMA Awards for Best Actress (Critics)
Nominated- Filmfare Award for Best Actress- Kannada
Super Ranga – 2014
Kannada
Swati
Nominated- Filmfare Award for Best Supporting Actress- Telugu
Nominated- SIIMA Awards for Best Supporting Actress- Telugu
Bruce Lee- The Fighter – 2015
Telugu
Kavya
Announced
Raana – 2019
Kannada
TBA
Filming
Housefull 4 – 2019
Hindi
TBA
Announced
Vaan – 2019
Tamil
TBA
Fashion Profile:
For large scale media shows, Kriti is pretty much stylized by the likes of top Indian designers who are responsible for the actress' recent huge makeover looks.
We checked out the Bollywood IT Girl fashion status and dug out some stunning pictures. Take a look.
1. A vision in white, Kriti is looking stunning for the photoshoot of Brides Today. The beautiful ensemble is created by Rahul Jhangiani.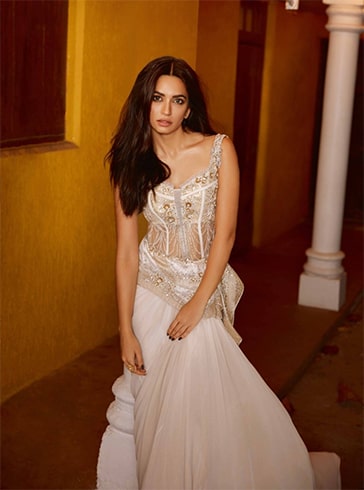 2. At a photo shoot for Longines in Jaipur, the actress never looked this better. The exquisite ensemble is created by Varun Nidhika and styling is done by Ayesha Das Gupta.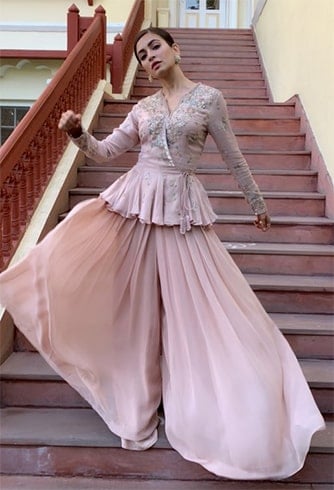 3. She is all things feminine at Nykaa Femina Awards, 2018.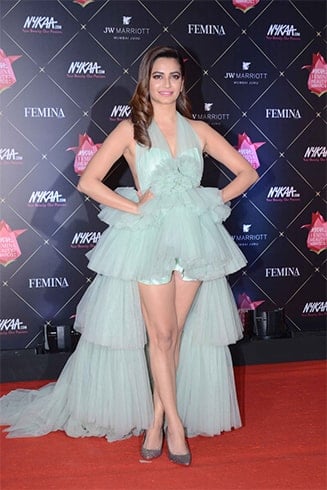 4. Looking awesome in a photoshoot of Pernia pop up album wearing the coolest floral denim jacket with flared pants.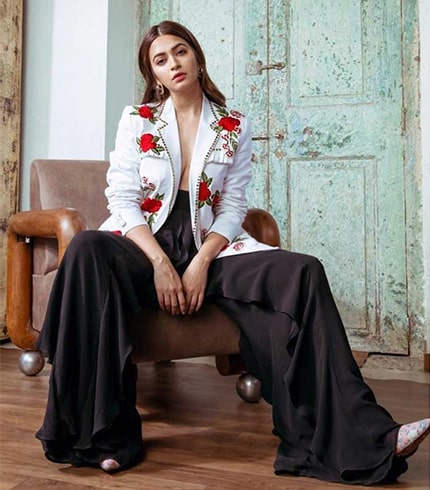 5. Now this is a perfect Indo-western ensemble to carry off. The actress is seen wearing Akanksha Gajria. We cannot choose between her flared sunny yellow bottoms, blouse, and matching half jacket.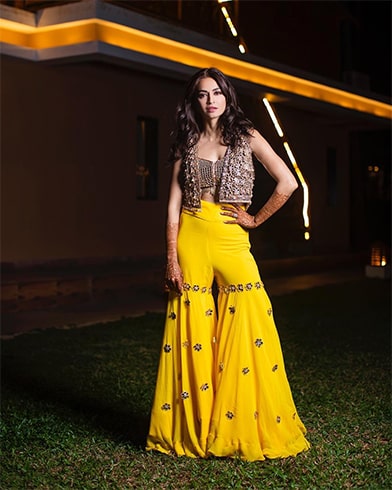 Beauty:
How do the celebs juggle travel and shoots, all while maintaining a gorgeous skin? We sought out the best of Kriti Kharbanda makeup tips and they're too good not to share.
Her favorite beauty mantra would be to get a restful sleep. Then after waking and shower, she use ice on her face. This really works for her skin.
She uses an eye cream, Uriage an eye contour cream daily and it blends wonderfully into the skin.
Kriti moisturizes her skin every morning and then use sunscreen.
She cleanses her face once during the day.
Her night time ritual is to use night cream, night serum, and lip balm.
The five beauty products she cannot leave home without is hand cream, hand sanitizer, lip balm, mascara, and sunglasses.
The actor go-to-look is defined eyes using mascara and red lips with a neat ponytail. Her favorite lipstick is Ruby Woo from M.A.C Cosmetics.
Her favorite makeup brand is Makeup For Ever.
Two hair care products she cannot live without is L'Oreal Professional Constructor Spray and another from Nova brand for maximum hair protection.
She uses a deep hair nourishing mask once a week. Or, apply an egg white mask on hair tips. The actress also does hair oiling.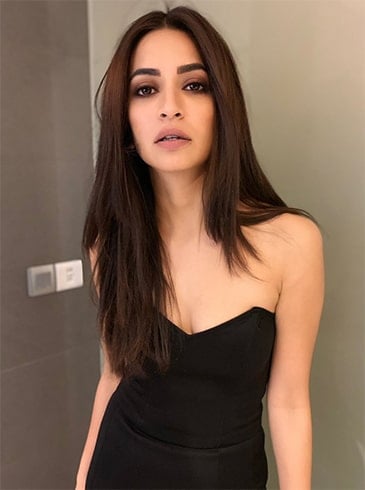 Fitness:
Her back story is same with many new actors. After being discovered from a Billboard hoarding by a NRI film Director, she joined movies, working for big directors and major brands. But, its her healthy approach to fitness and diet plans that makes Kriti decidedly unlike other actresses' of her times. Today, the actress flaunts her epic body size in glossy magazines and the silver screen, all the while channeling an empowering message of embracing body positivity.
Fitness as defined by the actress is not about attaining a perfect or a healthy body. She does not like the idea of women trying for washboard abs. Instead she just wants a healthy toned body. And we are already seeing the results on her and loving it.
So with that, here is a breakdown of Kriti Kharbanda fitness secrets and diet plan for maintaining a lean figure:
Exercise Routine:
Kriti loves practicing yoga to maintain a balanced body. She says it's the best thing that happened to her.
When she is running, she loves listening to Punjabi music. But avoid listening to music while practicing yoga.
She has also started pole dancing to stay fit.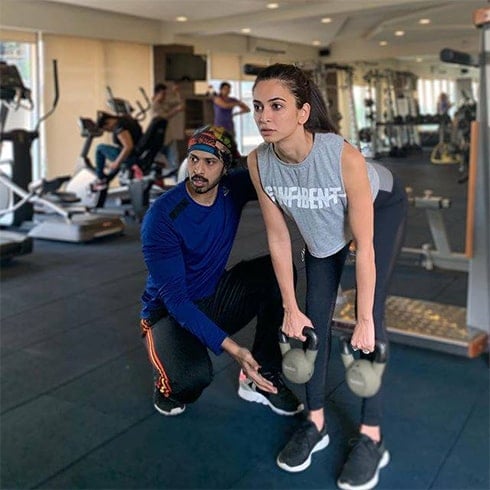 Kriti Kharbanda Diet Plan:
Kriti Kharbanda eats a light and balanced meal. She eliminates the use of carbs, oily, ghee, and butter. But Kriti does not stop herself from taking sweets or desserts. Tiramisu is one of her guilt pleasures.
She tried the ketogenic diet for three months. Even though it bought positive changes to her body, she realized her body was being stressed out.
Brand Endorsements:
India's jewellery brand P.C Jewellers signed Bollywood actress Kriti Kharbanda as their Brand Ambassador.
Social Official Profiles:
Here is a rundown on Kriti Kharbanda Social Profiles. Check out all her links below:
Loved feasting your eyes on the lovely and stylish Kriti? Which looks of hers is your favorite? Write in to us at the comment box below.
Images Source: Official instagram profiles of the celebs/designers mentioned with in the article.