Dainty gold and classic pearl earpieces have been popular for the longest time. But this season, you can upgrade and have fun with artificial earrings. From dripping, gold to sparkly diamonds galore, 2021's hottest pieces are EXTRA and playful. Give your attires an instant update with these standout pieces and start shopping now.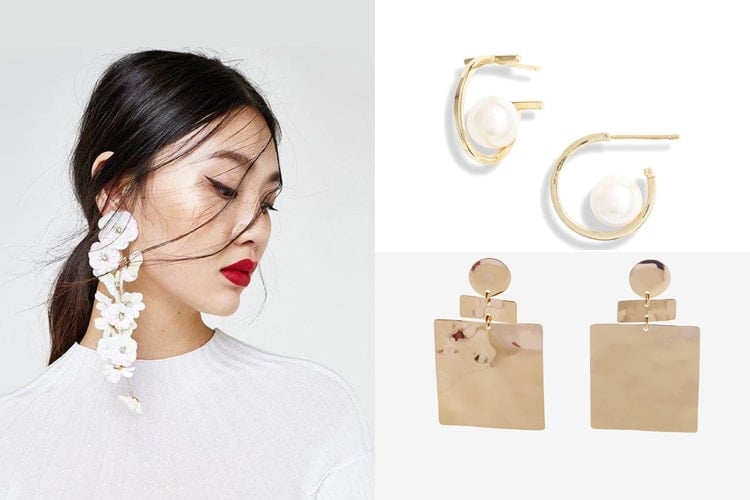 The Best Artificial Earrings To Choose From:
Here are the best artificial earring trends that all women will be putting on in no time.
1. Square Earrings with Crinkled Gold Effect:
Embrace your inner exuberant side with these square earrings with crinkled gold effect that will look just as great with denim look as they do with your glamorous avatar. These imitation pieces are 'so fetch.' We are sold.
2. Gold Tinted Statement Earrings:
It's confusing to select from a wide range of gold imitation pieces, but these statement earrings are fresh and unique.
3. Astrology Inspired Gold Imitations:
Jewellery inspired by astrology is the next big thing. The large gold hoops with reference to the tiger are bold and masculine. This party-ready piece turns on the nostalgic trend to great effect.
4. Below the Shoulder Petal Designed Earrings:
Elevate your earring collection to new heights, literally, by owning a pair that hangs below your shoulders. You can look up in stores and online for price.
5. Gold Plated Abstract Creations:
Dangled earrings in abstract design add a fancy flair to your attire. These statement earrings can be a great addition to a simple outfit making it the focal point of your entire look.
[sc:mediad]
6. Diamond Studded Danglers:
Diamond encrusted earrings are back in full force. Reserve these sparkler styles for special nights. It will make a great addition for your ear accessory collections.
7. Metal Chain Earrings:
Metal chain earrings come in sterling silver and gold tone designs. They are seen everywhere from the newly-arrived sections online or stores. These statement earrings are available in sleek, heavy chains and in minimal designs, as well. Choose one that is suitable for you.
8. Shell Embellished Earrings:
The shell embellished earrings is a notch higher than what it was last year. Whether it is mixed with crystals or dipped in gold, these styles do not indicate the beach alone but are much more chic. You can look for gold plated or gold tone shell earrings for ladies online.
9. Imitation Pearl Hoops:
By pearl hoops we mean less of grandmother's classic pieces. There is a new wave of pearls that comes with unexpected shapes and architectural forms. These rough pearls are perfectly balanced between classy and cool.
10. Off The Cuff:
The ear cuff is a classic. Whether it's a single hoop or feature a claw-design, you can wear your this latest earring with another cuff or without.
Planning to get any from our list of artificial earrings? Tell us in the comment box below.