Doesn't it disappoint you to explain your costume at a fancy dress event after putting so much thought to it? You just want people to recognize the look instantly, do you?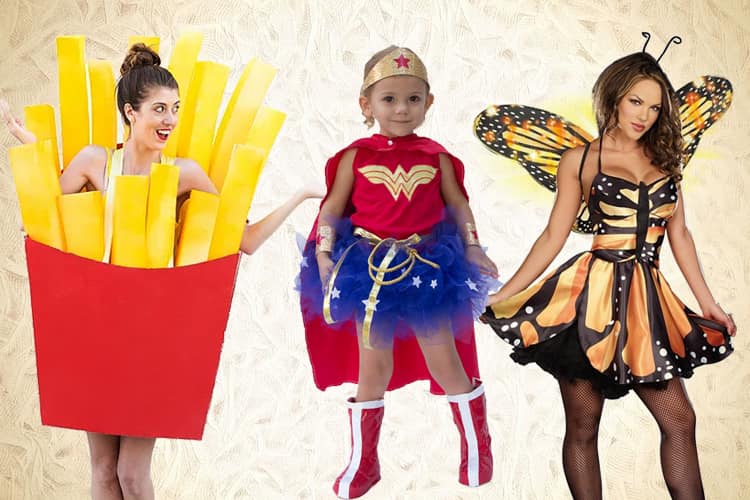 Now you need not spend extra on a costume or hours doing your makeup to rock your fancy dress party. These awesome looks are simple to recreate, and still totally unique.
Here are every cool fancy dress ideas you'll want to wear for special events and parties.
Fancy Dress Ideas For Girls:
Here are the latest Fancy dress ideas for young girls.
1. Moana Character Costumes:
Disney's Moana's characters are awesome and it's simple to choose one to dress up as. You can choose to portray the Polynesian princess, Maui, to Tamatoa, the crab, and others. Check one of the costume ideas below!
2. Twin Emoji Costumes:
Another fancy dress ideas for girls is the twin emoji costume. This is one of our favorite, so we love this costume idea, too! It's simple to make too. All is need are black flats, tights, and leotards. You can also add a black bow headband for a cute touch.
3. Queen Elsa Costume:
Queen Elsa glittering blue dress is the highlight of her look and makes a great costume idea for fancy dress shows. You may also opt for a solid blue dress and douse it in glitter if you cannot find a sparkly dress. Complete the look with frosted makeup and snowflake hair clips.
4. Working Out Barbie's Costume:
If you are a born-sporty girl, glam yourself up as the workout Barbie. For creating her look, select leotard or one piece bathing suit, leggings, and knee-high socks. Finish the doll look with a pop of pink lipstick and big hair.
5. Cotton Candy Costume:
As the saying goes, "you are what you eat," so why not dress up as a giant pouf of cotton candy? All the more, you can get to wear pink. So what's there not to love? Make use of a shift dress, polyester fiberfill, pink spray paint, and hot glue gun.
6. Comic Book Characters:
Whether its Wonder Woman or other strong female comic characters, we all have a favorite, isn't it? With different comic book characters releasing, this is proving to be a popular theme for fancy dress competitions.
Fancy Dress Ideas for Kids:
Here are six fancy dress ideas for kids for inspiration:
1. Fairytale and Princess Costumes:
Kids love the idea of dressing up as princess or their favorite characters. Fancy dress events give them an opportunity to unleash their inner princess feeling. Some of the more popular characters are Snow White, Cinderella, Princess Jasmine, and others.
2. Celebrities Costumes:
Fancy dress competitions are a perfect opportunity for kids to dress up like their favorite celebs. They can get to assemble fun dress-up clothing and accessories to get their look right.
3. Wonder Woman Costumes:
One of the most awesome costumes for children is a superhero costume like Wonder Woman. Her character is one of the most powerful of all the superheroes of the DC comics. Wonder Woman's costumes are also ideal for kids because of its minimal clothing.
4. Animal Themed Costumes:
Animal themed costumes are simple to create, which makes them a popular choice for fancy dress events. These costumes are ideal for toddlers and kids who do not wish to deliver a speech or dialogue.
5. Food Costumes:
A great fancy dress theme for children is food. Children look cute when dressed as veggies and fruits. You can also dress up your children as French fries, burger, hot dog, or a box of candy.
6. Disney Character Costumes:
If you need ideas to make your kid's costume a knockout, go for the classic Disney character costumes. They are not simple to create hence you may need to get ready made ones.
Fancy Dress Ideas For Adults:
Here are six fancy dress ideas for women to take up for inspiration:
[sc:mediad]
1. Military Themed Costumes:
Military styles have influenced fashion to a large extent and it's impossible to ignore it especially for fancy dress evens. The military theme is unmistakable and is majorly worn by women nowadays.
2. Cop and Robber Character Costumes:
You can head to your next fancy dress party with a police officer or robber costume. There are several types of police fancy dress costumes- from sexy to conservative. Most of the cop costumes come with accessories such as toy batons, handcuffs, guns, and police hats.
3. Snapchat's Butterfly Filter Costume:
Another popular and unique fancy dress costume you can try is the Snapchat's Butterfly Filter Costume. You are sure to stand out from the crowd and look pretty at the same time.
4. Great Gatsby Characters Costumes:
The Great Gatsby character like Daisy's one her own feminine charm. Her signature style included pearls, diamonds, and sparkles. This is sure to give you a lot of attention at a fancy dress event.
5. Regina George Costume:
Who can forget the famous Regina George's character in the teen movie, Mean Girls. One of her more famous signature look was the pink coat and skirt. You may take inspiration from the image below.
6. Kylie Jenner Lip Kit Costume:
You can get the look with things that you already have! And besides that, it could make a cute outfit.
Don't you these fancy dress ideas are awesome? They are all easy to re-create. So do tell us which look you would love to try out. Don't forget to share this with your friends and double up your drama.