Folk music, loud beats, the sound of dandiyas banging combined with colorful twirls and bling lights – that's how a typical dandiya or Navaratri venue looks like!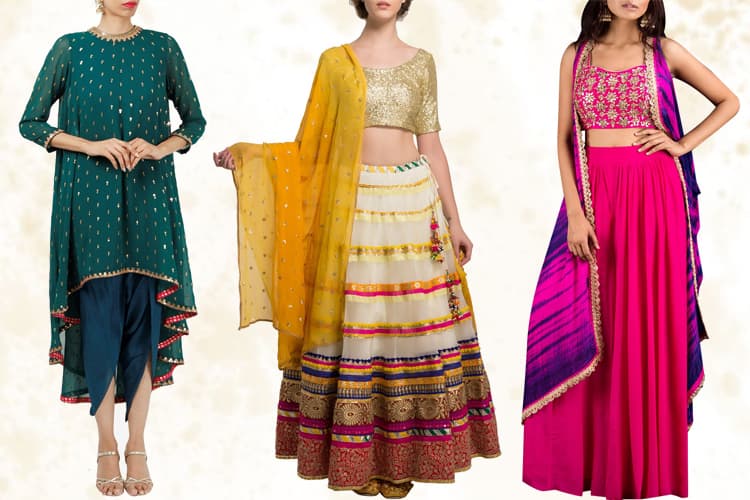 The most awaited festival is celebrated with great zeal and fervor throughout the country and has become quite popular even across the globe. Identified with nights of crazy dancing and grooving, women deck up in their absolute best with bright hues being the staple for the fun-filled nights.
Dandiya Outfit Ideas:
The splendor and pomp of Navaratri is not too far away and the festive vibes already fill the air. It's time to gear up to match the essence of uninhibited fun, irresistible dance moves and lip-smacking food with equally gorgeous designer outfits that are captivating enough to make you stand apart. Create off-beat striking looks or look absolutely glamorous – here are some great dandiya outfit ideas to help you realize your goals-
1. Play With Asymmetry To Make A Statement:
Festivals are all about looking your best and when it comes to fun-filled and often crowded dandiya nights. Thus, it's essential to go a little off the track to make an individual appeal. High- low, also known as asymmetrical hemline, is in vogue these days and can instantly doll you up. Put on shades of bold for your lipstick and some statement earrings to rock the evening!
A trendy bottom is of high significance too in order to put the whole set together. While a churidar or an embroidered cigarette pant will work just fine, it is the dhoti pants that will help you steal the show.
If you love dancing, the comfortable outfit will let you groove in style for the whole night long!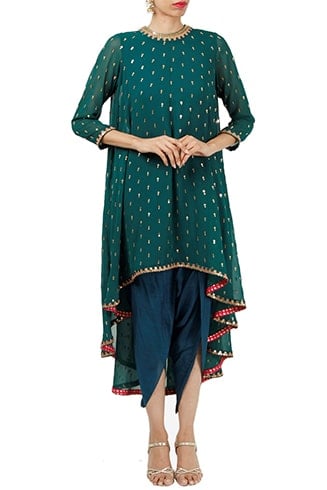 2.Embroidered Jackets To Celebrate The Festive Vibes:
A lightweight yet stunning jacket would make an ideal choice to create vibrant fashion styles that are entirely yours on the go!
Heavy embroidery will differentiate your jacket from the rest and is an eye-catching feature, no one can resist noticing. Moreover, they are available in varying lengths and patterns to suit your individual personality.
Pair your statement jacket with a long flared skirt, such as the one by Ritu Kumar featured here, to keep things easy. Embellished danglers or even a simple nose pin would do wonders and bring you into the limelight.
The whole set, when put together, makes for a perfect Navaratri dress!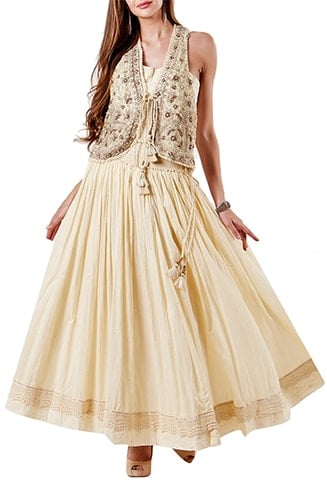 3. Go Fuss Free With Easy Breezy Pallazos:
Take middle route with palazzo suits, carrying which requires minimal efforts and yet yields impeccable results. According to style experts, choosing a floor-length palazzo with side slit kurta is just enough for a drop-dead gorgeous effect.
To match the vibes of the auspicious festival, this outfit by Masaba from the Carma Online website has Kalash prints all over it. With or without a dupatta, the pair can be donned any way and is a sure shot to make a long-lasting impression. Go over the top and accessorize aptly for maximum impact.
Now, are you ready to groove the dandiya night? You better be!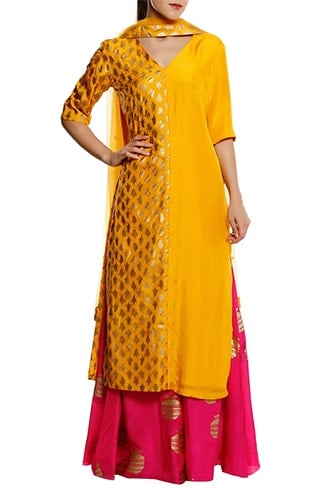 4. Blush And Glow In Lehengas With Detailing:
If there's one outfit that aptly does justice to your ethnic appearance, its traditional lehenga designs with detailing. Play dandiya or do some garba, lehengas will let you stay your best without any additional efforts. To add some drama to your look, heavy oxidized jewelry would be your best bet.
This lehenga from the Carma Online website is a perfect blend of contemporary and traditional fashion. And we just love the way how shimmery blouse has been teamed up with aesthetically rich patterns and prints on the skirt.
So what are you waiting for? Flaunt the feminine side of you by wearing a jaw-dropping lehenga this Navaratri.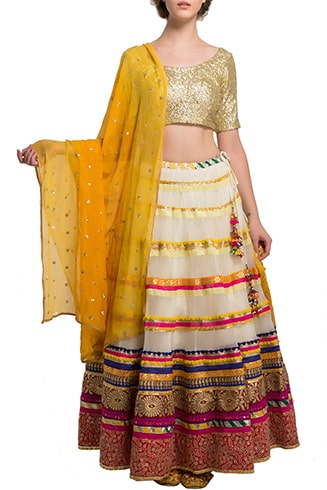 5. Cape It Up:
While the crowd focuses on ethnic best, you can go a little off the track and stand out by adding some trendy and cool contemporary layering. Cover-ups of all kinds and especially capes and shrugs are in vogue and can enliven your outfit by adding more structure to it.
Wear it over your halter or sleeveless cholis to exude more confidence and sophistication. You can peel off the additional layer anytime when the night turns groovy or if you are sweating with all the fun you had while dancing.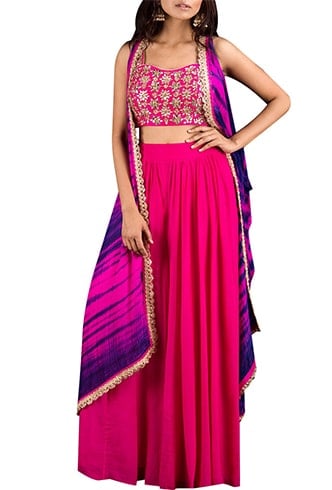 Finally, take a cue from these stylish outfit ideas to dazzle like a diva this festive season! Do remember to scroll through the Carma Online website which has a lot of vibrant, easy breezy and light-weight ensemble options for you, such as the ones featured here, to glam up and be an inspiration this Navaratri.