Need a hairdo but lacking inspiration? We've all been there and we totally get it. If you are wondering about the hairdo of the season, then it's the face-framing layers. And mind you! We're not referring to the long, boring blunts but the eye-skimming layers that are nothing short of stunning. And to get you more inspired, we've narrowed down the best of layered hairstyles.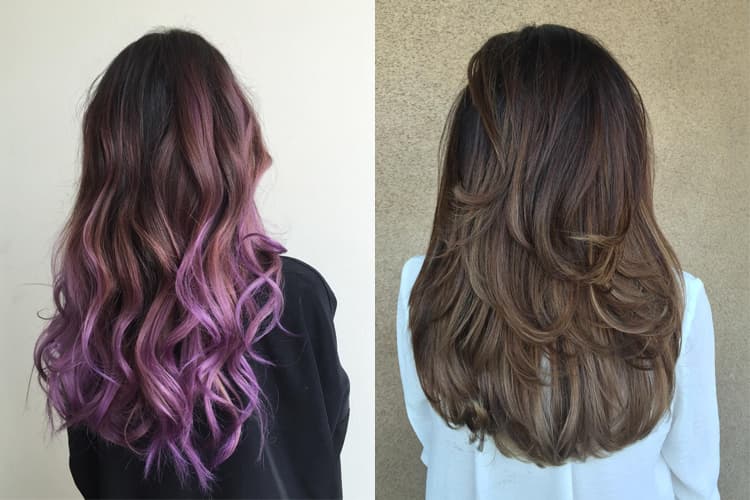 How To Achieve Long Layered Hairstyle:
The tricks to attain long layered hairstyles are:
A layered hairdo will add body to long hair and bring life to dull hair when styling. Request your hairdresser for achieving long layers at the back and smoothen graded layers for framing the face. Balance off the layers with longer bangs.
Request your personal stylist when selecting layers. Blended long layers can look smooth while long shag hairdo will look messy.
Cut the shortest layer of the hair to highlight the best features on your face especially the cheekbones or chin.
Eye-Catching Layered Hairstyles For Your Inspiration:
Take these ideas to any hair professional salon, pronto.
1. Subtle Texture:
This is the haircut for the coming year. For this hairdo, make sure the lob does not fall flat by trimming off a bunch of long layers that begin at the jaw-line and thin out at the ends. Lightly create curls around your head to add more definition and volume.
2. Layered Bangs:
Creating wispy bangs around long layered hairdo will instantly lift your face.
3. Long, Straight Layers:
Fabulous hair begins with layers. And for this reason, layered hairstyles for thin hair are a popular choice.
4. Wispy Waves:
Those with wavy, thick hair should request for a short and side-swept layers as this one. This will provide your hair a lighter tone as well.
5. Bed-head Waves:
One of the popular layered hairstyles 2019 is messy, un-perfect waves with mid-length layers. The look is great to carry off with messy hair.
6. Waterfall Layers:
Waterfall layers are all about long layers on wavy hair. Leave the cascading waves for some fun.
7. Soft Layers:
Women with fuller cheeks should try layers that fall below the chin. The soft layers bring attention to the jaw-line while the hair falling over your cheeks cover their fullness effectively.
8. Long Layers With Colored Ends:
Long layered hair with colored ends brings out different change to your look. Pick a hair color that best suit your skin and eye tone.
9. Cheerleader Layers:
Bright colored hair can switch up your hair to ten folds. Opt for dark roots at the top of the head. This trick can make your face appear sharper. And go for blonde or golden brown shades at the tips to soften your cheeks. The dark side of the hair makes your hair look thick and bring it to life. With the right amount of maintenance, the layers will look healthy.
10. Textured Layers:
The textured layers are suitable for short, medium, and long hair. It mostly looks cool on short hair. These types of short layered hairstyles type of layers are extremely natural. The slight curls add texture to the hair. Use a hair curler for five seconds. Unclip it and set it off to cool. The layers will highlight the slight waves perfectly.
11. Curl Out Layers:
The layered cut is perfect for fine haired women. The curly layers give out a flouncy finish and also add a shiny texture to your hair. The difference between the finer roots and curly ends makes the layered end stand out and brings oodles of volume.
12. Outward Layers:
The outward layers of this hairdo will beautifully highlight your cheekbones. The lighter ends make your hair appear longer.
13. Curly Layers:
Want to give your curls a new look? Then begin with layers. This may not only give a fresh look but also makes your cheek bones appear prominent and defined.
14. Layers with Bangs:
This look can be achieved by thinning the hair ends. Doing this make the rest of the hair looks fuller and full of life.
15. Shuffle Layers:
Curly layers at the hair tips may bring softness to your jawline. They also make your hair appear voluminous at the ends. This can help in softening the face and make it appear thinner. You can wear the shuffle layers with a ponytail.
16. Explicit Layers:
Explicit layered hairdo is trending at the moment and is suitable for all. The hairdo brings attention to your jawline. The soft front bangs may soften the forehead while the unique layers add definition to your hair. The hairdo is perfect to wear for the coming New Year.
17. 2C Layers:
This type of hairdo is perfect for medium fine hair. Those with wavy hair can make use of a curler and hair softener product to add definition.
18. Feather Cut:
Feathered haircut is highly in vogue. Like how the name suggests, the feathered layers can make your hair appear light and flouncy. The feather cut hair can bring structure to thin hair and is suitable for all face shapes.
19. U-Layered Layers:
The U-layers is great for women who want a distinctive feel. This can give your jaw-line a better definition and shape.
20. Subtle Side Layers:
The subtle side layers can help in framing your face perfectly. You may leave few loose strands around your face to highlight your hair.
[sc:mediad]
How to Maintain Layered Hair:
Here are few tips to maintain layered hair:
Make use of a bristle brush on curly hair as it may smooth out frizz. Those with straight hair should make use of a ceramic brush. This can bring oodles of volume to your hair.
Blow-dry your hair for adding volume instantly.
Set your blow-dryer in medium heat to prevent extensive damage.
Make use of shampoo and conditioner suitable for deep cleansing.
When styling your hair, use anti-frizz serum.
These are the 20 incredible layered hairstyles along with tips on how to take care of it. Which hairdo would you love to try out? Comment below to know which one is your favorite.