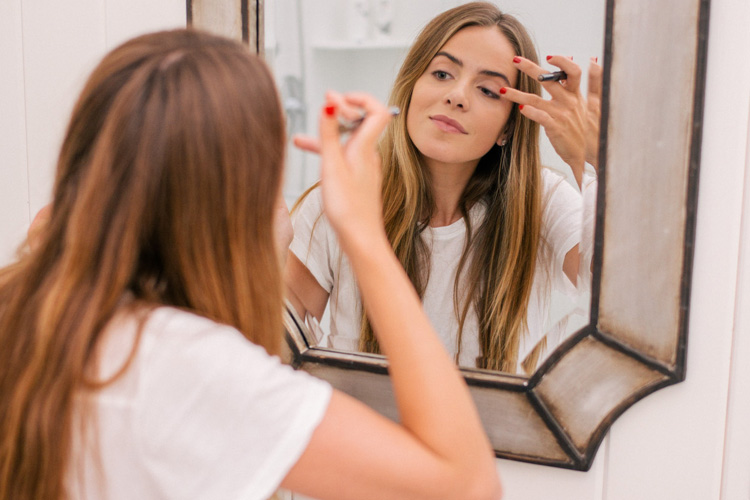 Mirror, mirror on the wall…who is the most technology-savvy of them all? Well, dim lighting is such a problem, I tell you. If only the lights were a bit sparkling enough to get OUT the darkness and gloominess of a room. Dim lights also make you feel handicapped especially while you are doing your makeup. Chances are it can make the "makeup application" a messy process. Far, far messier! And if you have got the morning fog staring in your face, then God help. But, there is a way out. The concept of lighted makeup mirror which illuminates each facial feature easily and accurately is the answer to all your makeup disasters. It can help you get down to perfecting the micro details of your makeup – say, for example, mascara volume and winged liner – in the blink of an eye. Sounds like a dream come true!
On this happy note, let us check out the top ten brands of makeup mirror with lights which will ease out all your worries next time you want to up your glam with some makeup.
1. Krasr Touch Screen LED Lighted Makeup Mirror
Reminds us of an iPad, this time dedicated to applying makeup to perfection! The beauty of this hi-definition Touch Screen makeup mirror from Krasr is that its wide range angle gets you the benefit of 18 built-in adjustable LED lights. The vanity mirror with lights allows you to apply makeup like a pro and perfect every detail with high magnification and superior LED lighting. You can look your best without a makeup artist.
Features:
Removable mirror with 10x magnification
Battery-operated (and included with your first time purchase)
Perfect for application of eyeliner, mascara and eyebrow pencils and inserting contact lenses
Rotatable mirror gives you 360 degree (almost!) coverage for the perfect viewing angle
Base recess stores cosmetics and jewelry while you work.
No need to Off/On the switch (remember it is a TOUCHSCREEN and responds to your fingertips)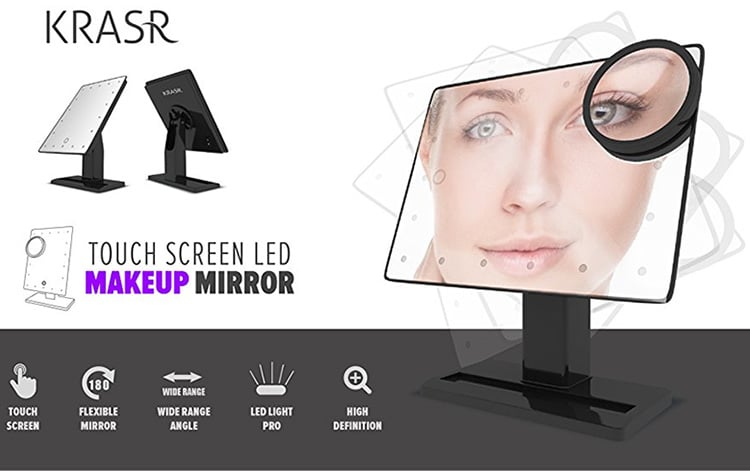 2. Zadro 1x/10x Cordless Dual LED Lighted Wall Mounted Mirror
This makeup mirror looks straight out of a sci-fi film. Yeah, the Zadro 1x/10x Cordless LED Lighted Wall Mirror comes with battery-operated lighting and satin nickel finish (oh wow), which makes it the most aesthetically-pleasing wall decal. Since it is cordless, you can mount it on your bedroom wall one day, and on the bathroom wall the next day. Suits your need! In short, Zadro Cordless LED Lighted Wall Mirror is not just a makeup mirror, but a sophisticated imported tool which will make your beauty session an eco-friendly one too with its energy-saving led lighting that consumes up to 70% less electricity than regular bulbs.
Features:
Dual-sided circular mirror
Comes with a Mirror Head that swivels 360°
Two magnifications – 10x and 1x to chose from
LED lights are powerful but aren't harsh on eyes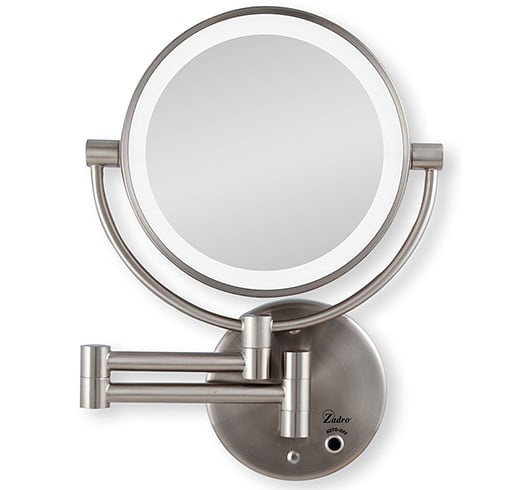 3. Conair Oval Double-Sided Lighted Mirror
With an oiled bronze finish and a double-sided lighted mirror, Conair makeup vanity with lights is not only adjustable but affordable too.
Features:
Provides 7x magnification
Halo lighting is soft for a beautiful glow
It comes with a limited 1-year warranty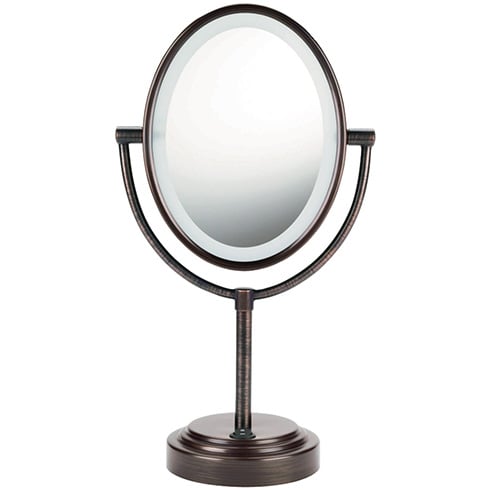 4. Sanheshun 7X Magnifying Lighted Travel Makeup Mirror
With not one but 16 top-graded LED lights that'll last you up to 10,000 hours, what more can you want out of this dynamic makeup mirror with lights! And then this 6-inch light up makeup mirror gives you 7x magnification too! Which means you can see even the finest detail of your face. Truly, this one is the best option for your makeup needs.
Features:
Touch activated: One touch to turn lights on or off
Operated by 3 AA batteries (which are not included)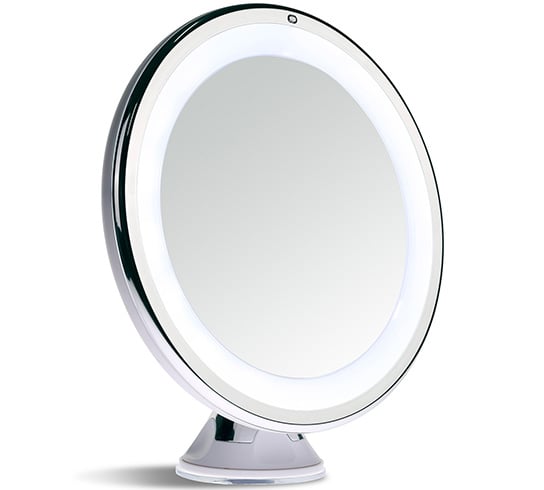 5. Simplehuman Wall-Mount Sensor Lighted Makeup Mirror
This cordless sensor-activated lighted makeup mirror from Simplehuman highlights every possible detail of your face. It helps you turn into a style diva with that smokey eye makeup you try for the first time with it.
Features:
True-lux light system (twice as bright and colour-correct next to perfection)
Adjustable telescopic swing arm
Long-lasting surgical-grade LEDs
5-year manufacturer warranty (valid only when purchased from authorized sellers including simplehuman or Amazon.com)
Rechargeable (one charge lasts up to 5 weeks)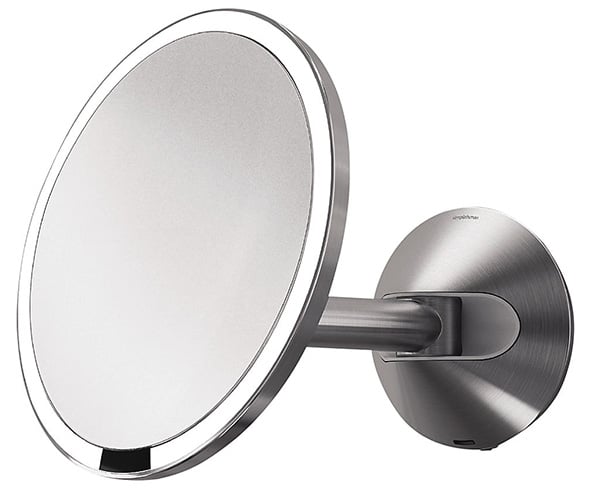 6. Conair Reflections Two-Sided Lighted Makeup Mirror
Three Mirror Panels and four light adjustments make this makeup vanity with lights glam always and anywhere.
Features:
4 light settings: for day, evening, office and home
3 panels for wide-angle viewing
Side view mirror panels (can be folded inward for storage or travel needs)
[sc:mediad]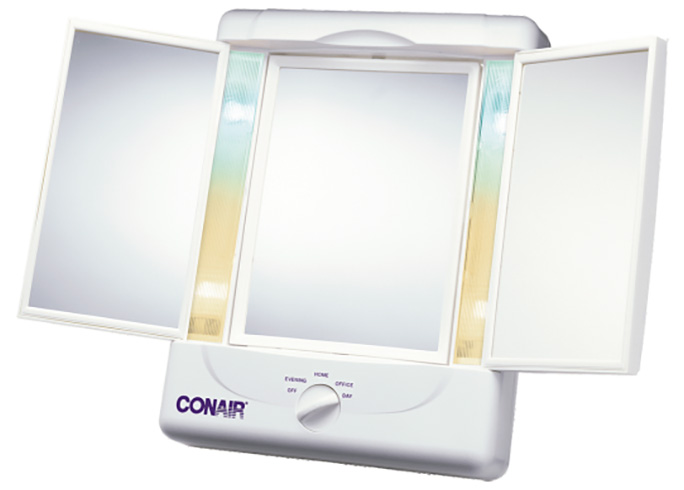 7. Vanity Girl Starlet Lighted Vanity Mirror
Instant Glamour! Get ready to experience gorgeous makeup and hair every day with Vanity Girl Starlet Lighted Vanity Mirror. This premium lighted vanity mirror is perfect!! How many of you know that Vanity Girl Hollywood's makeup mirrors have been impressing celebrities, salon owners, and young fashionistas the world over for years. In fact, this vanity mirror comes fully assembled with cosmetic quality light bulbs and a wall-hanging kit.
Features:
25×18 optic-quality mirror
Laser etching on the frame (which lends feminine style to the mirror).
Made of quality American steel that has a glossy finish
Backed by Lifetime Warranty
Can be used as a Wall Hanging or a Table Top

8. Jerdon Portable LED Lighted Tabletop Makeup Mirror
Yes, cosmetics can't wait until "after" BF (not boyfriend silly but Breakfast). Jerdon's Tabletop light up makeup mirror fills the need gap. Battery-operated, this travel-friendly makeup mirror has an adjustable Tilt Stand which helps it to position it according to your preference.
Features:
Uses LED light to give bright reflection
Portable bathroom and makeup accessory
LED bulbs last the life of your mirror
Compact design and a plastic body make it travel-friendly
10x magnification options
Here's a user review of Jerdon Tri-Fold Two-Sided Lighted Makeup Mirror With 5x Magnification:
"This is my new go-to makeup mirror. I've even created a makeup station at my desk because this mirror is so impressive. I typically leave it on the 'day' mode 95 percent of the time, but I like that I can see my makeup under different lighting. The zoom feature is very useful for up-close makeup. I love the side panels; they really provide a 180-degree view of my makeup in the morning. This also seems very well-built, and sturdier than what one would typically find nowadays. It also impresses me by how adjustable the angle is on the mirror body itself. Overall, I am extremely happy I bought this makeup mirror and can't see myself standing in the bathroom ever again for makeup application."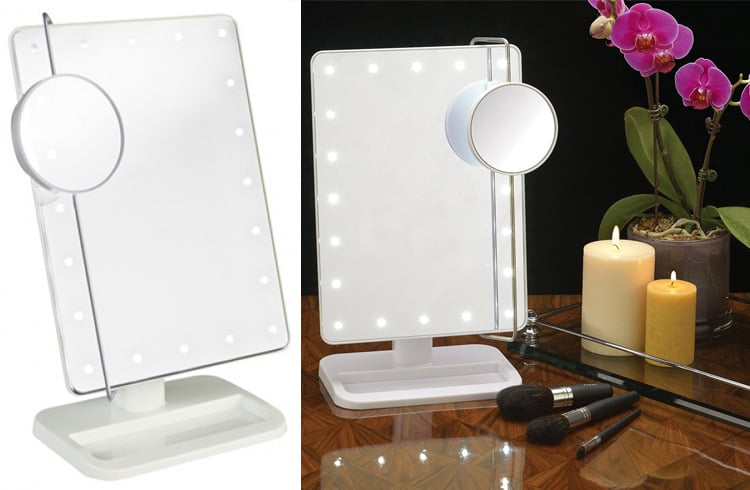 9. Zadro 10X/1X Magnification Dual-Sided Vanity Mirror
Did you know, Brand Zadro is a leading innovator for over 30 years? It brings a wide collection of personal care mirrors, bath, health and wellness products. This portable Dual LED Lighted Mirror helps you travel in style. Lightweight and compact, the dual travel mirror comes with two magnifications – one with 10x and the other with 1x.
Features:
Mirror opens to an upright standing position (making hands-free make-up application possible)
This cordless light up makeup mirror needs 4 AAA batteries (not included in the kit)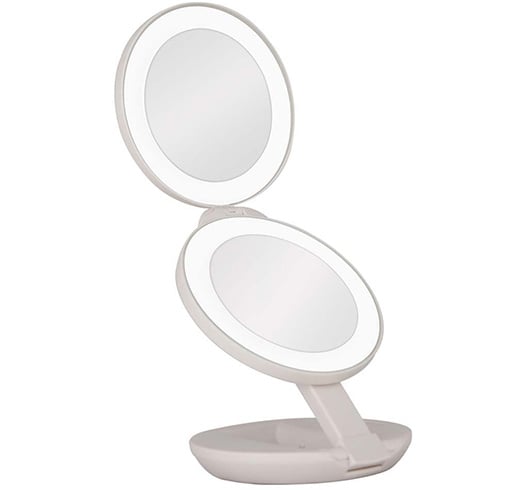 10. Ovente LED Makeup Mirror
"Cool Light", "Natural Light" and "Warm Light", Ovente LED light up makeup mirror is a Smart Touch 3-tone LED Light.
Features:
Available in three color options: Brushed Stainless Steel, Copper and hand-painted Oil Rubbed Bronze
Distortion-free optical quality mirror
Diffused light to minimize shadow
Built-in energy saving timer: for automatic shut off after15 minutes of use.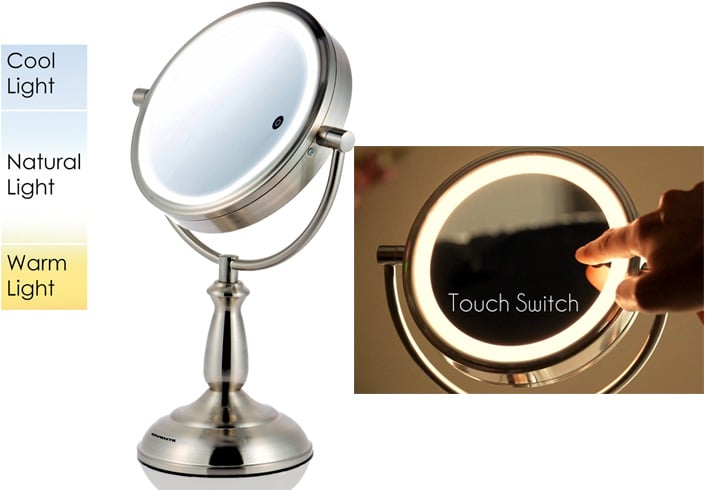 So, how fascinated are you with this concept of lighted makeup mirror? Which brand of makeup mirror with lights will you go for and why? Comment below.
Images Source: pinterest, blogspot