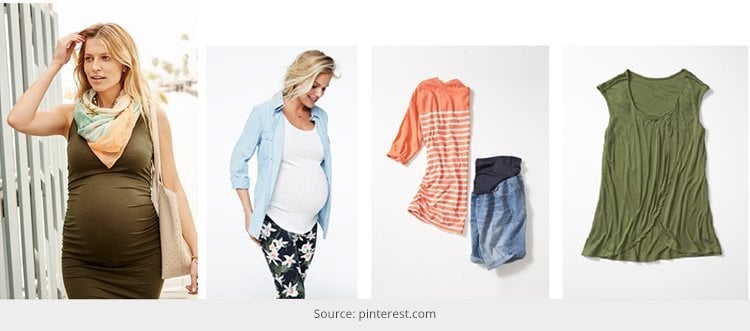 We know you are getting heavy, your shoes and your clothes are refusing to stay put. Heck, someone even had a wardrobe malfunction the other day. But we guess, these are all the side effects or you can say healthy effects of growing another life inside you!
Growing bigger does not mean you will stop dressing up well! For all we know, there are excellent collections of maternity wear which will make you feel like a pregnant diva. In earlier times, pregnancy dresses were a rarity. Pregnant women all over the world would cringe as their clothes got tighter and they started dressing dowdier, but the good news is, now the dresses for pregnant women are available in aplenty and it is actually quite a breeze to select maternity dresses. If you are one of those women who are hooked to online shopping, you can also look for maternity fashion online.
We at FashionLady have picked up some tips which you should keep in mind before you go maternity shopping. So here they are! Happy Shopping!
Jeans with Bump Bands
You swelling tummy may be difficult to control, but you can surely invest in jeans which have an elastic band (also called the bump band) instead of the normal band. This band will help hold your tummy better. Remember that you will not be able to fit into your pre-pregnancy clothes even after your bun is out. You also need to have spare clothes which will fit in after your little angel is born. We advise you to buy these jeans, but also keep in mind that don't go overboard with the budget!
[Also Read: Maternity Fashion]
Empire Waist for the Win!
Empire waist dresses or tops are amazing camouflage material (Not that we tell you to hide your curves) but this particular style can give your body a particular shade and also the flaring will allow you to be comfortable. All the extra weight can be carefully hidden with this magic style. The best thing is that you can keep wearing them till the end of your third trimester!
[sc:mediad]
Stretchy Vest Tops and Cardigans
The key is to wear clothes which will stretch easily. If you don't want to buy items which are two sizes too big, then you should invest in vests and cardigans which can be stretched. Once you wear them, your baby bump will be easily covered and they can also double up as maternity athletic wear!
[Also Read: Maternity Outfits Which Did Not Flatter Kim Kardashian's Figure]
Comfy Shoes
Now this is one area that women keep forgetting about! In addition to your burgeoning body, your feet are also growing at an alarming rate! You will find it difficult to fit into your normal ballerinas and your sandals. The best bet is to wear things like flip flops which will not only help you walk better, but are also much more comfortable than any other style of shoes. Make sure you buy good quality ones because, believe us, your feet will keep growing and growing!
[Also Read: High Street Fashion]
Here is a summary of maternity fashion or rather what you should definitely have in your wardrobe while you are shopping for maternity wear. These are the basics!
There you go! You have all the ideas for maternity wear now. Remember, this is one of the best moments of your life and you shouldn't let fashion take a back seat right? So go ahead, buy some of the most fashionable stuff for your pregnancy!