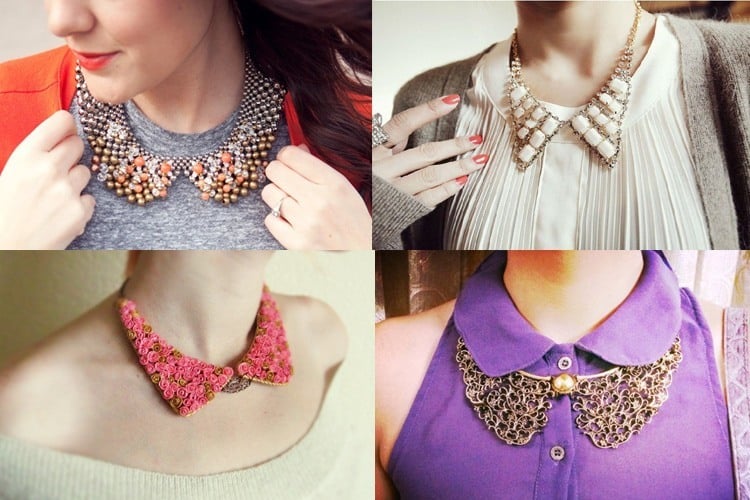 Collar necklaces are a great way to give your tops an instant makeover. They will help take your plain top and change it into an eye catching fashionable piece of clothing. The only catch is that collar necklaces only work with certain types of tops. Knowing which kind of top will go with your collar necklace will help you make wise choices and put together outfits that are spot on when it comes to their overall look and feel. Below, we tell you what to wear with collar necklaces. Tops to match your collar accessory.
Button Down Shirts
Collar necklaces go really well with button down shirts. The necklace rests perfectly under the shirt collar, creating a look that is fancy and chic. Wearing collar necklaces with bright bold colours against a white or black shirt is especially a great way to make sure your necklace stands out against the plain background.
Off-shoulder/Tube Tops
If your aim is to make your collar necklace really stand out then you might want to pair it with an off-shoulder or tube top. Tops that leave your neck bare provide an excellent background for your necklace, making sure that they are the focus of attention.
[Also Read: How To Layer Necklaces]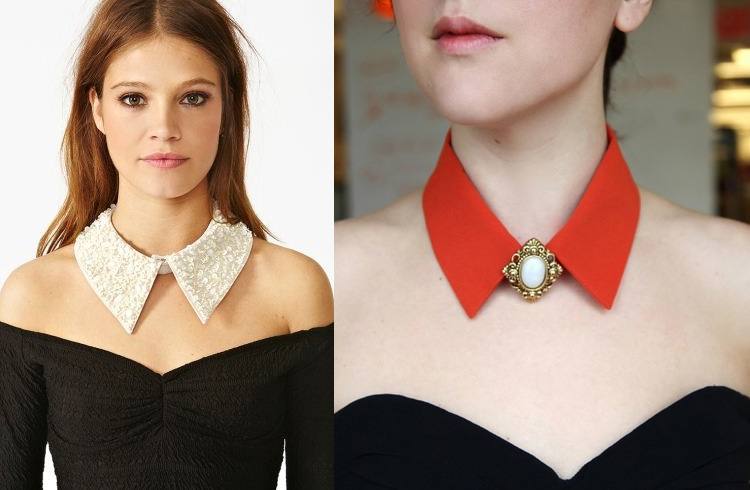 Round Neck Tops
You can make your collar necklace work as a faux collar for your collarless round neck tops. From a sweater to a t-shirt, any round neck top can be jazzed up and taken to the next level with the addition of a nice statement collar necklace.
Wide Neck Top
Just like with a strapless top, collar necklaces are great with wide neck tops as well. The wide neck allows for the strategic placement of the collar necklace against your collar bone, showcasing it to its best advantage.
[sc:mediad]
Things To Keep In Mind While Wearing a Collar Necklaces
Collar necklaces look great with plain tops as opposed to printed ones.
There are so many different versions of it from a crochet collar necklace to a leather one, so don't limit yourself. Explore all the available options.
Peter Pan collar necklaces are especially cute and go so well with round neck tops.
It is so easy to make your own collar necklace. Check out the tutorials available online that tell you how to DIY in some easy steps.
Putting up your hair in a bun will help you to show off your collar necklace better.
You might want to avoid wearing earrings or wear really small ones to keep your look from being too overwhelming. Your collar necklace will make a strong statement, so you do not need to pile up on the jewellery.
The best part about collar necklaces is how well they work with formal attire. You can wear your collar necklace with your shirt and blazer to work or pair it with a formal dress for a work dinner.
Do avoid wearing your collar necklace with turtle neck tops as the resulting look can be a little too dowdy, which we definitely do not want.
[Also Read: Everything You Need To Know About High Street Fashion]
Collar necklaces are a great addition to your jewellery collection. They instantly dress up your outfit and can take a plain top from boring to daring in a flash. Neon colours, rhinestones and pearls all work so well when it comes to a collar necklace. So get ready to experiment and try out different collar necklaces with different types of tops to create some interesting combinations.