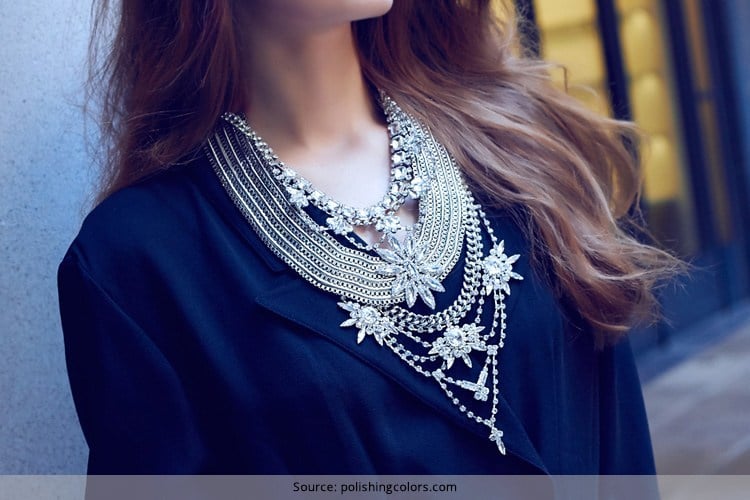 Necklace layering is hitting hard in the fashion world and nowadays every girl is in on the trend. You've probably seen some of your favourite celebs looking fab donning layered jewelry, such as rings and necklaces. It just helps assemble together a unique style statement of your own. It's fabulous, it's simple.
So, you're here because you have seen everyone do it, and you want in too! First you need a collection of thin necklaces (not a large bold statement necklace). Check?
[Also Read: Fascinating Choker Necklace Designs]
Next you need some extenders. What?! Hold on, extenders are simply chains that can be attached to your necklace (or any other chain) so as to augment its length. It will help create the layering of the necklaces (as one will hang lower than the other). They have more advantages like they assist in preventing your necklaces from muddling up together and also prohibit the necklace turning around your neck. You won't need this if you have necklaces of varied lengths, however.
Necklace Layering
Subsequently listed are the steps to giving your necklaces tiers –
[Also Read: Swarovski Necklace Designs]
1. Measure
Suspend your necklaces on the wall with hooks to see what lengths your pieces are off. Along with the lengths you'll be able to judge which designs will work together and which won't. Unless your height, your shortest necklace should be approximately 16″. And by increasing the chain by 2″ will lower the pendant on your chest by 1 inch. If you don't have varying lengths, use the extender.
2. Begin From The Bottom
This is only a suggestion, but it is preferred to start from picking out your longest necklace first. This can guide you in framing your entire demeanor. It may even bring out a whole new design which you hadn't thought of or give a new innovation to old techniques. There's no issue of course in working your way from the top to bottom, but selecting the longest chain initially is the apt way to go.
3. Choosing The Design
You could try going on creating your own little style or you could steal one from around. Don't fret in looking around for ideas from your BFF or even celebs, that's the way you'll soon come up with ideas of your own!
4. Create A Fusion Of Different Metals
Why only combine together similar metal chains? Team up metals with contrasting textures. Just match up your charming silver necklace with the gold one!
5. Be As Innovative As You Can
Don't hold back on reaching new heights of innovation, just make sure it looks good on you. Layering necklaces is all about you grasping together some of your beloved necklaces and spawning your own style and trend. Maybe something that looks fabulous on someone else, won't look so good on you. But that means something else will is made for you! Go with the flow and create something new.
How To Use The Extender?
Just grasp the ends of the extender and attach it through all the borderlines of your necklaces. Then hold each end of the necklace and hook them on to the different links on the extender. You'll see it creates a layer look.
So looking for inspiration? There are various ways to layer necklaces and different kinds of designs you could try out. We've only listed out a few. See which one goes for you –
1. The Tangled Necklaces
Bedeck two or three necklaces of comparable lengths. Place the pendant of each necklace such that it is positioned at different areas against your neck and collar bone. If the chains tangle, just let it be.
2. The Centre Stone Necklace
Tier up each pendant of your necklaces such that they line up together and create a whole new statement necklace. An alternative to this is lining up plain chains, of different colours together, and only one has a pendant. This will give an effect of colourful chains and single centre stone pendant.
[sc:mediad]
3. The Short & Long Necklace
Embellish yourself by wearing the shortest collar necklace you have and then to this add on an extra-long necklace. This gives an overall impression that there is only one rather long piece of chain spiraled around your neck.
4. The Fusion of Textures Necklace
Choose two or three chains that have varying textures and adorn it. For instance a diamond by the yard necklace with a pendant necklace and a chain altogether create a new concocted look.
[Also Read: What To Wear With Collar Necklaces – Type Of Tops]
These were some techniques on how to wear two necklaces or even three, four, five! However many you think will be apt! Let's get styling!