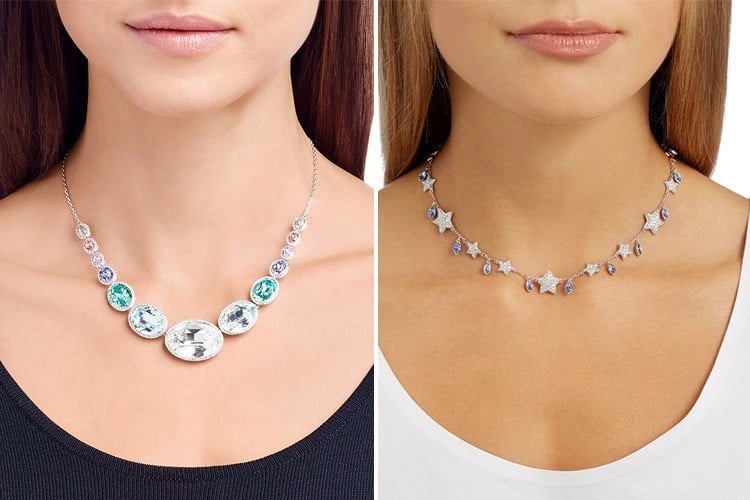 Makeup and hair or haute wear aren't the only things that make a lady beautiful and gorgeous. And even the pleasing inner personality of a lady doesn't suffice as well. Every self-respecting woman needs a touch of luxury once in a while. This could be either handed down or maybe acquired, and this time we would say bling is the ring a woman would like herself to be surrounded with.
Seven Astounding Swarovski Statement Necklace Designs
No wonder, starlets such as Marilyn Monroe always harped on the fact that diamonds were a girl's best friend. In the Indian context, we have had the royal princesses and queens, dolled in immense jewelry. Not only as a status symbol but to aesthetically make themselves presentable too! Talking about the bling factor, here are a couple of Swarovski neckpieces, which we bet would thrill your senses wanting you to have them all. Take a look at the non-beaded and beaded jewelry ideas by Swarovski!
[Also Read: Sparkling Swarovski Bridal Jewelry To Be The Sparkling You]
1. For An Ultra Glam Touch
There is always an element of surprise with the range in which Swarovski neckpieces come by. Should we mention ultra glam, and that is a term that befits the range of the STARDUST COLLECTION this time. Made on the lines of prêt-a-porter, the Stardust Deluxe Necklace has a fishnet tube finish embossed with sparkling gold crystals, a three dimensional silhouette so luxe and an adjustable lobster clasp.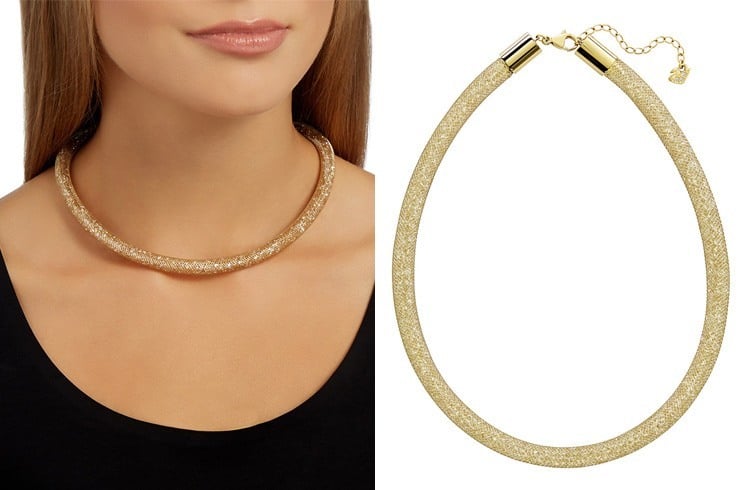 2. Wear It At A Wedding
Planning to wear one of the chicest Swarovski necklace designs at your besties wedding? Here we bring to you the Elinor Necklace; an astounding delicate beauty in gold plating with dusted gold sparkling crystals. Feminine and sensual, and can be worked upon with Indian wear for sure. Perfect for the night bling and the reception parties we say!
[Also Read: 5 Most Beautiful Swarovski Earrings]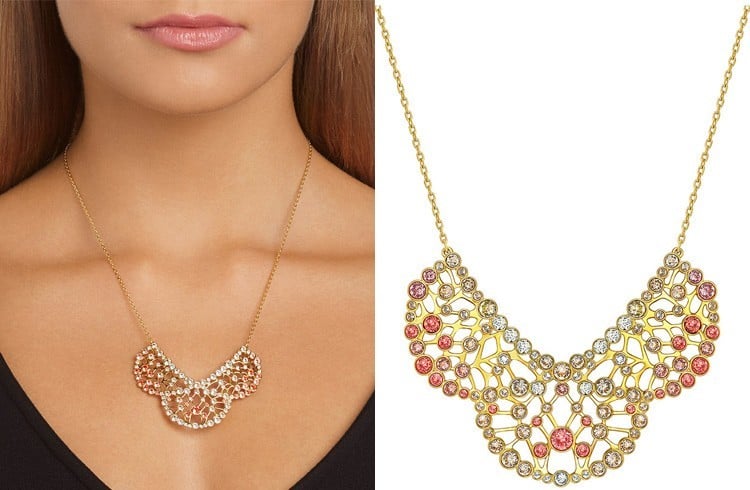 3. For The Starry Nights
For the princessy look to wear at the prom or for a wedding, trust Miranda Kerr's designs with Swarovski to come through as luxe and chic. An outstanding mixed plated All-Around Star Necklace with a galaxy of stars adds a regal touch to your evening wear. Golden tones and crystal pave featured on the neckpiece with blue crystals for show, makes for perfect craving of the necklace.
[Also Read: Most Expensive Jewels]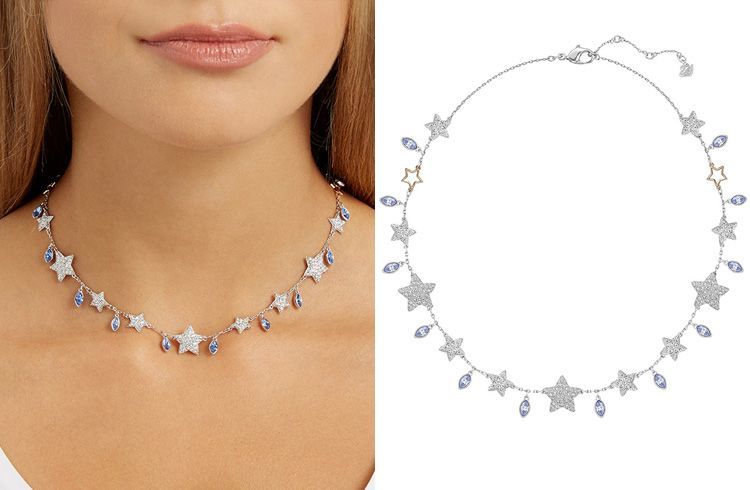 4. For The Summer Evening Girlie Parties
The caption oval necklace by Swarovski is the ideal Swarovski statement necklace to wear for summer evening gatherings. A glam statement comes about for sure, with sparkles and crystal colors, pave and touches of rhodium plating on the chain that adds more zing to the glam quotient. Perfect to wear with indo-western and ethnic wear we say!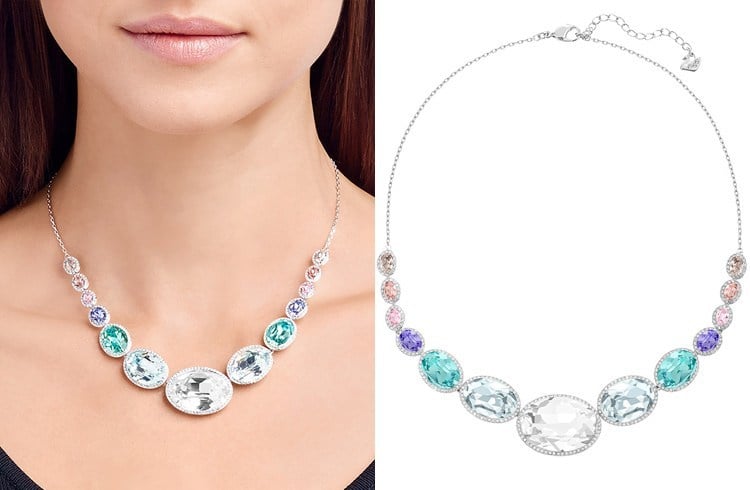 5. Bringing In The Season Of Blossoms
The Christie spring frontal pear neckpiece is an outstanding beauty in its own rights. Inspiration taken from the season of spring, the neckpiece is a beauty that when combined with other statement pieces brings out the feminine delicacy and soft hues. The dark blue crystals on the neckpiece is an eye catcher for sure, sitting apt on the rhodium plated chain.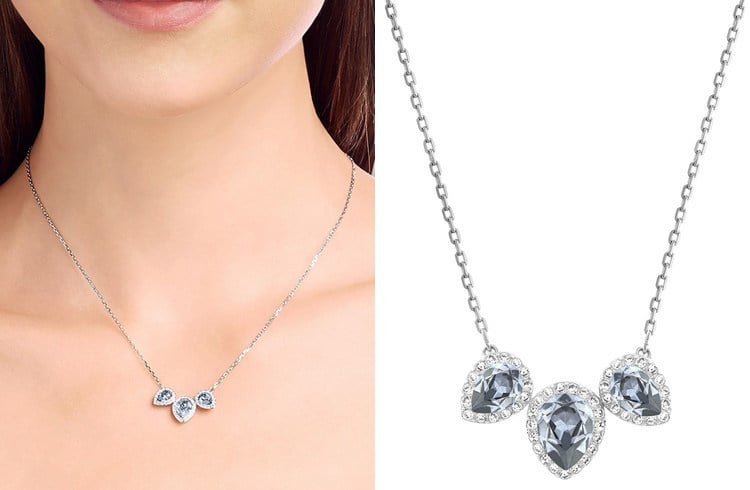 [sc:mediad]
6. The Beaded Charm
A famous European river, Atelier was the source of inspiration for this neckpiece by Swarovski. And must we praise the graceful elegant fluidity of the surrealism embedded in this beauty, we shall. The neckpiece which is an all rounded beaded statement, sparkles clear in palladium plated touches and crystals so luxe. Perfect to wear at special occasions when you want to go all minimal! Dreaming already about the Swarovski bead necklace designs?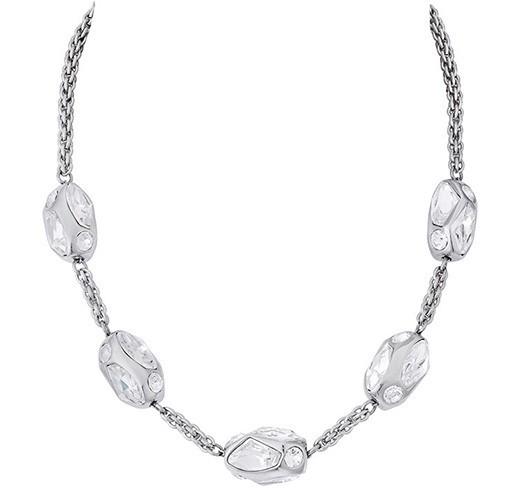 7. A Transit From Day To Night
The transit of looks from day to night comes easy, with the luxe Atelier Swarovski Moselle collection in graceful blue beaded soiree matching the glitters of the blue crystals that emulate the soft waves of the River Atelier. Palladium plated, the exclusive Pointiage® technique used in the curating of the neckpiece is what makes the charming necklace a regal one.
[Also Read: Luxury Watches Made Of Unique Materials]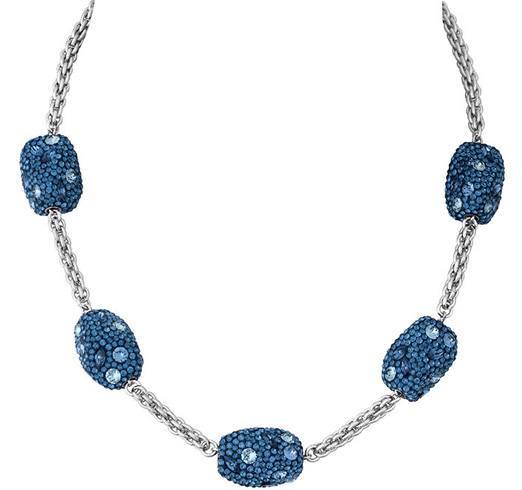 As much as it is tough for you to decide which of the many Swarovski jewelry designs we showed, is for you, imagine what we went through penning this post trying to choose the best over the rest. One thing for sure here, the Swarovski patterns and jewellery designs are mesmerizing, and maybe our Indian brides to be and women around should start thinking of these glamorous pieces for their wedding too. What say!
Images Source: swarovski