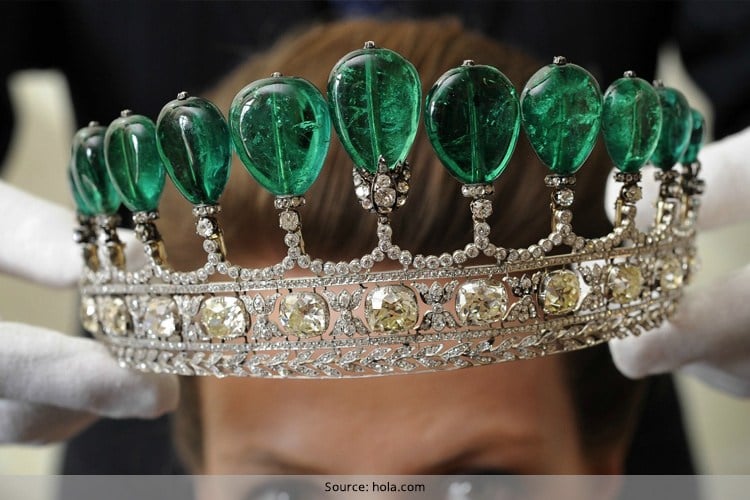 Since ancient times people have remained fascinated by jewellery and whether small or large, everyone desires ownership of the pieces of rock. Millions of years result in the formation of crystals and rocks and will eventually sell as jewellery. The worth of these jewels rely on a few aspects such as quality, value and rarity. So which jewels are worthy enough to be classified as the 15 most expensive jewellery, read on (in reverse chronological order) to find out –
[Also Read: Traditional Jewellery Essentials For Hands And Arms Of Indian Bride ]
Most Expensive Jewels You Would Love To Own
1. The Graff Pink
Price: $46 Million
This is known to be as one of the greatest expensive jewelry the world has come to witness. It has been valued at a tremendous $46 million in November 2010. It is categorized as a type II color diamond and has a flawless rating hence giving it a rate of roughly $1.85 million for each carat.
2. The $30 Million Diamond Bikini
Price: $30 Million
In November 1997 the stated cost of this piece of jewelry is to be at an amazing $30 million, at the Christie's Hong Kong sale. It is a beautiful necklace with roughly 27 jadeite beads, each of .5 mm in size.
3. The Wittelsbach-Graff Diamond
Price: $24.3 Million
This diamond is reportedly from the Indian Kingdom of Golkonda and had been owned by King Philip IV Spain, who gave it as dowry for his daughter Margaret Teresa, in 1664. It was bought by Laurence Graff for $24.3 million in 2008.
4. The Heart Of The Ocean Diamond
Price: $20 Million
Yes, this is the famous piece of jewelry imitated directly from the Titanic and is designed by Harry Winston Sapphire. Its cost is about $20 million and is amongst the most expensive jewellery bedecked during the Oscars by Gloria Stuart in 1998.
5. The Bulgari Two-Stone Diamond Ring
Price: $15.7 Million
This ring has two large diamonds studded in to it. It was found in the year of 1972 via the Bulgari collection. It was purchased by an Asian collector at a whopping $15.7 million.
6. The Marie Antoinette Necklace
Price: $14 Million
Marie Antoinette was the offspring of Empress Marie Theresa of Austria and Emperor Francis I. This particular piece of jewellery is known to belong to her and has a value of around $14 million.
7. The Emerald and Diamond Tiara
Price: $12.76 Million
This tiara had been known to be gifted to the second wife of German Prince Guido Henckel von Donnersmarck in 1900. Apparently this tiara originally was the of the wife of Emperor Napoleon III of France. It consists of 11 polished pear shaped emeralds, is of 500 carats and priced at $12.76 million.
8. The Wallis Simpson Panther Bracelet
Price: $12 Million
This bracelet was once inherited by King Edward VIII and now is known to have fetched roughly an amount mounting up to $12 million by Madonna (as per reports).
9. The Pink Graff Ring
Price: $11.8 Million
Priced at $11.8 million this diamond was retrieved from the mines in South African. It has a pink diamond which is of about 5 carats and has been fixed with Graff diamonds to further increase its cost.
[Also Read: Best Diamond Jewellery Stores In India]
10. The $10 Million Ring
Price: $10 Million
Yet another gorgeous diamond in the shape of a cushion and blue in colour. This is a 6.01 carat ring that has managed to obtain exactly $10 million at an auction.
11. The Cullinan Diamond
Price: $9.69 Million
This is a remarkable blue diamond ring which has been priced at around $9.69 million. It was auctioned off in the year of 2009 at Sotheby's semi-annual sale located in Geneva.
12. The Golconda Diamond Earrings
Price: $9.3 Million
The diamond is cushion-shaped and has originated from the Golconda Mines in India. It is of 23.11 carats and was first seen in May 2011 at Christie's Magnificent Jewels Spring Sale in Hong Kong. They were sold for $9.3 million.
13. The Sotheby Golconda Diamond Ring
Price: $6.5 Million
Embedded in this ring is a Goldconda diamond in the shape of a pear and was bestowed again at Sotheby's Magnificent Jewels and Jadeite Autumn sale in the year 2011. It sold at a superb $6.5 million.
[sc:mediad]
14. The Sotheby Green Diamond
Price: $3.08 Million
This precious green diamond ring has been priced at $3.08 million and approximately weighs 2.52 carats. It's first acknowledgment was at the Sotheby's auction of magnificent jewels.
15. The Bulgari Ring
Price: $2.9 Million
This is an exceptional blue diamond ring which has been Bulgari custom created by an European collector in the 20th century. The owner of the ring has gifted it to his spouse. It has a record selling price of about $ 2.9 million.
Worldly pleasures sure come with a high price-tag, flawless trinkets are masterpieces passed down generations and rigged from floors beneath the surface. The most expensive jewels must have sure blown your mind, but hope it was an adrenaline rushing trip down the jewel lane!