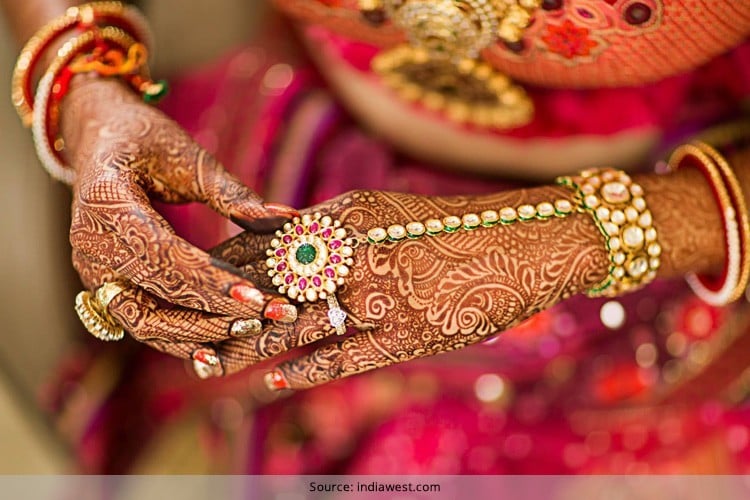 An Indian marriage is a passport to all the good things in life, besides settling down of course. And traditional jewellery essentials adds the perfect amount of glamour and nostalgia to the bride-to-be.
Let's Read In Detail About Jewellery Essentials For Hands And Arms
Jewellery for Indian bride is not just for her hands and feet, but from head to toe. In fact, the jewellery essentials for hands and arms are so vast they will make you fall in love with the very concept of bridal jewellery.
[Also Read: Auspicious Traditional Kannada Jewellery]
Having said that, I take you through a mini dossier of Indian bride jewellery list for hands and arms. It's a check list that will make you wonder on the jewellery options there are for hands, arms and fingers alone.
Jewellery For Hands
An Indian bride can never look complete without bangles on her wrists. In North India, red and white and ivory bangles are considered auspicious for a bride, which the brides wear for months after their wedding as a sign of a newlywed woman.
Let us have a closer view on these wedding accessories which come in the following varieties:
1. Chooda
A set of 21 red and white bangles, chooda is traditionally worn by the Punjabi brides. This traditional jewellery essentials is gifted to a bride by her maternal uncle. The purpose of chooda is to strengthen the bond between the newlyweds, and bring good luck for them.
2. Hath-phool
This traditional jewelry piece which goes back to the Mughal era is back in vogue these days. Hath-phool which mean hand flower is a hand piece which has a central flower-shaped focal point. This is connected from one end to a bracelet, whereas the other ends join up with rings in all the five fingers.
[Also Read: Re-Use Your Wedding Jewellery]
3. Finger Rings
Tell us a bride who hasn't worn finger rings on her wedding day. It's an essential jewelry item for any Punjabi bride, which can range from simple to exquisite.
Some brides have the option to go for royal versions of rings such as an arsi. It is a large flat ring which has a piece of glass in the center.
4. Kalirey
This is one such item in Indian bride jewellery list which was worn more by North Indian brides. Today, they have become extremely popular amongst brides across India.
[Also Read: Princess Diana Jewelry]
Kalirey are hanging ornaments in gold colour which are attached to the chooda that we showed you earlier. They are tied on the bride's hands by her friends and sis-in-law. Such is their beauty that you can't miss out their hanging-like-beautiful-chandeliers.
5. Kangans
Kangans are broad and intricately carved bangles which are made of Gold, and other precious metals such as silver. This item of jewellery for Indian bride is worn on the wedding day and on other special occasions afterwards. A Kangan goes well with the traditional Indian attire, and is preserved for posterity.
[Also Read: Stunning Body Jewellery For Brides]
6. Glass Bangles
This traditional jewellery for Indian Bride is worn by brides across various cultures. Usually glass bangles worn by the brides come in green, red and magenta shades, and are worn to convey the bride's wishes for the good luck and safety of the groom.
[sc:mediad]
Jewellery For Arms
1. Bajuband
One of the jewellery essentials for hands and arms is Bajuband. It is an armlet or arm patti which is worn by the bride on her upper arm. Signifying strength and capability, a Bajuband gives the arms a dressed-up look. It not only comes in gold and silver, it is also studded with diamonds and other precious gemstones. Extremely traditional, they can be found as temple jewelry worn by dancers. They can be worn on single arm too.
Hope you liked refreshing your memory about traditional jewellery essentials. Share with us your experiences of wearing jewellery for Indian bride.