Has she giver her verdict or is she still in the process? Not of deciding the groom, silly but choosing her wedding gown. Well, Meghan Markle's wedding dress is going to be this century's biggest one because she is getting married to none other than Prince Harry – the younger son of Charles, Prince of Wales, and the late Diana.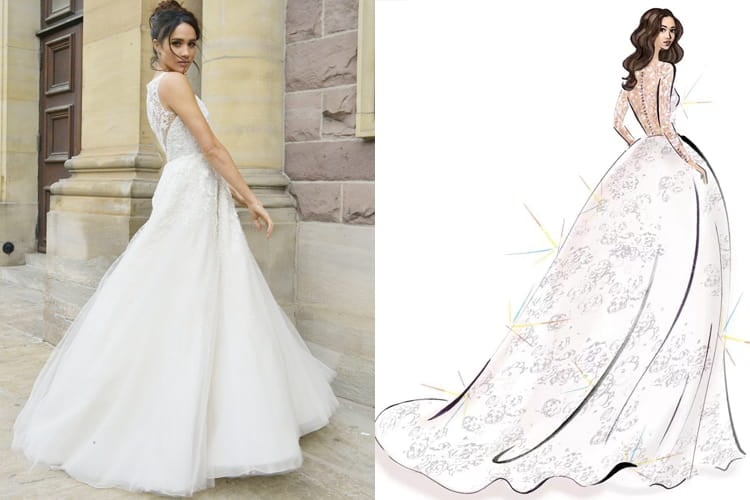 Now you know how exclusive and memorable this royal wedding is going to be on the 19th of May 2018 at St. George's Chapel at Windsor Castle in Berkshire, England.
For newcomers, who is Meghan Markle? Former American actress. And how much is the wedding of Meghan-Harry going to cost? Around half a million pounds!!! That's it? The Royal family of Britain has announced they will pay for the wedding! WOW! Truly commendable, this is.
According to Wikipedia, as of January 2018, British designer Stewart Parvin is the bookmakers' favorite to design her wedding dress. Could Stewart be Meghan Markle's wedding dress designer?
While details of the royal wedding invitation reveal die-stamped, calligraphed samples and the lemon and elderflower cake— the BIG question is —who are the eight designers?
Already ecstatic are you to know the names of the designers who are in the fray for creating the Royal wedding gown? We will go step-by-step. Unfurling of mysteries happens slowly and gradually, not with a jerk, right?
Top Probable Royal Wedding Gown Designers:
Long ago before she had met Prince Harry, the American actor Meghan Markle had revealed her personal style in 2016 to Glamour.com. She said "Classic and simple is the name of the game, perhaps with a modern twist." When asked about her wedding dress, she said she preferred either "whimsical or subtly romantic."
All brides-to-be have their preferred names ready when it comes to designing their bridal couture. When it came to designers, Meghan Markle was all praises about the bridal works and workmanship of Delphine Manivet and Christos Costarellos for "their uniqueness and beauty". Meghan touted Elie Saab and J. Mendel to be "spectacular as well, especially for more structural designs."
By now, you must have got a clue of the pressure Meghan Markle is facing while preparing to be the Royal bride. She might be wondering (and asking) herself what is going to be that ravishing and queenly Meghan Markle dress which will be etched in memory for times to come?
This one bridal gown has to do many things – be true to Meghan Markle's personality, be fit for the Royal bride and look appealing enough to be accepted by the masses and classes watching her enter into wedlock.
There is a positive side too which is sizeable – the chance for Meghan Markle to be world's most renowned bride. With such a huge preface, let us have a look at the likely contenders for Markle's wedding wears.
1. Ralph & Russo:
They are the front-runners in the competition between potential eight designers shortlisted for making Meghan Markle's bridal dress. This London based couture label is so popular that the bookies suspended their bets on designer guessing in mid-March this year. This label founded in 2007 was the first British brand to be invited to showcase at the Paris Haute Couture Week.
And the bride-to-be Meghan is a confirmed fan of R&R – knowing the fact that she wore a contemporary gown from Ralph & Russo for her engagement photos. The engagement dress that had a sheer gold-embroidered top and black fringe-tiered skirt is rumored to have cost £56,000. Though designer creations from Ralph & Russo might be a bit revealing, we will have to see if the Queen approves them.
2. Alexander McQueen:
This celebrated British design house has Sarah Burton at the helm of it. Plus, it is a favorite with Meghan Markle's soon-to-be sis-in-law, Catherine, the Duchess of Cambridge.
Know an interesting part?
That the Duchess of Cambridge had chosen upon Alexander McQueen and Sarah Burton to create her 2011 wedding gown. Not just that, Sarah has continued to dress up the Duchess for many more (and counting!) social engagements in the 7+ years of her marriage to Prince William. But there is no confirmation of the fact yet that Meghan Markle's dress is going to be from the Alexander McQueen label.
Am not hinting at the bridal dress goals of Meghan Markle Vs Duchess of Cambridge, but chances are the designer choice of one bride might not be the preferred one for the new bride-to-be.
3. Victoria Beckham:
Formerly known as Posh Spice, the designer 's bond with the Royal bride-to-be is giving the world a few friendship goals. According to a British tabloid, the two bonded over something as small as beauty tips. With the passage of time, MM wore an off-white VB jumper for a recent appearance.  If you ask about Meghan Markle's wedding dress designer, chances of Beckham designing the second dress of the day, for Markle's private reception cannot be ruled out.
4. Jenny Packham:
Duchess of Cambridge it seems has many a designer. Apart from Alexander McQueen, the Duchess has London-based Jenny Packham as her go-to designer.
Any proof?
Yeah, both the frocks worn by the Duchess to introduce her children to the world—the blue and white polka dot dress for Prince George's arrival, and the yellow floral ensemble for Princess Charlotte's debut appearance —were designed by Jenny Packham. In fact, Jenny has also been the designer-on-record for the Duchess of Cambridge's outfits for formal state dinners and red carpet events, including the BAFTAs. Given her previous work experience, Jenny Packham would make a nice sartorial statement to Meghan Markle's wedding wears.
5. Erdem:
On the British fashion scene, one name has been a beloved figure – Erdem Moralıoğlu. He has also been a favorite of the Duchess of Cambridge, who wore two of his designs on her recent Scandinavian royal tour. It so happened that in a 2017 Vanity Fair cover story, Meghan Markle referred to Erdem as "a designer I've been wearing for years."
[sc:mediad]
In short, Erdem's designs are gorgeous, intricate and otherworldly—but predictably less grandiose than some of the other contenders. Who knows – this could work in Erdem's favor when it comes to being Meghan Markle's wedding dress designer.
6. Amanda Wakeley:
For the Commonwealth Day Service—her absolutely hi-profile, pre-wedding engagement till date, Meghan Markle chose an Amanda Wakeley coat and dress.
Amanda Wakeley, also a British, has an established wedding business and a longstanding rapport with the Royals. So much so that more than 25 years ago, Princess Diana wore an emerald green two-piece skirt suit from Wakeley. Being on the list of eight designers is well-deserving for Amanda, what say?
7. Misha Nonoo:
Globe-trotter she seems – the fact that Misha Nonoo is Bahrain-born, London-raised, and New York-dwelling. Nonoo is friends with both the bride and groom – which means Markle and Harry approved. In fact, Markle wore an 'oversized' white poplin top designed by Nonoo when she first appeared with Prince Harry at the Invictus Games last year.
8. Oscar de la Renta:
Shock or surprise – if Meghan Markle opts to wear a non-British designer on her wedding day. The fact that the design house started by Late Oscar de la Renta is currently brimming with the fresh, youthful energy of Laura Kim and Fernando Garcia (the design heads who studied under the late Renta) could work in Markle's favor. You never know.
Are they only eight designers in the fray for creating the royal wedding outfit? Nope!
Internationally renowned U.K. wedding dress designer Caroline Castigliano shared her thoughts with ET Canada on the type of glamorous gown Meghan Markle will be wearing on May 19.
"I think that she'll wear a very fitted gown that flares away from her mid-thigh, [with] a beautiful V neckline, long lace sleeves, buttons from the wrist to the elbow… all beautiful couture touches."
Caroline Castigliano has drawn sketches of what she thinks Meghan Markle could wear for the big royal wedding.
Caroline went on to say she thinks Markle will have a "beaded skirt that'll be attached at the waist but will come very wide away from the body," adding that it'll "go right round into a huge train at the back, so when she walks you've got this beautiful silhouette of her really slim body."
With 8 designers to choose from, let us hope that Meghan Markle picks the right one and her wedding dress remains an eternal wedding fashion inspiration and a symbol of workmanship for all times to come.