If you haven't perfected applying the winged eyeliner, are you alone? Nah! It takes so much time to be 10/10 when you want to get that cat-eye look. First, you need the best eyeliner tools. Then you need to be in better control of your hands while applying the eyeliner.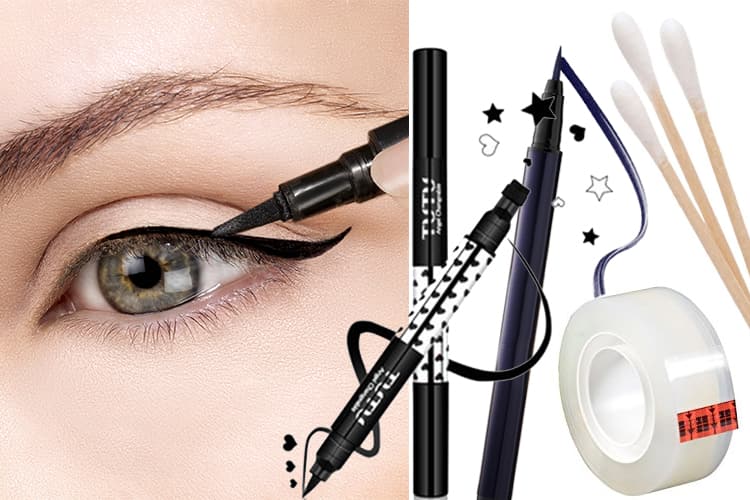 If you are clueless about the best eyeliner tools in the world of makeup, worry no more. Just go ahead and check out this post!
Top 10 Eyeliner Tools
Here's a list that will help you pick the perfect eyeliner tool for yourself. Yes, you can thank us later.
1. Stencils:
I know the word 'stencils' might take you back to our early school days when we used stencils in our class assignments. The winged eyeliner stencil is one of the easiest ways to get the perfect look. The pack usually comes with six stencils that can be customized as per your mood and occasion. There is the good old cat-eye to the sexy fishtail look to take your eye makeup to the next level.
You just need to pick the eyeliner style and give it a try. Not just this, you can get a perfect smoky eye look without the risk of messing it up or getting panda eyes.
2. Eyeliner Brush:
If you use gel eyeliner, then this brush is a handy tool. This is one of the simplest winged eyeliner tools that helps you perfect the look you desire. Glides easily across the eyelids and bingo you are ready with the perfect cat-eye look. So ladies, do include this brush in your makeup kit.
3. Cotton Swabs:
What does cotton buds have to do with eyeliner application? Because no one has a steady hand while creating those fine flicks – which is why it's necessary to have a box of cotton swabs handy. So that in case you have messed up your eyeliner, you can make it perfect again.
All you need to do is dip the end of a cotton swab into a bottle of eye makeup remover and then straighten up any wobbly lines. Did you know, these cotton swabs (which you thought were reserved for your ears) can make your cat-eye eyeliner much sharper?
4. Stamps to Jazz Up your Eyeliner:
There are some days when you want to go bold (bikini is the not the only way to show your boldness quotient). Enters winged eyeliner stamp that helps to add a bit of jazz to your usual eyeliner.
Sonam Kapoor flaunted her butterfly eyeliner with the same oomph with which she struts the red carpet at Cannes. She looks so beautiful in this shot taken by makeup and hair artist Namrata Soni.
To get these statement-looking fun stamps for your eyeliner, remember to have a "pointed" eyeliner pen to get you that perfect wing. Also, grab plenty of funky stamps, which you can use at the outer corner of your eyes. Now you know how to make your normal eyeliner look different with a winged eyeliner stamp!
5. Thin Eyeliner Brush:
The beauty of pointed eyeliner brushes is that it helps draw a precise and accurate line that is close to your lashes. Since you get a defined end, you can draw a thin or a thick line on your eyelids without creating a mess. This way, you always stay in control of the size you want which makes it very easy to score the perfect cat-eye look.
6. The Vavavoom Stamp:
Those who like to keep their fierceness on the more subtle side, this eyeliner tool is for them. Works for smaller or hooded eyes as well, the Vavavoom Medium is a statement that allows you to make your eye makeup 'perfect'. Gets that clean and even line on both the eyes at the right and desired angle.
You just have to dip this Vavavoom stamp in your eyeliner (better to have a gel one) and decide what angle you want your cat-eye to be. Available in two sizes – medium and large, it helps you pick between big and subtle stamps.
7. Scotch Tape:
There are so many tutorials showing you how to use a scotch tape to get that perfect winged eyeliner look. Whenever you are having trouble drawing those wings with the help of an eyeliner, use a scotch tape. You just have to place the scotch tape under your lower lash line at the outer corner and angle it towards the end of your brows.
Now start sketching along the scotch tape and remove it when you think you are done. There you are – with your flawless cat-eye look.
[sc:mediad]
8. Angled Eyeliner Brush:
There are many winged eyeliner tools which are perfect to go. Use the bent side of the angled brush to draw a line along your lash line. Then turn it at an upward angle to get a wing. You can make it thicker by pulling the corner line back to the center of your eyelid. This will create a small triangle, which you need to fill in!
9. Pen Eyeliner:
Pointed eyeliner is always a great tool to get the perfect flick. If you are not eager to use a brush, then use a PEN! Not the writing pen silly, but a pen eyeliner. It is designed in such a way that it helps make eyeliner application very easy. The felt tip can modify your look from soft to intense in just a few seconds!
10. Triangle Winged Eyeliner:
Haven't you ever felt the urge to use geometry to enhance your beauty? The answer is here – triangle eyeliner tools which deliver a sexy eyeliner look.
So dear, which of these eyeliner tools are you game to try to do justice to your eye makeup? Tell us how you found our list and share this article with your friends. If you have some more eye makeup tools to recommend, feel free to tell us about them in the comments box below.