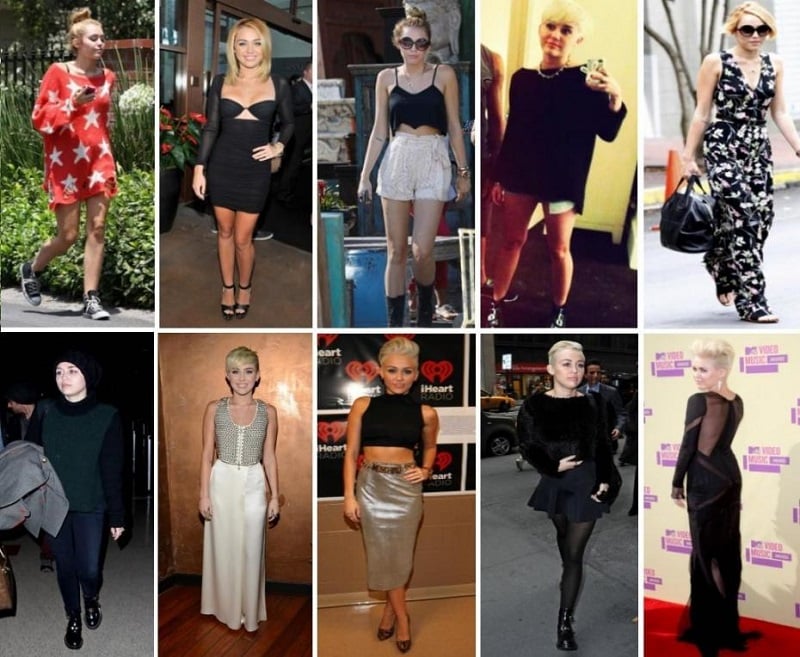 As outrageous as Miley Cyrus has been of late, we cannot overlook the factor how she has had been an ardent attention seeker, for better or worse these past 2 years. Fashionlady offers you her complete evolution right from the time she was the top teen fresh face of Disney. From an innocent girl next door image to emerging as a wild spoilt provocative star, Miley's fashion sense is of no exception.
Destiny Hope aka Smiley aka Miley Cyrus is an American singer and actress and daughter of country singer Billy Ray Cyrus. She is best known for her breakout role as Miley Stewart in the popular Disney Channel sitcome, Hannah Montana and its related films. She has also loaned her voice to several Disney characters including Celebrity Star in The Replacements and Yatta in The Emperor's New School and Penny from 2008 animated movie Bolt.
Her childhood nickname was Smiley which was eventually shortened to Miley.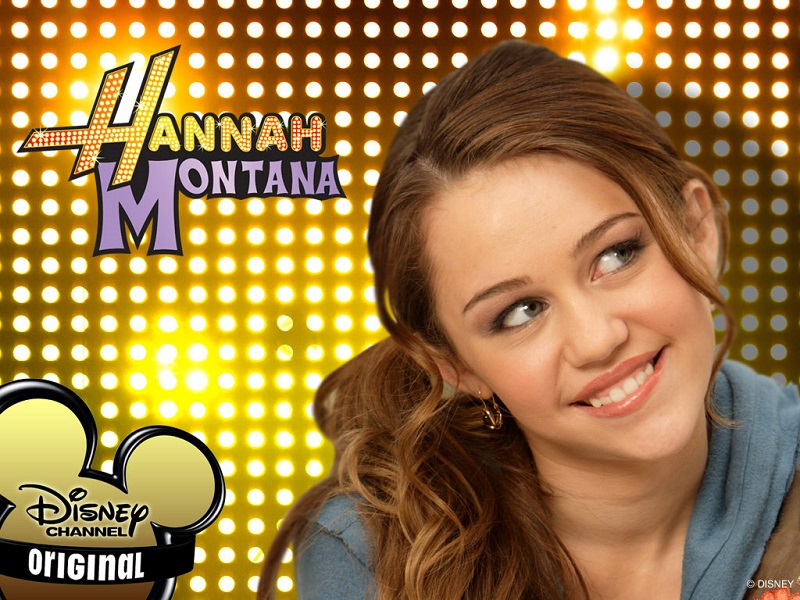 Miley is no more the squeaky clean teen she used to be, rather she has revamped her look shocking everyone with her outré transformation and provocative attitude she has been showing lately. Whether it's about her on-stage performances, posing before the lens or her fashion quotient – the 21 year old singer is always in the news.
Having friends in high places from fashion domain including marc Jacobs, Jeremy Scott and Karl Lagerfeld, it seems like no strength of nature can suffice to serve this girl's free spirited nature. As bold and audacious as her style statements are, Miley has got some high fashion brownie points in her corner.
No matter how much she shows us her wild side with some extremely crazy behavior at times, we should admit to the fact that we can never hate her. She is still the adorable chic in the circuit minus her adultery demeanors.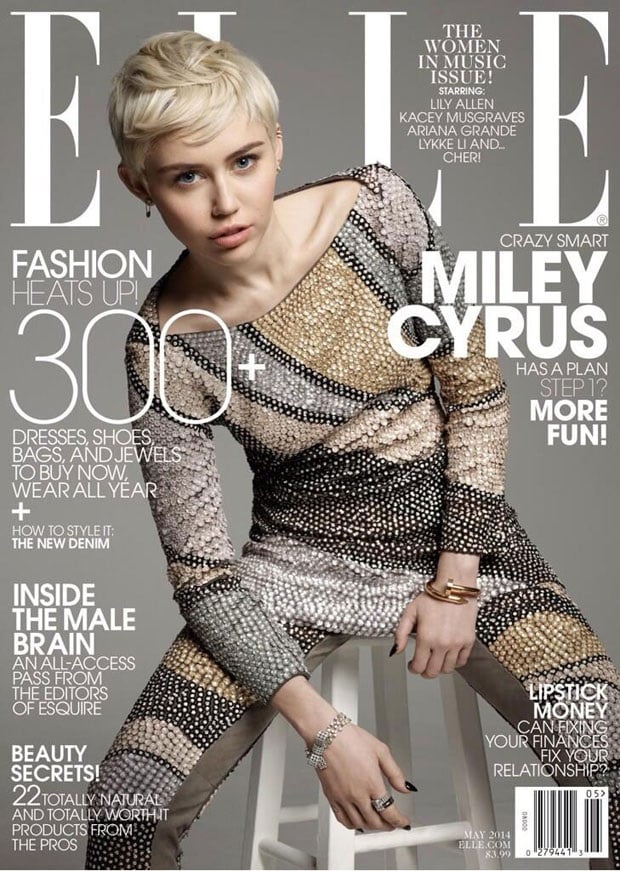 And it is proved as she is constantly the cover girl for leading magazines every month, for instance she is the cover girl of Elle's May 2014 issue. Keeping her upcoming interview with Elle for later, let's have a look at style evolution from bright-eyed Disney sweetheart to the country's greatest provocateur.
We offer you Miley in denim sweatpants and Mickey Mouse sweater to Bangerz costumes and bikini-styled dresses. Read on!
February, 2014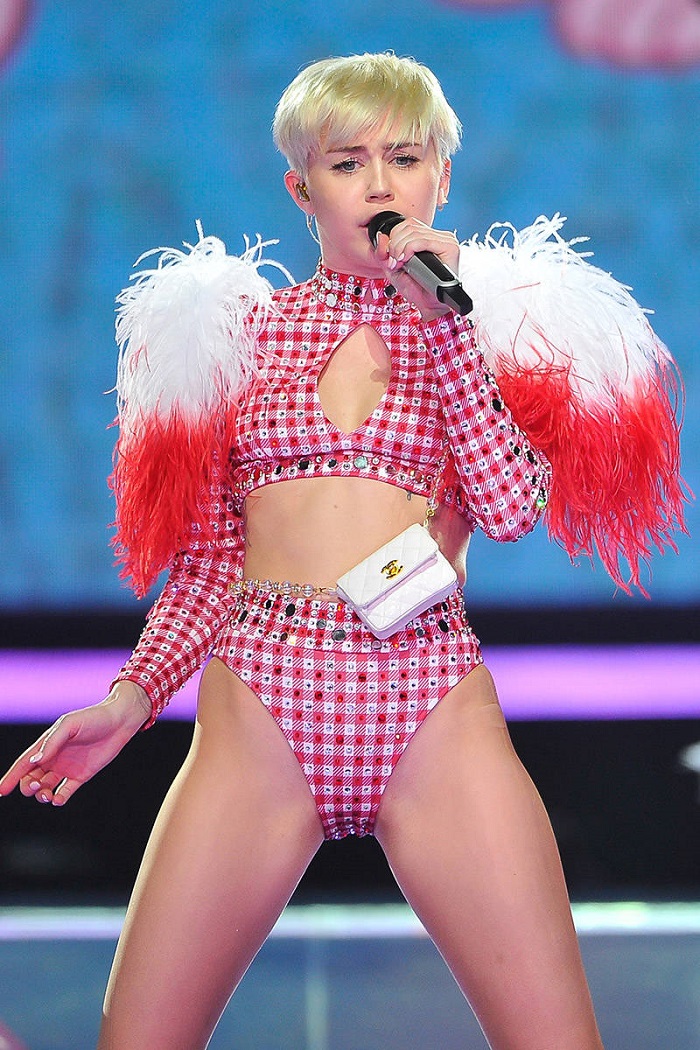 The singer performs in one of her 'Bangrez' costumes in San Jose.
January, 2014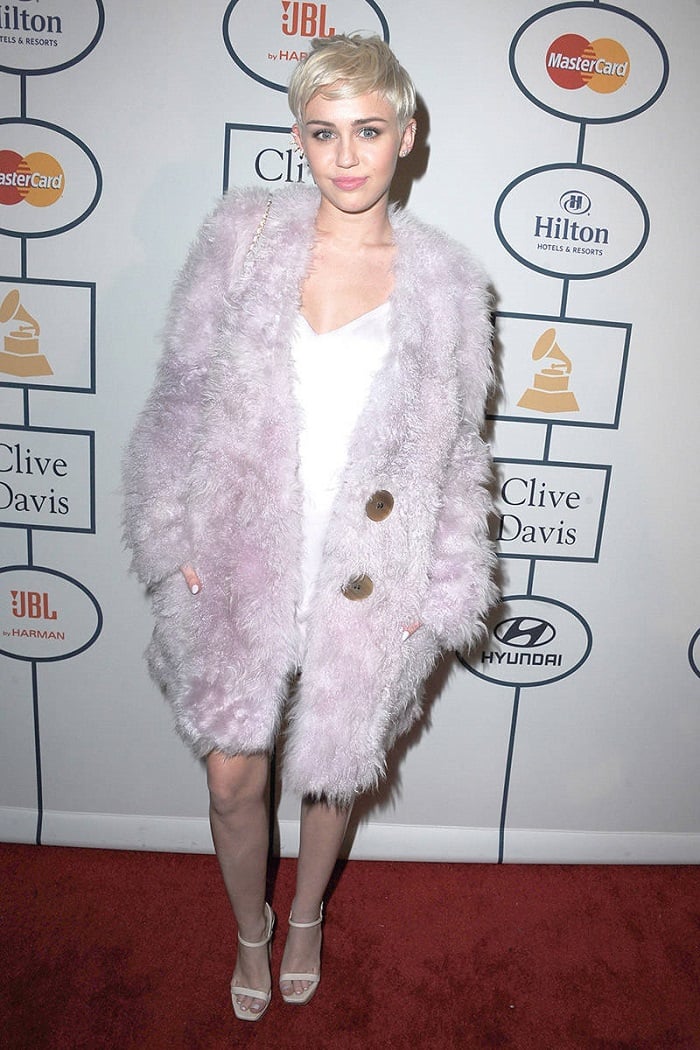 Miley Cyrus arrives in a Calvin Klein number at the 56th Annual Grammy Awards Pre-Grammy gala in Los Angeles.
December 31, 2013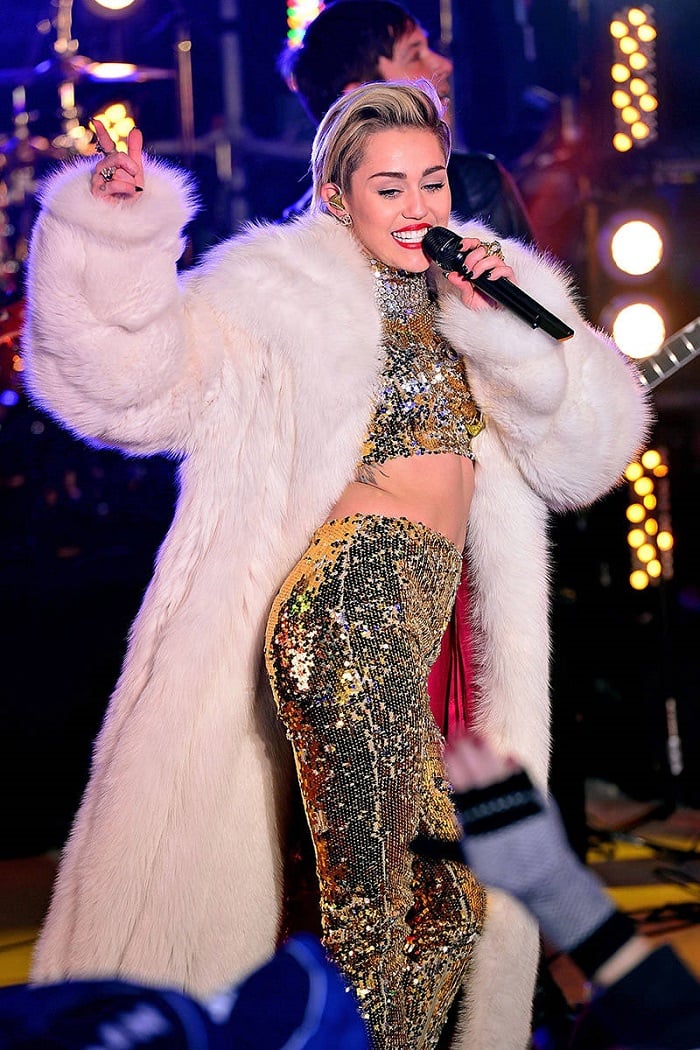 She is seen in a sequined outfit by The Blonds paired with a giant fur coat in Times Square for Dick Clark's New Year's Rockin' Eve with Ryan Seacrest.
December 27, 2013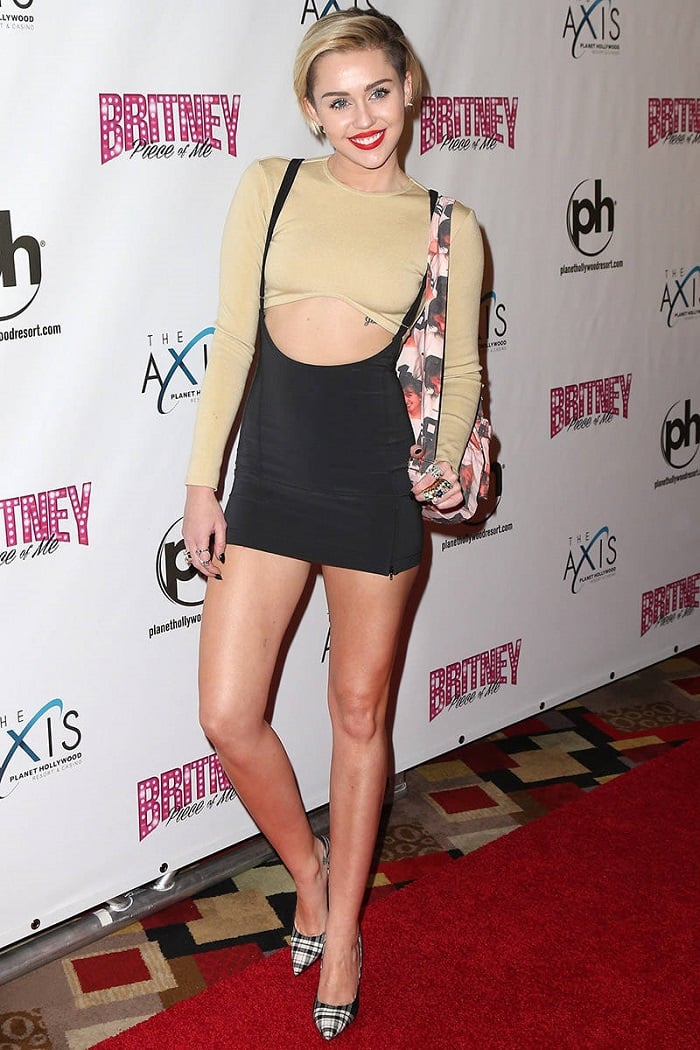 The singer is seen wearing a crop top with suspenders as she arrives to support Britney at the debut of Spears' Las Vegas show.
December 6, 2013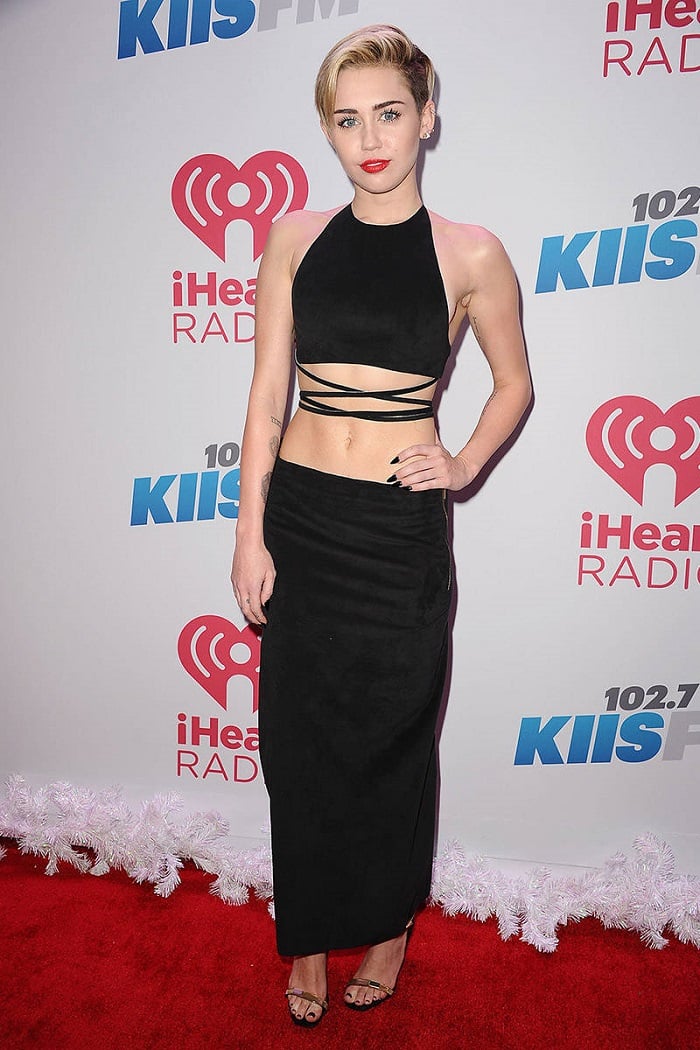 She arrives at the red carpet of KIIS FM's Jingle Ball in an ab-baring Calvin Klein get up.
November, 2013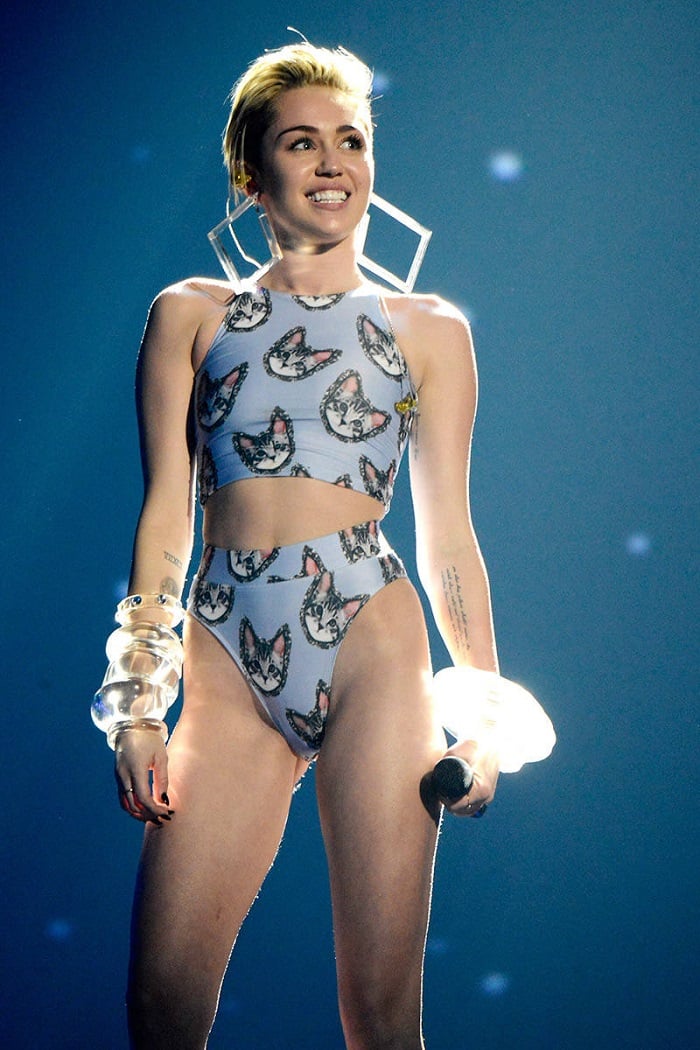 Cyrus performs at the American Music Awards in a cat-tastic bikini designed by Markus Lupfer.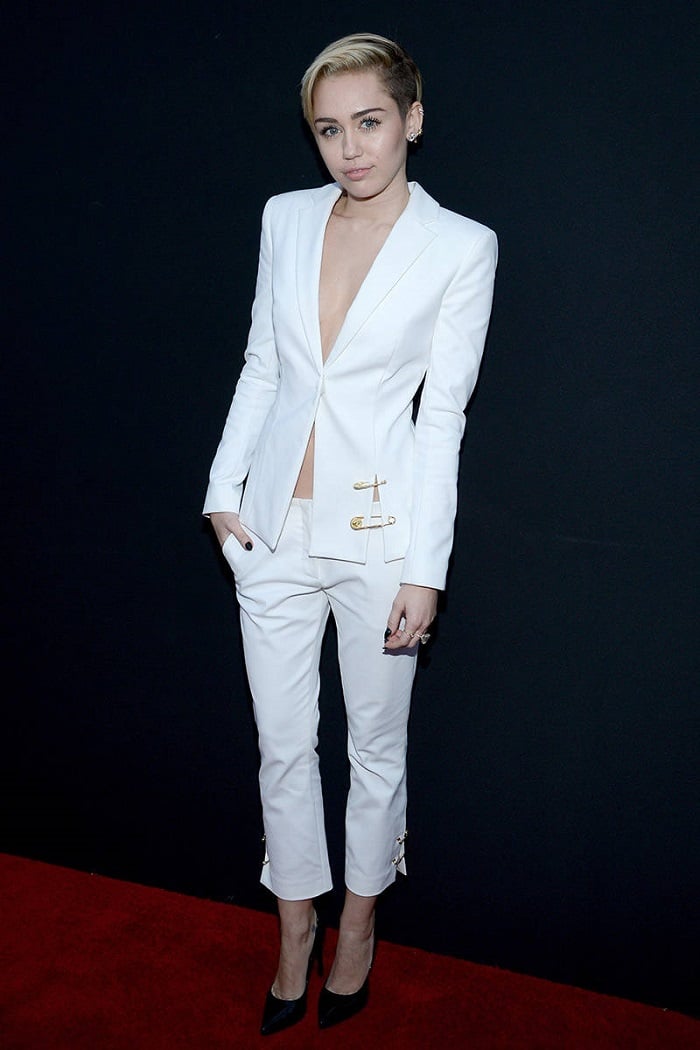 Before performing, she arrives in a classic safety pin-embedded Versace suit giving a neat polished look.
November, 2013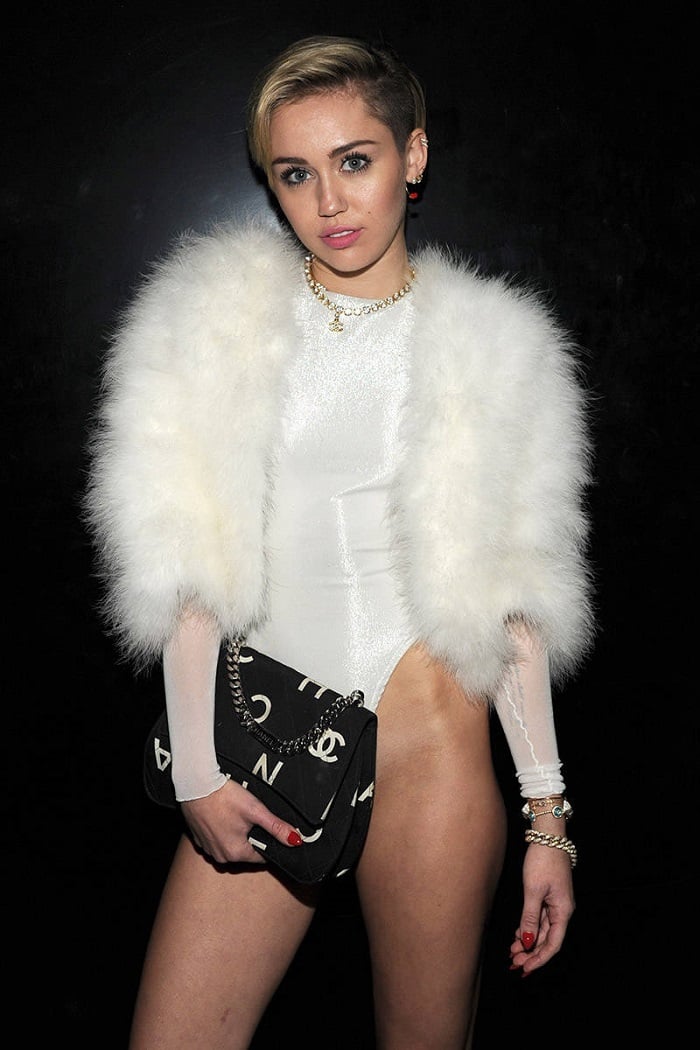 Earlier that month, the 21 year old singer was seen in her signature monokini-designed furry outfit which she paired with Chanel clutch and necklace for European Music Awards.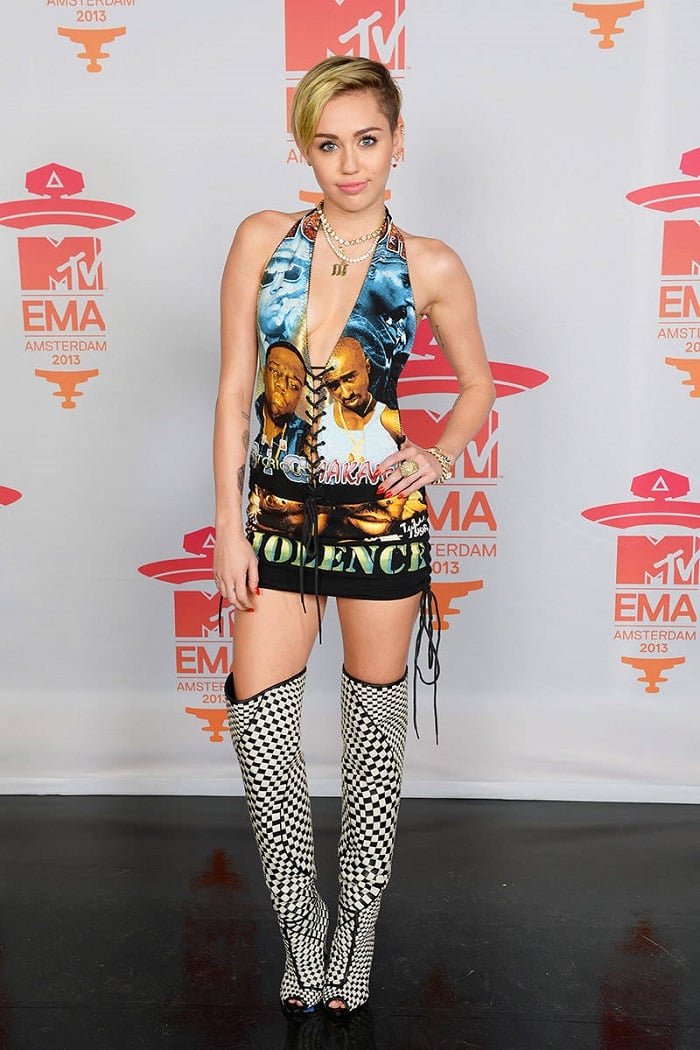 In the same event, she is seen in another outfit where she pays homage to Tupac & Biggie and knee-length Tom Ford boots.
October , 2013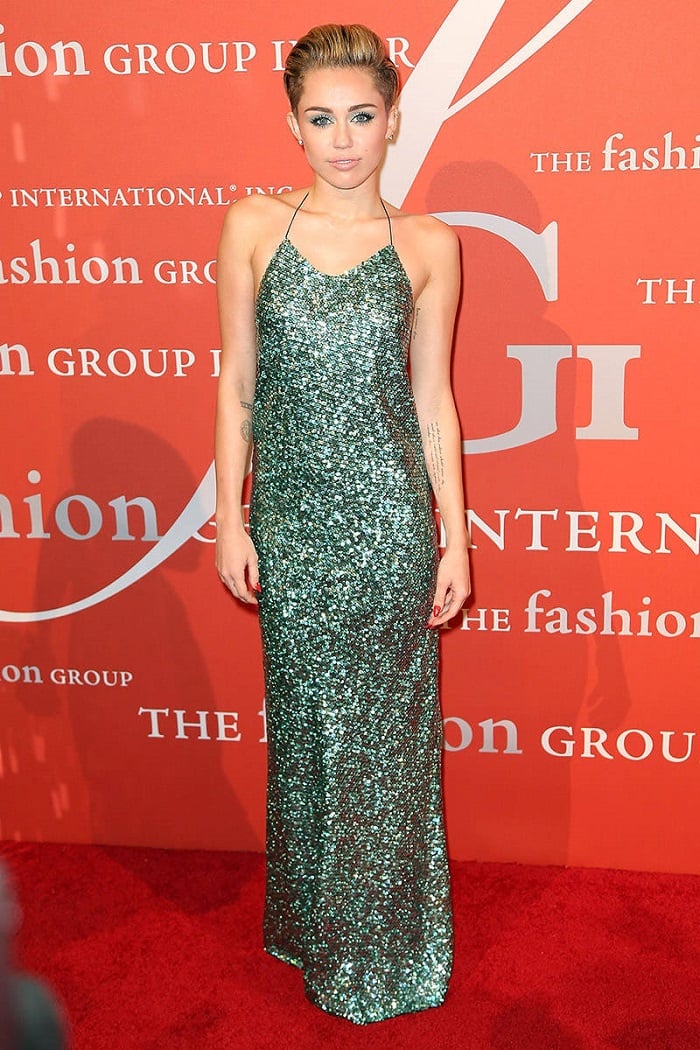 Cyrus looks elegant as she keeps her Marc Jacobs silhouette simple while honoring the designer at the 30th Annual Fashion Group International Night of Stars.
October, 2013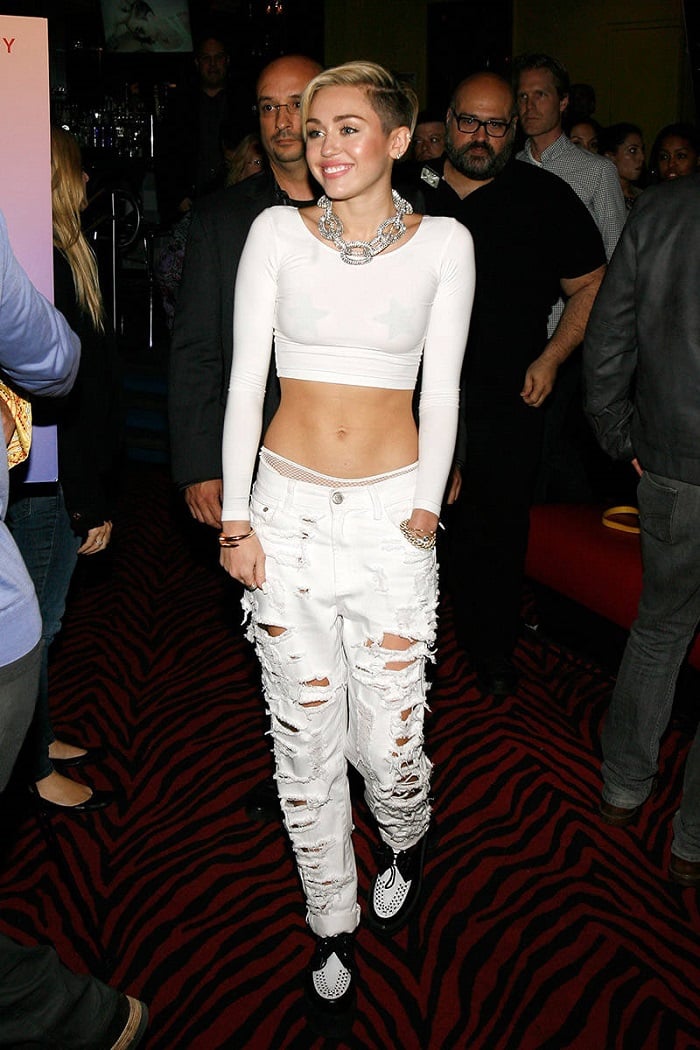 She pairs her cropped sweater with baggie distressed white jeans, as she arrives for 'Bangerz' record release party in NYC.
August, 2013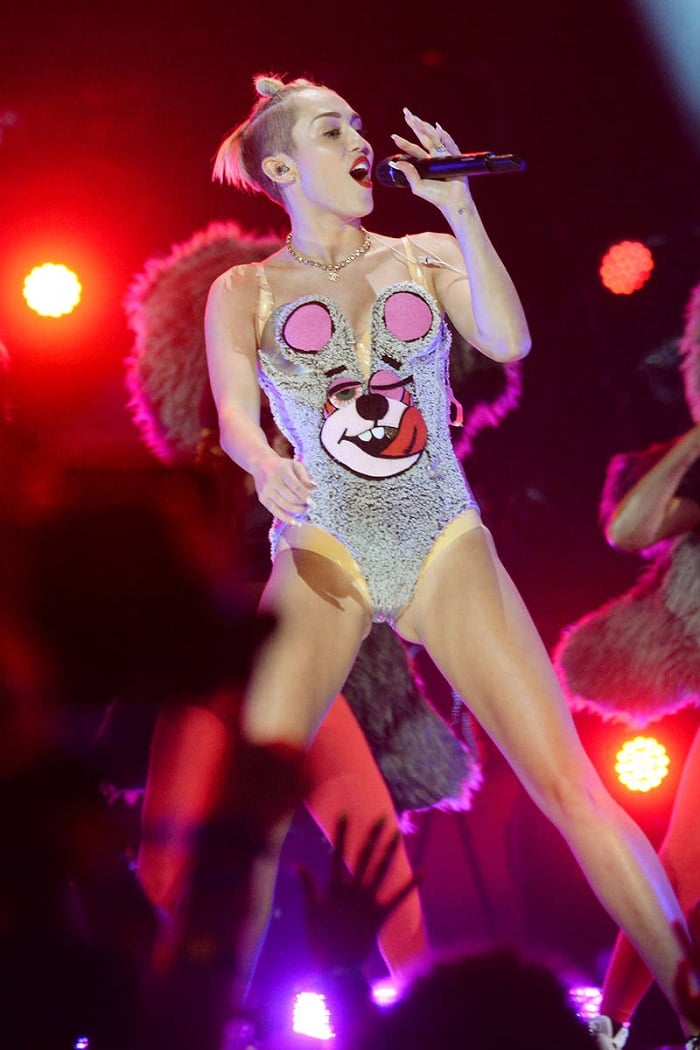 The singer is seen performing wearing a bear-painted onesie with Robin Thicke at the MTV Video Music Awards.
August, 2013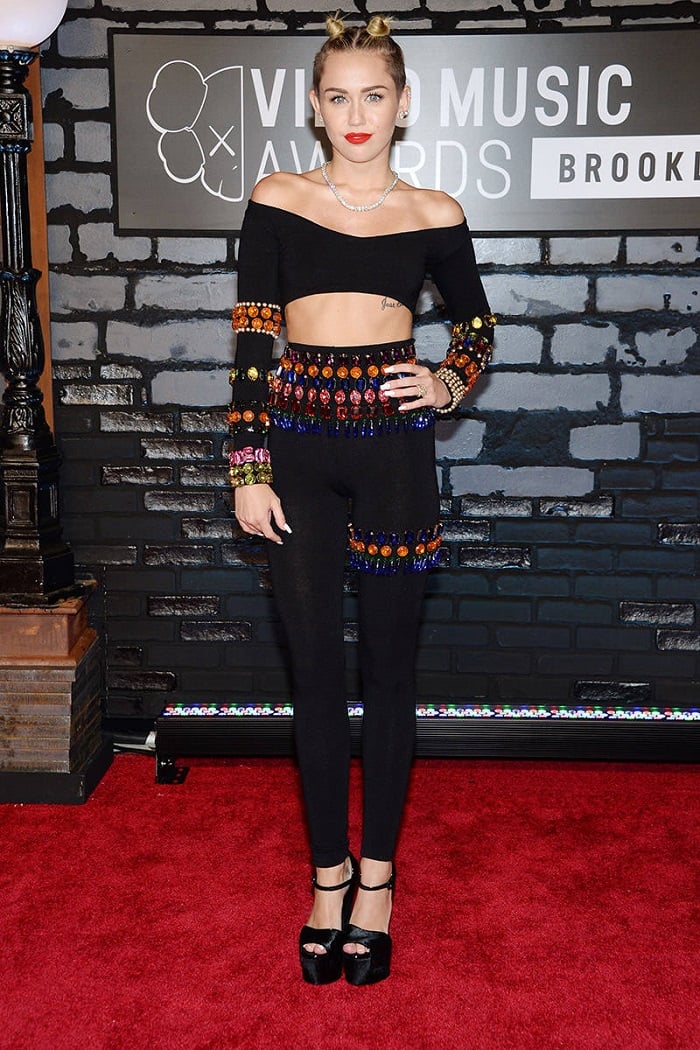 Miley channels one of 90's era Gwen Stefani's style as she appears in a vintage bejeweled Dolce & Gabbana outfit at the MTV Video Music Awards.
August, 2013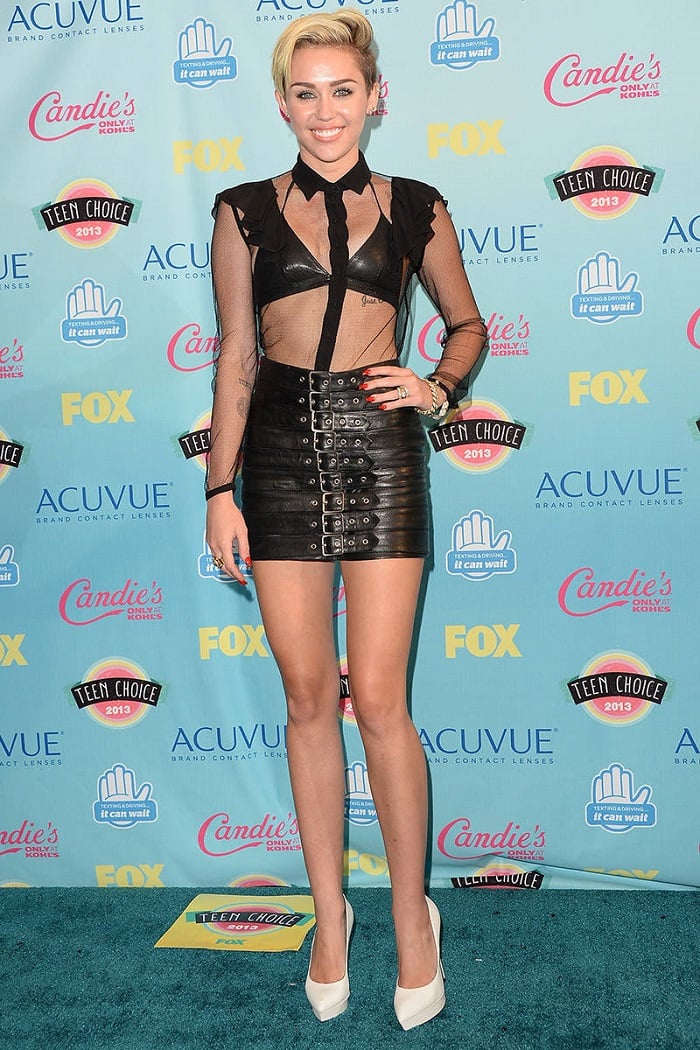 Miley wears a leather-embellished dress by Saint Laurent at the Teen Choice Awards.
June, 2013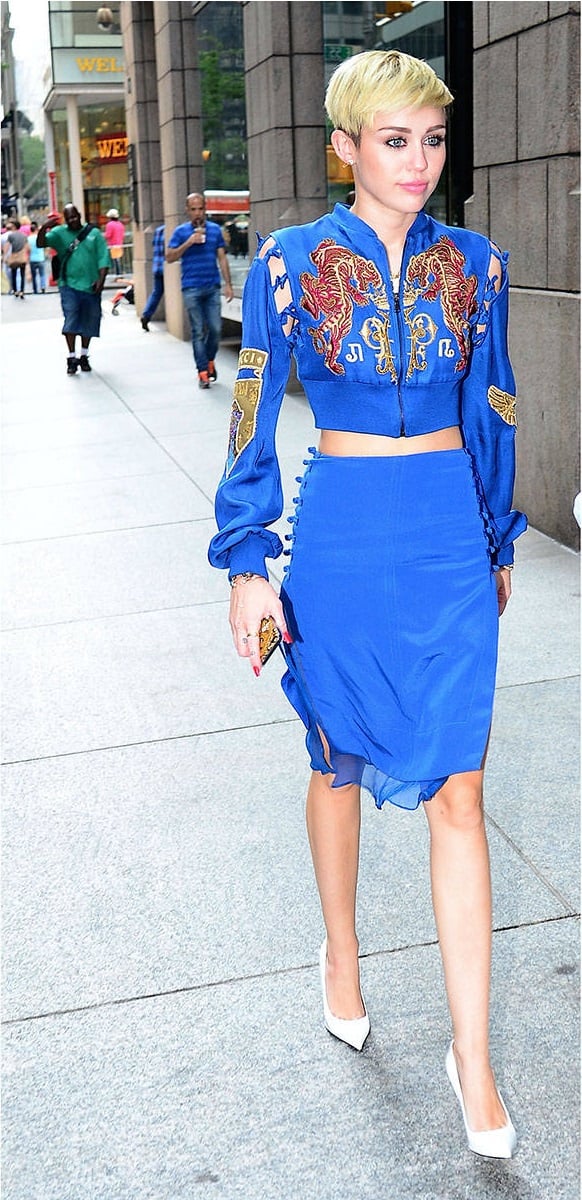 Aah!! This is one of my favorite looks she has donned so far. I just loved her blue Pucci 2-piece dress as she is seen heading to Sirius XM studios in New York.
June, 2013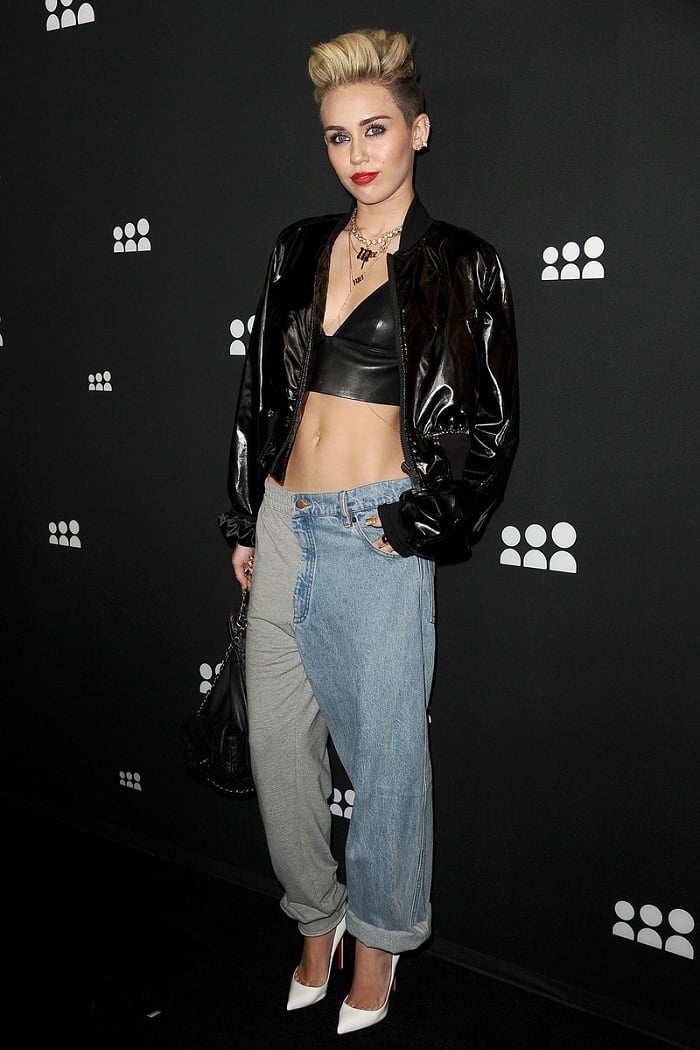 The singer dons an Alexander Wang bralette, Ashish sweatpants/jeans, and Céline heels at the Myspace Artist Showcase.
May, 2013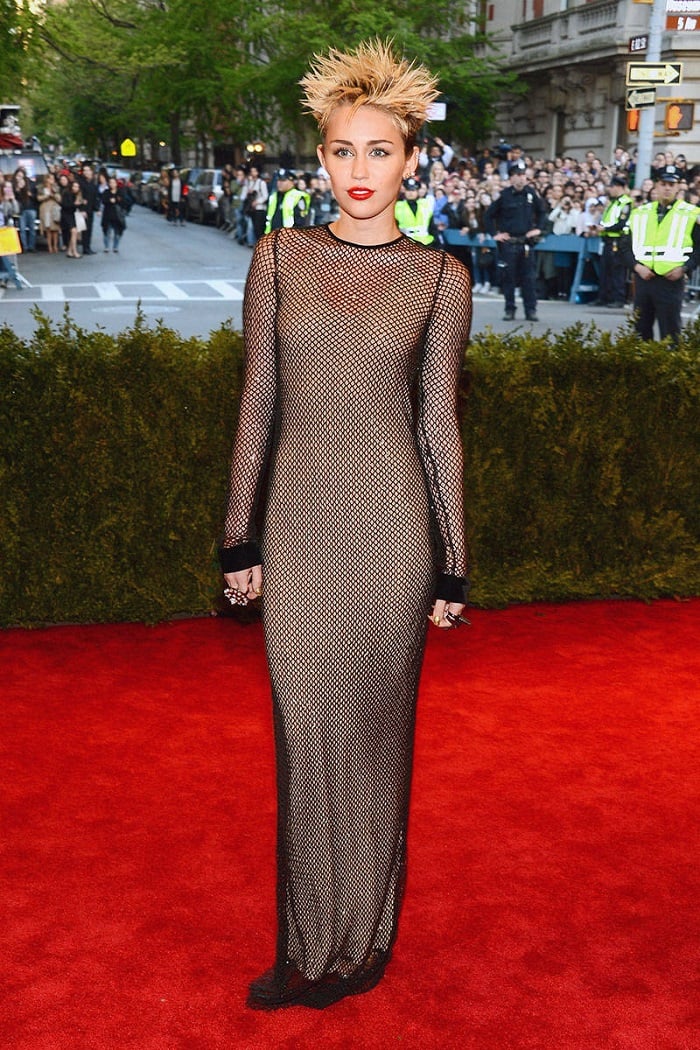 She poses in a Marc Jacobs fishnet gown at the "Punk: Chaos to Couture" Met Gala.
March, 2013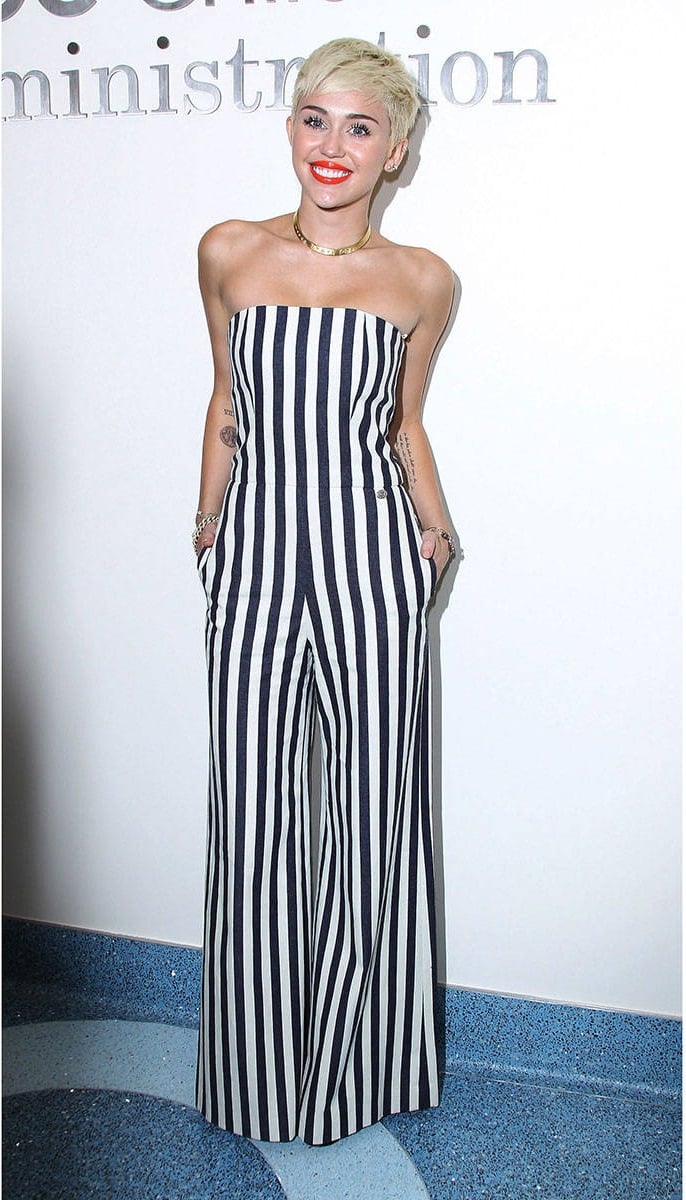 The singer wears a Chanel jumpsuit at the debut of 'Seacrest Studio' at CHOC Children's Hospital.
September, 2012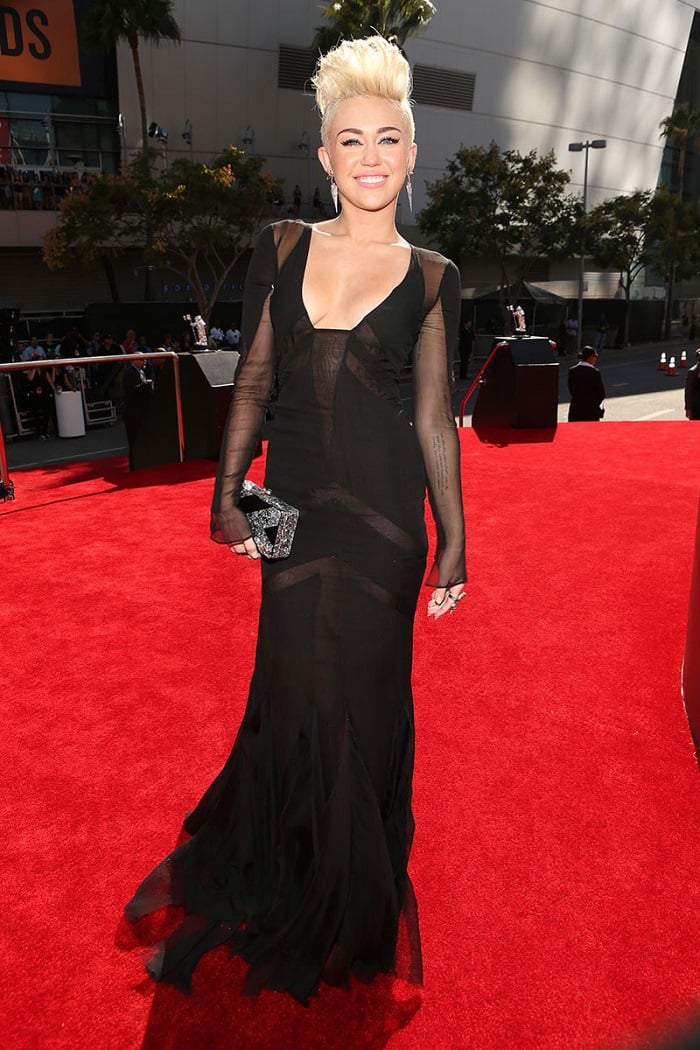 The Can't Be Tamed singer arrives in an Emilio Pucci at the MTV Video Music Awards. She was seen in pixies for the first time at the event.
March, 2012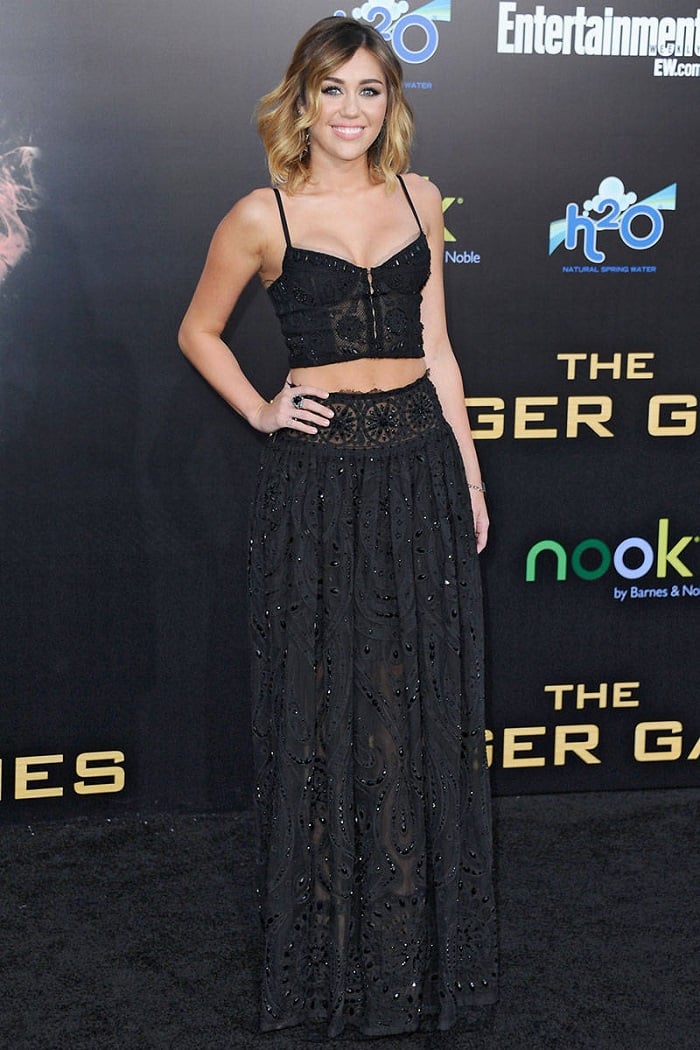 Cyrus arrives in an Emilio Pucci ensemble for the premiere for The Hunger Games in L.A.
February, 2012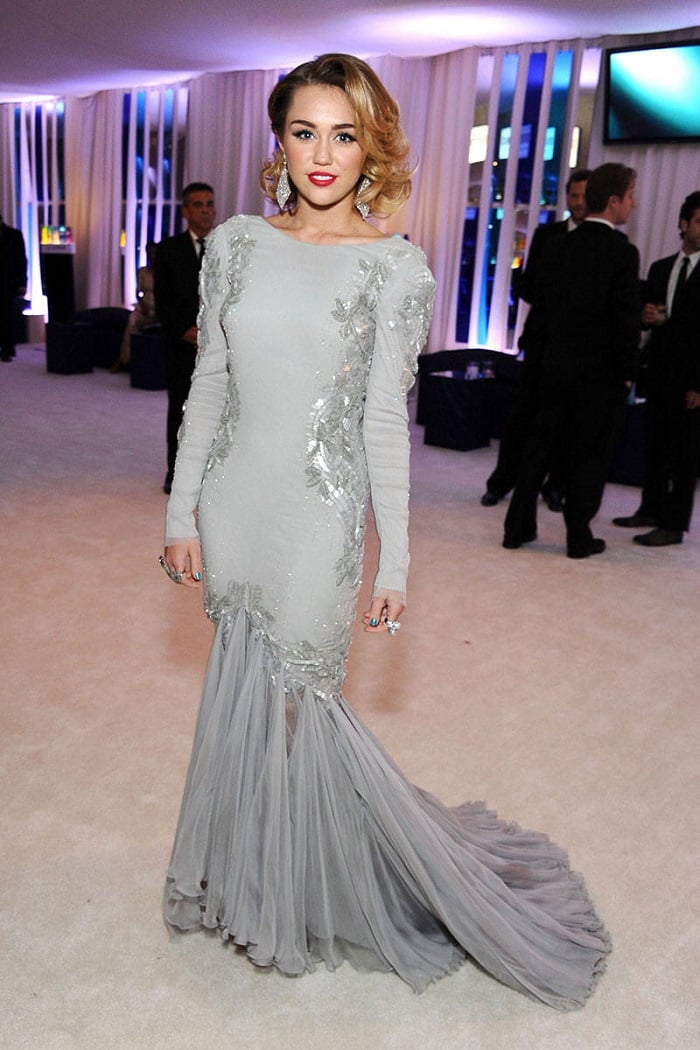 She poses in Roberto Cavalli at the 20th Annual Elton John AIDS Foundation Academy Awards Viewing Party.
August, 2011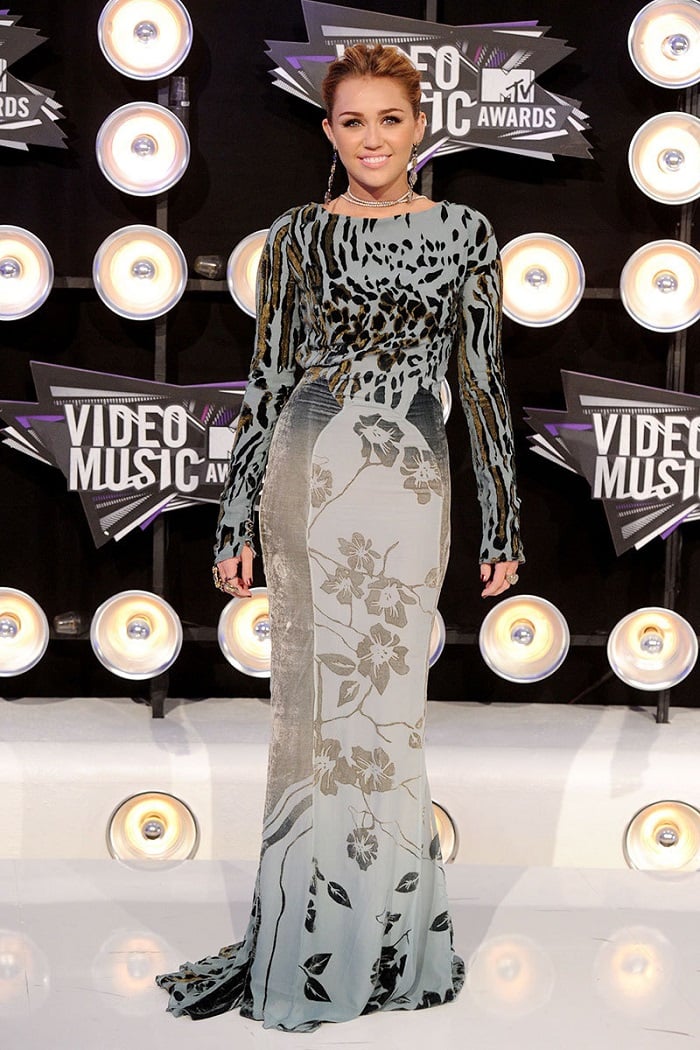 The singer makes her first appearance at the MTV Video Music Awards in a Roberto Cavalli gown.
April, 2011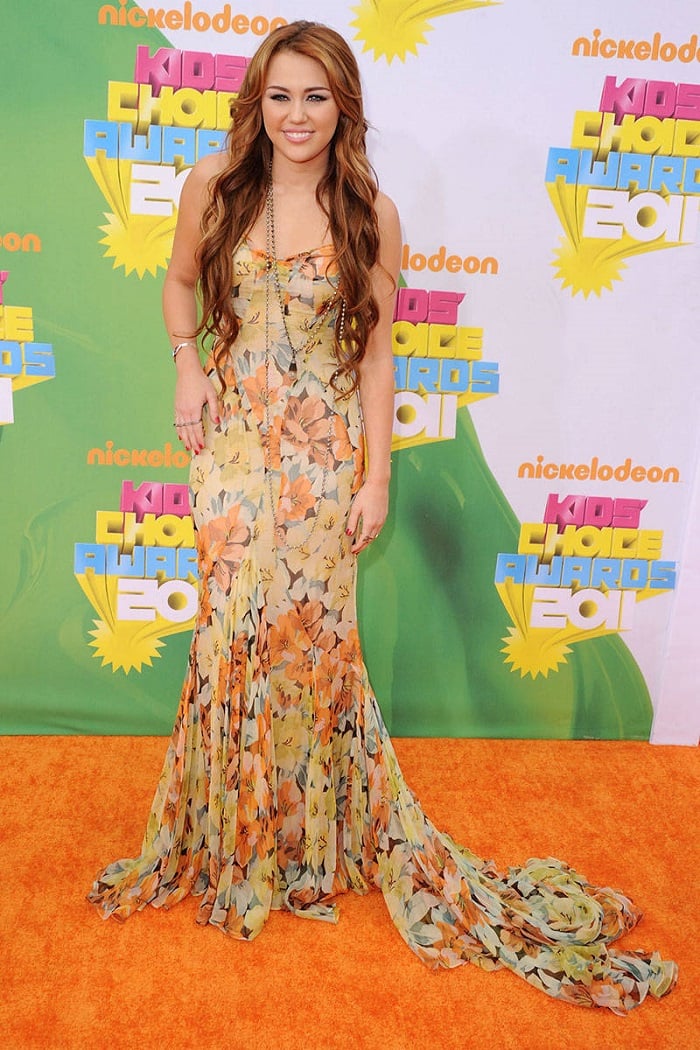 She wears a Dolce & Gabbana gown at the Nickelodeon Kids' Choice Awards.
November, 2010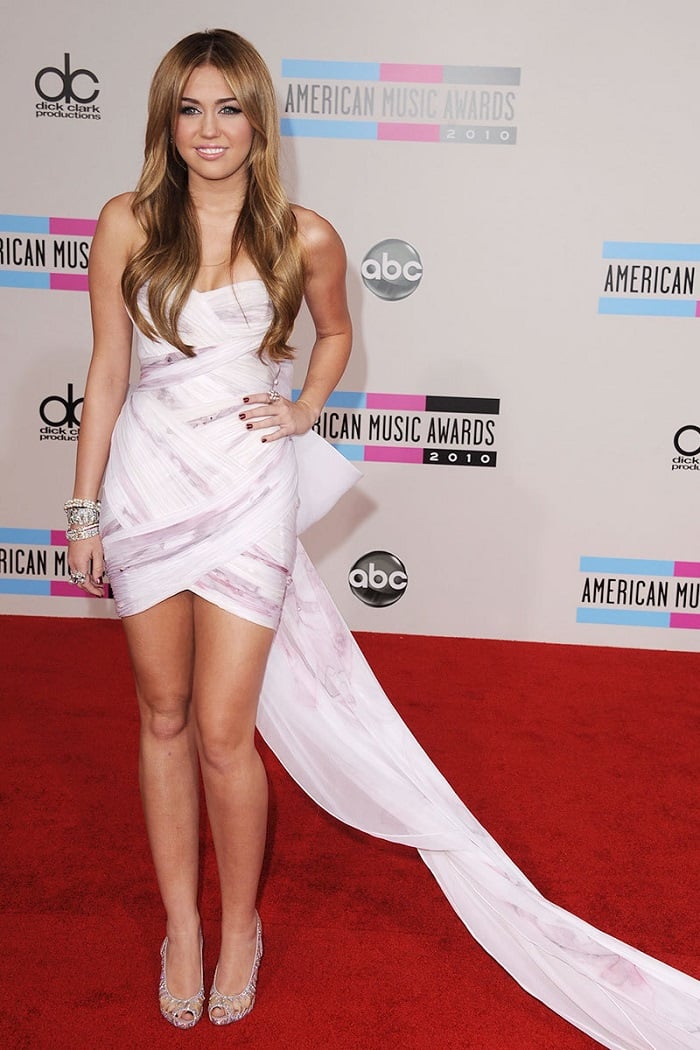 Cyrus hits the red carpet in Marchesa at the American Music Awards.
November, 2010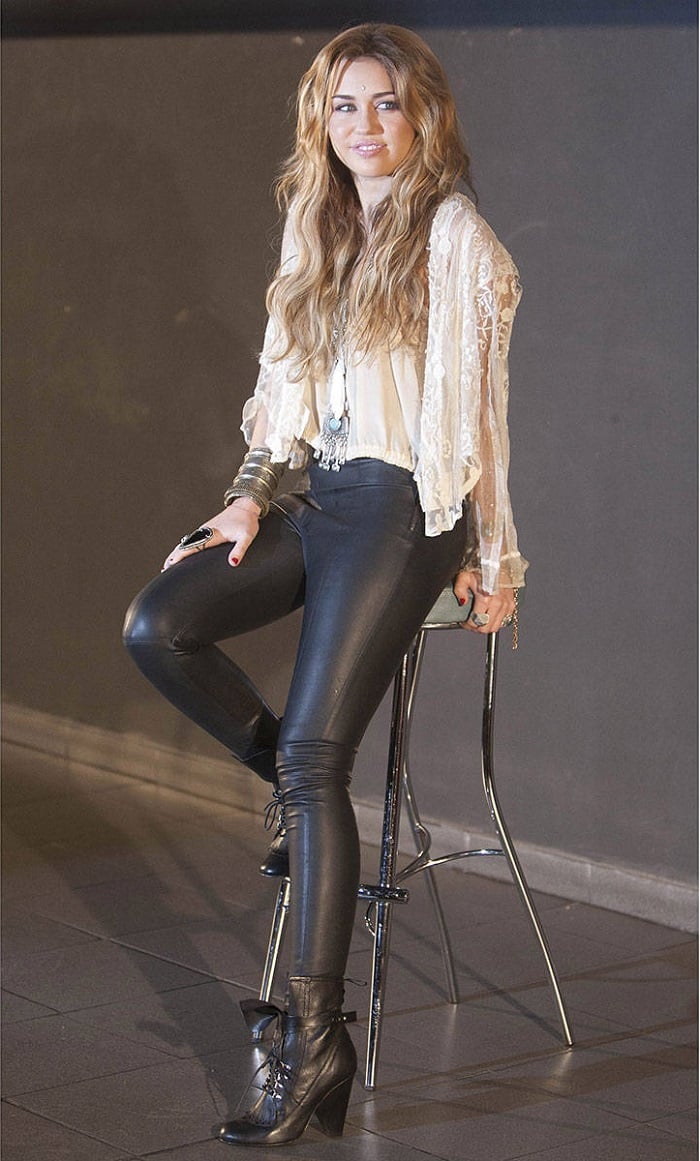 She opts for a casual look with an edge while meeting fans in Madrid.
The 21-year-old singer's cover photo for Elle's Women in May 2014 Music issue has already gone viral. Surprisingly, she is seen all covered up in a Marc Jacobs sequinned tunic top and trousers. The magazine also features an exclusive interview with the singer, where she opens up about her former fiancé, Liam Hemsworth, and revamping her image after leaving Disney Channel's Hannah Montana.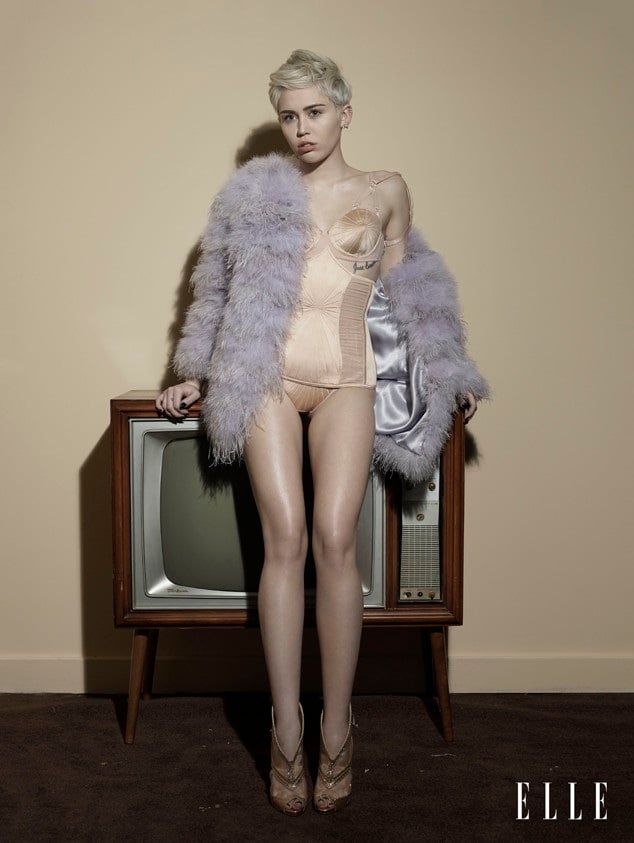 Here is an excerpt
"You know, I'm really thankful that I started on Disney. I got the most intense training," she says. "There's times where I wish I could have just started as a new artist, but the world has kind of allowed me to do that."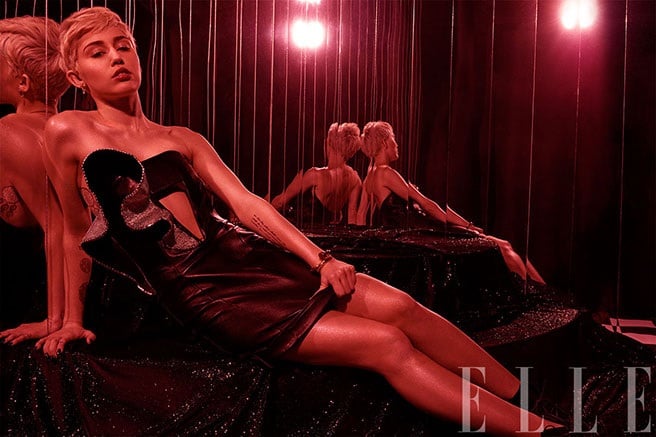 While some of her peers struggled to create new identities, Cyrus had the opposite experience.
"I feel really lucky—a lot of kid stars get all crazy or stuck in what they were, so they can't actually become what they're meant to be," the single pop star explains. "When I went through a really intense breakup—you know, I was engaged—and when I was with him or when I was on Disney, the thing that gave me the most anxiety was not knowing what to do with myself when Disney wasn't there to carry me anymore or if I didn't have him. And now I'm free of both of those things, and I'm fine. Like, I lay in bed at night by myself and I'm totally okay, and that's so much stronger than the person three years ago, who would have thought they would have died if they didn't have a boyfriend."
I hope you enjoyed this post! Stay tuned for more updates!!