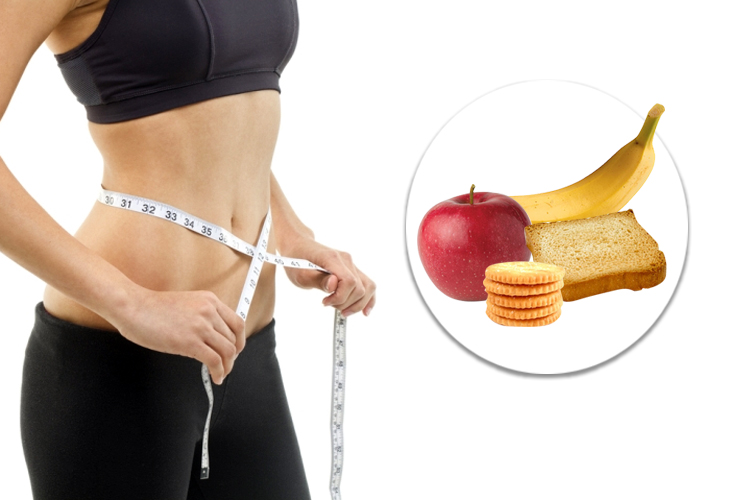 Losing weight is on everyone's minds. A slimmer, fitter and stronger version is all that everyone craves for.
There are hundreds of ways and plans to lose weight. But how do you know which diet plan will work for you? Well, you have come to the right place. This article is an in-depth research on one of the most popular types of diets- The Military Diet.
Read all about it and then decide- Are you up for losing 10 pounds in three days?
Let's begin.
What Is the Military Diet?
The Military Diet also known as the Three-Day diet entails a diet plan that you need to strictly follow for three days and lose upto ten pounds!
Yes, you read that right.
In the diet, you follow a diet plan for a period of three days and then there is a 4-day off window and again repetition of the entire process. This needs to be repeated again and again until you reach your goal diet. Once you have reached your ideal weight, you can follow a maintenance plan to help you stay in shape.
Simple, isn't it?
Well, not as simple as it sounds– because as a normal human being with a normal diet, you will find military diet a little hard to follow, plus your body will not readily agree to eat food that restricts your calorie intake to a huge level. But if you are really serious about losing weight, you might as well try this diet plan- who knows, it might work for you!
By the way if you are wondering the reasons why it is called military diet, here's the fact.
The diet is inspired from a US military diet which claims that soldiers will lose weight effectively and efficiently if they go on such a diet.
Before we go on to the meal plan, let's find out whether this plan actually works or not?
Does the Military Diet Really Work?
A lot of people on internet will claim that the Military Diet actually helped them lose weight- which is not a lie. However, we hate to break it to you that this diet (sometimes known as the Ice-Cream Diet), despite helping you lose oodles of weight, it is not sustainable. You will not be able to sustain this diet for long. Your body will start revolting and you will go back to the vicious cycle of trying to lose those pounds.
While we don't restrict you from trying out this diet, we strongly recommend you to make your food habits healthy on a regular basis and also try out exercises consistently to lose weight and keep those pounds away.
So, now that you know the real deal, let's start with how the plan works.
How the 3 Day Military Diet Plan Works for Weight Loss
The 3-day diet plan is a pretty strict plan where you have to eat certain kinds of food only. The entire diet is split into 2 phases which spreads over a 7-day period.
In the beginning, during the first 3 days,
You will have a low-calorie meal plan for breakfast, lunch and dinner.
There will also be no snacks in between any of the meals.
For most people, the amount of calories they would be consuming will range between 1,100–1,400 calories per day.
Please note, during this plan, since the calorie intake is very low for an average adult, you might feel a little hungry and can also experience mood swings.
The second phase, that is the remaining 4 days of the week, you will have to eat healthy and this is not that strict, but you will have to continue to keep your calorie intake low.
The 2-phase plan needs to be followed until you reach your goal weight.
Here is how a Military Diet plan will look like:
Now let's begin with our diet plan complete with the list of items you should be buying!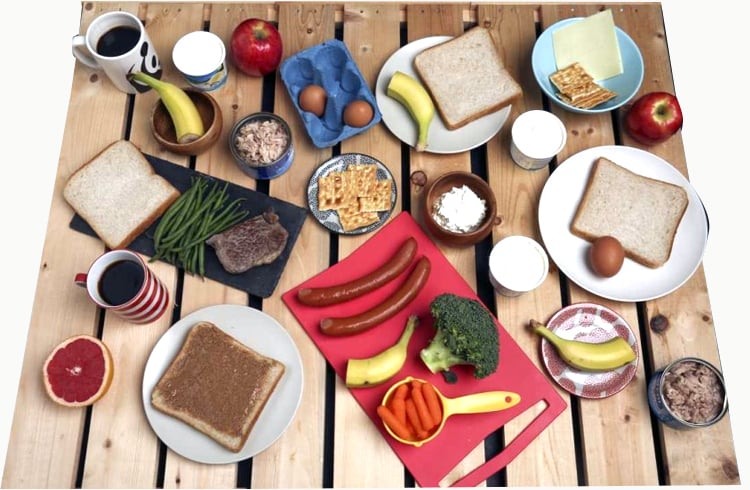 Military Diet Meal Plan (Low Calories Meal)
As we mentioned before, the diet plan is extremely restrictive and you will have to severely restrict the amount of calories going in. The information below is a description of all the items you will be having during the first three days of the diet.
Day 1 Plan Menu
Starting with Day 1 wherein your total calorie intake will be 1400 calories
Breakfast:
A slice of toast with 2 tablespoons of peanut butter.
Half a grapefruit.
A cup of coffee or tea (optional).
Total calories: 297 calories
Starting the day with a cup of coffee or tea is a great way to kick start your metabolism. Grapefruit is also a great way to help with your weight loss because grapefruit can keep your blood sugar levels low and hence your sugar cravings are also reduced.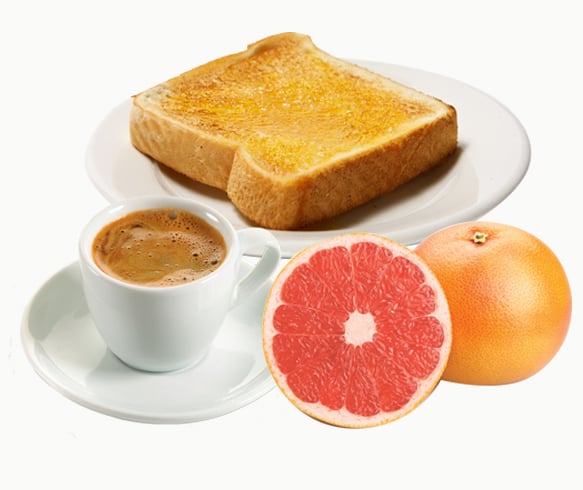 Lunch:
A slice of toast.
Half a cup of tuna.
A cup of coffee or tea (optional).
Total calories: 157 calories
Tuna in brine is a great way to keep you feeling full. Spread it on your toast for a crunchy and delightful lunch. You can also have a cup of coffee or tea to keep yourself awake and your metabolism ticking.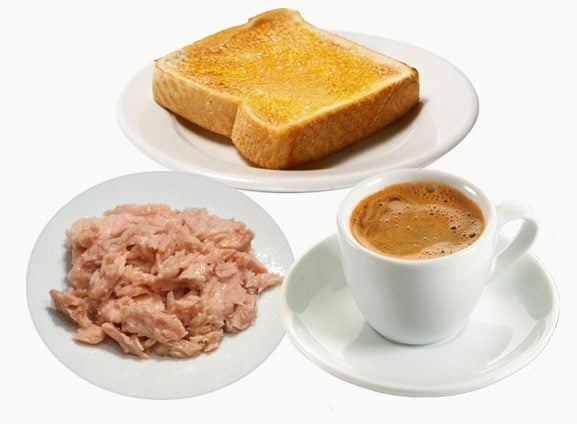 Dinner:
3-Oz (85 grams) serving of any meat
1 cup of green beans.
1 small apple.
1/2 banana.
1 cup Vanilla ice cream.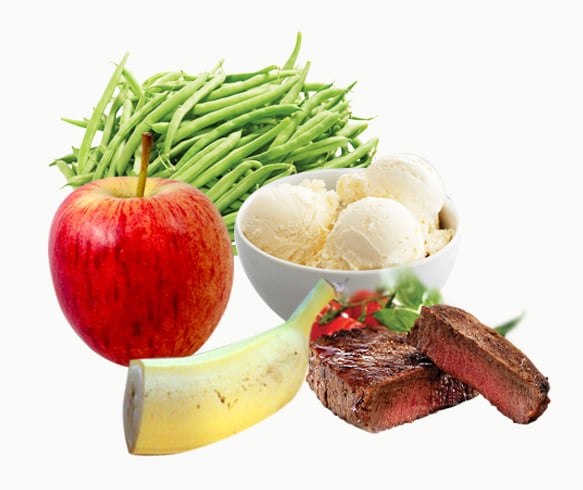 Total calories: 767 calories
You might be wondering why a restrictive calorie diet is asking you to have an ice-cream. Well, after subjecting your body to so much torture, doesn't it deserve a simple cup of vanilla ice cream? Of course it does! Choose your favourite meat to end your day!
Total Calories for Day One: At the end of day one's diet plan, you will have consumed 1400 calories.
Day 2 Plan Menu
On Day 2, your food gets a little bit interesting, however your calorie intake will be even lesser! You will now be consuming 1200 calories during the day.
Breakfast:
1 slice of toast (whole grain is much better, but you can have any type of it)
1 hard-boiled egg or you can also have an egg in any other form (the diet gives you that freedom)
1/2 banana
Total calories: 182 calories
A banana is a great way to fill you up, and egg is a highly filling food item. One hardboiled egg has about 78 calories and keeps you full for a long amount of time. On any other day, it can also be a great snack if you are feeling very ravenous.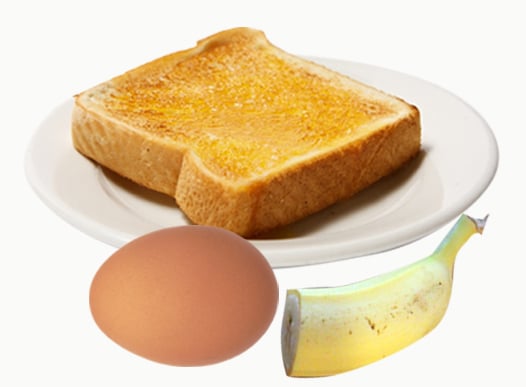 Lunch:
One hard-boiled egg.
A cup of cottage cheese.
5 saltine crackers.
A cup of coffee or tea (optional).
Total calories: 297 calories
Like we mentioned before, you have egg in the plan and this is an extremely filling food item that will keep hunger pangs at bay till a long time.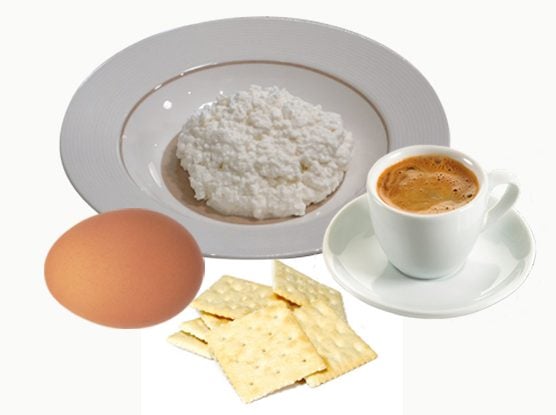 Dinner:
2 hot dogs without bun.
1/2 cup of carrots and 1/2 cup of broccoli.
½ banana.
1/2 cup of vanilla ice cream
Total calories: 660 calories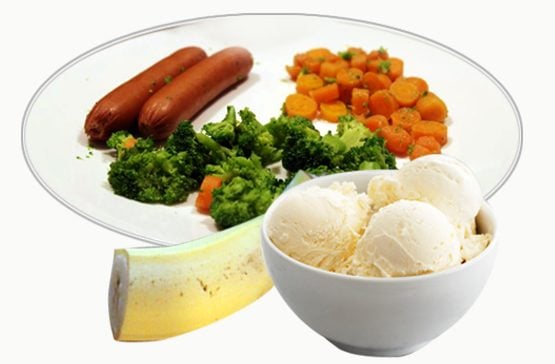 Ice cream again? Now that's a diet we all will love, won't we?
Total Calories for Day Two: At the end of day two's diet plan, you will have consumed 1200 calories.
Day 3 Plan Menu
On Day 3, the amount of calories you will be consuming will be lesser and you will have 1100 calories for the day.
Breakfast:
A 1-ounce slice of cheddar cheese.
5 saltine crackers.
A small apple.
A cup of coffee or tea (optional).
Total calories: 369 calories
Day 3's breakfast is one of the heavier ones and you will be consuming about 370 calories in the first half of the day. The good calorie count will help to keep you fuller for a longer period of time.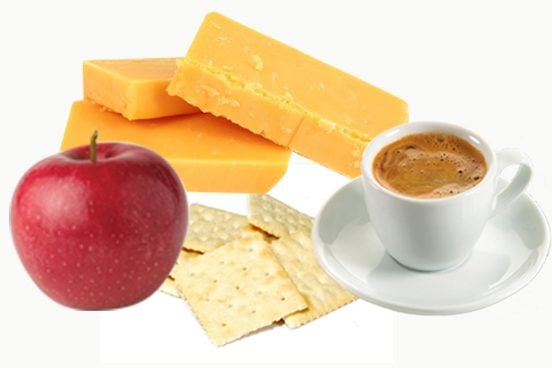 Lunch:
One hard-boiled egg.
One Toast
Total calories: 132 calories
One of the most meagre lunch diets ever.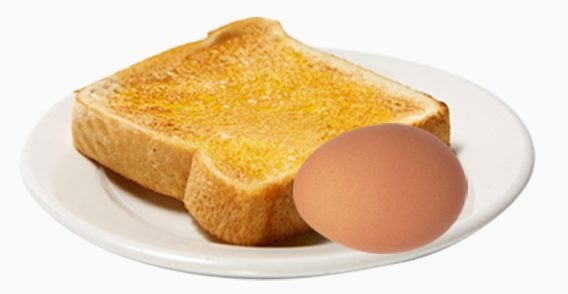 Dinner:
A cup of tuna.
1/2 banana.
1 cup of vanilla ice cream
Total calories: 342 calories
Grand finale- and today you will end your diet plan 3 with a dose of ice cream
Total Calories for Day Three: At the end of day three's diet plan, you will have consumed 1100 calories.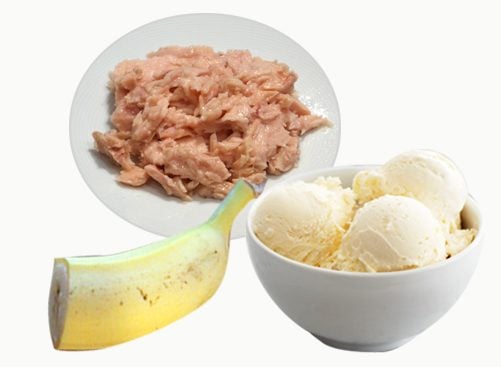 Now that your days of restrictive calories are over, you will now be switching over to the rest day which is four days. A lot of people get confused about the concept of the rest days, however it is important to know that your rest day does not mean that you will be consuming anything and everything. You will be having healthy and nutritious food, the only difference being in the fact that you will not be having a restrictive diet.
The below information will tell you more about the rest days in the meal plan.
Military Diet for Rest of 4 Days in the Week (Day 4, 5, 6 & 7)
Also known as your Off Day, the last few days of your diet are known as Phase 2 and you are not required to stick to a restrictive diet.
In these few days, you will need to eat very healthy and not exceed your calorie intake to beyond 1500.
Eat as healthy as possible and stay away from pizza and fizzy drinks.
All kinds of snacks are permitted
You can even download calorie tracking apps to make sure you are remaining within your limit during Phase 2.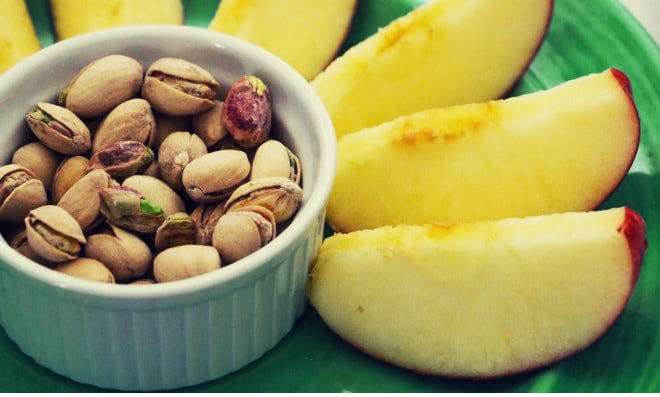 In some situations, it may not be possible to consume all the food items mentioned. In such a case, you can include a few substitutions in your Phase 1 diet plan. These substitutions will work in par with the meal plan. Read on to know more.
Military Diet Substitutions:
Here is a list of substitutions that you can have for some of the items in Phase 1 meal plans.
For Toast:
You can substitute toast for the following:
Sunflower kernels- These are gluten-free and are a great substitute if you are a vegan
½ a nutrition bar-This one has a good amount of proteins and can be used in lieu of toast
Low fat yogurt with flaxseeds- Again, these have an equal number of calories as that of toast
Whole grain cereal – Filling, and a little bit expensive substitution, but works well nevertheless
Meal replacement shake – For the right amount of proteins and calories
For Tuna:
In terms of proteins, tuna can be substituted by a huge amount of other meats or for those of you who are vegetarians and vegans, you can easily use tofu (Soy paneer)
Cottage cheese (paneer)
Chicken
Tofu (for those of you who are vegans)
Almonds or peanuts- They provide the same amount of proteins that a can of tuna can
Flaxseeds or Pumpkin seeds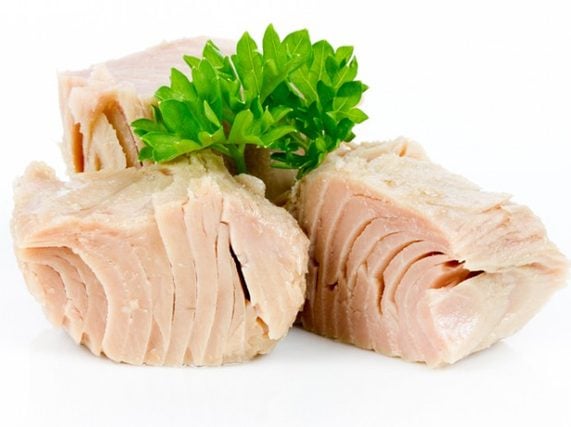 For Vanilla Ice Cream:
Vanilla ice cream is a great way to end your restrictive military diet plans, however for those of you who would like to swap it for something else, here are your options
Strawberry or vanilla-flavored milk
Chicken
Tofu (for those of you who are vegans)
Almonds or peanuts- They provide the same amount of proteins that a can of tuna can
Flaxseeds or Pumpkin seeds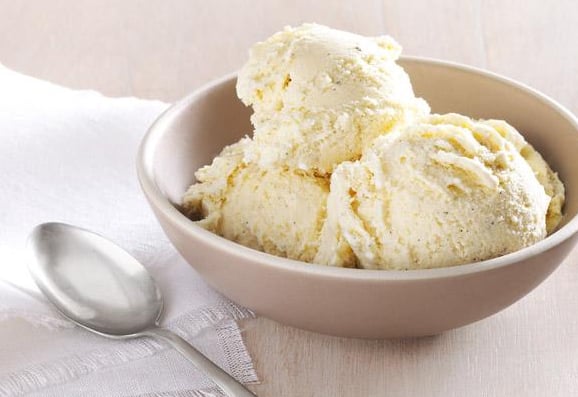 So, if you are not able to eat the main ingredients in a military diet, you can surely use the substitutes above.
So, does a Military Diet actually work? Well, some pictorial proof below!
Military Diet Before and After
Keen to see whether the Military Diet actually works? Well, here are some transformation images of people who went through the military diet and actually succeeded.
[new_royalslider id="218″]
For a lot of people, military diet seems to work on a lot of levels, as you can see from the pictures above.
Will you lose 10 pounds in 3 days with military diet?
The answer is a resounding yes! Losing weight quickly with a military diet is very easy and very much possible, but most of the lost weight is water weight and not fat. When you restrict carbs and calorie intake, it is only water weight that is lost. The weight is gained back and rapidly when you begin eating normally again.
Military Diet Do's and Don'ts to Lose Weight
Though the military diet regime is very hard to follow, it works if you want a quick way to lose weight.
However, you should be very careful about a lot of things. We'll explain you the do's and don'ts.
Don'ts
DO NOT substitute your food items for anything and everything. There are hidden sugars and fats in every food and unless specified, stick to what the military diet asks you to have.
DO NOT be lazy. Try to work out on a daily basis.
DO NOT skip you 4 off days. There are some who in a hurry to lose weight will follow the 3 day diet plan on off days as well. This can lead to nutritional deficiencies and also binge eat afterwards.
DO NOT cheat while on the 3-day military diet
Do's
Strictly follow all the plans in the diet for an effective weight loss.
Find a reason for your weight loss. Have a clear weight loss goal and work towards it.
For the 4 off days that you have, find a healthy diet plan
Download the military diet app to keep a track of your weight loss, whilst keeping you going
This is the only way your diet will work and you will actually be able to lose 10 pounds in a week!
Images Source: foodiesfeed.com