Muskmelons are yummy to have as a fruit, and what is better is applying it as a face pack too. From pigmentation to sunburns and more, there is a lot of damage that the harmful UV rays of the sun can do to your skin. You must save yourself from such skin damages, and this is why using a muskmelon face pack will be the best thing to do. The amount of nutrition and nourishment muskmelons can give your skin is unimaginable.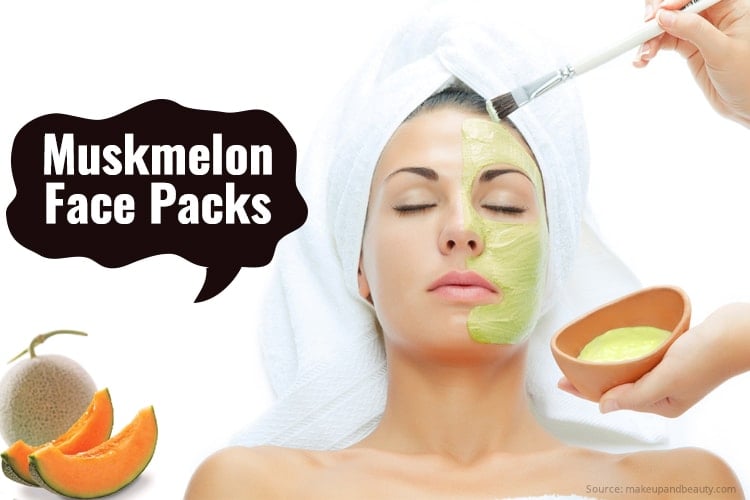 Here Is How To Make Muskmelon Face Packs:
Without much ado, let us show you some easy ways to make your own muskmelon face pack and how to use them as well.
[Also Read: Pumpkin Face Packs For Clear Skin]
1. For Combination Skin:
For those of us that have combination skin types, we would need a face pack that helps balance the pH levels of the skin and also helps rejuvenate the skin. For this, you will need to have two tablespoons of muskmelon for skin in pulp form. Along with this, one tablespoon of milk powder has to be added to it. Mix the two very well to form a paste and keep aside for sometime.
Now apply the paste on your skin and wait for half an hour. Once the waiting period is done, go ahead and rinse the face with cold water. Pat dry and relax. This should be done thrice a week for the best results to have.
2. For Oily Skin:
For those of us that have oily skin, we know what it is like going out in the sun. To help control the oil production and soothe the skin as well, you will need two tablespoons of muskmelon pulp, to which a little lime juice should be added, and a tablespoon of besan should be added too.
Mix the three pretty well and make it a gooey paste. Apply this paste on the face and wait for twenty minutes. Rinse off with cold water and pat dry your skin. This is a pack that should be used twice a week.
3. For Dry Skin:
Having dry skin in the summers can be very annoying, especially with all the redness and flakiness that come along with it. This is why we are here to share with you a face pack using two tablespoons of muskmelon pulp in it.
Add a tablespoon of honey in the melon paste and combine the two well in a blender to form a gooey paste. Apply the pack on your face and wait for ten minutes. Once the wait is done, go ahead and wash the face with cold water.
Pat dry and moisturize your skin thereafter. This should be done thrice a week to get the best results.
4. For Normal Skin:
This is a pack where you would need two tablespoons of muskmelon pulp to which half a teaspoon of turmeric is added and a tablespoon of oatmeal is added. Mix them well and apply to your face, and wait for five minutes. Now gently massage the skin in circular motion for a minute or two, and then go ahead and wash the face with normal water.
This is a pack which will help bring back the glow to your skin and nourish it too. Oatmeal in this pack exfoliates the dirt and grime and also removes the dead skin cells.
5. To Get Radiant And Glowy Skin:
A very quick way to get instant radiance on your skin will be to use muskmelon pulp along with the peach pulp. Mash the two of them well in a blender and apply to your face. Wait for ten minutes and then gently massage the skin in circular motions for a minute or two. Now go ahead and wash your face with cold water.
This pack goes deep into the skin. It helps peel off the dirt and grime from the skin along with the dead skin cells and improves blood circulation too. This is how you get glowing and gorgeous skin instantly, using this muskmelon face pack.
[sc:mediad]
Now that we have shared with you some amazing face packs using muskmelon, let us now take a look at the benefits.
Muskmelons are very hydrating and delicious to have, and they should be a part of your everyday routine. Although they are consumed a lot during the summer months due to its cooling properties, it also has a lot of vitamins in it, such as A and B6, that are healthy for the skin.
Apart from that, muskmelons have folic acid and dietary fibers in it, along with minerals that help you in more ways than one. Not just for our body, muskmelons can be used for our skin and for our hair too. Here are some muskmelon benefits for skin.
6. Rejuvenates Your Skin:
When you use muskmelon face masks on skin that is dull and dry, it is a very good way to bring back life to the skin and to make it fresh too.
7. Hydrates Your Skin:
Our skin tends to lose a lot of water and moisture. This is why we must ensure that the skin is kept supple and hydrated at all times. With the help of melon face masks, we can go ahead and give the skin all the hydration it needs, which helps make the skin supple.
8. Exfoliates Your Skin:
There is plenty of folic acids found in muskmelons, which helps exfoliate the superficial layers of the skin. This means, the paste of muskmelon helps exfoliate not just the top layers of the skin, but goes deep and removes the dirt, grime, and impurities from deep as well. Regular use of the melon face mask would help tone the skin.
9. Improves The Skin's Elasticity:
As we age, the elasticity of our skin takes a beating. For this, we need to have an excellent natural toner that will help lift the skin up and make it glow too. Using the juice of a fresh muskmelon as a pack or a toner can help promote the skin to become healthy and to glow for long, and also improves the elasticity of the skin when used daily.
So here were the many benefits and the melon face masks we promised we would share with you. If you have your own melon face masks to share with us, we would be happy to hear about those recipes and ideas too. Do write in!