Experts say we use botox to bring down the appearance of age lines and wrinkles on our face. It is a well-known fact that botox comes from the botulism bacteria, which is toxic and that which causes food poisoning as well.
When you receive a botox injection, your facial muscles do not tighten, and this makes the skin on the face look vibrant and smooth.
Botox is an expensive procedure, and there are a lot of side effects with it too. Some of which would be nausea, pains, and headaches. However, thankfully we have natural alternatives to Botox, which can help treat age lines and wrinkles on the face. Some of them are mentioned below, and these are natural alternatives to Botox, which are being used popularly worldwide.
What Are Botox Alternatives?
Facial Acupuncture:
Facial rejuvenation treatments and procedures can be performed by expert acupuncturists. While the treatment is on, there are tiny needles that would be inserted into the face skin. This treatment can help bring down the signs of ageing, wrinkles, under eye bags, sagging in the neck area and more. It also helps in getting the pores tightened and will also help in improving blood circulation too. Most experts would opine that such treatments need many sittings for the real results to be seen, and the best anti ageing to be noticed. You would need to go to a licensed professional for the same.
Natural Topical Treatments:
The other best way instead of botox would be to opt for natural topical treatments, which helps bring down the facial wrinkle appearance on the skin. There are many such treatments that can be done by yourself at home on a daily basis to reduce the occurrence of fine lines. From castor oil and other oil massages to fruit juices and more, they bring down the wrinkles on the skin and combat signs of ageing pretty well.
Lifestyle Changes:
There are a few changes in your lifestyle that you would need to make so that you develop fewer wrinkles as age catches on. For those who smoke, it would be best to cut it down and quit the nicotine stick altogether, so that the appearance of the skin is taken care off and the facial wrinkles do not develop all too soon. Also, staying away from the sun as much as possible is known to bring down ageing signs.
If you do have to be in the sun, it would be best to wear a scarf or a hat to protect the skin. And always use an SPF to protect the skin from the harmful UV rays of the sun, say experts. Stress too can be a major player in ageing, and that is why we need ways to combat stress. Exercise and meditation can help go a long way in combating stress, and also helps take care of the appearance of your skin too.
Cinnamon Powder And Peppermint Oil Instead Of Restylane:
What is Restylane? Restylane would be an injectable gel which is made from the extracts of hyaluronic acid, and it is used to help bring down wrinkles and fine lines and works to contour the chin and the jawlines too. It is quite similar in price to botox and a larger needle than the ones used in botox would be used here. There are side effects to it, such as discolouration and swelling, itching, and tenderness where the injection has been administered.
But you can use something natural to plump your lips instead of botox. A little bit of cinnamon powder and peppermint oil should be mixed in a bowl. Then take a water damp cotton ball and dip it into this solution. Rub this cotton ball gently on the lips and wait. You might feel tingling sensations that are mild, and it is okay. This will show you great plump results just as you want it and it would last for a couple of hours too. You would not have a duckface look at the end of it.
Natural Alternatives To Botox:
When we say instead of botox, we mean alternatives to botox and botox substitutes, which really work, and here are some of them.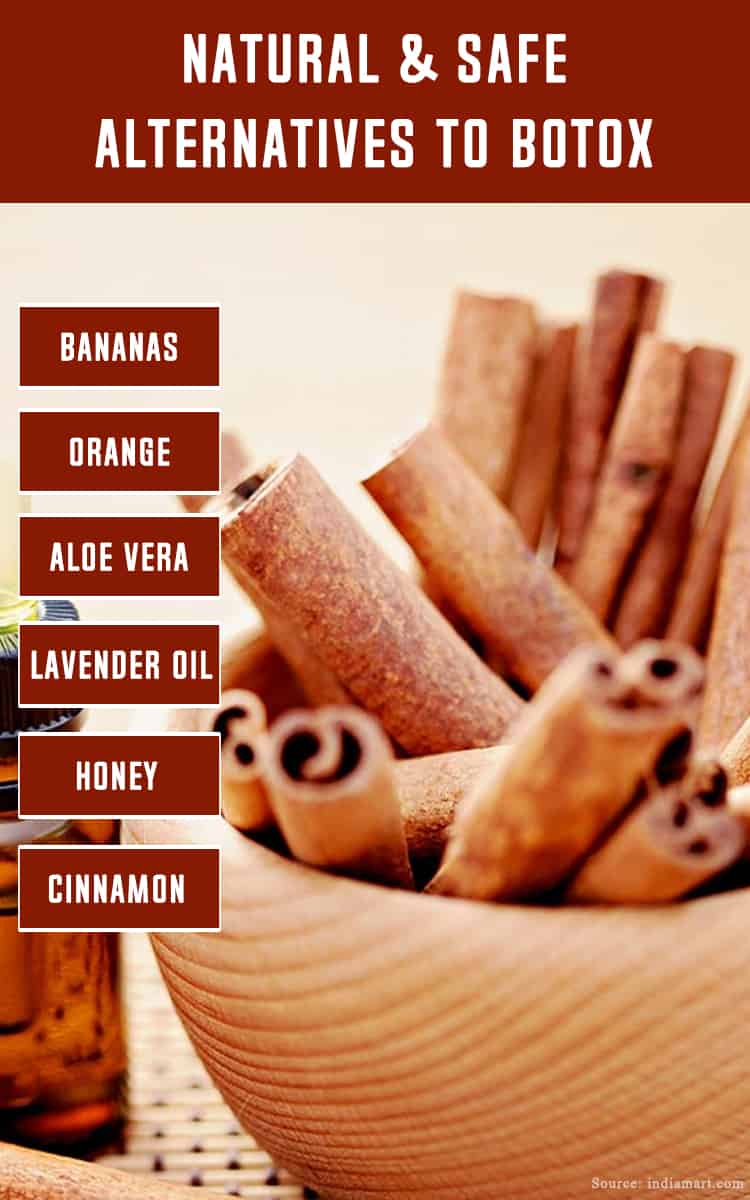 Bananas:
Bananas can work wonders for our skin. What you need to do is mash up a medium-sized ripe one with a little honey and form a gooey paste. Now apply the gooey paste on the face and the neck and wait for half an hour. Wash off the paste with cold water, and this will help rejuvenate and revitalize the skin. This should be done daily for best results.
Use Vitamin C Mask:
There is plenty of vitamin C in oranges, and you can use them in your beauty routine to get skin that is younger looking. The juice of an orange must be extracted for this, and to it, the juice of aloe vera should be added. Apply this concoction on the face and wait for half an hour. Wash off with cold water thereafter. This should be done daily for best results. Both orange juice and aloe vera are known to help with skin firming and tightening.
Make a Tightening Mask:
For this recipe, you would need a tablespoon of white yogurt with an egg white. Mix them well and whisk them to a fluffy consistency. Apply this paste on the face and wait for ten minutes. Then rinse off your face with water. This should be done thrice a week for the best results to be seen.
Make An Anti-Ageing Mask:
If you have oatmeal at home, you can use it to make an anti ageing mask that would work par excellence in tightening your skin. Moreover, oatmeal helps exfoliate the skin and makes it youthful and smoother. Mix a little honey into oatmeal, so that it helps smooth out fine lines and wrinkles. Apply the paste on the face for twenty minutes, and then rinse it off with cold water. This should be done twice a week and the best results would be noticed.
Use Firming Oil:
You don't have to buy firming oil from the market. Make your own firming oil at home. Do so by mixing in coconut oil a few drops of lavender oil. This should be mixed well and then massaged upwards on the skin to boost muscle tightness and to make the skin tight and firm. This is an amazing way to get rid of wrinkles and fine lines, which are mostly seen around the neck and the face.
Other Methods:
There are other methods and natural alternatives to botox, and two of them are listed below, apart from the ones we have mentioned above. These are two botox alternatives that work.
Use Face Patches:
Also known as FROWNIES, these are patches that are sticky and which can be placed on areas of the skin which you know would be prone to getting wrinkles. These patches are known to help smoothen out wrinkles. They are easy to get and are not costly too.
Have Lot Of Vitamins:
You could actually improve the texture of your skin by consuming vitamins. They help with the production of collagen and have antioxidant effects, which protects the skin from the onslaught of free radicals too. The best vitamins to consume would be vitamins C, E, and even carotenoids.
So here were the many alternatives to botox injections, which we found were the most popular across the world. Do write in and let us know if you would opt for these or would go the regular botox way with an injection? And if you know more natural alternatives to botox, we would like to hear from you as well.
Please note! The information given here is through pure research only. Only your dermatologist would be in a position to determine if you need botox or any skin rejuvenating treatment. Their words would take precedence over what is written here and elsewhere online.