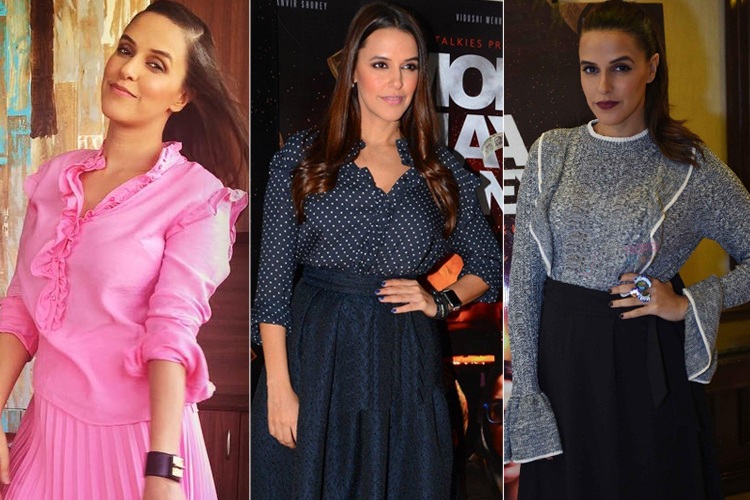 Make some noise for Neha Dhupia, who is currently on a high, courtesy her all new podcast No Filter Neha and her upcoming Bollywood release, Moh Maaya Money.
While No Filter Neha has stirred up quite a sensation with celebs making candid revelations about themselves, Moh Maaya Money is hoping for a bumper release this weekend, considering a thriller plot that suddenly has gained some relevance in the wake of demonetisation and a promising star cast including Ranveer Shorey and Neha Dhupia in lead roles.
With the movie due for a release on the 25th of November, the leading lady was busy promoting her movie across India. While she spoke about the feature, we plead guilty of being stuck to her promotional wardrobe.
What really stumped us is her versatility, that she put on display in the course of promoting her upcoming. Right from floor lengths to midi skirts to dresses in a varied color palette, Neha rocked every ensemble with her attitude and curves in perfect alignment.
Let's go back to her promotional appearances for a quick recap of all the style inspiration the diva gave us.
Neha Dhupia's Top Looks From Moh Maaya Money Promotions.
In H&M And Marks And Spencers
For the premiere of the movie in the Capital, Neha's friend and stylist Sohaya Misra dressed her up in shades of fall. In a grey H&M blouse paired with a classic black midi skirt from Marks and Spencer, Neha redefined our winter dressup. The bell sleeves and detailing on the blouse made it quite a stunner. Sohaya added a dash of sparkle to this appearance with a statement cocktail ring from Swarovski and a pair of glitter pumps from Isabel Marant. A neat ponytail along with a bold dark pout seized the day for the actress.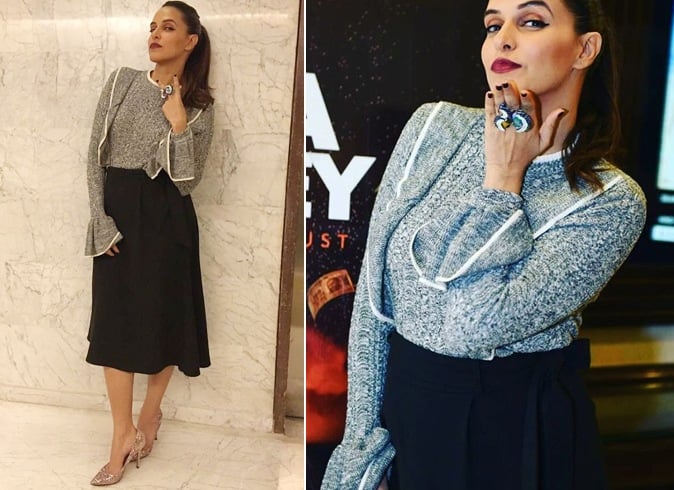 Neha Dhupia gave us a winning look to beat the nip in temperature. In Delhi, at her visit to the Punjab Kesari Office along with Ranveer Shorey, neha was spotted in a pretty floral motif brown skirt from H&M paired with a maroon knitted top from Marks and Spencers. Due mention for stylist Sohaya for inspiring us to try a new combination of brick red and wine in the coming days. Sohaya completed this promotional look with a pair of head turning boots and tresses let loose.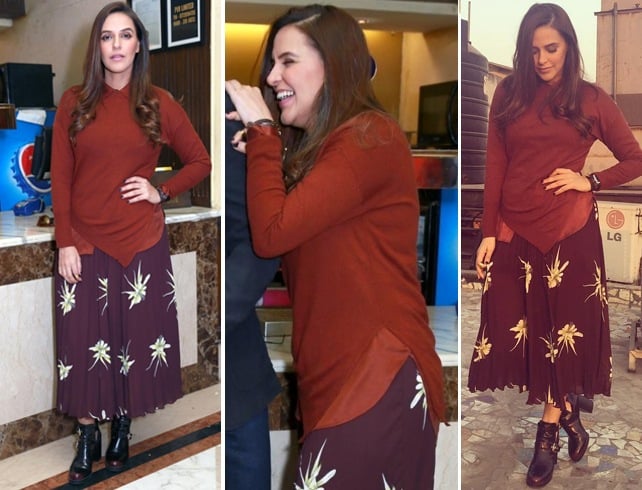 Working a whole lot of skirts, Neha yet again gave us a perfect ten wearing a black midi from H&M with a monochrome polka dotted shirt from M&S. Stylist and designer Sohaya Misra, styled up the outfit with a pair of nude pumps from Jimmy Choo and Neha's apple watch. Silky tresses and a radiant face by Hair and Makeup artist Younten Tsomo provided the finishing touches.
[sc:mediad]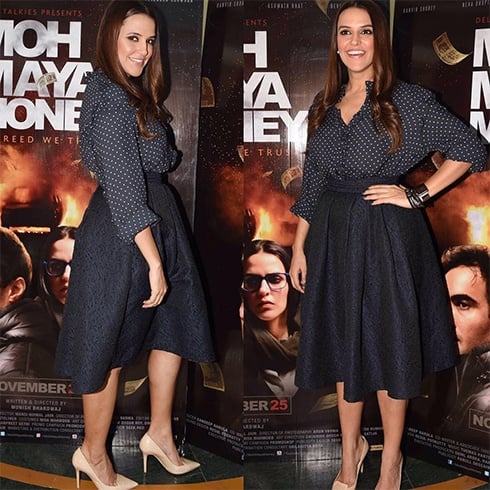 In H&M
The Stylist dolled up her muse for her appearance at the NDTV office in a peach wrapped dress from H&M . To turn this Spring summer dress into an edgy winter special, the stylist layered it up with a pastel graphic print bomber from H&M. The top knot courtesy Younten Tsomo and a clutch took this look from cute to sassy.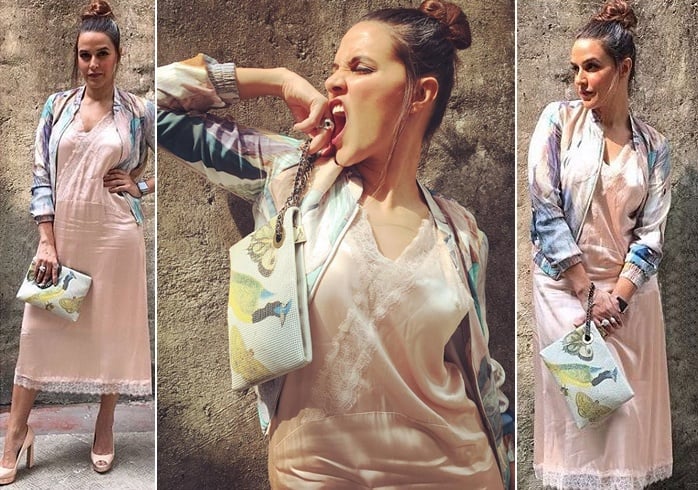 Wearing H&M separates in candy pink, Neha gave us a yummilicious look whilst promoting Moh Maaya Money at Pune. Special credits to the stylist for picking up this one and styling it up in the contrast way with a black Celine bag and YSL pumps. The cute hairstyle retaining the delicacy of this teen look.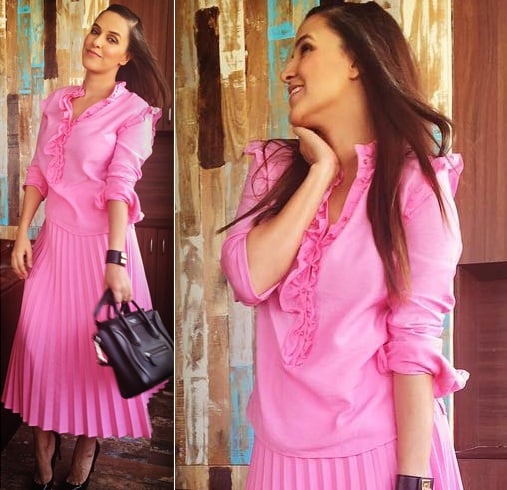 In Anavila Misra
Neha Dhupia along with her stylist revived some vintage charm at the promo launch of Moh Maaya Money. Draped in a grey saree from Anavila Misra which dazzled with its own shine Neha touched all the fashion chords just right. Elevating the retro vibe were the quaint jewellery pieces from Curio Cottage and a rose tucked into her bun by Younten Tsomo.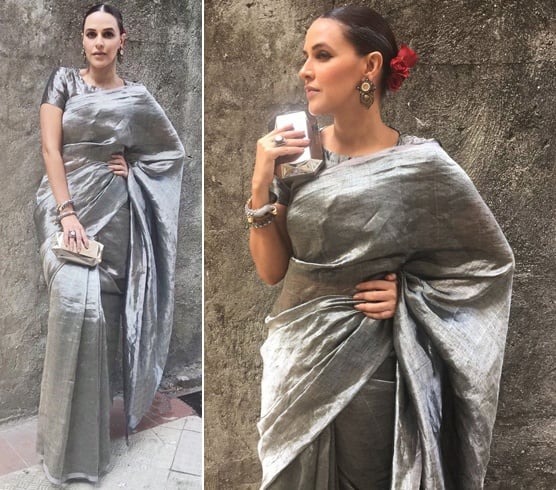 In Payal Singhal
For promoting the feature at Comedy Nights Bachao, Neha was spotted exuding a regal aura in an elegant black cold shoulder kurta set from Payal Singhal. The delicate embroidery was well matched with jewellery pieces from Swarovski. While Make Up expert Sonic Sarwate gave the lady defined kohl eyes, Younten Tsomo rolled up her locks in a side parted bun.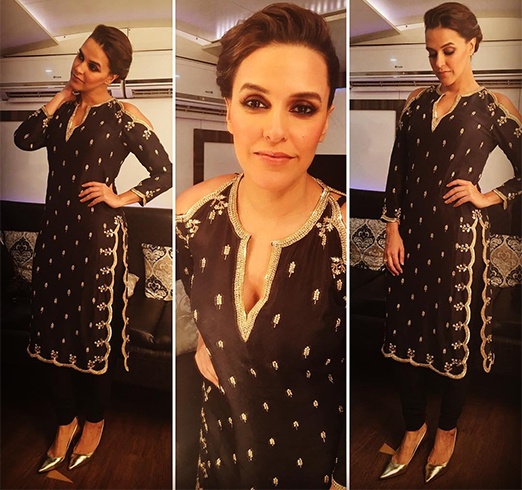 In Anamika Khanna
To present her movie, Moh Maaya Money at the Kapil Sharma Show, Neha dolled up in a couture piece from Anamika Khanna. Styling credits to Mohit Rai for prepping the diva the gorgeous way. With jewellery pieces from Renu Oberoi and Anmol Jewellers and a pair of Jimmy Choo pumps, Neha looked all set to woo her small screen audiences.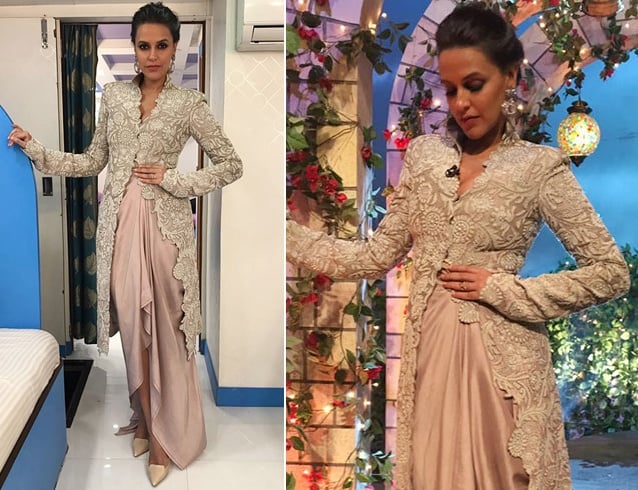 In Payal Khandwala
The fashionista spiced up her promotional run up with a Payal Khandwala ensemble. Looking every bit royal in a rustic floor length number, Neha carried this one with much élan. Kudos to Sohaya for keeping the look bold and minimalistic by styling the outfit with only a befitting golden choker.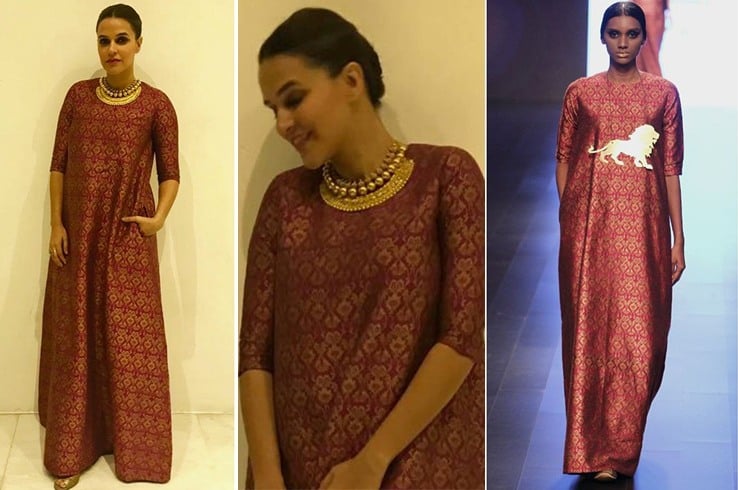 In AM PM
Adding her glamour touch to every ensemble, Neha spruced up an all-black AM PM tailored keyhole top and pencil pants with a piece of gorgeous layering from the designer duo. The monochrome birdi inspired printed silk cape complimented with a pair of Sangeeta Boochra earrings looked exotic and mesmerizing. We hope with this one Neha not only won the hearts of her fans in Kolkata, but swayed her followers across the nation.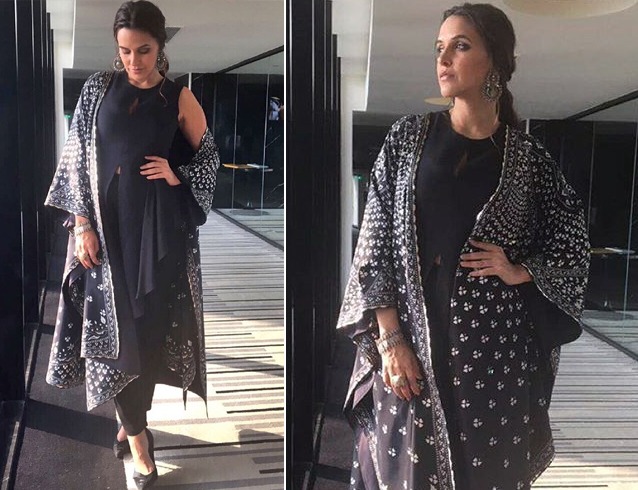 With such awesomeness Neha has invigorated our desire to see her on the big screen. We are definitely hitting the theatres to catch the thriller Moh Maaya Money. Are you?
Images Source: instagram