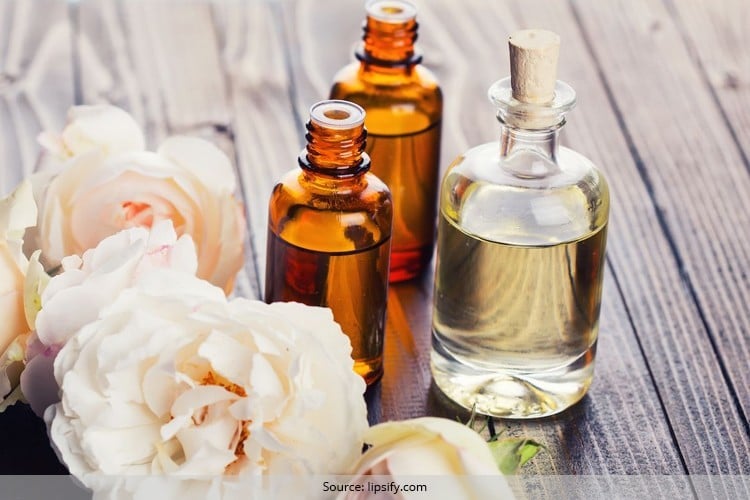 Winter is just half a step away from our doorstep. But I live in Hyderabad, and I am pretty sure in many parts of the country, it has already arrived with November. Winter is all about layers, while you are busy layering your body don't forget to layer your skin too. Because when temperature drops, the moisture level of your skin suffers too. You might have tried and tested many creams and lotions throughout the years. How about trying some beauty oils for winter this year to protect your skin from the chilled wind?
[Also Read: Essential Oils For Hair Growth]
Essential Oils For Dry Skin
The below mentioned essential oils for dry skin is sure to make your winters a happy experience this year.
Kukumadi Tailam
This oil is basically made from the essential oils found in Kesar. It is an herbal oil, mainly used for facial massage. The oil is combined with goodness of other natural ingredients like chandan, manjeeshtha, laksha, kaliyaka, and gambhari. Just 3 to 4 drops of kumkumadi oil is enough not only to keep your skin nourished for the winters, but also benefit your tired skin with its anti-aging properties. Kumkumadi Tailam might appear to be a little costly, but after having used it, you will balance out its performance with its cost.
Olive Oil
While Kumkumadi Tailam is mainly recommended for facial usage, olive oil can be used all over the body. This is one of the essential oils for dry skin and acts as a long-lasting moisturizer for the skin. Even on extremely dry skin of elbows and knees, olive oil can work wonders. Regular massage of olive oil after bath and before bed will assure soft and smooth skin for ages. You can also add few drops of olive oil to your face pack to retain the moisture on your face. Olive oil is available in many brands at your nearest medical or departmental store.
[sc:mediad]
Coconut Oil
Indian mother and grandmothers have been swearing by the goodness of coconut oil when it comes to taking care of their beloved daughter's hair. But do you know that coconut oil can create magic on your skin as well? Coconut oil has abundance of vitamin E and anti-aging properties. Hence, in combination with providing a layer of moisture to the skin, coconut oil fights premature aging of the skin or formation of wrinkles. It is also effective in healing superficial wear and tear. The protein content in the oil assures healthy growth of the skin cells and replacement of old and dead skin with new skin rapidly.
[Also Read: Winter Creams]
Almond Oil
Almond oil is yet another oil for dry skin widely used for cooking and hair care, however is packed with abundant benefits for the skin. Rich in proteins, vitamin E, minerals and monounsaturated fatty acids, the sweet almond oil is mild enough to be used even on the face or baby skin. Regular use of this oil can prevent formation of black and white heads on the skin. Acne and scars also die out eventually if almond oil is used over a period of time. This is due to the presence of Vitamin A in almond oil. One can also use it for makeup removal. This multi-purpose oil is a must have in your bag for radiant hair and lustrous hair round the year.
Tea Tree Oil
Though mostly used as a minor component in other beauty products, when used all by itself, tea tree oil won't fail to help your skin glow with all its youth as it is a very effective oil for winter skin. In addition to providing ample amount of moisture, tea tree oil also works on dark spots, pimples, rashes, burns and blemishes. The oil comes with natural anti-fungal and anti-viral properties which helps resist the skin trouble any sensitive skin is prone to. The best way to use tea tree oil is to apply generously to whole body and massage for 10 minutes. Leave it to get absorbed by the body for a good 20 minutes and take a shower. Your skin will remain hydrated and supple for the entire day.
The best quality of all the beauty oils for winter discussed above is that all of them are natural oils and do not contain the minutest of chemical particles. On the other hand even the mildest of lotions will have some chemical properties in them. So if you want to get involved into a rigorous skin care regime for this winter, yet want to keep that epidermis out of any chemical interaction, go for any of the above oils. They are available at the retail stores and malls. Or if you are too lazy like me, just log on to some online shopping site and order it online.