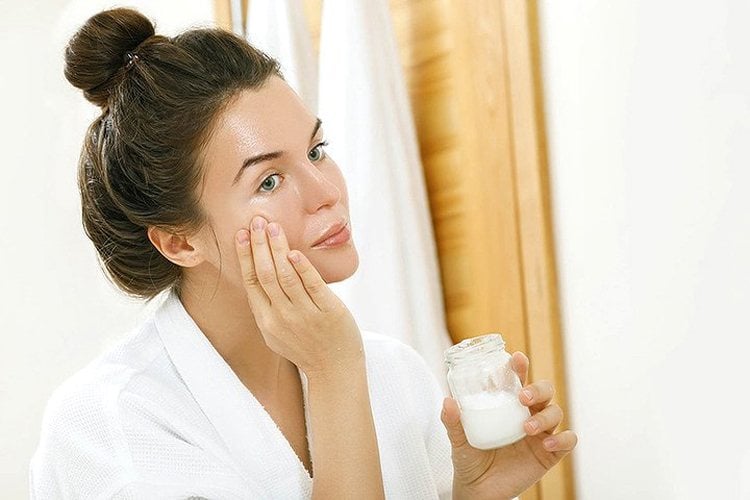 When you glance over your mirror in the middle of the day and notice your T-zone glistening, it might be time to switch your makeup products.
Those with combination and oily skin especially should avoid using oily beauty products. Instead, you should look for oil free, long wear beauty products to retain skin moisture and remove excess oil.
To help, we have rounded up 29 oil-free products that fit the bill. These lists include herbal cleansers, toners, moisturizers, and serums.
These are the best oil control makeup you should be putting in your makeup routine.
Take a look:
1. Neutrogena Oil-Free Acne Wash, Pink Grapefruit Facial Cleanser, $6.87
What is it?
This oil-free face wash can clear skin breakouts with a burst of pink grapefruit. It is oil-free, free from salicylic acid, is non-comedogenic, and is boosted by MicroClear® Technology. This cleanser treats breakouts, including blackheads. It contains naturally derived grapefruit extract and Vitamin-C to eliminate oil and dirt, without over-drying the skin.
How to use:
Ideal for daily use.
Wet face. Apply a small amount of the cleanser onto face. Lather.
Rinse off well.
2. Garnier Clean + Blackhead Eliminating Scrub, $5.99
What is it?
This gel exfoliater contains micro beads which deeply cleanses, tightens pores, and smoothes skin. It is also packed with charcoal which helps draw out blackhead causing dirt, oil, and impurities.
How to use:
Wet face.
Squeeze the exfoliater onto hands.
Run together.
Apply to face and massage gently.
Rinse off thoroughly.
Clean & Clear, Oil Absorbing Sheets, $4.49
What is it?
Clean & Clear Oil Absorbing Sheets can instantly soak up and remove excess oil from face, leaving the makeup intact. These sheets are soft and silky to easily use around sensitive areas of your face. Use them daily, anywhere for removing oil and shine.
How to use:
Remove an absorbing sheet from the pack.
Gently blot your face for absorbing excess oil and shine, especially in the T-zone.
Dispose off.
4. Urban Decay, De-slick Mattifying Powder, $32.00
What is it?
This transparent mattifying powder from Urban Decay can blot oil without messing with makeup. The shade works on every skin tone. As this formula contains lightweight, oil-absorbing rice powder, it provides shine-free results.
How to use:
Use it over makeup free skin or over foundation.
5. The Body Shop, Seaweed Oil-Control Day Cream, $20.00
What is it?
This gel cream from The Body Shop is suitable for combination skin. It is hydrating yet lightweight, and balances off oil and excess sebum. This cream leaves behind a matte, shine-free complexion. It contains mineral rice seaweed from Roaring Water Bay, Ireland and is oil-balancing.
How to use:
Apply this oil control products all over face and neck after cleansing, toning, and serum.
6. M.A.C, Blot Powder/ Pressed, $27.00
What is it?
M.A.C Blot Powder/Pressed is a unique pressed powder that can set foundation and finish the face with minimal texture. It is suitable for professional use and frequent touch-ups daily. It provides a sheer, natural-looking finish.
How to use:
Apply to face using a brush or puff.
7. Palladio Oil Absorbing Rice Powder, $5.00
What is it?
Palladio Oil Absorbing Rice Powder is known for its oil-absorbing properties. It helps makeup last longer and leaves behind a silky, smooth skin.
How to use:
Use alone or to set makeup.
8. NYX Professional Makeup Blotting Paper, $6.00
What is it?
NYX Professional makeup blotting paper comes in tea tree, green tea, fresh tea, and matte. Each pack comes with sheets made of 100% pure pulp paper for absorbing excess oil and keeping you shine free. These blotting sheets control excess oil from T-zone areas on face without budging makeup.
How to use:
Press a single sheet flat on face to wipe off shine and blot oil.
Repeat as needed.
9. Kiehl's, Ultra Facial Oil-free Toner, $16.00
What is it?
Kiehl's Ultra Facial Oil-free Toner is suitable for combination, normal, and oily skin. It is formulated to remove excess oil from skin. This toner reduces skin dryness, oiliness, dullness, and uneven texture. It gently removes residue, dirt, and oil without stripping skin's moisture. The non-drying formula is also enriched with imperata cylindrica root extract and antarcticine to soothe skin.
How to use:
After cleansing skin, moisten a cotton pad with facial toner.
Apply toner to face, avoiding the eye area.
10. L'Oreal Paris, Infallible Pro-Matte Foundation, $12.99
What is it?
The Pro-Matte Foundation has air-light texture that comes with a demi-matte finish. This formula has high water content with medium coverage. It can instantly absorb sweat and oil without smudging makeup.
How to use:
Instead of rubbing foundation on skin, press foundation on skin.
Focus on T-zone areas on face.
11. Urban Decay, De-slick Oil Control Makeup Setting Spray, $31.00
What is it?
This is a weightless setting spray that can allow keeping your makeup intact, control shine, and reduce surface shine. The De-slick oil mist can weightlessly control oil, deflect surface shine, and leave behind a matte finish. Its rich ingredients can keep makeup from smudging or fading. This clinically tested formula allows makeup to stay put and keep skin smooth.
How to use:
Shake well.
Apply after using foundation to control shine.
Use again after makeup to deflect surface shine and locking in makeup.
Hold the bottle 8-10 away.
Mist face twice or thrice, in X and T formation.
12. La Roche, Posay Effaclar BB Blur, $29.99
What is it?
The BB cream from La Roche is one of the best oil control products. It minimizes appearance of large pores and blemishes. It absorbs oil all-day long for a matte-even finish. The cream comes with cutting-edge smoothing mattifier, broad spectrum SPF 20, ultra-light breathable texture, is oil free, and paraben-free. The rich filled ingredients like airlicium absorbs oil and shine, perlite absorbs humidity and sweat, BB pigments visibly cover blemishes, and titanium dioxide provides UV protection daily.
How to use:
Use daily for coverage.
After cleansing skin, apply to face.
Avoid eye area.
Layer over makeup, too.
13. Cetaphil, Oil Control Moisturizer, $12.00
What is it?
The Oil Control Moisturizer is clinically formulated to balance oily skin. It soothes sensitive skin problems like redness or dryness caused by acne treatments. Specially formulated to control shine and moisturize the skin, this oil control solution is great to soothe skin. It has three in one formula for controlling oil and shine. It contains Oleosome technology™ with a lower concentration of sunscreen. Lightweight, non-greasy, and absorbs quickly, this moisturizer gives skin a matte finish.
How to use:
Apply moisturizer liberally 15 minutes before sun exposure.
Use the moisturizer with water resistant sunscreen when swimming or sweating.
Reapply every two hours.
Not usable for children under six months.
14. Shiseido Pureness Oil-Controlling Blotting Papers, $18.00
What is it?
The portable pouch of oil blotting papers leaves skin refreshed while on-the-go. These convenient sheets contain oil-absorbing ingredient that instantly eliminates shine and is dermatologist tested. It can eliminate excess sebum, shine, and provide long-lasting makeup application.
How to use:
Press the powder-coated side against skin.
Repeat as needed.
Use daily.
15. Bare Minerals, Prime Time Oil Control Foundation Primer, $24.00
What is it?
This foundation primer is suitable for all skin types. It can combat flaky dryness, rough patches, fine lines, enlarged pores, and uneven skin texture. The foundation provides a smooth and natural-finish. It is infused with natural plant extracts, antioxidants, and nourishing Vitamin C and E. This silky formula glides over skin without any stickiness and is dermatologist tested.
How to use:
Shake the bottle before use for best results.
Squeeze one pump to fingertips and spread primer all over face and neck in upward motions.
Allow the face primer to absorb into skin before applying the foundation.
[sc:mediad]
16. Lancome, Pure Focus T-zone Powder Gel, $43.00
What is it?
The powder gel from Lancome provides instant oil control results especially on T-zone areas. It leaves skin fresh and pure. This formula contains Matitex™ spheres and mattifying agents to give skin a matte finish. Pores feel tightened and refined with this oil free formula.
How to use:
Apply to T-zone areas before applying makeup.
Dab gently over makeup to re-touch.
17. Becca, Mattifying Primer Base, $39.00
What is it?
The Primer from Becca is suitable for oily and combination skin. This oil-control primer perfects and minimizes pore for mattified skin that lasts for 12 hours. It is the perfect solution for pores, oiliness, and uneven skin tone. This formula targets oil-prone areas and leaves skin with a matte look.
How to use:
Use alone before or after foundation to control excess oil and minimize pore appearance.
Use daily to touch-up problematic areas.
To apply, squeeze a pea-sized amount in hands.
Pat on specific or T-zone areas.
Allow product to dry before makeup application.
Use throughout the day as a touch-up.
Pat over makeup to oily areas including eyelids.
18. Maybelline New York, Shine Free Oil-Control Loose Powder, $5.99
What is it?
The Loose Powder from Maybelline provides a fresh, matte, and shine-free finish. It has an advanced 100% oil-free formula that keeps skin shine-free for hours. The lightweight formula evenly glides over skin for a flawless, matte finish.
How to use:
Touch puff to powder.
Shake off gently to remove excess.
Apply puff lightly over face.
Use the puff to blend and whisk any loose powder.
Wear alone or over makeup.
19. Benefit, The Porefessional, $31.00
What is it?
This pore fixer from Benefit can minimize the appearance of pores and fine lines. It allows makeup to stay intact for long hours. The lightweight formula can be worn under makeup to hold shine and touch up makeup.
How to use:
Apply a thin layer to moisturized skin.
Wait for few seconds and apply makeup (if you must).
Pat gently over problematic areas.
Blend well.
20. Lacto Calamine, Oil Balance Lotion, Rs.170
What it is?
The oil balance lotion from Lacto Calamine is perfect for combination and normal skin. This clay-based lotion offers an oil balance for up to eight hours through its unique three way action daily without over drying skin. Its unique Kaoline Clay Therapy provides oil balance to skin. The lotion absorbs excess oil, removes essential oil, retains natural moisture, and helps to unclog pores.
How to use:
Shake the lotion bottle before use.
Take a small amount of lotion onto palms.
Apply in dots all over face and neck.
Spread it over and rub your skin for 20-30 seconds.
Use twice a day for best results.
21. Dove, Deep Pure Oil Control Facial Cleanser, Rs.210
What is it?
The facial cleanser from Dove gently cleanses dirt and excess oil from deep pores leaving behind a matte finish. It deeply hydrates and balances skin to control sebum production daily. This facial cleanser is ideal for normal, sensitive, and dry skin. It contains micro-puff to deep cleanse skin.
How to use:
Wet face.
Apply small amount onto face.
Lather.
Rinse off thoroughly.
Pat dry.
22. Khadi, Mint and Cucumber Face Freshener, Rs. 190
What is it?
This mattifying facial freshener is ideal for oily skin because of its water based formula. It freshens face by removing dirt and cleaning pores. The active ingredients like neem and basil protects the face from germs, keeping the skin soft instantly.
How to use:
Spray over face.
Wipe off after 30 seconds using cotton or tissue.
23. Lotus Herbals, Tea Tree & Cinnamon Anti-Acne Oil Control Face Wash, Rs.135
What is it?
This face wash is specially formulated for oily skin as it contains tea tree oil, cinnamon, and oak bark extracts. These ingredients remove excessive oil and sebum production from the skin. It decreases acne lesions and fights against free radicals leaving the skin fresh and clear.
How to use:
Squeeze small amounts onto wet palms.
Apply on wet face in circular motions.
Wash off.
Use twice daily.
24. Fab India, Tea Tree Toner, Rs.290
What is it?
This alcohol free-toner with tea tree oil controls excessive sebum and clear blemishes. It is formulated with salicylic acid to fight off acne. Makes skin tone refreshed and removes all dirt from face including makeup. It cleanses the skin and reduces appearance of pores. Revitalizes skin with its active ingredients.
How to use:
Cleanse face and neck.
Soak a cotton ball with the toner.
Dab the cotton ball over face and neck.
Use gentle strokes in upward directions.
Wait 30 seconds to moisturize skin.
25. Himalaya Herbals Purifying Neem Face Wash, Rs. 180
What is it?
Himalayan Herbals Purifying Neem Face Wash is soap free. It cleanses away impurities and acne from skin. Suitable for all skin types, this face wash effectiveloy removes excess oil, dirt, and grime without stripping skin moisture. It is enriched with natural ingredients like mint and cucumber which help cleanse skin and make it look healthy.
How to use:
Moisten face.
Apply small amount of the face wash onto face.
Work up lather with circular motions.
Wash off well and pat dry.
Follow up with a moisturizer.
26. Lotus Herbals, Basiltone Cucumber & Basil Clarifying & Balancing Toner, Rs. 285
What is it?
This balancing toner is packed with natural cucumber extracts and basil leaf extracts which keeps skin refreshed and hydrated. This toner removes makeup, excess oil, and dirt from skin. It restores the pH balance of skin, tightens pores, to reveal clearer skin. This toner is ideal for combination to oily skin.
How to use:
Cleanse face.
Wipe face and neck with cotton moistened with toner.
Allow to set for few seconds.
27. Neutrogena Oil-free Moisture Combination Skin, Rs. 349
What is it?
Neutrogena oil-free moisturizer gives the right amount of moisture to skin. This is specially formulated for combination skin. It deeply moisturizes and nourishes skin. Controls shine and reduces clogged pores to reveal healthy skin. The advanced oil-absorbing micro-sponge system controls shine from T-zone areas.
How to use:
Apply a small amount daily after cleansing face.
Use as required throughout the day.
28. Clinique, Dramatically Different Moisturizing Gel, $27.00
What is it?
This lightweight moisturizing gel is ideal for combination to oily skin. It combats against dryness and oiliness, both. The oil-free formula combines skin strengthening ingredients so skin looks refreshed and younger.
How to use:
Apply twice a day over face and neck.
For best results, follow Clinique's 3-step skin care system.
29. Olay Total Effects, Anti-Aging Daily Moisturizer, $25.00
What is it?
This daily moisturizer is loaded with vitamins and antioxidants to prevent free radical damage and signs of ageing.
How to use:
Cleanse face and pat dry.
Apply a small amount of the moisturizer in circular motions over face.
Use once daily or as needed.
These are few of the best products to control oily skin. Have you tried any of these products? Write in your reviews in the comment box below.