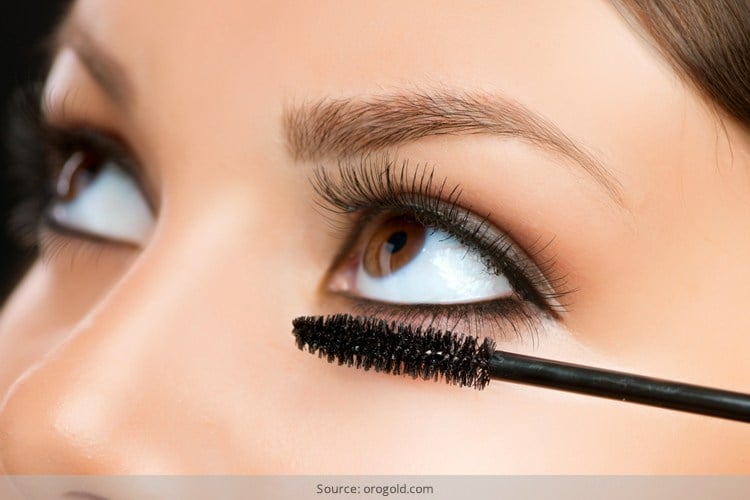 When it comes to mascara, you are spoilt for choice nowadays. An out of the world weapon to open your eye to the maximum and help you bat the perfect flutter, mascaras are splashed across the beauty market, right from classics to exciting modern formulas! Although lengthening formula was demanded since ages; presently the demand for volumizing mascara is going berserk!
Understanding the difficulty of picking from the vast array of choices, we have rounded up some of the best volumizing mascara picks to get the most intense and voluminous lashes in no time!
1. Too Faced Better Than Sex Mascara
Is it really better than sex? Well! We cannot be certain on that but we are damn sure it is the best volumizing and lengthening mascara to transform your look. Just one coat of this collagen-fueled formula defines your lashes and stretches them to an unbelievable length! Two coats give you the most dramatic, curled and perfect false lashes flutter! The third coat gives an unbelievable 3D volume that is guaranteed to take everyone breath's away! You can choose between its normal and water-proof formulation but can be assured of clump-free, flake-free and smooth vibe from both!
[Also Read: Mascara For Long Lashes]
2. CoverGirl LashBlast Volume Mascara
Use this patented volume boosting formula to max out every single lash and achieve a blast of volume with each pass! Undoubtedly one of the best volumizing drugstore mascara, it moves smoothly without any smudging or flaking despite long hours! One of the best waterproof products, its conditioning waxes is a treat to your lashes as well!
3. Diorshow Mascara
It's no wonder that this classic has a cult following and is touted as the best volumizing waterproof mascara! Reformulated with a patented air-lock technology, its microfibers build serious length and volume to ooze a 'million lashes' look! The curl that it gives is hard to resist even by the most stubborn and straight lash! With a longer shelf life and its dull dramatic effect, it compels its users to ward off switching.
4. Buxom Lash Waterproof Mascara
Promising of revealing every single lash, this mascara seriously delivers above par in almost all departments! Very easy to use, the mascara creates darker and thicker lashes without any clumps for an insanely full effect! It is no wonder that it is one of the top rated volumizing mascara!
[sc:mediad]
5. Burberry Bold Lash Mascara
Give your lashes an intense volumized bold look with this creamy, intensely pigmented formula! Its cone-shaped brush has a unique design which makes it super easy to glide them from the root to the tips! With its rich dark finish, it fans the entire eyelashes including the outer half of the eyes! Definitely one of the best volumizing mascara for a bold and dramatic effect!
6. IT Cosmetics Superhero Mascara
Its single coat is enough to give you a 'va-va-voom' look! One of the best volumizing mascara for thin lashes, it gives them serious length as well! Moreover, this anti-aging mascara is made of an innovative formula containing powerful peptides, proteins, biotin, plumping collagen and the lash-lifting polymers. This super black formulation nourishes your thin lashes as well as takes them to new heights! Super-buildable and easy to use, this will leave your lashes looking fresh and bold throughout the day!
7. Yves Saint Laurent Volume Effet Faux Cils
The new improved triple intensity formula coats each lash to perfection to add some shocking volume to your lashes! It never clumps or flakes despite you trying hard and flaunts one of the deepest and shiniest black hues. Its B5 pro-vitamin enriched non-drying formula makes for the boldest and maximum volumized lashes. Worth the splurge for all those for whom volume is the key.
8. Le Volume De Chanel Mascara
Living up to its name, this innovative formula with its multi-length brush plumps every single lash to give a fluttery and voluminous finish! Its deep rich color lends a wide-open look to your eyes! Do not be surprised if you are asked whether your lashes are real!
[Also Read: Colored Mascara]
9. LancomeHypnose Mascara
Get up-close and personal with even the wispiest corner lashes with its cone shaped brush while pampering them with its soft sculpt vitamin B5 enriched formulation! Promising to give up to 600 percent volume and no smudge, clump or smear; this volumizing mascara is your ultimate choice to lend some extra oomph to your lashes!
10. L'Oreal Voluminous Volume Building Mascara
One of the first voluminous mascara to be launched in the market, it still remains ahead in the game! Its rich creamy and nourishing formulation of vitamins and ceramides creates an obvious statement eye with feathery soft vibe! Trust it to thicken lashes uniformly sans any flakes, smudges or clumps. This top rated volumizing mascara is a terrific choice for everyday wear!
Have you decided on the best volumizing mascara for yourself? Did it give you the desired effect? Chime in below!