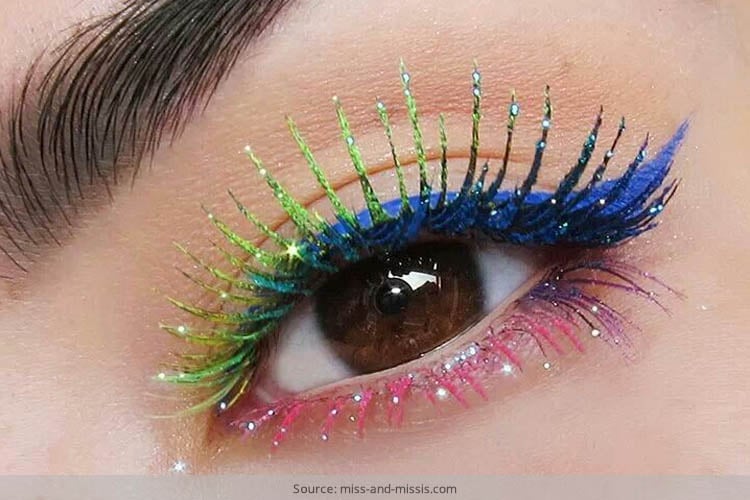 Colored mascaras are making their comeback this year, making the idea of having only black ones an outdated idea. The colored mascaras bring back 80s feel and flashbacks, but thankfully new product released from our favorite beauty brands are proving the trend has come back with a bang. The new colored mascaras are more chic and fashionable than ever before. One thing that is important here is that you do it right. Colored mascara, besides being a great way to lighten up your look, compliments your eye color, and can really make your eyes pop. Talking about what is available now, from a limited edition line of mascaras inspired by the butterfly wings, to the cult classics in an updated hue, there is a whole palette of colorful sticks to choose from right now. So you can merrily grab a matching liner and get ready to enhance your whole look with one of these colored mascaras.
[Also Read: Mascaras That You Must Try At Least Once This Year]
Here's a List Of The Best Colored Mascaras Available
In case, you need help with choosing the right colored mascara for you, this is the perfect article for you. In this article, we will be bringing you a list of the best colored mascaras available in the market currently.
1. Bright Yellow Colored Mascara
The bright yellow colored mascara looks particularly flattering on brown and hazel eyes. Yellow electrifies the flecks around the eyes and gels well with a black or white accent liner. The RMK W Color Mascara in Dark/Gray Yellow is one of the products you could try provided you are willing to shell out Rs. 2178. There are other yellow mascaras available that don't necessarily burn a hole in your pocket.
[Also Read: Interesting and Surprising Facts About Hazel Eyes]
2. Blue Colored Mascara
The color blue in itself is considered a statement color. Known for how elegance and subtle the color can be, the blue mascara adds a heightened sense of appeal to your entire look. A cooler than cool statement rub with a very spidery fringe can bring warmth to every eye. The blue mascara can also gel with almost all eye colors. You can get yourself a Givenchy Beauty Noir Couture Volume Mascara in Blue Taffeta, at around Rs. 2000.
3. Hot Pink Colored Mascara
Pink is one of the brightest of colors on a makeup palette. Not quite appropriate for the faint of heart, the hot pink mascara is especially designed for the dramatic side of one's personality. It looks exceptional when paired with light eyes. The Etude House Lash Perm Curl Fix Mascara, priced at Rs. 925 is one of the best long lasting mascaras you can lay your hands on.
4. Deep Purple Colored Mascara
Purple shades are always great for people who like experimenting with skin tone, be it via tanning or otherwise. It works well with almost any skin tone. Coming to the contrasting eye color because purple and green are opposites on the color wheel, violet-hued mascara goes best with green eyes. The combination looks mind blowing and gives you an extra edge. You could grab a Make Up For Ever Smoky Lash in Plum, if you want to try this color out. It should cost you something around Rs. 3000.
5. Green Colored Mascara
Perhaps the most subtle way to rock natural shades green works well with almost all eye colors. The green colored mascara begs to be worn with those summer dresses. It works surprisingly well with your bright shaded summer clothes. You should definitely give this color a shot. Get your hands on a Stargazer Sonic Wind UV green Mascara, priced at Rs. 660 for a perfect summer look,
6. Brown Colored Mascara
The best alternative of black colored mascara is brown. This can be worn by ladies of all age groups as it gives less bold looks compared to the traditional black mascara. There are many shades of brown mascara ranging from dark brown to medium to light brown. Women with a lighter skin tone should go for lighter shades and those with a darker skin tone will look best in a darker brown. If you want to wear brown mascara that is less harsh on lighter eyes, Maybelline the Colossal Volum' Express, Glam Brown is a good choice.
7. Golden Colored Mascara
Who does not love a golden touch? Guess what? Now, you can try golden mascaras on your eyes and check how it looks. There are lots of shades of golden mascaras and you should not fail to get one that will well compliment your looks. It is right to add a touch of shimmer or a tone of metallic when dressing minimalistic on your formal outing.
Coloured mascaras can induce a pop of colour to your makeup, making your eyes stand out in a subtle yet definite manner. Experiment and try the shade that suits you best.