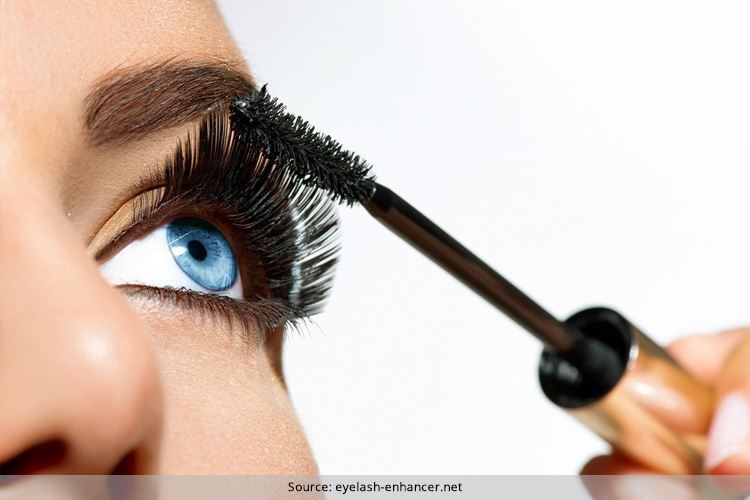 2016 is all about style and loudness, which is why women and young girls are thronging drugstores across the nation for eyelash lengthening mascaras. If you don't know which one to buy and wear, here are some of the best we have found for you. And all of them have amazing reviews too.
[Also Read: How To Apply Mascara On Eyelashes Swiftly]
1. Chanel – Sublime de Chanel
If you want it long and strong, you have got to have Chanel's Sublime de Chanel Infinite Length and Curl Mascara. Why? The answer is simple. You want length and a dramatic look too, and you want to wear this to work as well on a Friday. So why wouldn't the Chanel's Sublime de Chanel Infinite Length and Curl Mascara do justice? The coverage is even and subtle, but two strokes and a well done smudge makes it dramatic in a jiffy.
2. Maybelline – Full 'N Soft Mascara
Most of us desire having lashes that resemble the lightweight flowy feathers, which is why and keeping in mind the popularity of lengthening mascaras in 2016, we would look at Maybelline Full 'N Soft Mascara in 'Very Black' for an answer. You would have a soft and a very subtle look by the day and the night.
3. L'Oréal Paris – Volume Million Lashes Feline Mascara
Nothing says your eyes are worth it more than L'Oréal Paris's Volume Million Lashes Feline Mascara. Why? Your lashes would be fanning its way to everyone's heart and the curved brush that comes along with the L'Oréal Paris's Volume Million Lashes Feline Mascara tube is the secret to fanning lashes. The short super fine bristles on the brush makes it easy to touch every single lash on the eyes. The product is tested and known to be best for eyelash conditioning, taming and defining too, along with volumnizing as well because it has camellia and argan oils in it!
4. Yves Saint Laurent – Volume Effet Faux Cils
The Yves Saint Laurent Mascara Volume Effet Faux Cils Spring Collection Limited Edition is a must have this summer 2016. Why? Created for spring 2016, the lengthening mascara helps one attain a very bohemian touch and the shades it brings have a soft sensual appeal to it. Every lash would be dolled up with a great accented color.
5. Clinique – High Impact Mascara
To have each lash twigged out and with more length or volume blessed to them, you would need the right lengthening mascara. Of course you could use Huda Kuttons way of cotton balls and a mascara stick to help attain the same, but if you are running short of time, the Clinique High Impact Mascara edition is what you would need. Clump free look, twiggy eyes and dramatic sensual appeal with Clinique High Impact Mascara – possible!
6. Lancôme – Hypnôse Volume-à-Porter Mascara
Irritated with the clumps the run-of-the-mill mascara gives to your eyes? Don't be. When you have the Lancôme Hypnôse Volume-à-Porter Mascara edition in your hands, you wouldn't want to think of anything else. No clumps for sure, but plenty of volume to your eyelashes, the Lancôme Hypnôse Volume-à-Porter Mascara brings a dramatic look and a very hypnotic intense appeal.
7. Dior – Diorshow Iconic Extreme Lash Curling Mascara
The Dior Diorshow Iconic Extreme Lash Curling Mascara is perfect for Indian summers, simply because of its waterproof nature and the fact that it helps with longevity of the lash color and volumnizes lashes too. Just about everything a girl would want to have!
[sc:mediad]
8. Dolce & Gabbana – Passion Eyes Mascara
Curled and full lashes, long and strong, and with plenty of volume that too, the Dolce & Gabbana Passion Eyes Mascara edition is one that you would want to grab and soon. Dramatic eyes are now possible with super length given to the curled eyelashes with the Dolce & Gabbana Passion Eyes Mascara.
9. Nars – Audacious Mascara
Look for the Nars's Audacious Mascara edition which has two hundred bristles in its brush, helping every coat to touch every lash strand on the eyes. The formula is very lightweight by nature, supple and soft to touch, and no clumps for sure to be bothered about.
10. Chantecaille – Faux Cils Mascara
The Chantecaille Faux Cils Mascara is a water proof formula that works well for Indian skin tones and summer months. With this brand of mascara, you would have thick, long and very beautiful lashes that can be curled easily!
Do check out our posts on how to get natural long eyelashes at home with DIY methods, before you buy any of these precious mascaras!