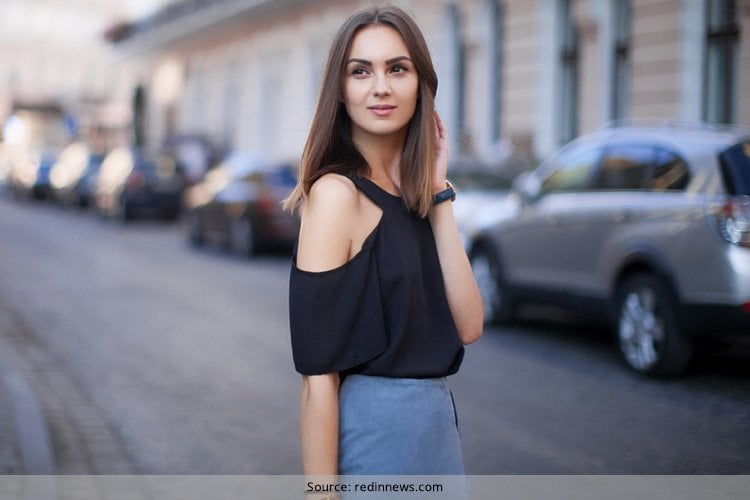 Who wouldn't want to bare an arm in the scorching summer? This one is about baring a shoulder and walking away with aplomb. Moreover, it is sleek looking and universally flattering.
Now this is a summer 2016 fashion trends you can't give a cold shoulder to. Plus it is a wondrous discovery you won't be able to get enough of. It can be either denim or in a sheer chiffon, or even in a cardigan.
[Also Read: Italian Fashion On Indian Streets For Chic Summer Street Style]
summer trend 2016
Okay, I will drop a hint. It is a summer fashion trends 2016 that is staging a comeback from the '80s. Yes, it is driven by the off-shoulder bardot trend, which was once very popular. Whether it is international designers sporting it or the home-grown ones, this summer trend 2016 ranges from fitted crop tops to loose billowy dresses.
There is something very attractive about a woman's shoulders, and this trend helps pay attention to those shoulders that need some showing off.
From off-the-shoulder tops and shoulder cut-outs to even asymmetrical necklines, no runway has been left out of this trend. This is the 'Cold Shoulder' which is becoming a fashion statement in international corridors. It is a kind of a summer staple that you can happily sport from May to August (or probably beyond). Cold Shoulder is an off-the-shoulder style which is a reverse of crop top trend this summer.
Back home, Bollywood babe Shraddha Kapoor made it a point to give everyone a cold shoulder at the calendar launch of Daboo Ratnani. Goes to show her approval of Indian fashion trends 2016 which reflects in summer fashion India.
Even Sonakshi Sinha attended the 17th International Indian Film Academy (IIFA) awards press conference at the Retiro Park in Madrid, Spain in none other than cold shoulder top.
A couple of questions will come to your mind. For instance, what is so peculiar about cold shoulder as summer 2016 fashion trends? What occasion is it best suited to? Can women of all age groups wear it without feeling out of place? Hold on honey, we will answer it.
First of all, virtually everyone starting from Givenchy to former Oscar de la Renta intern Wes Gordon have gone ahead and offered styles that bared the upper arm, which has made it the new fashion ingredient. Take a look at the pic shown below of Wes Gordon's take on the cold shoulder look.
[Also Read: summer tops for women]
[sc:mediad]
Am sure most of you know the international born and bred Rihanna. Had she made it to the Givenchy show, she would have bumped into models with cold shoulders walking down the ramp for Riccardo Tisci's Manhattan defection.
The looks out there were hot and reserved for red carpet moment – from negligee inspired lace tops, to the odd halter topped champagne evening gown. As for the audience watching the ramp show, there were more than a thousand faces hooked onto the summer trend 2016.
Any tricks to wear this summer trend 2016? It is K.I.S.S. meaning keep it short and simple.
Stay away from wearing heavy neck pieces or chunky hems. Keep in mind that the cold shoulder is already structured, so you need to opt or classic cuts which would make tremendous fashion sense.
Now that you know how to look cool in hot weather, do give us a shout on what you felt about this summer 2016 fashion trends. Fashion is meant to be explored, so why not a make a beginning and stay in the race. Go ahead and bare those shoulders. Or for that matter, flaunt your collar-bone in pretty looking dresses and you have arrived.