They totally occupied the top spot when they were in the boss mood, up for throwing some power-packed fashion punches. With the birth of their more cooler versions out of the SS18 collections, the tinsel town ladies made statement appearances almost everywhere dressing up in chic summer suits.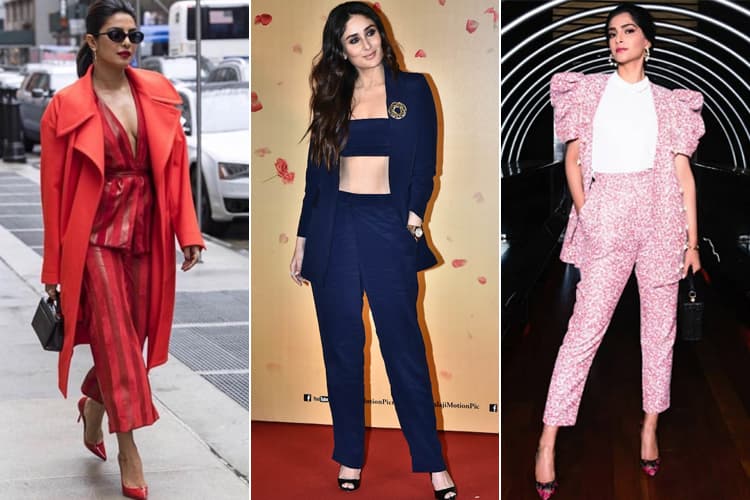 From national labels to International designers, celebrity stylists picked out pantsuits for our leading ladies. Be it promotions, parties, or even for the airport, there was a suit that seemed to fit just right.
We were totally spoilt for choice when it came down to picking our top sightings. Here's a look at the best suit-ups from the summers.
Top 10 Pantsuits worn By Bollywood Actresses in SS18:
Malaika Arora Khan:
Malaika Arora Khan nailed the evening party suit up wearing an animal print suit in grey with some sheen. Amidst all those gowns and dresses at the bash hosted by Natasha Poonawala, the ankle length pantsuit from Falguni Shane Peacock was a standout. For the glamorous evening soiree, Malaika wore the pantsuit with a black bustier, a pair of ruffled Louis Vuitton heels and a striking red YSL sling. Loved how Malaika surprised us with a soft lip color in place of an expected crimson pout.
Huma Qureshi:
Among all the suits that walked down the GQ Best Dressed Awards red carpet, we loved the one actress Huma Qureshi wore. Defining girl power, Huma suited up like a boss in a white pantsuit from Two Point Two. While the long coat played cape to the superwoman, the grey waistcoat added more oomph to the suit up. Credits to celebrity stylist Anisha. Huma owned her pantsuit look with a pair of black heels and that on point attitude.
Sonam Kapoor:
There is no place for mediocrity in fashion when it comes to Sonam Kapoor. The woman just believes in excelling. Far from normalcy, Sonam never fails to surprise us with her take on the trending.
A promotional look featured the diva in an all-over printed pink white pantsuit from Georgian designer Keti Chkhikvadze. While the ankle length complemented Sonam's outlook, the voluminous ruffled sleeves absorbed all the attention. Worn with a white shirt, stylist Rhea Kapoor sealed her suit up with pink peeps from Jimmy Choo.
Swaying us with her chic airport look, Sonam's airport suit up is goals. Wearing a comfortable and super stylish summer suit from international label Phillip Lim, Sonam restored her number one fashionista repute. The flowy suit up in soft pale pink was a fitting upgrade to inflight summer styles. Sonam seized the day wearing it with a white bustier and a pair of white sneakers from Veg Non Veg.
Mahira Khan:
Mahira Khan's Cannes wardrobe was an envious one. With the Pakistani actress working every look to perfection, we admit we were floored. Her summer suit up at Cannes was everything cool. Against the sea backdrop, Mahira gave us feels wearing a powder blue suit from the label Ermanno Scervino. The tux looked gorgeous and glamorous and with her tresses playing with the breeze, Mahira's SS18 suit up went notches higher.
Aishwarya Rai Bachchan:
Boss lady, Aishwarya Rai Bachchan's all black suit up at Cannes made her, " Don't Mess With Me", message loud and clear. Asserting her positioning in the industry, Aishwarya's Giorgio Armani suit up was power-packed. We loved the formal meets relaxed feel of the trouser. To jazz up the sleek suit a bit, stylist Aastha Sharma had her muse wear a pair of studded strappy heels from Racine Carree. With a clutch from Jimmy Choo and a red pout, Aishwarya made the suit-up look so good.
Deepika Padukone:
Actress Deepika Padukone's pantsuit turned heads and raised eyebrows. High on power and even higher on glamour, Deepika's purple play from designer Victoria Hayes was unmissable. Stylist Shaleena Nathani was the director of this dynamic appearance. Complementing her glamorous stardom were golden jewellery pieces from Misho. With a sleek hair updo and head held high, Deepika walked this look with utmost oomph and swag.
Alia Bhatt:
Just so summer perfect was Alia Bhatt's polka dotted suit up. In nautical tones of blue dotted with white dots, the Michael Kors pantsuit gave us resort feels. Stylist Ami Patel deserves a special mention for picking out the pantsuit that complemented petite Alia's toned body to perfection, courtesy the flared pants and relaxed blazer fit. Clinching Alia's waist with a white belt, Ami added more stars to Alia's pantsuit look.
Priyanka Chopra:
Red hot and fiery looked Priyanka as she took to the streets of L.A wearing a red and crimson striped pantsuit from designer label Alejandra Alonso Rojas. To add more power to her global superstar look, international stylist, Mimi Cutrell had Priyanka's suit up layered with a red long coat from Vivienne Westwood. Tresses pulled back in a ponytail and a pair of black sunglasses finished up Priyanka Chopra's lady in red look.
Kareena Kapoor:
Flaunting her toned abs, this relaxed loungewear kind of suit up gave us all the inspiration to wear a pantsuit in the soaring Indian heat. Navy blue separates from Dhruv Kapoor worn with a bustier in the same tone exuded the cool boss feels, which was in perfect sync with Kareena Kapoor's Uber cool queensely status. Styling credits go to Rhea Kapoor who is stirring up the future of fashion in India, bringing comfort and cool into the spotlight.
With the Bollywood's leading ladies manning up the rockstar way, our love and confidence in pantsuits are at an all-time high. A cool summer suit and a glass of martini, please!