With wedding season creeping up closely, we feel it's important to get one worry out of our way. Lehenga cholis are not reserved exclusively for certain occasions. The long, flowy design is synonymous with outdoor venues or summer resort wedding. The right combination of detailing, hue, and shape can turn this luxe staple, primed-up. For instance, a festive pick like a peach lehenga choli design can give your outfit that extra flair,
We've rounded up our favorite lehenga choli designs featuring embroideries that are meant for you. Be it a subtle zari design or someone that's guaranteed to catch all the right attention. These 10 peach lehenga choli designs can add much intrigue as you want.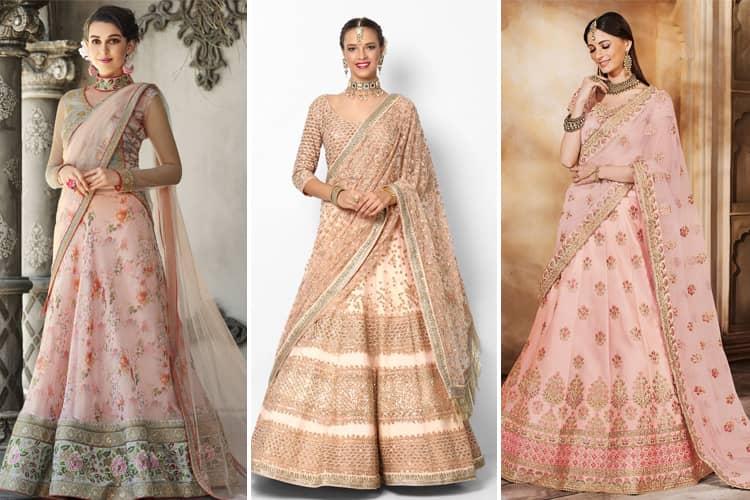 10 Ideas of Peach Lehenga Choli Designs That Are Worth Considering:
Here is everything you need to know:
1. Peach Colored Embroidered Semi-Stitched Lehenga:
Because you've waited long enough to try embroidery-this semi-stitched peach lehenga deserve an important spot in your best outfit list.
2. Peach Organza Silk Digital Floral Printed Lehenga Choli:
Sometimes a luxe silk digital lehengal choli can turn up your party affair even though your significant other isn't by your side. This can be a good reminder to take it slow.
3. Peach Embroidered Lehenga Choli:
An embroidered blouse and dupatta isn't the only way to add edge to your style. Sometimes a peach embroidered lehenga like this one makes each step forward seem dramatic.
4. Art Silk Lehenga In Peach:
Because embroidered art silk is trending, and your lehenga should reflect that. This satin lining lehenga like this one enhance the matching blouse with its beaded lace, sequins, resham, , and patch border details.
5. Embroidered Satin Lehenga In Light Peach:
Subtle, but the embroidered satin lehenga in light peach is statement-making enough. The light shade is perfectly balanced out with the resham stone, zari, and patch border work.
6. Satin Peach Lehenga With Zari Embroidery:
Because zari embroidery sometimes look best in lehenga form! Adding an element, like this cascading peach set will make you look like a piece of art or set the tone right for whichever event you attending.
7. Heavy Gota Embellished Peach Lehenga:
The gota embellished lehenga is having a very-big-chic moment and you've got to prove it. Dressing up in an exquisite peach set as this one should mean looking statuesque.
8. Peach Lehenga With Embellishments:
Aren't you glad to see a subtle, shimmery lehenga trend like this one hasn't died? A peach lehenga like this one is a must for those summer evening events.
9. Delicate Embroidered Peach Lehenga:
Because you've secretly wanted to incorporate Anushka Sharma's wedding lehenga outfit idea into your own wardrobe. Or if you haven't figured out how to wear delicate, light embroidery like this one, then this should give you some idea.
10. Peach Lehenga With Floral Depictions:
If you need to make an entrance for a special festive occasion-then you need this unique finishing peach lehenga with floral depictions. This is a great jumpstart on the subtle embroidered duty-trend.
These are our favorite list of peach lehenga choli designs. We hope you loved them as much as we did.