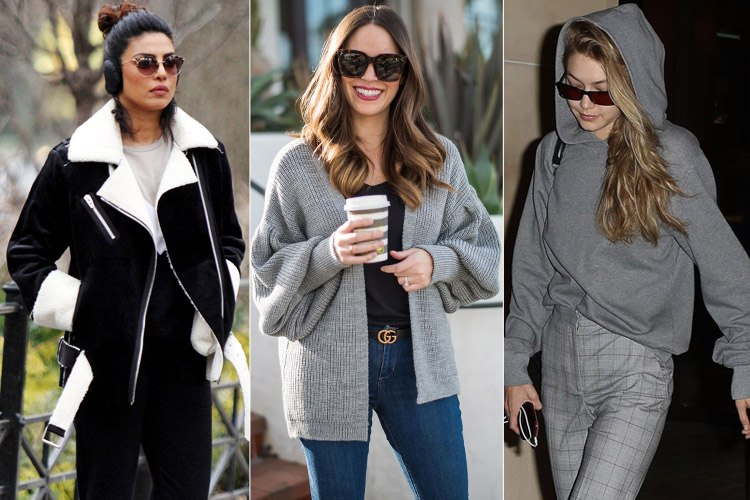 Every celeb has a closet that is to die for, and why not – they have a handful of people doing their wardrobes and giving them their style advice. OF course, they will look impeccable all the time! But don't you sometimes want to have something that belongs in their closet? Well, if you have that thought, then you have come to the right place. In this article, we will talk about 15 Pieces from celebrity closets that you can actually afford. From Zara sneakers to Gucci belts that go with almost everything – we have handpicked some of the best celebrity bargains to adorn your closet with.
1. A Sweet Little Sleeping Suit for Sweet dreams!
What's the best way to fall asleep- wear the best sleeping suit! And we give our brownie points to cutesy sleeping suits that Sonam Kapoor seems to be flaunting. The one she is wearing right now is from a small company called Dandelion Dreams Co. and we tell you, they have some of the most amazing sleeping suits that you can ever lay your hands on! Not only are they super soft and comfy, the cute prints will surely help you get the sweetest of dreams!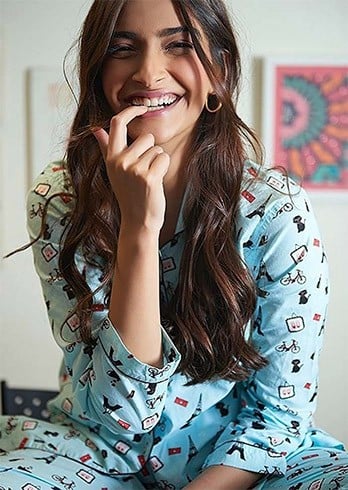 2. Beyoncé's House of CB Maxi Dress
Could you ever imagine that Beyoncé would wear something that we mortals will don? Fortunately for us, the goddess chose to wrap herself in a House of CB Maxi Dress. The House of CB's teal maxi dress will only set you back by around Rs. 11,000. Now that's what we call a steal deal!
3. The Wonder Woman wears Aldo!
If Wonder Woman thinks it's good, it will look good on us too! She literally made the headlines and fashionistas scream when she paired her uber expensive Givenchy dress with a mere $50 Aldo flats (FLATS!) to the preview of one of her biggest films! Now this is one way to shop star wardrobes, Aldo stores are almost everywhere and you can surely lay your hands on a wonderful pair of flats like Gal Gadot – not only are they comfortable, they won't burn a hole in your purse either!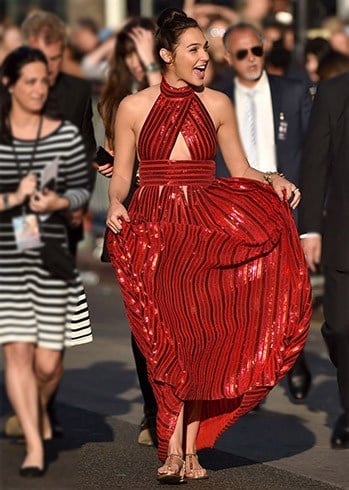 4. Jennifer Lopez Keeps it High
Jenny from the block has often surprised the paparazzi as well as fashionistas who follow her every move. For instance, when she was out vacationing, she decided to pair her wonderful white high waist flares (They cost a mere $80 and are from Topshop) and a $55 aviator sunglasses from Nordstrom. Not only do they look undeniably chic, but you could totally look like you are vacationing with this ensemble. Now, this is what we consider – best celebrity style!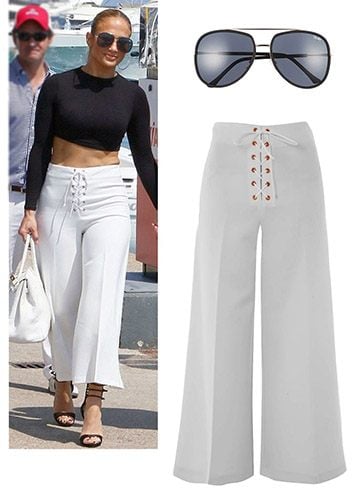 5. Steal Cardi B's Steve Madden Thigh-high boots
Cardi B has totally slayed in the music scene right now – she is on Billboard Top 100 with her song Bodak Yellow and she is slaying it in the fashion game too. The best part about the latest female rapper in the scene is her very smart dressing style. In this instance, Cardi is wearing thigh high Steve Madden boots that retail for just Rs. 6500. No wonder she made fashion accessible. Even though she is seen wearing Alexander Wang, her boots stole the show and gave us a chance to copy her 'regular' style.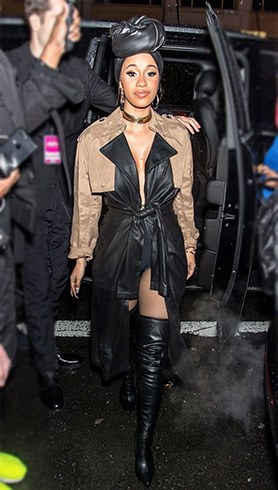 6. Selena Gomez in Forever21
Trust Selena to make even Forever21 dresses look so glam. The songstress donned a sparkly one-shoulder dress for an event's night and absolutely slayed in it! Now, Forever21 is not just for 21 years old (we all are snickering now) and some of the best and most trendy pieces are available here. So next time you want to glam up your look, the best way would be to search in the Forever21 stores- you are surely going to get your hands on something nice!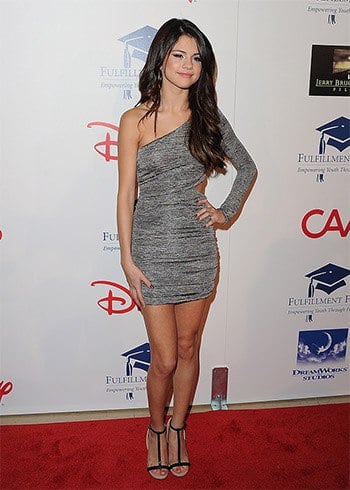 7. World Traveller Priyanka Chopra
Priyanka Chopra has recently been traveling all around the world and with all her projects, could we have expected Piggy Chops to be in $110 sweatpants? Well, the former Miss World startles us all with her choice of comfy and inexpensive yoga pants. She carries them off with ease and pairs them off with sunglasses and boots to complete her look. We can surely steal a page from her casual lookbook!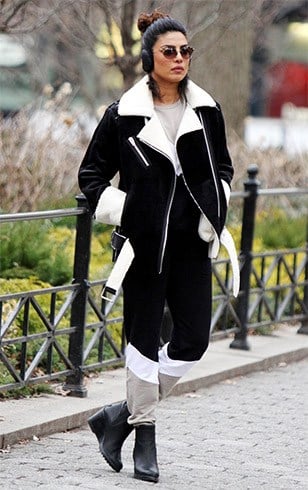 8. Kendal Jenner is another Forever21 fan!
The Jenner sisters may have made their name as some of the youngest billionaires, but they sure know how to pick up the chicest stuff even if it means splurging (if you can call it that) in Forever21. The green topper makes a good shrug when you want a simple something to just drape over your shoulders. The smart and inexpensive shrug comes for a mere $50!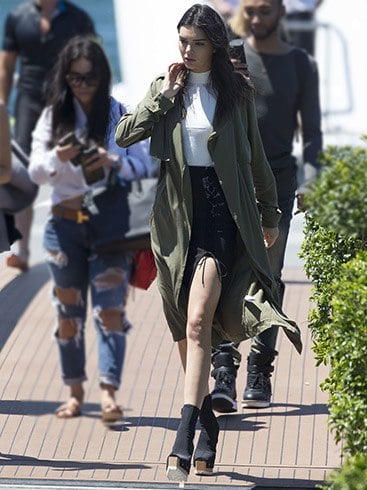 9. Kate Middleton's easy joggers
Did you ever expect royalty to wear something like joggers from Amazon? Well, that's what our favourite Duchess did! She wore white sneakers on many occasions and all of us were left shocked- did she just wear trainers from Amazon! Well, the fact is, they are extremely comfortable and Kate is royalty that almost always focuses on comfort more than anything. She just set a standard and we love the Duchess for her really smart choice!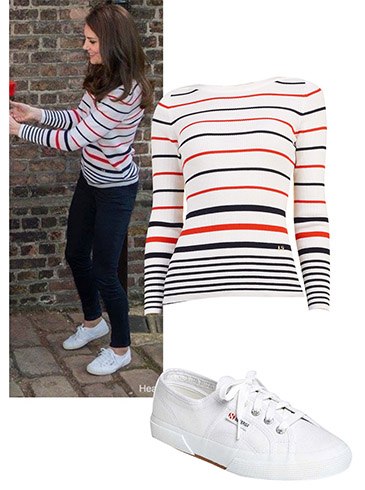 10. The Duchess Loves Zara
Thank god we have a Duchess who wears stuff from stores that are accessible to us and judging from the accessories she has worn from Zara, we are pretty certain that she loves Zara. She was seen wearing a sparkling Zara neckpiece in one of the official ceremonies and an eagle-eyed fan noticed that it was from Zara. Word spread like wildfire and only a lucky few were able to able to lay their hands on these limited pieces.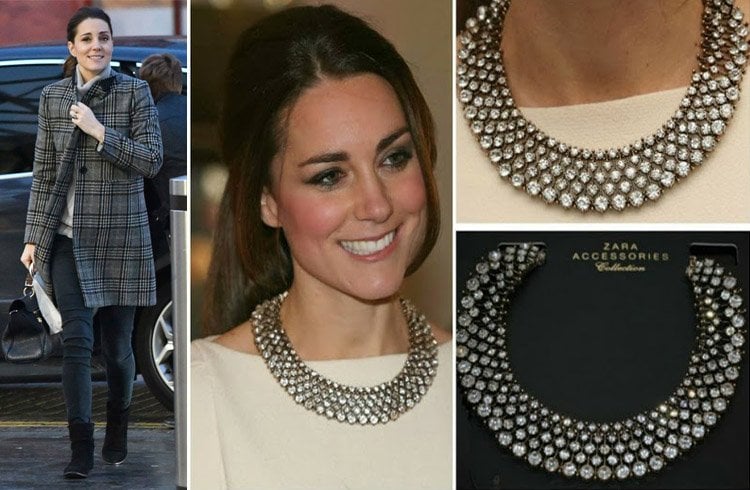 Kate was also seen wearing a Zara chequered coat as a must-have winter essential. This particular coat won't break your bank and comes for a mere $170! So if you are near one of the nearest Zara stores and you spot the long coat, don't hesitate and buy it because even the Duchess could be seen wearing it! Now that's what we call Royal Style!
11. For Reese Witherspoon, comfort is prime!
When it comes to running errands and being fashionably sporty, we can trust Reese to come up with the best styles and the actress has often been seen in Puma Match Lo sneakers doing various chores in the city. You can get your hands on them from any Puma store for a mere Rs. 5000!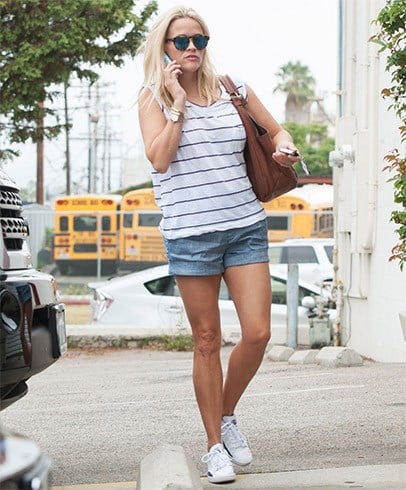 12. Gigi Hadi's affordable H&M trousers
If Gigi wears checked pants in Paris and totally kills in the men's fashion game, we are sure to follow suit. Gigi Hadid's grey checked pants are from H&M and are considered one of the hottest trends in the season. She actually got them from the H&M store for just Rs. 2000! Let's make a beeline to the nearest H&M store now! We can always trust Gigi to make the best fashion choices, and she didn't disappoint us this time either.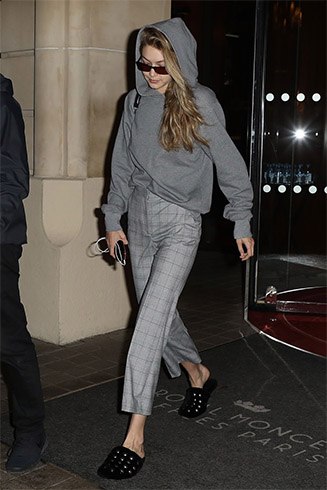 13. Forever21 has a fan in Diane Kruger
Of course, we all know that Diane is not 21 years old, but she is totally rocking this marled grey Forever21 midi turtleneck dress with quite some panache. The actress arrived in Cannes wearing the grey dress and totally impressed the crowd there with her simple and easy to pull off style. The dress costs Rs. 1100! Now it can't get any cheaper than that. – it's an amazing deal!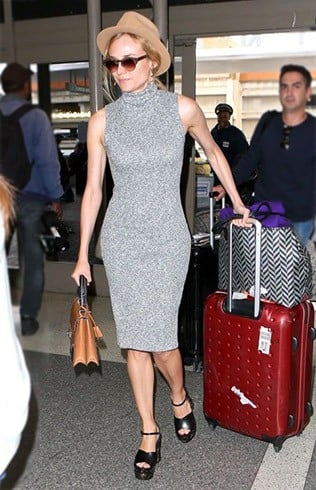 14. Lupita Nyong'o and her bright colours
You can trust Lupita to take the style game to another level and she did – the actress rocked bold colours both on top and bottom by wearing a Forever21 (guess we have many Forever21 fans in the house today) crop top in bold colours and paired it with a bright green flared pants. She looked absolutely fabulous and we would love to copy her look too!
Oh, and did we mention that the crop top costs Rs. 499, only? (This is perhaps the cheapest celeb wardrobe material that you will find in this article)
15. Rock it like Alessandra Ambrosio
Trust the Victoria Secret's models to take the off-duty look to a pinnacle and our Angel Alessandra Ambrosio did it with her $33 fluffy knit cardigan – beat the winter blues and still look fashionable – that's how we describe our Angel's style. You can get your hands on this cardigan from any Forever 21 store!
Now that we know some of the best wardrobe pieces we could steal from our Hollywood stars, let's check some clothing lines by Bollywood celebrities: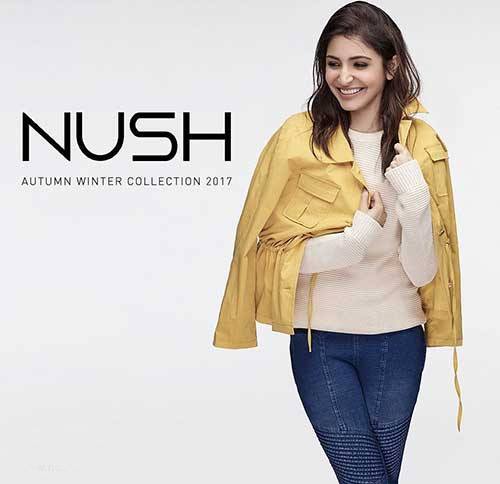 Most of our Bollywood celebs are amazing entrepreneurs and some of our Bollywood celebrities have taken their style game up by a notch by launching their own clothing lines. You could say they are juggling several jobs at the moment and we have picked some of our FAVOURITES in the section below: Read on –
Sonam and Rhea Kapoor's brand – Rheson
Trust the Kapoor sisters to come up with the best styles and they did. Rhea and Sonam Kapoor came up with their own brand – aptly named – Rheson. The brand has some of the best high fashion styles at a rate that is affordable even by mortals like us – you should definitely splurge on the sister's amazing yet almost inexpensive line.
Bipasha Basu's Label Life
Bipasha Basu first launched her line called 'The Trunk Label'. Later on, this merged with two other lines by Malaika Arora Khan and Susanne Roshan and became to be collectively known as The Label Life. The brand aims to get fashion-forward items to the new woman of today and houses, not just apparel, but home décor as well. It might be a little on the steeper side of the spectrum, but the clothes and the other items are marvelous.
Salman Khan's Being Human
Salman's clothing line 'Being Human' aims to provide education the under-privileged children and sells some very fashionable stuff for men. Salman and his team say that all the proceeds from the stores go to the better the lives of the unprivileged, so the next time you are buying clothes from Being Human, understand that you are also helping a child – which is a really novel thing!
Besides their clothing line, the brand has also ventured into several other initiatives – like recently they had launched an e-bicycle line too – wear Salman's brand, ride e-cycles and get ripped like him (We hope!).
Anusha Sharma's Nush
The sweet little newly-married girl is juggling so many things at the same time – her married life, movies, and of course her own line of very trendy clothes. Anushka Sharma recently launched her clothing line 'Nush' that started off with 160 items. The quintessentially comfortable and smart pieces are found in almost all online stores and can also be bought from Shopper's Stop. The easy breezy designs can be a perfect addition to your everyday wardrobe and are very easy to maintain too. Plus, they don't come with a hefty price tag – all the more reason to shop more! So if you are looking for some effortless styles, Nush would be the perfect place to get trendy yet inexpensive clothes!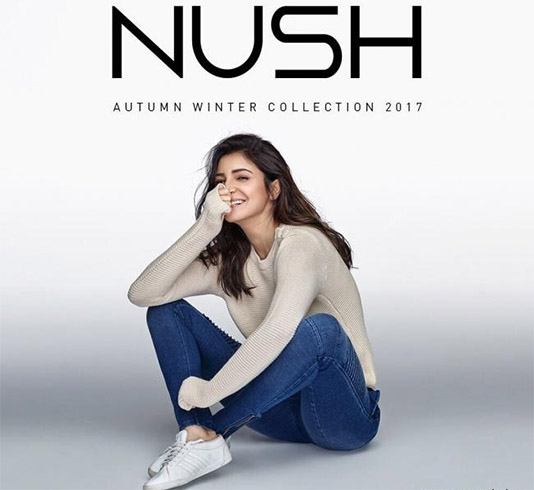 So there you go, some amazing ways to steal celeb's looks with affordable pieces from their closet. Sometimes celebs are just like us and they do end up buying clothes that are not always hefty-tagged and designer wear. If you want anything fancy, you could very well check Forever21 and Zara because they do have clothes that could be trendy and at the same time suit your budget too.
Don't shy away from common brands, because you just saw even Victoria's Secret models walk around town wearing amazing stuff from H&M, Forever21, and Zara!