Who can forget those Yash Raj film moments in Bollywood when actresses captivated us with their sensuous chiffon sarees? There was an underlying depth of sensuality cum gracefulness in the way actresses like Madhuri Dixit, Sridevi, Kajol, Aishwarya Rai, Preity Zinta, Kareena Kapoor, and the like made their presence wearing chiffon saris. This is the sole reason why chiffon is a popular choice for Indian saris. Apart from Indian wear, this fabric is also used for evening gowns, scarves, and blouses. But chiffon saris remain a popular choice. As a fabric, chiffon is delicate, thin, sheer, and mostly made up of nylon, silk, cotton, and rayon. You should take utmost care to extend the longevity of chiffon fabric to make it look new as ever. This fabric blends well with heavy embroidery work like Meenakari and Zari.
Why Are Chiffon Saris well-liked?
There are a lot of reasons behind the popularity of chiffon saris. Here are few examples:
It makes for a great formal wear because of its subtle elegance.
You can find a huge range of chiffon saris in good prices.
Can be easily hand washed and ironed.
Lightweight fabric. Can be teamed with blouses of different fabrics.
Usable as party wear because of its embroidery work or fine embellishments.
How to Maintain Chiffon Saree?
Avoid accessories like brooches and pins on chiffon saris as it can tear the fabric.
Do not hang the fabric for long period of time.
Use padded hanger to hang it.
Change the folds of the fabric frequently.
The fabric should not be wrapped too tightly when wearing.
Chiffon saris with Designer Blouse
Here are few plain chiffon saris with designer blouse that you can try out:
1. Chiffon saree with hand painted kalamkari blouse
Plain chiffon saris are a style statement in themselves. Just a plain saree with a contrasting kalamkari blouse is a wonderful combination. Hand painting your chiffon saree with the classic kamlamkari print can make your sari twice as beautiful. There are many celebrities that have worn this combination lately. The blouse portrays the richness of the kalamkari design like no other design. A printed blouse can amp up your style even further. You can go for a contemporary blouse design for a chic finish.
2. Chiffon saree with zari embroidery blouse
The addition of zari can make your chiffon sari stand out. You can either go for a blouse that comes with it or use a plain fabric that complements the color of the saree. A semi transparent chiffon saree with a lustrous touch of zari border can complete your look.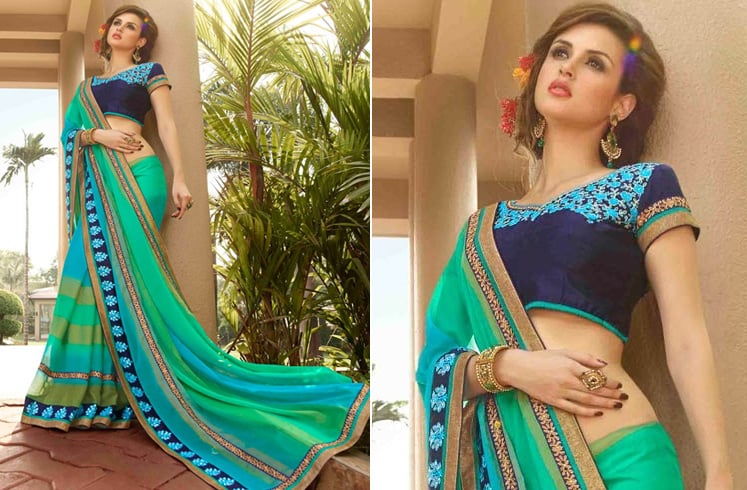 3. Chiffon saree with brocade blouse
Brocade blouse teamed with a chiffon saree look just as glamorous as it does with a Kanjeevaram saree. Plain chiffon saree with brocade blouse looks really well with brocade blouses. Take cue from how television actress Ankita Lokhande wore her plain saree with brocade blouse. This can be a great combination to wear during a sangeet or an evening party.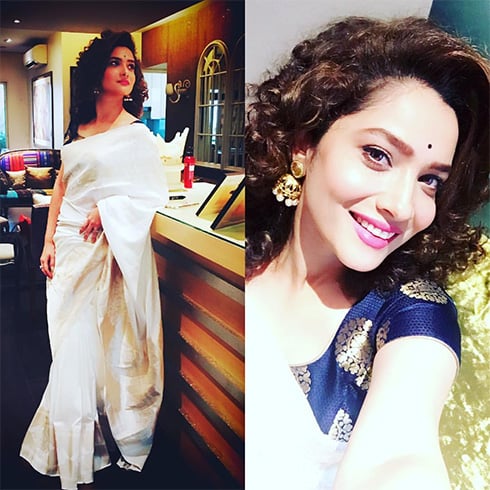 4. Chiffon saree with printed blouse
If you love unique prints and animations, then you can wear them with your saree. Team up your plain chiffon saree with printed blouse that has a quirky design to it. Even though color combinations do not really matter in these cases, you should see both the blouse and saree go along with each other.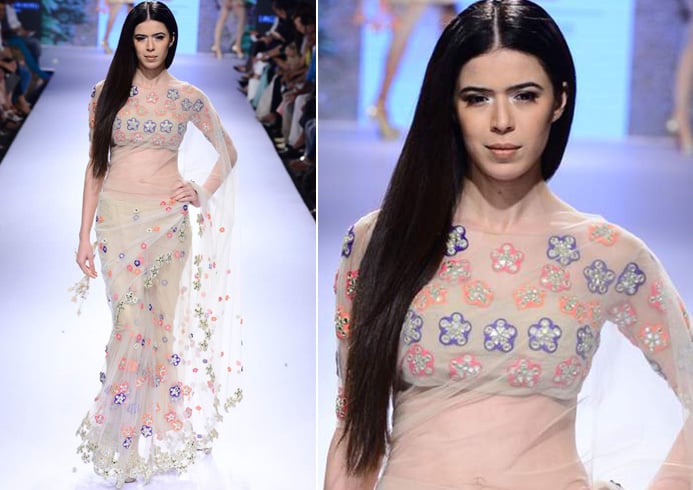 5. Chiffon saree with embroidered boat neck blouse
An embroidered boat neck blouse is a popular trend to wear. This blouse design has been topping all style charts and we love it. A boat neck strapless blouse embellished in sheer tulle, floral embossing and gold shimmer border can be a great combination. Not to forget the plain sheer saree with a tinge of colored border all along is matchless.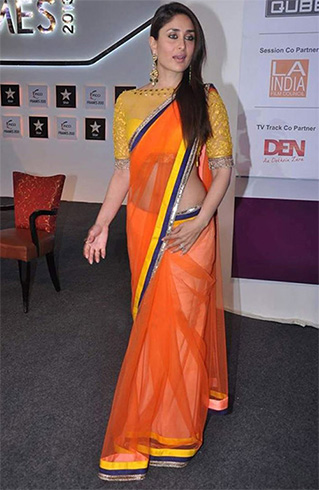 6. Chiffon saree with rose gold blouse
A combination of a banaras border with a pop of rose gold border matching with a plain chiffon saree can be dazzling. You can team your chiffon saree with a plain sleeveless bronze blouse that comes with sheen. You can take cue from how Sridevi Kapoor matched all her pieces together to exude style and elegance. Her sarees are always on point. You can wear similar saris to a party without doing changes with the look. Selecting a plain chiffon saree with designer blouse in a strong color can be valid enough.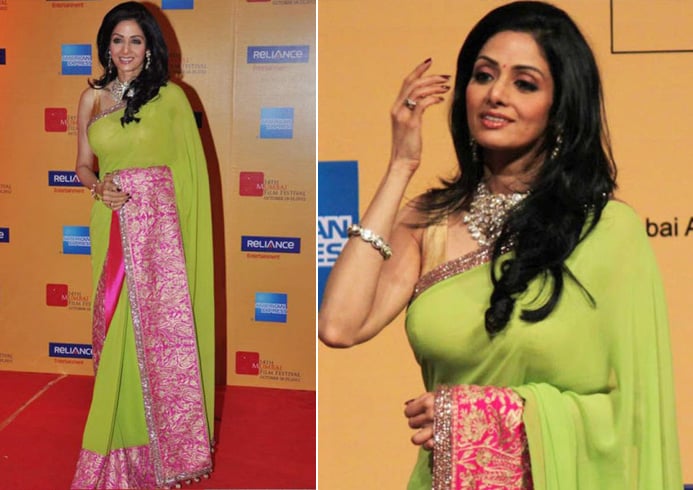 7. Chiffon saree with zebra stripe blouse
A kamarbhand is a common accessory for Indian wear. This waist belt can be a great addition to your ensemble if you pair it well. You can take some pointers from TV personality Mini Mathur. She teamed her chiffon saree with a zebra stripe blouse and a waist belt for a chic style. You can wear a waist belt like Mini to accentuate your waist to give you an illusion of an hourglass figure.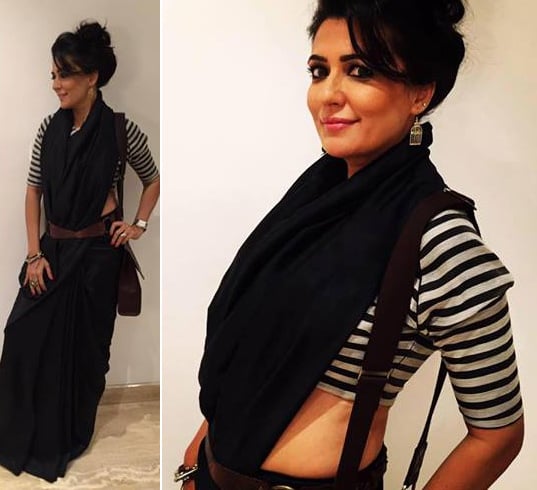 8. Chiffon saree with sheer tulle and gold embroidered blouse
A form-fitting chiffon saree can look even more stylish with an embroidered blouse. A strapless blouse with sheer tulle and gold embroidered blouse can be a tasteful choice. Pair it with a stunning pair of classic gold earrings. This can make for a great party wear.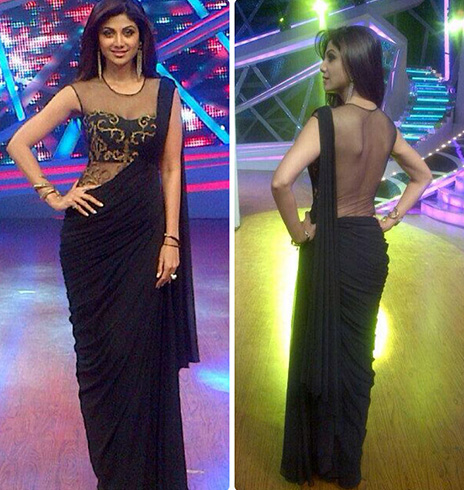 9. Chiffon saree with embellished sleeveless blouse
A chiffon saree matched with a sheer embellished sleeveless blouse can make for a sensuous look. Kareena Kapoor is seen here in a white designer chiffon saree at Mehboob Studios. The horizontal striped designed saree matched with designer embellished sleeveless blouse. Chic and sexy style that is easy to wear.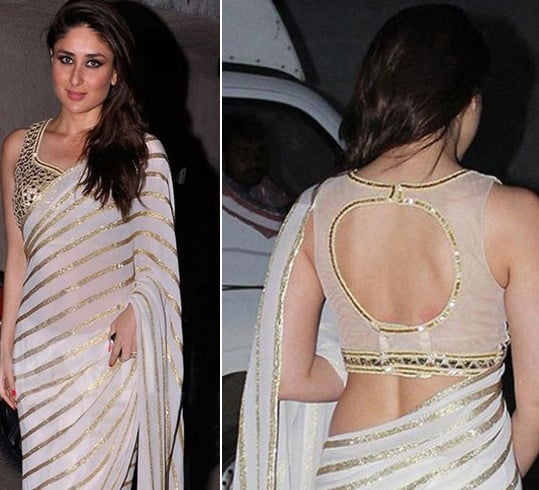 10. Chiffon saree with gold halter blouse
If you have a big party coming up, then making a statement with what you are wearing can make or break your look. If it is a big night, then you consider wearing a chiffon saree matched with a go-to necklace, stylish blouse, or jeweled belt. End of it all; choose a blouse that makes sure that you are putting the emphasis in the right places. You can go for some sleeve drama to raise the temperature. A chiffon saree with a gold halter blouse like the one in the image can crown your face. To finish, give your exposed arms more attention by stacking up bracelet.
[sc:mediad]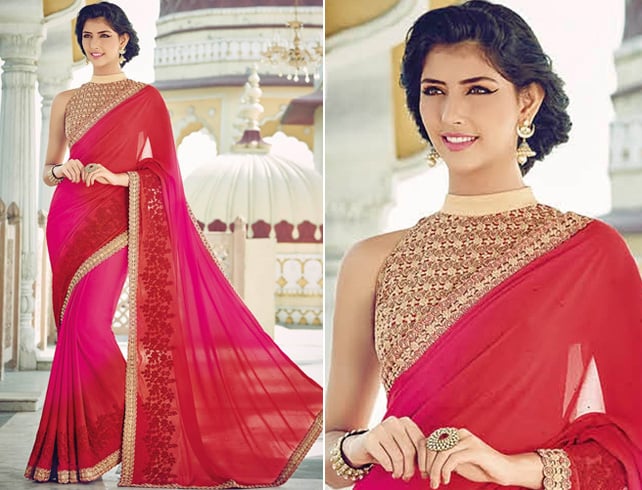 11. Chiffon saree in sheer netted blouse
There can be only one way to add definite elegance to your otherwise chiffon saree and that is to go sheer with your blouse. Net blouses or sheer blouses are in vogue and there are innumerable styles to add a hint of glamour to your saree. Full-sleeved net blouses are a classy combination to experiment with. Sonam Kapoor shows you how a gorgeous simple chiffon saree with full sleeved blouse can also be.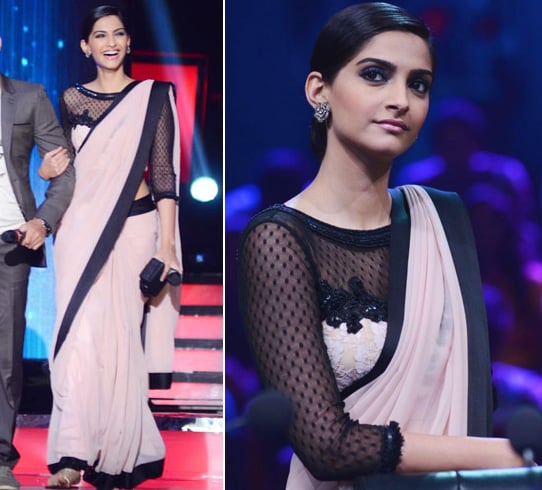 12. Chiffon Saree with off-shoulder Blouse
A chiffon saree with bare shouldered blouse can add interest. You can enhance your bare shoulders and chest with a fine piece of gold or silver necklace in varying lengths. These accessories can act as a counterpoint for your blouse. Sonam Kapoor wore a similar designer saree which made her look stunning than ever. She matched her chiffon saree with an off-shoulder blouse matched with an exquisite neckpiece. All eyes were on her for all the right reasons.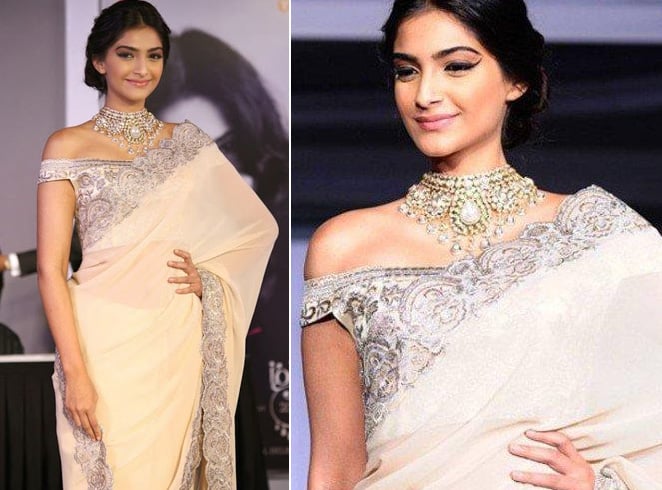 13. Chiffon saree with matching blouse
A chiffon saree can be worn with a similar colored blouse too for a classic touch. Actress Kangana Ranaut wore a simple chiffon saree with matching blouse and studded neckpiece by Miu Miu. She turned all heads with the string of pearls around her neck and retro waves.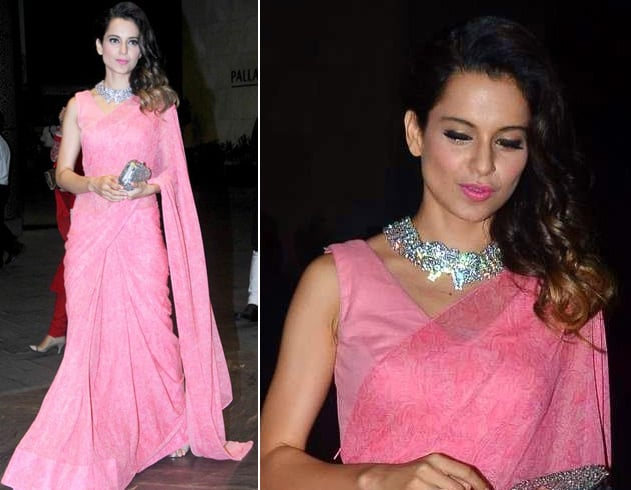 14. Chiffon saree with thin strap blouse
We all have a similar vision of chiffon saris that show off our skin. To measure up, pair a halter top or a thin strap blouse and plunging neckline under your tricky chiffon. For inspiration, help is here- look how Jacqueline Fernandez posed happily for the cameras dressed in her celebratory yellow chiffon saree with a lace detailing thin strap blouse. She matched it with statement jhumkas and bangles. You can copy a similar style to create a bit of modesty in your ensemble.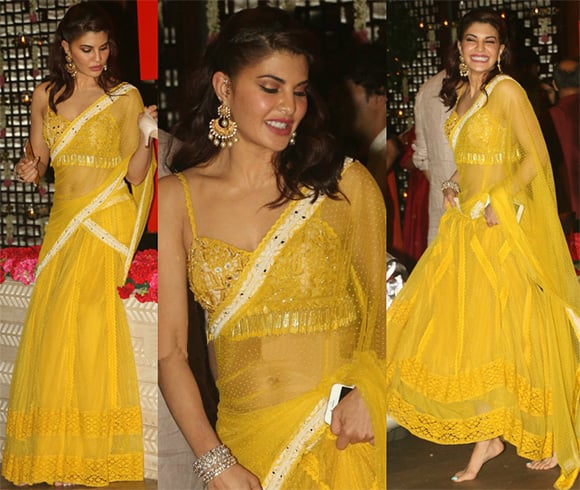 15. Chiffon sari with ruffles and embedded crystals blouse
Just when we start to think saris cannot have another spin to it, then we see our celebs donning a new style after the other. This time too, television actress Sana Khan displayed the most exquisite drape from Rashi Kapoor. Her chiffon saree has layers of fringe dimensions to it, which complement her Swarovski crystals embellished blouse. To finish her look, she wore statement earrings from Belleza. Talk about bringing on some shine. This one is a winner.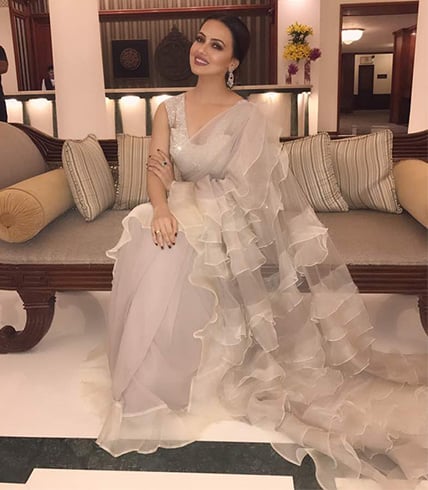 16. Chiffon saree with parrot green border blouse
A chiffon saree when matched with an equally classic printed blouse can get indispensable. Take cue from how Karishma Kapoor teamed her Sabyasachi Mukherjee's elegant saree with parrot green block printed blouse. She styled her ensemble with jhumkas and Kundan bangle from Gehna Jewellers and a gold clutch. This is an exemplified version of tasteful elegance and charm.
17. Chiffon saree with white golden net blouse
For an exclusive look, try a chiffon saree with an inner shimmery blouse. You can turn to Jacqueline Fernandez style here. The beauty wore a multi-sequined embroidered net blouse with her golden and cream sheer saree by designer Frou Frou. Looking all shimmering in the color, the actress added more to her look with bright makeup. Her eyes had a hint of gold hue, with lips in blood red, and cheeks in flushed pink. Must we say, she was a total stunner!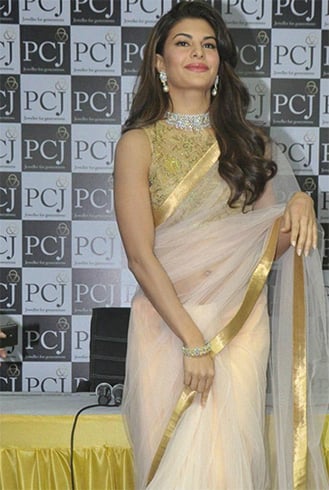 18. Chiffon saree with multicolored mirrored blouse
Embroidered and mirrored blouses are a fad these days. Several designers and celebrities are rooting for these blouse designs. These designs work mostly with plain and simple saris. An embellished blouse design with mirror work pattern is a stunner. These work blouse designs are perfect for evening parties. Of all the combination, the chiffon saree is the most popular. When the sheer fabric is flanked with mirror work on your bodice, the blouse becomes more sensual. It gives way for a sexy yet elegant look.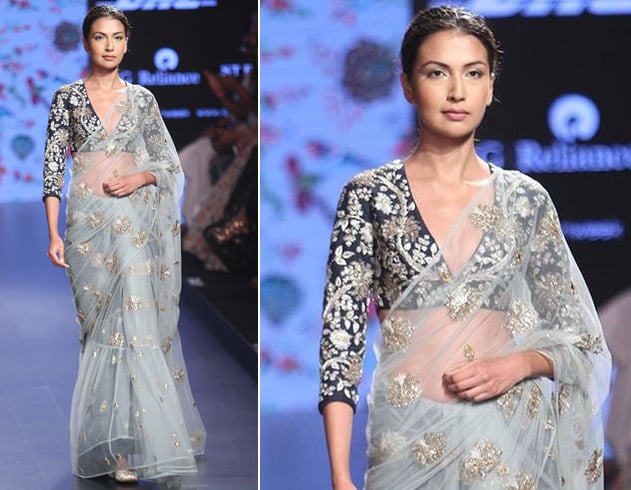 19. Chiffon saree with embellished strapless blouse
Strapless blouse: the mere phrase is inspiring enough to imagine about sequined encrusted tops and lace trimmed blouses. But, strapless blouse style has changed in the intervening years. For a feminine touch, you can layer a strapless blouse to your chiffon saree for a polished style. Embellished encrusted blouses are ideal for sheer thin chiffons completed with a choker and a smile.
20. Chiffon saree with a shorter top blouse
We do not think it will be an exaggeration to say those cropped blouses are probably the most popular wardrobe staple. Contrary to belief, crop top blouses are actually one of the most flattering pieces especially with chiffon saris. This is because it draws attention to the thinnest part of a women's body. Whether you are a pear-shaped or curvy, there is a way for you to wear a shorter top blouse with your chiffon saree. Finish the look with a pair of daringly high heels and exquisite jewellery.
Don't you girls agree that there are awesome ways to wear plain chiffon sarees with designer blouse without breaking into a sweat? Tell us your favorite style in the comment box below:
Well, after all the insightful chiffon saree ideas, you can watch this video by Shilpa Shetty. She actually shows you how to drape a chiffon saree on your own. The actress offers a number of tips that you might not have heard before. You can check out the video to watch how skillfully she manages to drape a sari.
Images Source: pinterest