As much as we love a go-with-anything ensemble, there is something exceptionally stylish about silky blouse in eclectic prints. Because of this fact, any pattern can be made seasonal, paired with pallu sarees, or simply due to the availability of lovely printed blouses in the market.
Latest Pattu Saree Blouse Designs:
From embellished kundan work, to Zari border, to contrasting work, and to gota patti blouse, we have compiled few of the blouse designs for pattu sarees to buy and wear now!
1. Contrast Blouses For Pattu Sarees
You can experiment a raw silk blouse with a contrasting silk saree that is embroidered intricately. To keep up with the style, go for a high neck or ¾ sleeves. For a contemporary touch, go for a deep pot beck blouse for your pattu saree.
2. Zari Work Blouse Designs For Pattu Sarees
Sheer blouses are a popular choice for young women to make a style statement. In this image, you can see actress Bipasha Basu wearing a stunning black and gold sheer blouse with detailed zari and zardosi work. The exquisite gold embellishment and embroidery on the blouse sleeves and neck pattern make this ensemble a masterpiece.
3. Embellished Kundan Work Blouse For Pattu Sarees:
A stunning kundan work and resham embroidery work across your pattu saree blouse is gorgeous. In fact, this makes for a perfect ensemble for weddings. You can try a pallu saree in a soft color with a kundan work blouse in hints of green or blues to balance out the hues together.
4. Raw silk blouse for pattu sarees
Few occasions call for being stylish and for this case a raw silk blouse with pattu sarees can make a safe bet. Magenta or amaranth blouses with quarter or full sleeves add a royal blend of style quotient. Such pattu sarees can make a perfect choice for women wanting to look elegant and chic.
5. Zardosi work blouse for pattu sarees
Zardosi flower work blouse for pattu sarees comes with a deep plunging back neckline design. The back work is designed with spectacular kundan work embroidery around the sleeves and border. You can look for saree designs that feature tassels and distinctive blouse patterns for a unique touch. Red banaras or Kanjeevaram sarees with a zardozi blouse is a great combination to wear for a wedding. Pair this wedding blouse designs for pattu sarees with a pair of daringly high peep toe heels and bedazzled accessories for a sorted finish.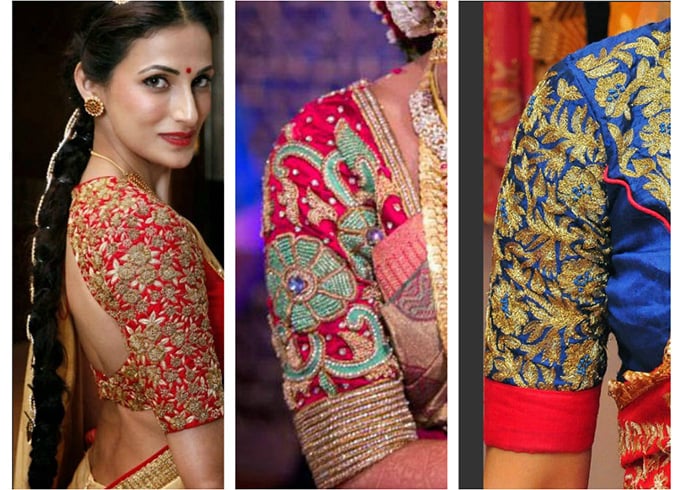 6. Embellished Kundan Blouse For Pattu Sarees:
An embellished kundan blouse can be an excellent pick for your pattu sarees. You can go for a pattu saree with an oval back design in dazzling embroidery work. As said, an embellished kundan work in white stones and other rich colors can enhance your blouse designs.
7. Gotta Patti Blouse For Pattu Sarees:
An intricate gota patti blouse design is a standard mix for pattu sarees for keeping it trend-worthy. The button down design is an integral part of the blouse. A blouse designed in detailed gold work brings on added appeal. The gotta patti work extending to the sleeves is a unique way of implementing this trend in the blouse.
8. Full Sleeved Blouse For Pattu Sarees:
Wearing a full sleeved blouse with your pattu sarees can add a fine balance to your figure. You can also look for blouse options with deep plunging necklines. Try to avoid heavy fabric and sleeves as it can make you look frumpy. In addition, you can try embroidery designed sleeves to give your blouse a unique touch. Blouses in this design can elevate your saree design.
9. Contrast Embroidery Blouse For Pattu Sarees:
If you are a bride-to-be and are not comfortable with a heavy design, then you try a contrasting combination. For instance, you can try a strong red pattu saree with a peacock green embroidered blouse. This combination can make for a perfect bridal outfit as well. The green blouse with a gold zardosi detailing work on the saree can make your wedding ensemble a total standout.
[sc:mediad]
10. Resham Work Blouse For Pattu Sarees:
This is an interesting selection of blouse designs. You can look for one in symmetrical back design in a subtle color with resham work. Pair it with a soft colored pattu saree for an ebrlegant look.
11. Patch Work Blouse Design For Pattu Sarees:
Patchwork designs have come a long way. This design is not just for quilts and fixing up denims anymore. Some designers have gone traditional by arbitrarily sewing it together over Indian wear. This image is a fine example of ethnic wear mixed with patch work blouse. This assorted blouse designs for pattu sarees looks good on pattu sarees.
12. Mirror Work Blouse For Pattu Sarees:
The mirror work design brings out a trendy ethnic appeal making it an ideal wear for parties and night outs. For a subtle style, you can go for minimal style with intricate mirror work at the pallu and blouse. A gorgeous pattu saree with mirror embellished blouse can make a great combination. For this reason, gota patti work with mirror work is a popular option.
13. Net Blouse Designs For Pattu Sarees:
You can play up with feminine flair with net blouse designs. A blouse design like this one particularly can make a perfect pairing with pattu sarees. Complement your saree with a net blouse covered in sheer tulle material. Extra points if the blouse is a sweetheart neckline or with high bateau design. The sheer material can make your pattu saree surprisingly chic-and pairing on a printed shoe and bag can make the whole ensemble extraordinary.
14. Pot Neck Embroidered Blouse For Pattu Sarees:
When it comes to embroidered blouse, you've got lots of options. Match a slight formal, pot-neck style or an embroidered bag, or enjoy these last few weeks of summer in a breezy cut off embroidered blouse and pattu saree. An uppada pattu sarees blouse designs along with Benaras and Zari is slowly gaining popularity. Not quite sold with the equation? Ease into a combination of kundan and heavy sequined work for your pot neck blouse. Accent this combination to take your equation to a whole new level.
15. High Neck Blouse Design For Pattu Sarees:
The high-neckline blouse has received few modern updates and is making its way through the Indian wear trend. Contrary to belief, high necklines are not stuffy, but they are cool. Whether you wear the style in lacy material or others, you need to have one in hand. You can invest in a high neckline blouse of your own to pair with your pattu sarees as well. This is a perfect blending for sarees that comes with small border. You can either go for a full sleeved or a half sleeved length to achieve a stunning result.
16. Plain Sleeveless Blouse Design For Pattu Sarees
A simple plain sleeveless blouse is a hero piece for pattu sarees. You can elevate the version with what accessories and shoes you would love to pair it with. And that's just a tiny fraction of how you can wear a pattu saree. You can go for a plunging neckline for a more pulled up look. Complete the ensemble with a structured bag and stunning neckpiece around your neck.
17. Half Sleeved Blouse For Pattu Sarees:
A well-fitted half sleeved blouse is a classic style move that will keep you appropriately dressed no matter what occasion you are headed to. Particularly in recent times, half-sleeved blouses over sarees are trumpeted for having made a return to forefront of Indian wear. For instance, pairing a pattu saree with a half sleeved blouse with maggam work can be a winner. If you are going for a formal event, then you can look for a blouse that comes in tulle fabric with large motifs.
18. Peacock Maggam Blouse For Pattu Sarees:
A saree blouse with peacock designs is a complete look and you need no accessories to go with it. You can pair your pattu saree with unique designs of peacock motif with thread work embroidery. For an upgraded choice, go for contrasting colors to make your style one of a kind.
19. Golden Embroidery Blouse For Pattu Sarees:
You can style a classic pattu saree with a golden embroidery border blouse. The gold embroidery work can be a stand out and really complement your blouse. You can go for a pot neck as it can connect the designs well enough. This saree style can be perfect ensemble while attending events, weddings, and night outs.
20. Tulle Sleeved Blouse For Pattu Sarees:
Less is more is a cliché for a reason. Sleek and minimal look can create an impact if done the right way. You can channel your inner minimalist with amazing styles also when coming to wearing your pattu sarees. Go for a blouse work designs for pattu sarees that comes with kundan work on the border, and net material for the sleeves. In addition, you can also for other embroidery designs for an unconventional approach.
21. Floral Embossed Blouse For Pattu Sarees:
It can get more exhilarating to splurge on a bejeweled blouse or an embellished saree, but an appropriate set can offer you the same shopping high. If you select and style these pieces wisely, then you can wear this Indian wear from formal occasions to parties. You can enjoy trying a floral embossed blouse with your regular pattu sarees. So easy! When you get comfortable with your look, you can elevate it with floral border and kundan embroidery work as well.
22. Threadwork Blouse Design For Pattu Sarees:
Bring out your inner feminine side by embracing pattu sarees with threadwork blouse designs. Depending on your comfort, go for heavy embroidery or thread work embroidery. The thread work design is an ideal match with pattu sarees. Go for one that comes with a plunging neckline. You can also go for blouse designs that come in tassels and fringe for a contemporary look. This can be an ideal wear for your housewarming party or other such occasions.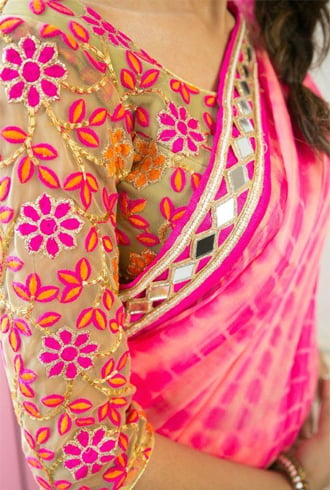 23. Gold Kundan Work For Green Pattu Saree:
A formal do calls for lots of selfies, stilettos, and plenty of glitter. You too can incorporate your diva-sparkle into your Indian look with few sparkly suggestions. For instance, kanchi pattu sarees blouse neck designs with all-over sparkly spread can be worn with simple accessories. Other than that, a unique blouse design will stand out. A gold kundan, pot neck design, and red piping are solid equations for a stunning blouse. For instance, the gold beaded work on a green pattu saree allows you to be party-wear without having to put on statement necklace or dangling earrings.
24. Open Back Blouse Design For Pattu Sarees:
Showing off your back is all the rage. Turns out, one of the current trend is barely covering your back at all. As a substitute, the trend calls for open back blouse designs that leaves little for the imagination. This can be paired with underpinnings and other layering pieces. And there is a stylish option for all women. Love to match? Go with coordinated prints. Prefer a dash of color? Opt for a hot pink pattu saree matched with an open back blouse. You can also try a blouse back neck designs for pattu sarees combined with pot neck cut.
25. Multi-colored Blouse Design For Pattu Sarees:
Festive occasions, though a lot of fun, can be quite heavy on the pocket. A lot of unnecessary expenses are involved due to the demand of ethnic ensembles. While you can always borrow a saree from your mother, selecting blouses are a pain. These blouses not only need to be well-fitted but also be stylish as well. Instead of going for impractical pleasure, mix and mix a multi-colored blouse to go with your saris. If you are looking for a traditional cum contemporary design, then you can opt for multi-colored blouse which is near to perfect. This design can be a perfect way for you to meet your sartorial style effortlessly.
26. Puff Sleeves Blouse For Pattu Sarees:
Pattu Sarees are extravagant and always make a royal statement. Be it for a grand occasion or a regular one, flaunting a Pattu Saree has its own charm. While most consider wearing a heavily embellished blouse, there are quite few who would opt for a subtle option. Puff sleeve blouse – designs have been very popular, be it with the cotton Dhakai's or the silks, women of all age groups have flaunted these sleeves since time immemorial. The puff sleeve adds a whole new charm to the Pattu Saree. Recommended in shades slightly lighter than your Saree, these blouses would look great for a day wedding or for other Indian festivals.
Here ends our pick of blouse designs for pattu sarees. With an amazing selection like this, you will be more sorted with your picks. Which one is your favorite design? Don't forget to drop a message in the comment box down below.