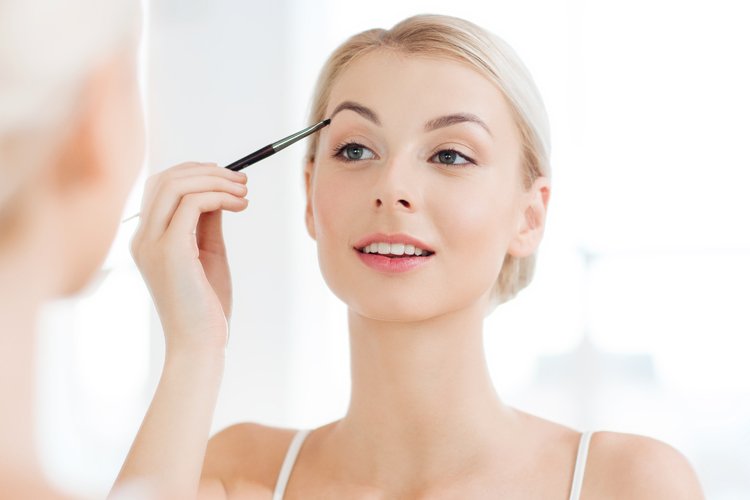 Not all of us have the time to prim ourselves all the time. If you are always rushing to meet schedules and have lesser time to cover your beauty problems, then you should definitely check out these top 15 time-saving beauty hacks for busy women. These beauty hacks can make you feel like you have everything sorted and balanced off in great style.
Top 15 Time-Saving Beauty Hacks For Busy Women:
All those superwomen who have mastered the art of multitasking, go ahead and read this list of quick-fixes to look ultra pretty:
1. Perfecting The Cat Eye:
The popular cat eye is simple to create if you master a few tricks.
For making the perfect winged eye, you have to start by drawing a line from the outer corner of your eye to your eyebrow end or temple.
Create the line according to your preference. For the next step, draw a line for the second eye and check its evenness.
Make use of an eyeliner to draw few dots or dashes over the line. This may help you in creating an ideal contour without any smudges.
Lastly, connect the dots by drawing out a smooth, straight line.
Clean up any smudges and sharpen the lines using makeup remover pen.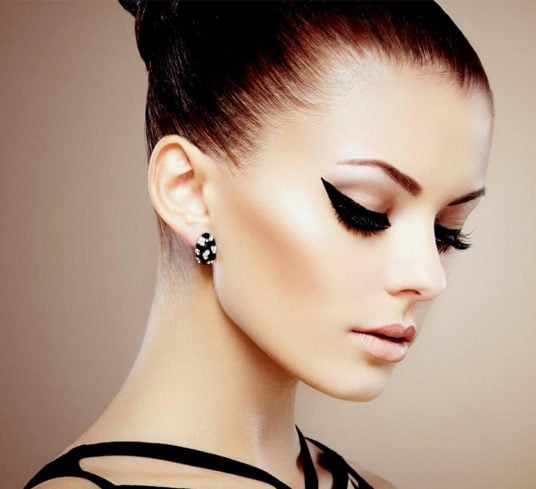 Hack #1 -DIY Cat Eye Using Tape
Affix them both at an angle so that you have a cat eye stencil in place.
Then fill in the space between the tape and peel off the tape.
Hack #2 -Eye Stamp Using Pencil Eraser
Cut a pencil eraser in half.
Leave a half-circle shape.
Use this whenever you need a quick cat eye look.
Simply paint the pencil eraser with liquid eyeliner.
Stamp it next to the eye.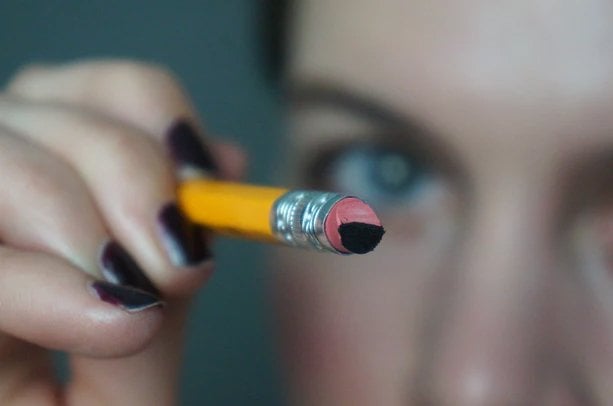 2. Ideal Brows:
Do you know a thicker brow on your face can make your face look slim? Here are quick beauty tips and tricks on how to create the perfect sized brows without going for a hair transplant:
The first step is to carefully comb your hair to see where they need to be filled in. Start from the front and work towards the tail of the brow.
The ideal brow can align with the inner tear duct with an arch.
Next, make use of a matte shadow that goes underneath the hairs to fill in density. Gently shade the sparse spots.
Fill your brows at the front using the brow pen. Draw in hair right at the front towards the nose. Then add more density to the tail.
Finish with a clear brow gel. Comb your brow up to show the hair texture. This locks it in place for perfect brows.
3. Get Fuller Lips:
You can get plumper lips without undergoing any scary medical procedure. These quick hacks can give you the perfect pout with little effort.
Flaky lips may reflect less light and appear smaller. To prevent flakes, brush them off lightly using a toothbrush. Doing so helps boost circulation and gives your pout a rosy tint naturally.
Pat concealer on your lips. Spread it a little over your lip line. This can allow you to get a closer shade of the color in the tube, and make your lips look larger.
Dab clear lip gloss or a shade closer to your lipstick. Apply a dab of gloss onto the middle of your lips. The shimmery shade can make your pout appear fuller.
Make use of a lip liner that matches your lipstick. Trace the outline of your lip. Add color to your lips by using a lipstick or liner for the whole pout. You can also use concealer to hide your lip liner.
If you are endowed with full lips naturally, then make use of dark lipstick shades.
You can apply one shade over your lips and use the lighter color in the middle of your lips. If you have a fuller top lip but a smaller bottom lip, then apply the lighter shade to the opposite lip. This can make your lips look fuller.
Make use of a skinny brush to outline your lips.
[sc:mediad]
4. Blot T-Zone The DIY Way:
Unknown to you, there are alternative blotting products that can be found around your home. You can read ahead to learn about few not-so-obvious oil soakers that can help you immensely.
Napkins from Starbucks can work like a charm for getting rid of excess oil without wiping off your makeup.
Grab some unused toilet seat covers to blot T-zone. If this idea is too gross for you, then you need to continue reading.
Take old wrapping tissues and cut them to use as blotting papers. These are a good option because they come in all colors and prints and soak up the shine.
Leftover perm end wrappers can be used to gently dab off excess oil.
Coffee filters are made from same materials as blotting papers. These are great for oily skin type.
Cigarette rolling papers are a cheap and effective way to keep your T-zone in check.
5. Use Cornstarch As Dry Shampoo:
If you ever run out of your dry shampoo, then do not freak out. You can apply cornstarch and brush your hair. This will provide the same refreshing smell as your dry shampoo will do.
Add five drops of essential oil of your choice into ½ a cup of arrowroot powder or organic cornstarch.
Mix it well using a spoon.
Store the mixture in a small jar or container.
Apply the mixture to the roots or oily parts of your hair using an old makeup brush.
If you do not wish to use the brush, then comb the powder through your hair and style them as usual.
6. Get Flawless Skin:
We get the best things in life for free, especially when it comes down to your beauty routine. But you should always remember to take care of them. So we are down to these few woman hacks that do not burn a hole in your pocket:
Clean your hands
Always clean your hands while you head to the bathroom.
Your hands are covered with bacteria while touching doorknobs, keyboards, etc.
When you touch your face with soiled hands, you are spreading the bacteria on your face which can then trigger breakouts.
For Acne
For fixing zits, you can try these two options here. Apply ice to the skin inflammation.
You can also use sea salt. This ingredient has effective antibacterial properties to remove excess oil from pores.
Mix one tsp of sea salt with water to form a paste. Apply it over the zit.
Allow it to dry for an hour. Those with a sensitive skin should keep this paste for 10 minutes only.
Rinse it off and pat your face dry.
DIY Face Peel
Add two tsp of baking soda with one tsp of water.
Add a little lemon juice.
Apply the paste to your face.
Allow it to dry for five minutes before rinsing it off using water.
For a Natural Glow
If your skin looks worn out, then apply lip balm.
Tap the excess along your cheekbones and brow bones in a half-moon shape to get a little boost of moisture.
When your face faces the lights, it can give out a natural sheen.
7. Quick Fix For Dried Out Mascara:
Mascara has a lifespan of three to six months. But if you want to extend the longevity of your mascara, then try a few tricks.
Make use of eye drops to revive your mascara. Add a few drops into the tube.
Alternatively, add the tube into a mug filled with hot water.
Both these tricks can allow you to use your mascara for longer.
8. How To Prevent Razor Bumps:
Razor bumps occur when the hair shaft is not cut properly. And this can further lead to ingrown hair and infected hair follicles which can appear like red bumps on the skin. Razor burns can also develop at any stage of the shaving process, due to an old blade, your sensitive skin, and the water temperature. Here are a few shaving hacks to prevent razor bumps:
Do not shave over pre-existing bumps. Try not to scratch them. In its place, wait for a day or two. Then you can apply oatmeal-infused body lotion or coconut oil to the area.
Do not make use of old razors. It can cause friction when it tugs on hair it damages your skin too. Instead, use a razor that features four to five blades and a pivoting head. Avoid using blades with a large lubricant bar.
Most skin types develop irritation due to shaving daily. Hence, keep a gap of at least a week before shaving again.
While shaving in the shower, always make use of an antibacterial wash.
After shaving bikini lines and underarms, apply a powder-based deodorant. This can help to moisturize the area.
Take your time while shaving. If you graze the skin too soon, you'll experience itchiness.
Daily exfoliation is essential to prevent ingrown hair, and a gentle scrub can be perfect to leave your skin smooth.
9. DIY Lipstick Palette:
You can recreate a new lipstick palette using your old lipstick collection. You can try melting your favorite lip shades to carry as a travel-friendly lip palette. This is the perfect tool for makeup artists and it's really simple to create. You can mix different colors and textures in nude, red, pink, purple, matte, and creamy texture.
For creating the lipstick palette, you will need few things like an empty palette, tea light, paper towels, cotton swabs, rubbing alcohol, palette knife, deep spoon or metal bowl, and lipsticks.
Make use of a spray bottle filled with rubbing alcohol to spray the palette.
Allow it to dry and evaporate.
Use rubbing alcohol to clean your palette knife and melting spoon. You can also clean your tool between each lipstick application.
Make use of a palette knife to cut off a piece of lipstick.
Hold the spoon over the candle.
Stir using the palette knife to melt the lipstick.
Make sure to melt the lipstick before you pour it.
Slowly pour into the well. Do not worry if it appears lumpy. The lipstick will harden soon.
If you use a matte lipstick, remember that it is the most difficult to melt and pour as its consistency is thick.
Remember the bright shades will melt and pour effortlessly.
Once you've poured all your lipstick, allow them to sit for a few hours to harden and set.
10. Thicken Your Eye Lashes:
False lashes are an amazing hack to dramatize your eyes. You can easily wear them to weddings and New Year's bash. But most of us believe they're not a practical option. Here, discover few easy steps to take your lashes from conventional to copious:
To start, curl the lashes perfectly by pumping an eyelash curler starting from the base all through the tips.
Hold each clamp for 8 seconds at a time. This allows you to get a perfect curve.
Brush through lashes using one or two coats of mascara from roots to tips.
Tap on some baby powder into a jar or your palms. Then dip a Q-tip into the powder.
Coat both the top and bottom lashes using the baby powder. Make sure to coat the entire fringe using a light layer. The lashes should appear ashen when you're done.
Apply a second coat of mascara from roots to tips for turning your lashes jet black again.
You will notice how much thicker, fuller, longer, and blacker your lashes look.
11. How To Make Your Eyeshadow Color Deeper:
There is a popular hack to make your eyeshadows pop out. The trick is to wet the eyeshadow brush with a makeup setting spray or plain water.
Wet your eyeshadow brush.
Slowly pat it using a clean tissue paper to remove excess water.
Do not wet the brush too much with water as it may cause your eyeshadow to run from your eyelids.
The brush should be slightly damp to pick the eyeshadow well.
Your eyes will instantly appear brighter.
12. Try Overnight Braids:
If you are too busy to curl your hair in the mornings, then you should do it the night before. This hack is perfect for busy girls whose morning schedule is too action-packed. Here are the steps that you should follow:
Make a French braid at night.
When you wake up, your hair will be wavy already without using the curling tongs.
Spray the roots with a dry shampoo or volume spray.
Smooth flyaways using a tiny amount of pomade.
This trick can save you lots of time when you are getting ready for the day.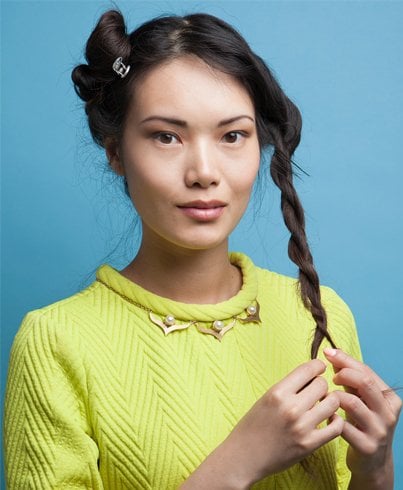 13. Carry A Nail Polish Remover Wipe:
You should always carry a nail polish remover wipe in your bag to save time in the morning. You can thereby remove your old nail polish while on the go.
Whether you're in the cab or walking the street, these wipes can be easily used.
Chipped polish looks improper especially while heading off to meetings. These nail polish remover wipes can be a lifesaver.
14. Fix Greasy Hair Using A Baby Powder:
When you do not have time to wash your hair in the morning, apply baby powder over your hair roots before bedtime.
The baby powder will soak up the excess oil that makes the hair look greasy.
If you have dark hair, do not apply baby powder right before leaving home as it may be noticeable.
So sprinkle the baby powder at night as the white residue will have enough time to absorb the excess oil on your scalp by morning.
15. Fix Nail Problems In A Jiffy:
When you have absolutely no time to visit a salon to clean your dull nails, then you can go for a quick at-home manicure.
Mix baking soda, peroxide, and warm water in a bowl.
Dip your nails in the solution.
Scrub with a manicure brush. Ola! Your nails will look soft, clean, and smooth.
These top 15 time-saving beauty hacks for busy woman are a must-try. Hope you find these tips as useful as much as we did. Share your beauty secrets with us in the comments box.