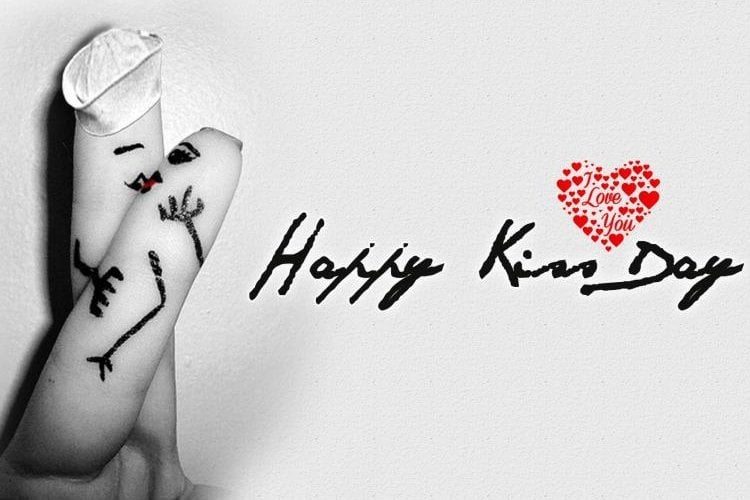 A day just before the big day in the Valentine's week, comes the Kiss Day.
To define, a kiss is a lovely trick designed by nature to stop speech, when words become superfluous.
Two people in love are said to experience a surreal moment when without having to utter a word, they speak to their significant other's soul.
Rupert Brooke once said, " A kiss makes the heart young again and wipes out the years"
What is Kiss Day
Kiss Day, essentially celebrates all the magic, a kiss is known to create.
After having made a series of commitments all through the Valentine week, on the 13th of February, souls truly, madly and deeply in love, choose to echo the voice of their heart, the silent way. Sealing their love with a kiss.
Your Kiss Day Checklist
A kissable pout. No chappy and sticky lips please. A nice flavour of lip balm or lipstick could work wonders.
Smell absolutely fresh and exotic.
Don't forget to moisturise and nourish your skin well the night before.
Opt to go to a place where you are sure to observe privacy.
Right before your date, do not forget to put your phone on silent mode.
Before jumping to conclusions, I want you to have a fair idea of what each kiss means. Yes, there coexist a host of kiss types and for you to exactly convey what you feel, it is a mandate you understand the significance of each.
Types of Kisses, Decoded
Kiss on the forehead
This one is full of love and respect. A kiss on the forehead is a promise to be there forever. At times it also connotes that you two are cute together.
Kiss on cheeks
Kiss on cheeks is planted when someone is dear to you. If you are looking for signs then a kiss on cheeks would possibly suggest that the other likes you.
Kiss on the hands
A kiss on the back of your hand signifies gratitude and respect. It may also be the first move from a shy lover.
Kiss on the neck
A kiss on the neck spells out your partner's expectation for a more passionate and intimate evening from a more uninhibited you.
Kiss on the lids
This one's referred to as the angel kiss. A kiss on your eyelids or near your eyes shows utmost affection.
Kiss on the shoulder
A kiss on the shoulder conveys that your partner feels you are just perfect and the best.
[sc:mediad]
Kiss on the lips
A kiss on the lips signals love, love and nothing but love. It clearly spells the three magical words.
Dress Up For That Kiss
As crazy as it may sound, but if you are having that jittery feeling that today will be the day of your first kiss, then make sure you are ready for it, because we are only mortal until that first kiss. Rest is all history.
While first timers witness their share of anxiety and nervousness, pro's need to deck up to add more passion to their kisses today.
So ladies, dress up to take that magic dip.
Outfit
A dress that makes you look beautiful and feel comfortable would be ideal. Ranging from shades of black to red to midnight blue, any color that flatters your curves should be picked.
Footwear
Choosing the most appropriate footwear is definitely a tricky one because you want to be comfortable with no burgeon of tripping, yet you want to be at an appropriate height with your partner to ensure an uninterrupted memory. Short girls, please make way for heels, while the taller ones who are just about the height of their guys or more, stick to flats.
Makeup
Light makeup is a must, because you definitely don't want your mate to feel that layer of base. Also you want to stay away from the smudging of your eye makeup. Hence minimal is ideal.
A Kissable Pout
The perfect regimen to observe a kissable pout would be to start with exfoliating your lips and dabbing on a lip balm. Nude them out with a concealer. Now line your lips and fill in a pretty lip color. Don't forget to blot to eliminate the excess oils.
Kiss Day Messages For Your Special Someone
Kisses seal what the heart feels.
I feel worthy of every kiss I laid upon you, for in each of them went a part of my heart.
Your hugs and kisses are like stars that light up my life when it gets dark.
Gifts to Give On Kiss Day
First Kiss Mapped
A beautiful gift to give this day is to frame the memory of your first kiss with cuttings of your first location courtesy Google Maps.
[Also Read: Trending Fashion Gifts To Give Yourself This Valentine's Day]
A Jar Of Kisses chocolate
A jar filled of Hershey's kisses for all those long distance couples who will not be able to meet their respective on this special day.
Kiss Message Notes
Another DIY gift idea for today would be to surprise your partner with a kiss note concealed in everything your partner uses on a regular basis. At the end of the day you are bound to be treated with a good one.
That was everything you need to know before you head out for your day today. If kisses were raindrops we hope you get showers today. Happy Kiss Day dearies.