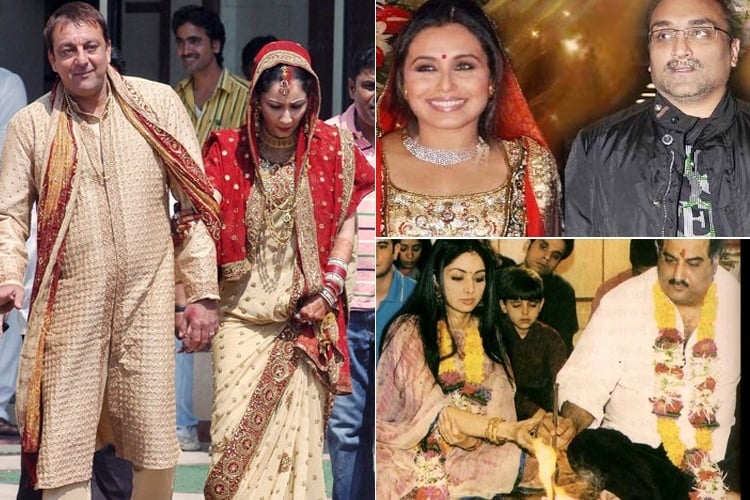 Indian cinema has not only inspired us, it has also obsessed those who contributed to it. And by that, I mean B-town stars who broke a million hearts when they got into Secret Indian Celebrity Weddings.
Surely, Secret celebrity weddings left a sinking feeling in our hearts and crushed our dreams, but Bollywood is an industry full of surprises as much as Bollywood weddings dresses, so let that pass.
[Also Read: Celebrated Celebrity Weddings Of 2015]
For now, let us catch a glimpse of Indian celebrity couples and celebrity weddings. It will not only refresh your memory, but take you back to the old times.
Rani Mukerji And Aditya Chopra
Our Babli babe Rani Mukerji secretly tied the knot with film director Aditya Chopra at a private ceremony in Italy on Monday, April 21, 2014.
The fact that Rani was a popular face at the Chopra home is another story. Despite this, the couple who are now proud parents of a baby girl never admitted to their romance in public.
You will be surprised to know that Adi was first married to Payal Khanna whom he had divorced in the year 2009.
Amrita Singh And Saif Ali Khan
Amrita as you know was a stunning and talented actress. One fine day she met the handsome Nawab of Pataudi, Saif Ali Khan at a friend's party, after which she invited him over to her house.
In an interview he confessed that he never left her house, which means it was the case of Secret Indian Celebrity Weddings. Amrita was 12 years elder to Saifu, which itself was a bit shocking. It was in 1991 that they got married and 13 years later they parted ways. Some love stories have a strange ending.
Hema Malini And Dharmendra
The Southerner 'dream girl' Hema was the heartthrob of the entire nation. Yet she married a Jat. Hema Malini's family didn't accept her marriage to Dharam Paaji. On top of it, he was already married and had two sons.
It was after her father's death that Hema Malini decided to tie the knot with Dharmendra. Dharam's first wife was not ready to divorce him. This led the love birds Hema and Dharmendra to first convert into Islam, after which they tied the knot in a secret Nikah ceremony, and then in the year 1980 they renewed their marriage vows in a wedding which was Iyengar-style.
Konkana Sen Sharma And Ranvir Shorey
Both Koko and Ranvir were secretive about their relationship and their marriage came as a surprise to the film fraternity.
[sc:mediad]
In 2010, both Konkana and Ranvir tied the knot in Mumbai and had invited close friends. Call it misfortune, both of them split up and parted ways in late 2015.
Madhuri Dixit And Dr. Sriram Nene
Many hearts would have crashed like glass splinters when Dhak dhak girl Madhuri Dixit tied the knot with Sriram Nene. Though the wedding took place in USA, it's still a debate as to why Mads went for an arranged marriage.
[Also Read: Shortest Celebrity Weddings]
Priya Runchal And John Abraham
What is the secret of John Abraham and his Secret celebrity weddings? The whole nation knows he had an eight-year long love affair with Bipasha Basu. But after his break-up with Bips, he secretly married investment banker Priya Runchal whom he had been seeing for two years. It was on Tweet on New Year's eve that John leaked out his marriage with Priya by signing off as John and Priya Abraham.
Geeta Bali And Shammi Kapoor
It was on the sets of the movie 'Rangeen Raatein' that Shammi ji started to develop feelings for the talented actress Geeta Bali.
Since Geeta was a year elder to Shammi and was also the sole earning member of her family, they both had fears as to how their families would respond to their tying the knot.
After much pondering, it was in 1995 that both decided to take wedding vows in a temple where their common friend was the only witness. Thereafter, the newly married couple went to the Kapoor house to seek their blessings.
Sridevi And Boney Kapoor
Love at first sight. This is what happened to Boney Kapoor when he met Sridevi on the sets of 'Mr. India', but for the fact that he was already married and had two kids.
In the meantime Sridevi was going through a rough patch with her father having passed away and her mother seriously ill. Boney's affectionate behaviour towards Sridevi got them close and eventually they decided to tie the knot.
Boney had to wait for six months before his divorce finally happened with his first wife Mona Kapoor. Thereafter, Boney and Sridevi settled for matrimony.
Nargis And Sunil Dutt
It was on the sets of 'Mother India' that love blossomed between Nargis and Sunil Dutt. But love took major proportions when Dutt saab rescued Nargis from a fire that took place on the film sets. Since both of them were playing the role of mother and son in the movie, they kept their relationship a secret till the time the movie was released. Finally it was in 1958 that both got officially married.
Manyata And Sanjay Dutt
Sanju baba was in a close relationship with Manyata for two years before they decided to get married at a close friend's place. The affair was so casual that Sanjay was dressed in a casual T-shirt and jeans while the bride wore trousers and purple tee.
Tell us which of the Secret Indian Celebrity Weddings happen to be your most favourite and shocking one, at the same time. We will be happy to get your answers.