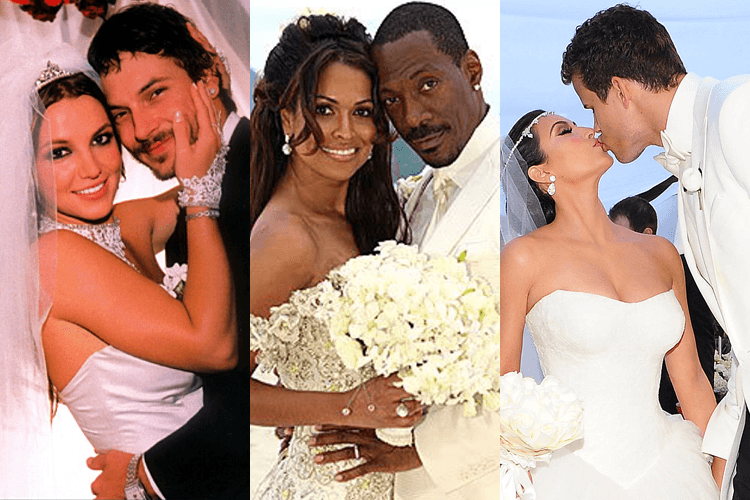 Celebrity relationships are from a different legion all together. While many of us dream to have weddings like them, they also set examples of notoriously short weddings. No doubt there are fairytale weddings that are an epitome of love, but let's have a look at the shortest celeb weddings in tinsel town. Let's start the list from the shortest ones:
1. Rudolph Valentino & Jean Acker (1919)
Wedded for: 6 hours
The shortest wedding to grace tinsel town, Rudolph and Jean were hardly married for some time when Jean decided that this was not what she wanted. On her honeymoon itself she locked out Rudolph from the room. He banged the door for 20 minutes and then gave up. They never even consummated their wedding.
2. Britney Spears and Jason Alexander (2004)
Wedded for: 55 hours
Pop princess Britney Spears and her childhood sweetheart got married at a church in Vegas. In about 55 hours, Britney and Jason annulled their wedding, funnily saying that it was a 'joke that went too far'.
[Also Read: Celebrity Weddings]
[Also Read: Angelina Jolie and Brad Pitt Wedding]
3. Carmen Electra and Dennis Rodman (1998)
Wedded for: 9 days
The basketball star and the Baywatch star were not a match since day one, but they lasted a little more than a week. After 9 days, Rodman filed for divorce saying that the wedding was a fraud and Carmen did not have a 'sound mind'. Carmen remained mum about the wedding.
4. Cher and Gregg Allman (1975)
Wedded for: 9 days
Another one of those Vegas weddings, Cher and Gregg decided to call it quits after Cher found out Gregg's fascination for drugs and alcohol.
[sc:mediad]
5. Eddie Murphy and Tracey Edmonds
Wedded for: 14 days
[Also Read: Indian Wedding Hairstyles]
Eddie and Tracey had an amazing destination wedding in Bora Bora. It was picturesque all around, except in between the couple. They bickered the whole time they were there but fortunately for them, the wedding wasn't a legal one so they didn't have to go through the divorce process. They simply cancelled their US wedding plans.
[Also Read: Celebrity Hairstyles]
6. Drew Barrymore and Jeremy Thomas
Wedded For: 26 days
Drew Barrymore has always been the crazy one and before she was married for 5 months with Tom Green, she had an even shorter wedding with Jeremy Thomas who was a bar owner. She got a person to get them both married at 5am in the morning at the bar itself.
7. Pamela Anderson and Rick Salomon
Wedded For: 60 days
In yet another Vegas wedding, Pamela Anderson got married to the co-star of the Paris Hilton sex tape. This happened in between the break time of her magic shows. In just 60 days, Pamela filed for divorce from Rick citing 'irreconcilable differences'.
[Also Read: Most Expensive Celebrity Wedding Dresses]
8. Kim Kardashian and Kris Humphries
Wedded for: 72 hours
One of the most famous shortest weddings of all times, this wedding is also one of the most expensive and most talked about. The queen of reality stars and the basketball legend could have extended their wedding for a little more than 72 days for the sake of the amount of money they spent on all the lavishness at the wedding.
They sold the TV and photo rights for an incredible $17.9 million dollars, meaning that they earned about $250k for each day they were married. The wedding was a fairytale, but the marriage was certainly not! Kim decided to call it quits claiming 'irreconcilable differences' (sounds familiar?).
Who doesn't love to follow celeb weddings? We hope you have enough info in your ammo now!