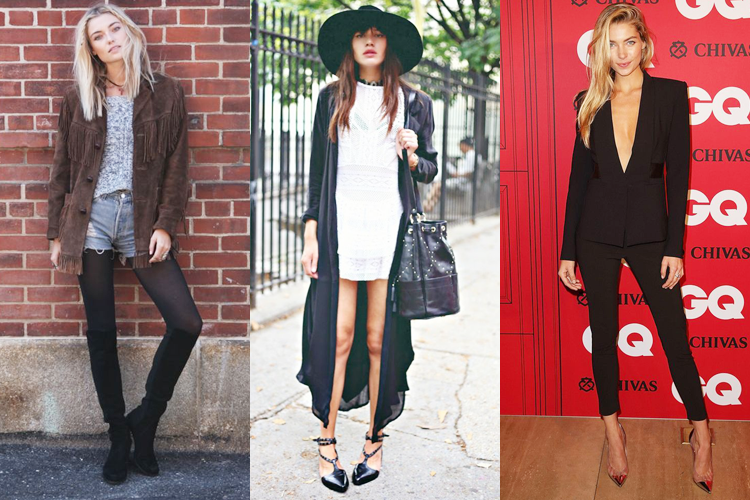 Right accessories, a cool jacket, throw in a tank, a pair of skinny jeans and the sexy black ankle boots, step one on getting the off-duty fashion theme done right. Aren't we just envious and jealous of those girls and women out there, who wake up and walk out looking a million bucks, while we prepare breakfast, feed our families and rush with wet hair to work? How do these women doll up so early? What time do they sleep, if they ever do? Are they human or do they have magical fashion powers? Chuckle away if you want, but here are ten ways you could be the doing the off-duty fashion saga! Read on!
Friday smart casual dressing
Bored and wondering what to doll up like to attend an offsite meeting with the boss? Grab a plaid black shirt which has layers on it, or a sweater tee in black and team it up with black skirt. Wear black leggings or thigh high tights, and if you want to stay away from heels, wear black flats. Carry a statement bag and wear minimal accessories to complete the trend look.
Street style off duty funk
Your personal style is your personality, and a tailored self-coloured shirt thrown over a deep V-NECK tee that touches the knees, with chunky boots; you're not going to be called the 'girl-next-door' anymore for sure! A large cowboy hat to keep your face protected, and with absolutely nothing as accessories, except a chic watch on one hand; goes get them girl, the world's waiting to watch you strut!
Off to the mall in off-duty boho looks
Shopping for groceries or taking your kids to the show at the mall, and mommy needs a little dolling up and now! Grab a pastel shade Crossbody bag, a crew neck tee and for the feet sandals made of fibre or leather. Khaki horizontals for the bottom, while the eyes are protected with large round sunshades, mommy' ready!
For an evening out on coffee with the girls
You do not have to worry too much when out with the BFFs over a cup of coffee, they know you all too well, but that doesn't mean you dress shabby? Grab a round neck and a little longer than the usual cardigan (should the climes allow) or a slim-fit kurta and team it with a pair of denims, and mule shoes. Carry a statement bag and wear minimal make up or accessories to complete the look. Have fun!
Animal prints for the night
Feisty, wild and fun-loving at the same time, you sure want to tell the world your intentions when you step out under the moonlit night, tonight. Party on till wee hours of the morning in an animal printed one-piece skirt; leopard prints are so passé though, think unconventional animal prints or stick to black and white. Coordinate the colour of your hat with the skirt, and wear heels for the evening or a pair of moccasins with black socks.
[sc:mediad]
Caught off-duty visiting MIL for lunch
Dress to impress, and MIL would be super happy having you over to meet her friends. A white sheer one-piece tunic skirt, teamed with a black oversized flimsy layering and a large statement studded black bag, black heels to complete the look for sure, with a large black hat for the oomph factor to come through.
A low V-Neck blazer for a formal evening
Impress your girls at the formal baby shower in a chic black slim tux and heels. Simplicity at its best, yet making the whole personality look a billion bucks too. Carry a clutch bag, all chunky and shimmery and let the hair fall crumpled and loose for the boho-chic look.
Ready for an interview
Impress the potential boss with your sense of style, wit and glamour, dress to impress and the job is yours for sure. A printed one-piece skirt with tiny dots and flowers, or a pair of denims with a black shirt, layered with a black coat and jacket, a printed scarf for the neck (should the climes allow) is optional. Heels with the skirt, while black booties for the denims!
On a date
Impressing him is easy when you indulge in off-duty clothing. For the feet, think high heel velvet white shoes, while for the legs – black opaque tights or shimmery black leggings would do. Wear a vertical stripe tee, V neck or Round, and to that you could layer the look with a structured brown or caramel long oversized coat. The hat is optional but a chunky purse is a must.
So girls, here were the 10 ideas on how to update your off-duty look and resemble the fashion week walkers and Goddesses from around the world. Go out there now and flaunt your style. Your signature needs to be read, loud and clear!