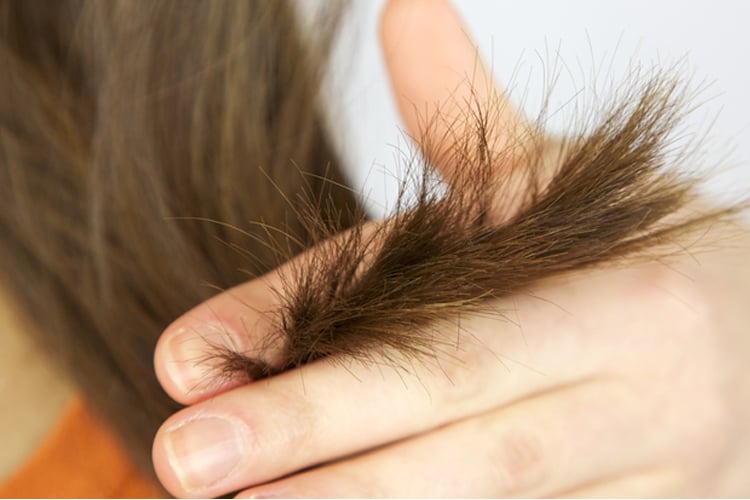 You've been noticing that your hair fall has increased and the hair breakage has been mercilessly staring at your face when you wash your hair and you wake up from sleep- the bathroom floor and the pillowcase say it all. Sigh! It is not dandruff that is causing the hair fall, which is one of the major reasons in most cases. Your trichologist says that the hair and scalp are in prime condition. You oil your hair and get hair spas done once or twice a month, and yet there is hair loss. What could be the reason? SPLIT ENDS! If split ends are giving you a splitting headache then you need to read this article.
Before we tell you more about which is the best shampoo for split ends, let us understand what are split ends, why they occur and how they damage your hair.
What are Split Ends?
Good question! There are many of us out there who mistake frizzy and dry or brittle hair as hair with split ends. Split ends refer to the hair strands that have split into two fragments or more. Split ends are the reason why the integral strength and the structure of hair go for a toss. This means, slow death to the life of your hair. Hair strands are made from a protein called keratin and they are dead cells. So there is no way hair can be healed, or even repaired as most experts would say. Therefore, the split ends can only be FIXED. This is why trichologists and hair experts would ask you to check for best shampoo for damaged hair and split ends that have smoothing products and proteins in them.
Hairdressers worldwide would say, a trim above the hair split point is a permanent and the best solution for good. And that is true! This is because, if you closely look at your hair, you would find split ends only at the bottom edge of the hair strands. This is most prominent for girls and women who have layered haircuts and styles, and if you look at the thinnest sections of their hair, the split ends would stare into your face. Now that we made it clear as to what are split ends and what they look like, let's look at why they happen too.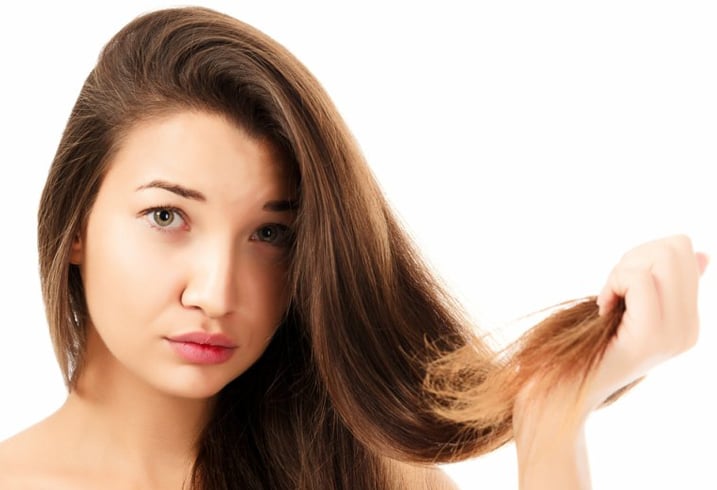 Now that we know that split ends are a pain and not easy to repair, let's not lose hope. You can trim your hair and they would be gone 100 percent. If you trim your hair once every six to seven weeks, experts say, there would be no more split ends to ruin your crowning glory. Ignoring them is not recommended because they take over the shaft of the hair and then this would lead to more hair breakage and fall. And we are sure you would not want to have a drastic haircut after a massive hair damage. So here is why you get split ends!
1. Harmful Hair Care Products:
The hair products that we use have chemicals in them, and even though some claim to be organic and natural, there are preservatives in it which can damage the protective layers of the hair. However, you need to be wise when choosing shampoos and conditioners, hair gels, sprays, and creams or styling products too or else split ends would strike. If your hair is dry, it will split faster than hair that is oily or limp. Conditioners too should be chosen as per your hair type, and if your hair has been colored or chemically treated, there would be a different set of shampoos and conditioners to use. Hence speaking with a specialist on the same lines would be advised.
2. Excessive Brushing:
We tend to not realize this, but when you brush your hair a lot in a day, you can cause the hair ends to split. Some of us back comb our hair too much, and this too can be a cause of split ends, since the epidermis is disturbed. And the worst thing to ever do is to brush your hair when it is wet. REMEMBER, YOUR HAIR IS THE WEAKEST WHEN IT IS WET. Wet hair can stretch a lot and this can cause tension and end up in split ends. Brushing the hair twice a day gently is okay but not more than that.
3. Hair Coloring Is a Crime:
Don't we love the various shades of color on our hair! However, when you color your hair, the condition of your mane deteriorates because of the chemicals in it. Your hair then needs extra care and you need to use the right hair care products. Speak to your hairdresser for the best recommendations for your hair type especially to be used after coloring. This will ensure the protection of the cuticles and the texture of the hair, and the color would last long sans split end worries.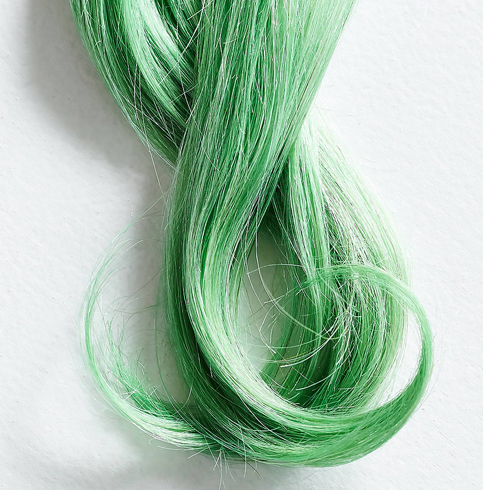 4. Hair Styling Appliances:
Appliances used for styling your hair, such as tongs, flat irons, curlers, crimpers and even your normal blow dryers can cause split ends. They generate too much of heat and too close for comfort, for the hair to withstand the fury. This is why the hair splits at the bottom edge. We would advise you to sparingly use the heat appliances on your hair. Even if you have to use your heat appliances to style your hair every day, because of the profession you may be in, you must use a styling product that would protect the cuticles of the hair. The protective coat of the product will ensure that the heat would not damage your hair follicles.
5. Aggressive Towel Drying:
We often see women and girls with long hair, roughly drying their hair with full force and great thrusts. STOP DOING THAT. This is one of the worst things that you can do to your hair. Allow the hair to naturally dry if you have the time or shampoo the night before and let it dry. Use the hairdryer only if it is urgent and you need to rush. Else naturally drying your hair is advised.
6. Damaging Hair Accessories:
There are many hair accessories that we use which can damage our hair strands. They cause split ends too. For example, the many fancy rubber bands, look all trendy and cute, chic too, but they can cause havoc to the cuticles of the hair and pull or tug the strands too. This can lead to hair damage and split ends as well.
7. Poor Diet:
Research and studies have shown that when the body does not receive enough of healthy fats, it can affect the texture and quality of your hair. Ignoring the same can lead to hair loss, hair breakage and split ends too. Crash diets and low-fat diets would make the hair fall and split ends can happen, making the hair ugly and dull. Leafy greens have a lot of minerals and antioxidants in them which can help you get healthy hair. Munch on nuts and fruits to remain healthy and beautiful.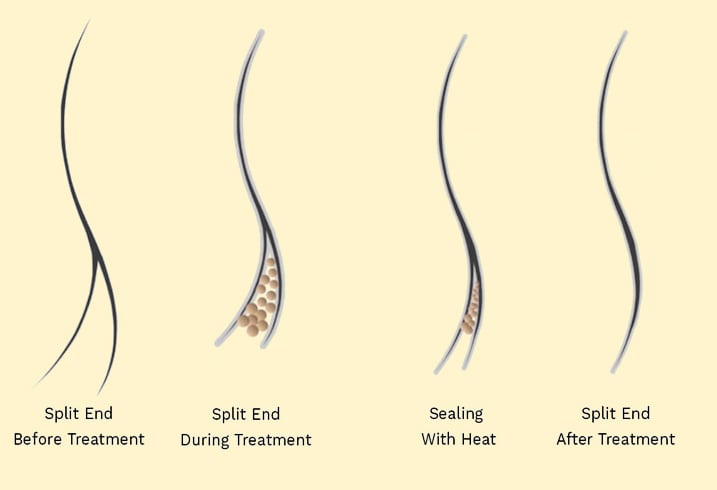 8. Drinking Less Water:
Yes, very important question! You may be having the best high quality natural organic foods, and taking your supplements on time, but what about the water intake? Not drinking enough of water can lead to dehydration. When the body is dehydrated inside out, the hair will turn dry and brittle and this would lead to split ends, hair breakage and hair fall. Have at least eight glasses of water per day to keep the body hydrated and to get a glowing skin and lustrous hair.
9. Stress Is a Culprit:
We know the world we live in can be trying and stressful on a daily basis, which is why we want you to do yoga and meditate or walk for thirty minutes every day. An overload of stress robs the hair of all its luster.
Top 12 Shampoos For Split Ends:
So now that we have told you the many reasons why you have split ends, let's take a look at the best shampoo for damaged hair and split ends:
1. Schwarzkopf BC Bonacure Smooth Perfect Shampoo:
Why the BC Bonacure Smooth Perfect Shampoo by Schwarzkopf? If you have frizzy, dry, brittle and unruly hair then you may also have split ends too. And this shampoo would work like magic to fix your tresses. It has amino acids in it and also natural oils, which helps balance the pH levels of the hair. It drives away the frizz and the flyaways and smoothens your hair in the bargain too. The natural oils of the hair would not be stripped when you use this shampoo.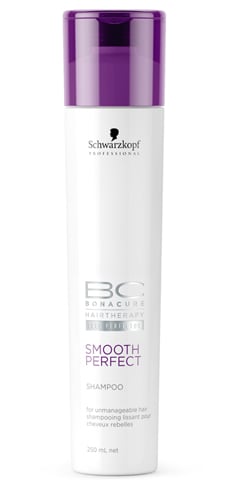 2. Pantene Pro-V Total Damage Care Shampoo:
Pantene and all its hair care products have stood the test of time, and from the roughest to the gentlest of hair types and conditions too. This is a shampoo that takes pride in caring and restoring hair back to health. It has Pro V formula in it which can go deep into the follicles and strengthen it, and the damage control is rightly taken care off as well. The visible signs of damage are done away with. The product promises your hair extra protection from the UV rays of the sun as it is rich in oils. Your hair gets to be more manageable, the scalp is cleansed well, and the hair is conditioned at the same time too.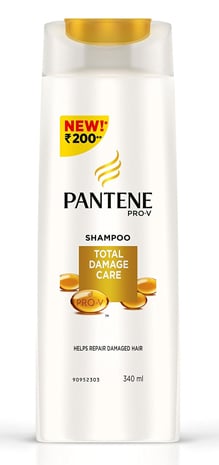 3. Matrix Biolage Ultra Hydrasource Shampoo:
The shampoo by the brand Matrix is one of a kind, paraben free and has herb essentials such as lemongrass in it, along with sage and wheat germ lipids that nourish the hair and makes it super healthy. This is also a shampoo that will help control frizz and split ends and add shine too. It softens and moisturizes the hair and conditions it too, and you should use it if you have colored or chemically treated your hair in the recent past.

4. Dove Intense Repair Damage Therapy Shampoo:
Dove products have never failed to cater to the Indian beauty needs. This is a shampoo which helps repair the hair at the cellular level, and all thanks to the keratinization it can give to the hair. The shampoo is rich in borage oils which help nourish and smoothen the hair and moisturize it too. Split ends would be minimised to a large extent and your hair will become silky smooth too.

5. Garnier Ultra Blends Mythic Olive Shampoo:
Garnier as a brand always has a tagline that says TAKE CARE, and they really mean it. The shampoo here in question is paraben free and has olive oil in it which hydrates and nourishes the hair. It also helps keep dryness and frizziness at bay too. So no split ends to worry about when you have this shampoo around.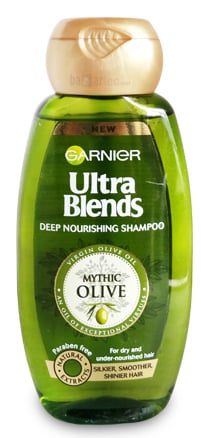 6. Yves Rocher Lissage Smoothing Shampoo:
Why the Lissage Smoothing Shampoo from Yves Rocher? To begin with, we recommend this shampoo because it does not have parabens in it. It also does not have silicone and colorants in it, and 98 percent of the ingredients in this shampoo is natural and organic. This is a shampoo that will help smoothen out the frizz and also moisturize the scalp. It helps lather the hair pretty well and cleans the build-up too. And yes it will help make split ends a thing of the past!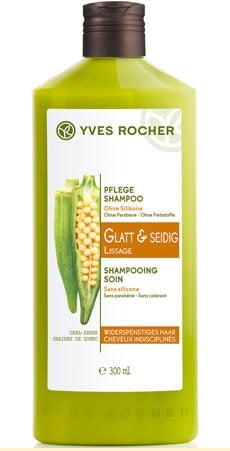 7. Tresemme Hair Spa Rejuvenation Shampoo:
You know the importance of spas for hair to be healthy, and if you want one almost thrice a week, you can try this shampoo. It has marine minerals that hydrate the hair and deeply cleanse the build-up on the scalp too. The fragrance is pleasant and it conditions the hair very well too. This is definitely the best shampoo for split ends and hair growth with conditioner. It takes care of the dry hair, brittle hair and the split ends too.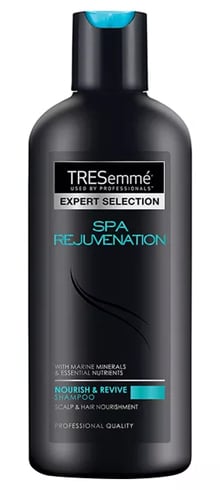 [sc:mediad]
8. L'Oreal Paris Smooth Intense Shampoo:
The premium brand offers this shampoo that has argan oil in it. If you remember our previous posts on the benefits of argan oil, we did mention about it being a gift from the heavens above. This is especially true for hair that is dry, weak and brittle since the oil has silk proteins that help repair damaged and unruly hair. The Smooth Intense Shampoo from L'Oreal Paris makes the hair frizz-free, soft and shiny, and manageable too. So you can safely kiss your split ends goodbye too!
9. Himalaya Herbals Protein Shampoo:
If you want to eradicate the nuisance of split ends from your mane story, try this protein shampoo by Himalaya Herbals. Why? Because this is the only shampoo that has licorice, fenugreek, nettled melon extracts, and sesame extracts that help your tresses bounce back to health and forget split ends forever.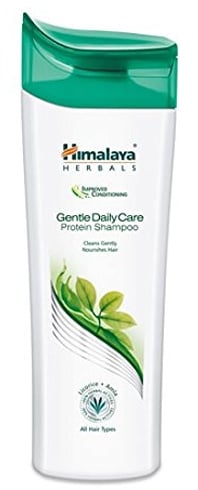 10. Garnier Fructis Fortifying Shampoo + Oil 2 in 1:
We can understand how annoying it is to oil and shampoo your hair every day, which is why we bring to you this shampoo! Traditionally you are advised to first oil your hair and then shampoo it, but this 2 in 1 Shampoo by Garnier Fructis saves your time and energy and restores health to the hair in a 2in1 action. This is a shampoo which has the goodness of avocado and olive oils, shea to nourish and condition your hair magically. It not only protects your hair from split ends but its lingering fragrance also adds to its appeal.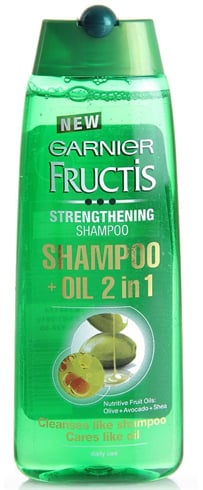 11. Aloe Veda Mild Nourishing Shampoo:
Aloe vera as we all know is perfect for those who have sensitive scalps. This wonder gel helps nourish the scalp and keep it dirt free too. This is also a shampoo that has no sulfates in it, and it is antibacterial too, which means your hair is free from dirt and infection. It also smoothens the hair and moisturizes it from deep within, and since it has biotin, it helps restore the health of your hair and thicken it too. If you have damaged hair with split ends this is a must-have we say!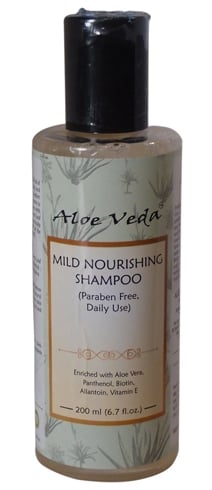 12. Moroccanoil Hydrating Shampoo:
The formula of the shampoo is very gentle and mild not only for the hair but the scalp too. We recommend this shampoo, which has plenty of hydrating ingredients in it. It would not strip the natural oils of the scalp away when you use it. Since it also has the famous argan oil in it, there would be a lot of antioxidants in the product which will help repair the split ends and also protect your lustrous locks from sun damage.

Now that sums up our list of the best shampoos available in the market for damaged hair. We strongly recommend you to follow a healthy lifestyle and balanced diet to bid adieu to your skin and hair problems.
Do share your review of the products listed above if you give them a shot. We would love to hear back from you!
Images Source: Amazon